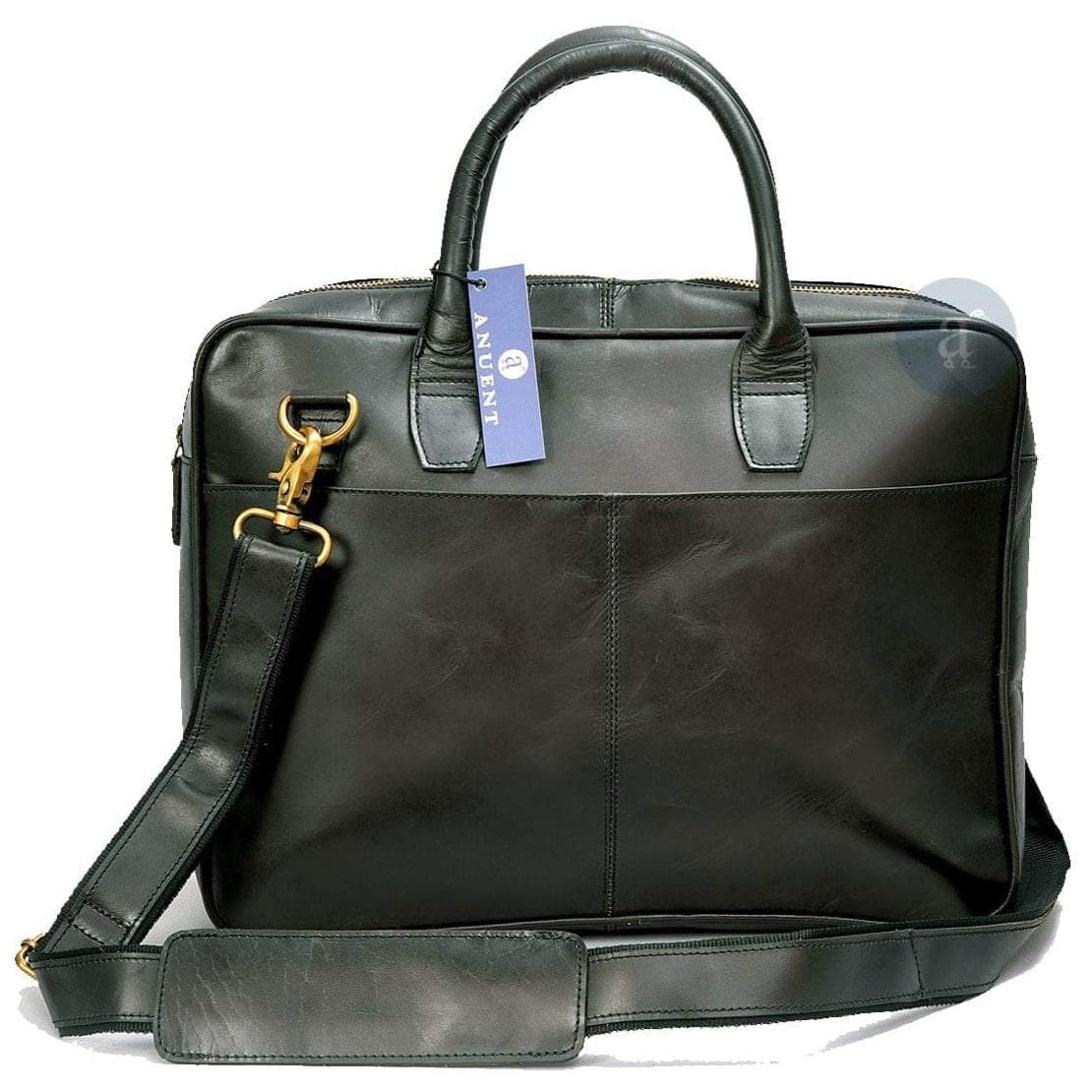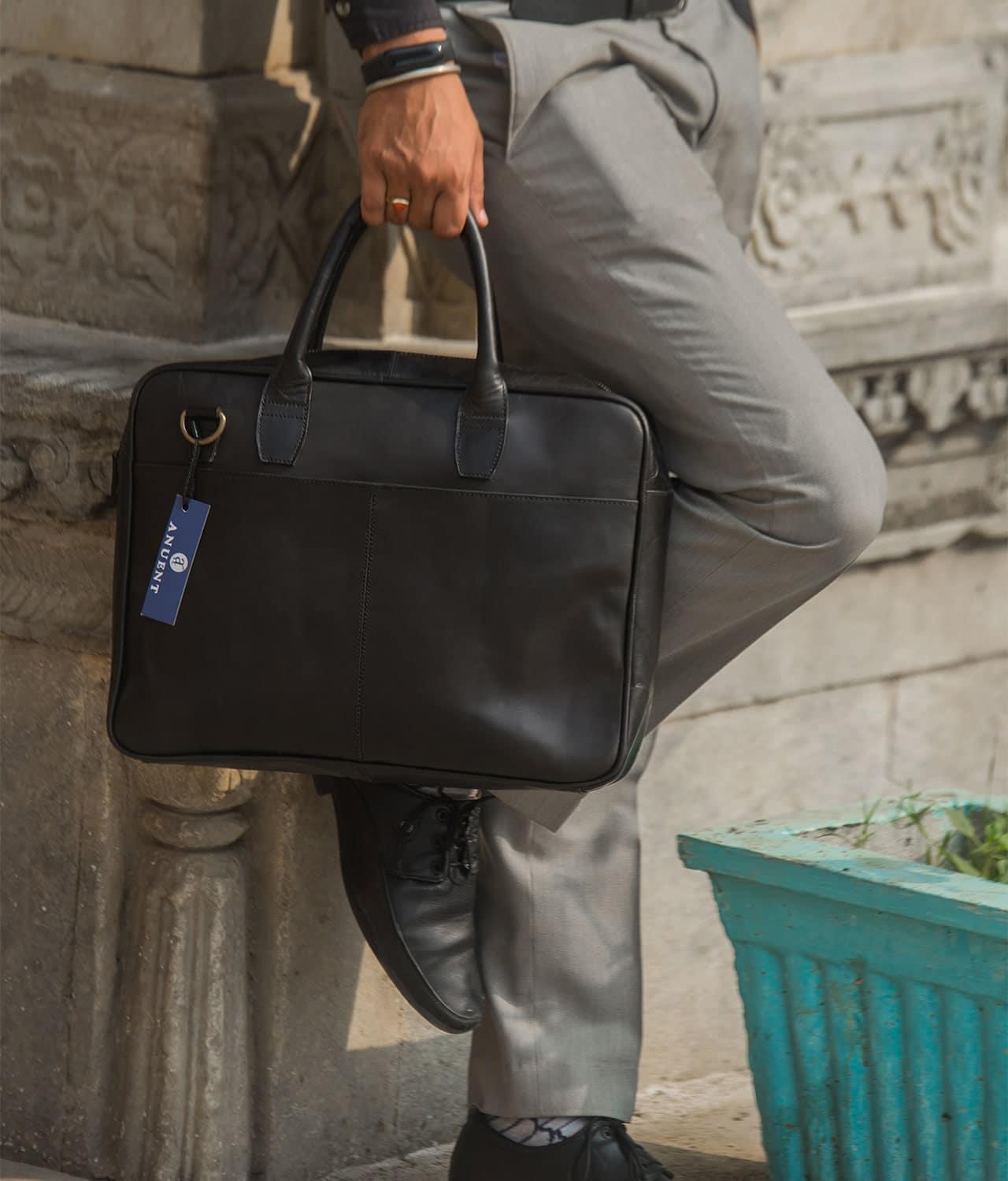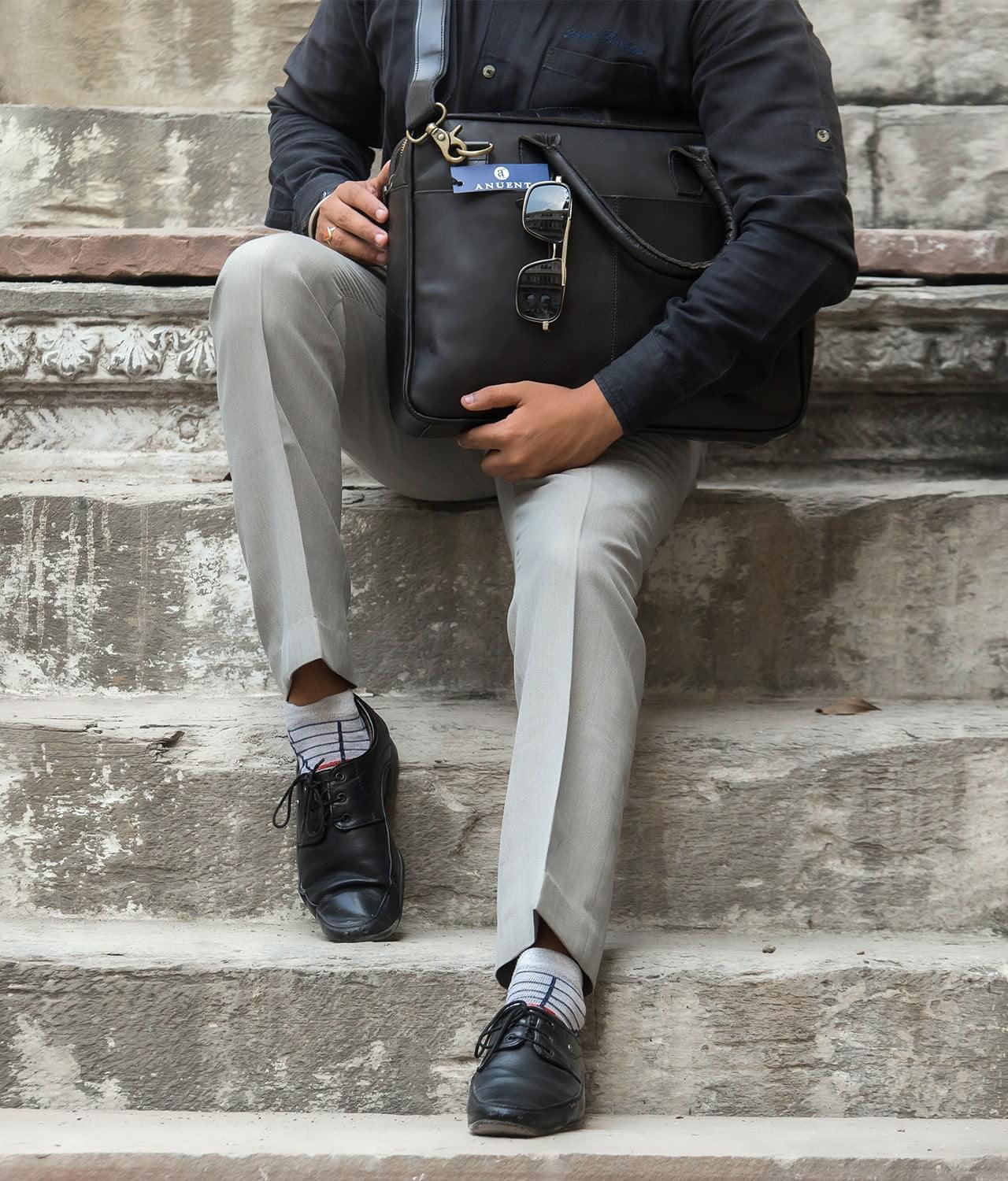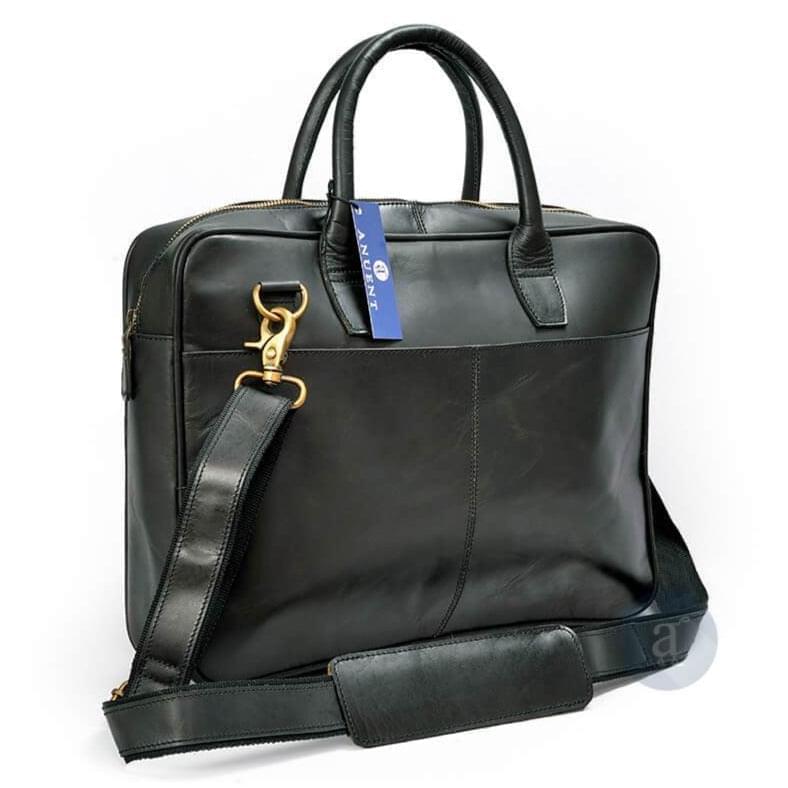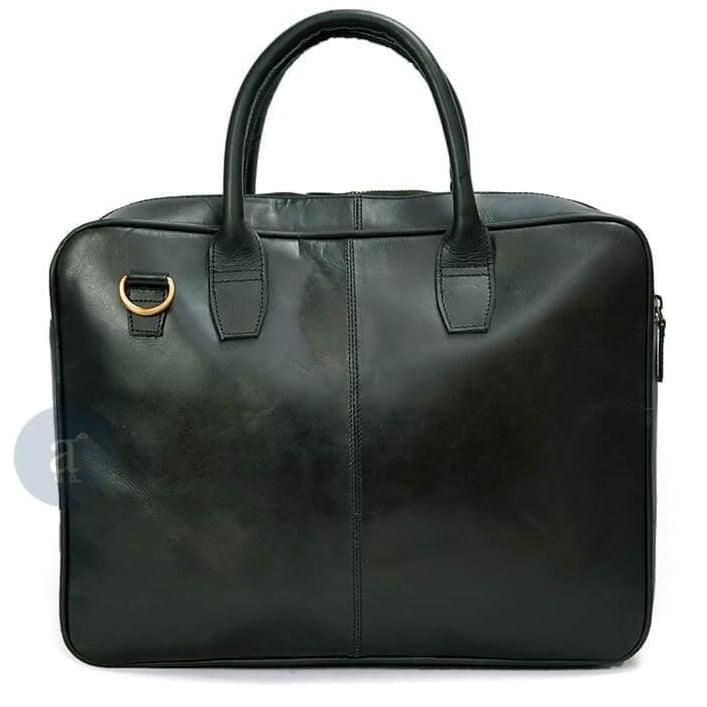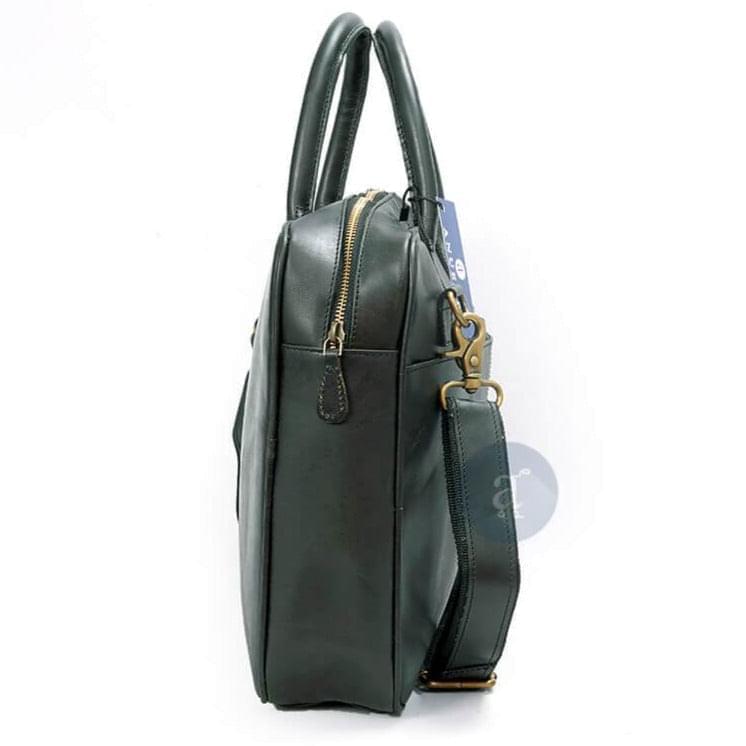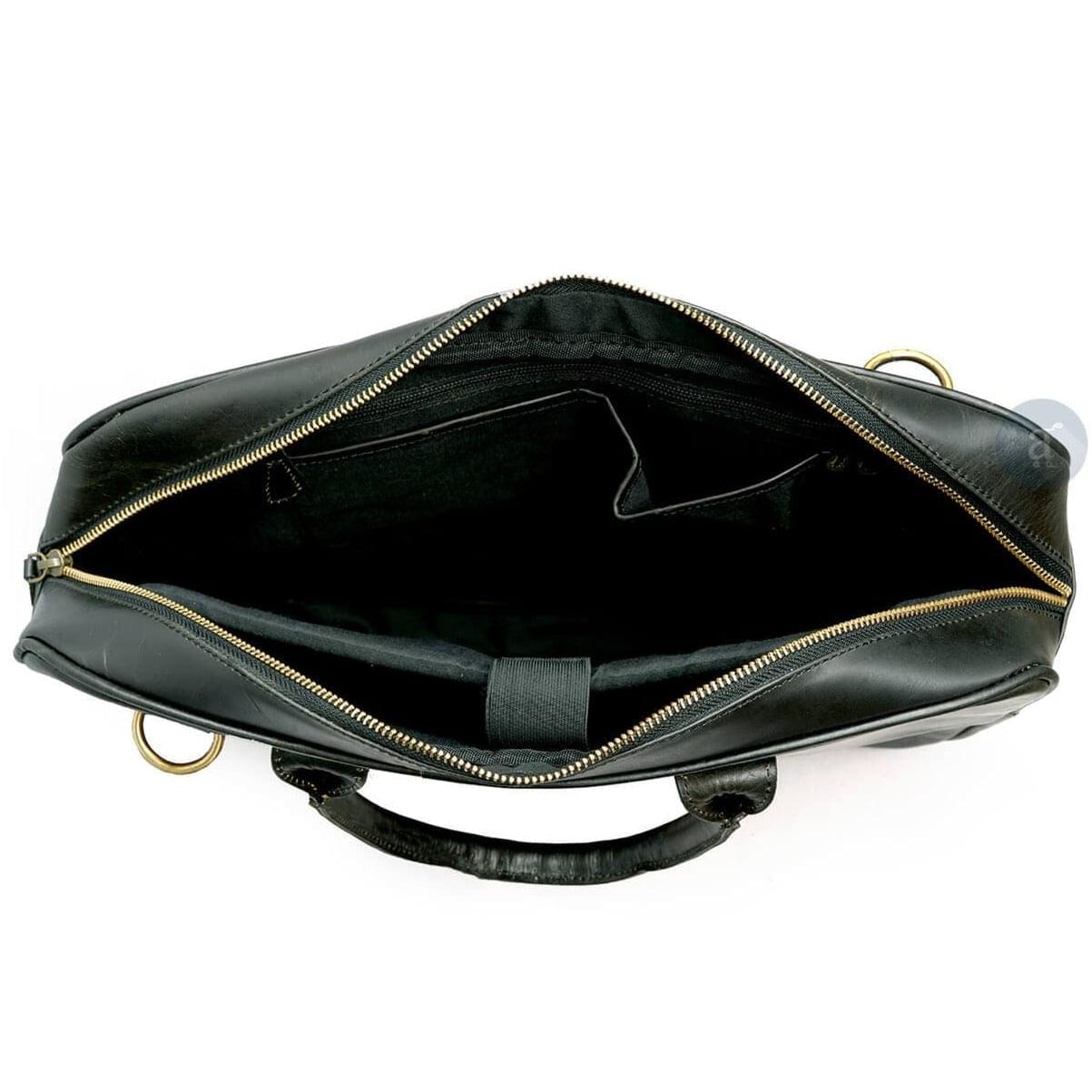 Sale price
$139.99
Regular price
$199.99
Estimated Delivery:Oct 04 - Oct 08

Free Shipping: In USA, UK and Canada.

DESCRIPTION
SPECS
FEATURES
MATERIALS
CARING
Black Leather Laptop Bag Description
In the modern world, where the amalgamation of style and practicality is paramount, finding a product that effortlessly encapsulates both can be a quest.
Enter the Anuent Black Leather Laptop Bag, an epitome of sleek design and functionality tailored for the contemporary individual.
The Pinnacle of Style:
The rich, velvety black hue of the bag immediately catches the eye, offering a visual delight. Crafted from top-grain buffalo leather, the bag radiates an aura of sophistication.
Each touch reveals its luxurious texture, and one can't help but admire the intricate craftsmanship that has gone into creating this masterpiece.
Furthermore, the absence of any overpowering leather scent signifies its refined quality, ensuring you carry around a piece that is as pleasant to the nose as it is to the eyes.
Interior Excellence:
Beyond its exterior allure lies a realm of thoughtful design and meticulous organization. The inner sanctuary of the bag is spaciously crafted with a dedicated padded compartment, ensuring that laptops, MacBooks, or any electronic device up to 14 inches find a snug and protective home.
The main compartment further amplifies the bag's utilitarian aspect, offering space for documents, books, or even an extra layer of clothing.
A designated pen pocket awaits for those smaller essentials – pens for that impromptu brainstorming session or an emergency signature. The small zipper pocket becomes an ideal guardian for your wallet and those crucial cards, ensuring they remain secure yet accessible.
For the tech-savvy user, the two additional pockets come as a boon, housing phone chargers, earphones, or any other minute gadget, ensuring they don't end up in a tangled mess.
Exterior Elegance:
While the interior boasts of organization, the exterior isn't far behind in terms of functionality. A long, adjustable shoulder strap ensures comfort, allowing you to carry the bag with ease, irrespective of your stature.
But for those who prefer the traditional approach, the sturdy handles offer an alternative mode of carrying, all the while exuding an executive charm.
One cannot overlook the intricate details that further accentuate the bag's durability and quality. The brass fittings and buckles not only provide a visual contrast to the black leather but also ensure longevity.
Coupled with high-quality zippers and a robust, heavy-duty lining, this bag is designed to withstand the test of time and trends.
Unisex Appeal:
While the color and design lean towards a universal aesthetic, it's essential to highlight that the Anuent Black Leather Laptop Bag isn't confined by gender norms.
Its sleek design, combined with its impeccable functionality, makes it a coveted accessory for all.
Your Next Essential Accessory Awaits:
In a world where every accessory you carry becomes an extension of your personality, why not choose one that resonates with elegance, efficiency, and excellence?
Let the Anuent Black Leather Laptop Bag be your steadfast companion, whether you're stepping into a boardroom, a cafe, or an airport. Dive into the world of Anuent and redefine your style. Secure yours now, and stride forth with confidence!
---
Black Leather Laptop Bag Specifications
Inner Details:
Padded Inner Compartment for caring for laptops, mac-books, up to 14 Inches, etc.

1 Main compartment
Pens pocket, and 1 small zipper pocket for stocking your wallet and important cards.
2 small pockets for a phone charger.
Outer Details:
Long adjustable shoulder strap.
Strong and durable brass fittings & buckles, quality zippers, heavy-duty lining
Handles for easy carrying.
---
Black Leather Laptop Bags Features
Top-grain Buffalo Leather
This is a black leather laptop bag for men and women. Made with top-grain buffalo leather, this bag is thicker and stronger than any cow leather-made bag, yet it is lightweight, flexible, and easy to carry.
Great Construction
This laptop bag has 2 padded inner compartments, with a laptop sleeve to accommodate your laptop, MacBooks, office files, and documents; it also has a small zipper pocket suitable for carrying your leather wallets and important cards, a pen pocket, and 2 small pockets for phone chargers.
Hardware
With a long padded adjustable strap, this laptop bag can easily carry on your daily routine without feeling shoulder pain. It also has handles and has 3 carrying styles. You can carry it as a shoulder, crossbody, or briefcase.
Water-resistant
This laptop bag is also a crossbody shoulder bag lined with durable cotton canvas; it is water-resistant and protects all your valuables from water destruction.
Multiple Use
Our leather black laptop bag can be used as a travel bag, business bag, briefcase satchel, laptop briefcase, etc.
It is the perfect men's and women's for daily use. 
Made to last (durability)
Made of quality hard-wearing materials. This laptop bag ages beautifully, developing a beautiful pattern with time, making it more appealing over the coming years.
---
Pros
Large Storage Capacity
Made with quality materials

---
Black Leather Laptop Bag Frequently Asked Questions
1. Do you have a dark brown or brown leather variant of this bag?
No, it is only available in black color.
2. What do I need to clean this leather bag?
Apply cream/moisture lotion onto the leather surface, and use a soft cloth to clean
Limited Stock. Buy the Black Leather Laptop Bag Now!
SKU: AN0BLS015
Dimensions: 15 L x 3.5 W x 11.8 H Inches
Color: Black
Condition: New
Weight: 1 kg
Capacity: 10.15 L
Brand: Anuent
Style: Briefcase | Shoulder | Crossbody
Laptop Compartment: Yes
Inner Pockets: 3
Outer Pockets: 0
Total Compartments: 2
Gender: Unisex
Closure Type: Zipper Closure
Exterior: Top-Grain Buffalo Leather
Interior: Cotton Canvas
Hardware: Brass
➡ Taking Care of your Leather Products
Leather products are often used in professional settings and require special care to keep them looking pristine.

If you take good care of your leather bag, backpack, or journal, the surface will stay bright for years to come!

● Always ensure that any product is dry before applying cream/moisture lotion onto it by using a soft cloth; this helps prevent stains from occurring when applied wisely.

● To ensure that your leather product lasts for years, never allow it to get wet. If the item gets soaked in water and you want to dry it out again quickly. Place thick microfiber cloths over any exposed surfaces of an absorbent material before allowing gravity to do its work.

➡ Note

The leather products may vary in color and size.

Some are slightly lighter, while others are darker than what is shown on your monitor - this will affect the outcome of a product's shade (due to natural materials).

However, you can be sure each bag or journal has been handmade with care for its unique features!

➡ Custom Duty

We take great pride in shipping all our products as quickly and efficiently as possible.

However, there's a chance that customs may cause delays if you don't provide them with contact information so they can reach out to collect customs duties on your behalf, which is why we must have this number!

Please let us know what phone number works best for International Shipping purposes at any time during checkout or after placing an order.

Also, email us if any questions arise about Customs-related matters.
This is an excellent product, I would recommend it to anybody who needs stylish protection for their laptops!
Lovely simple design with sufficient room to carry all needed accessories.
This bag is very stylish, sleek and functional. It has enough room for any accessories or files that you would need to carry around while protecting your laptop.
This bag has enough storage to stuff my laptop in with all my other stuff...I love it!
"This is the real deal. I love how the bag compliments my office attire and the black goes with everything. It's perfect for business meetings and office work."