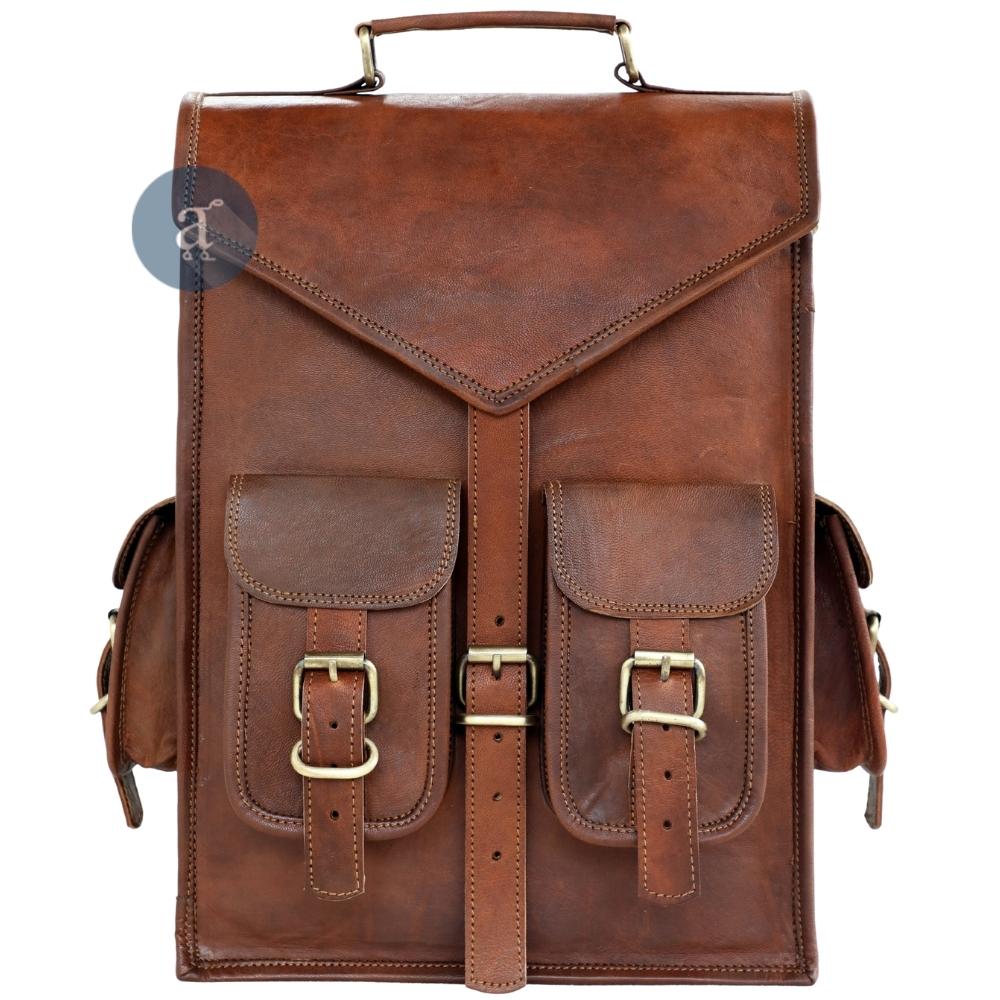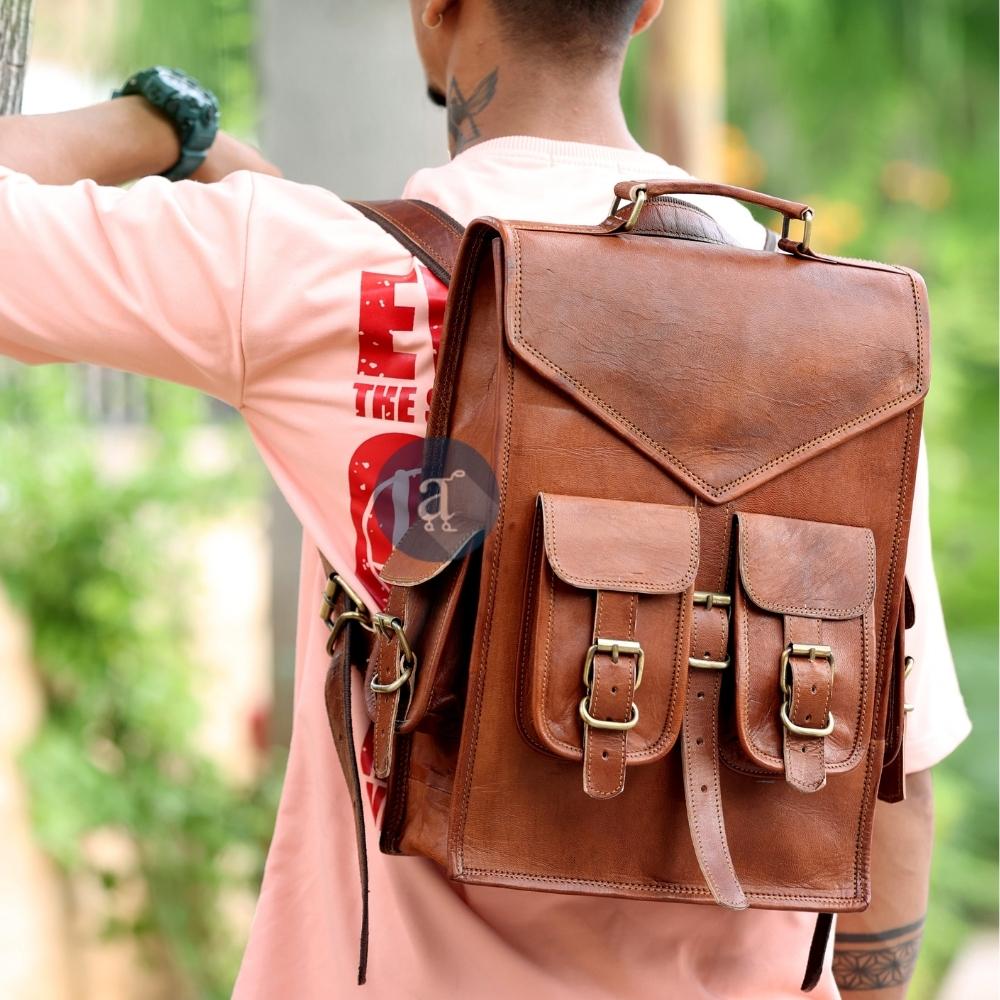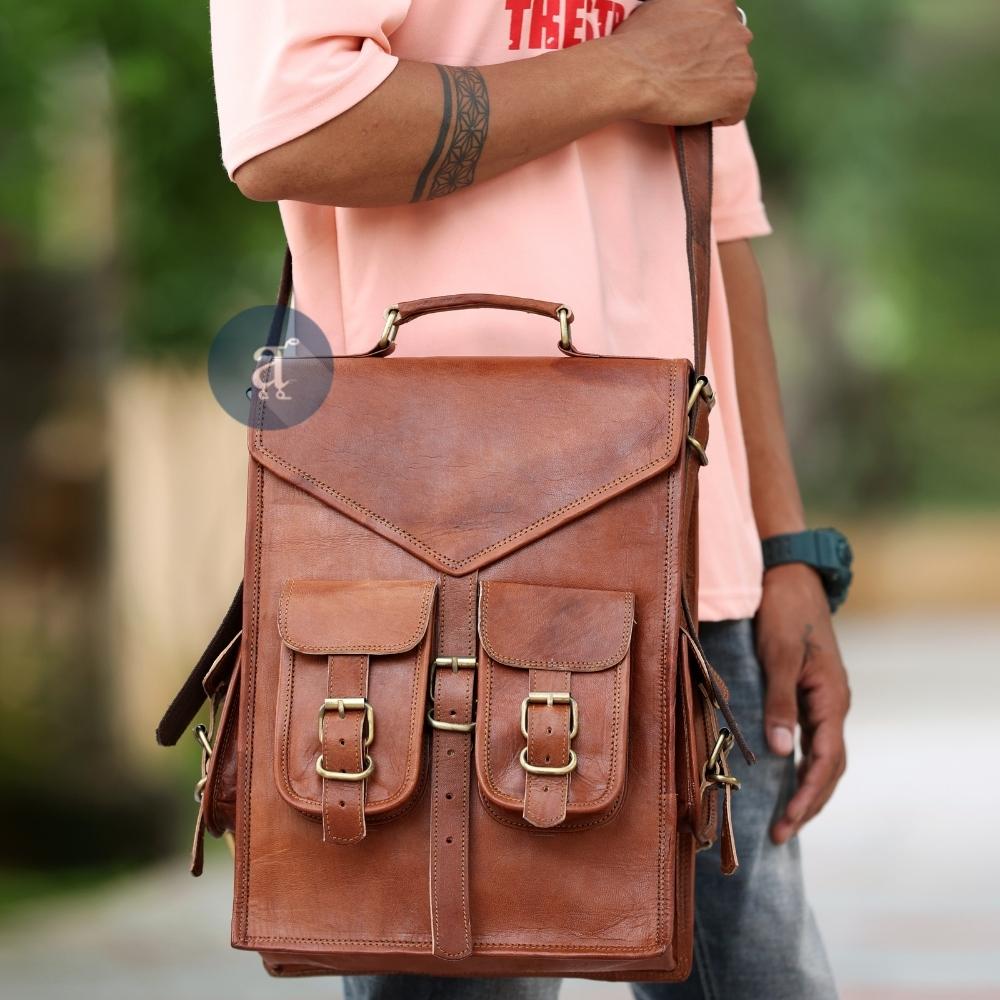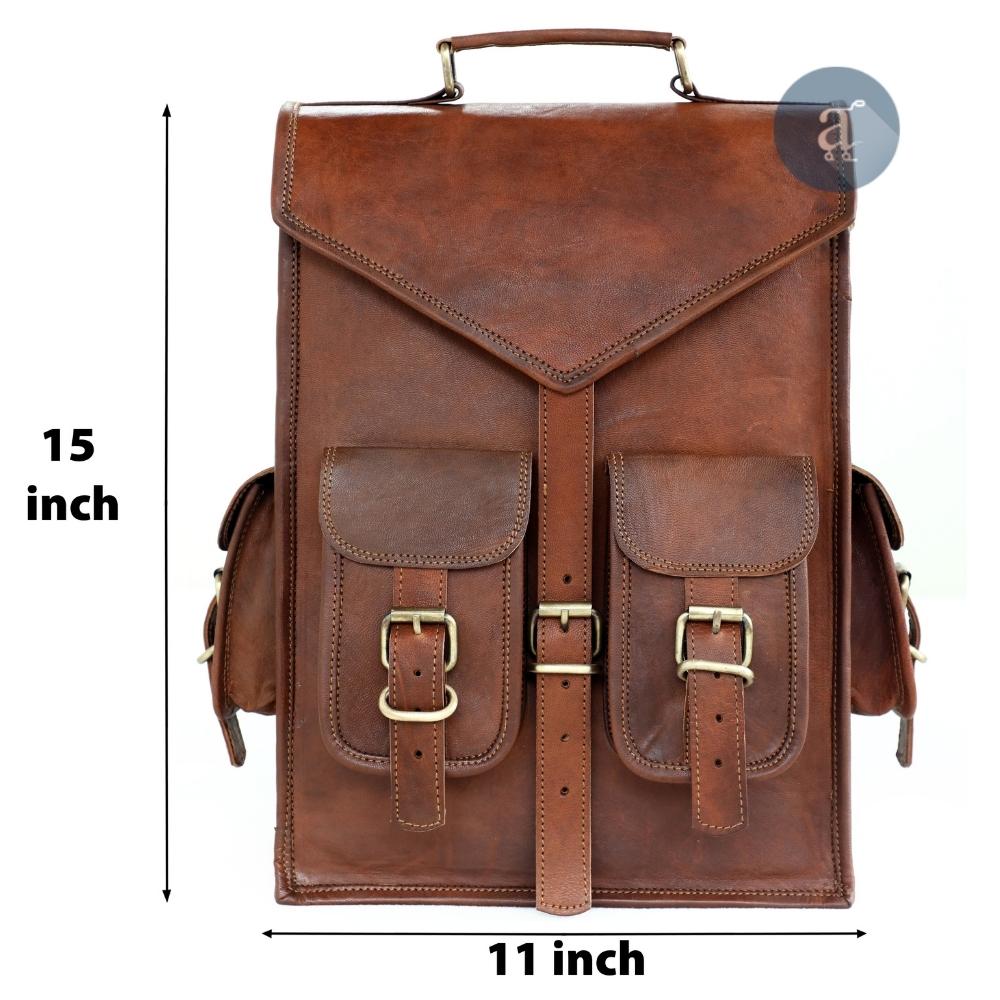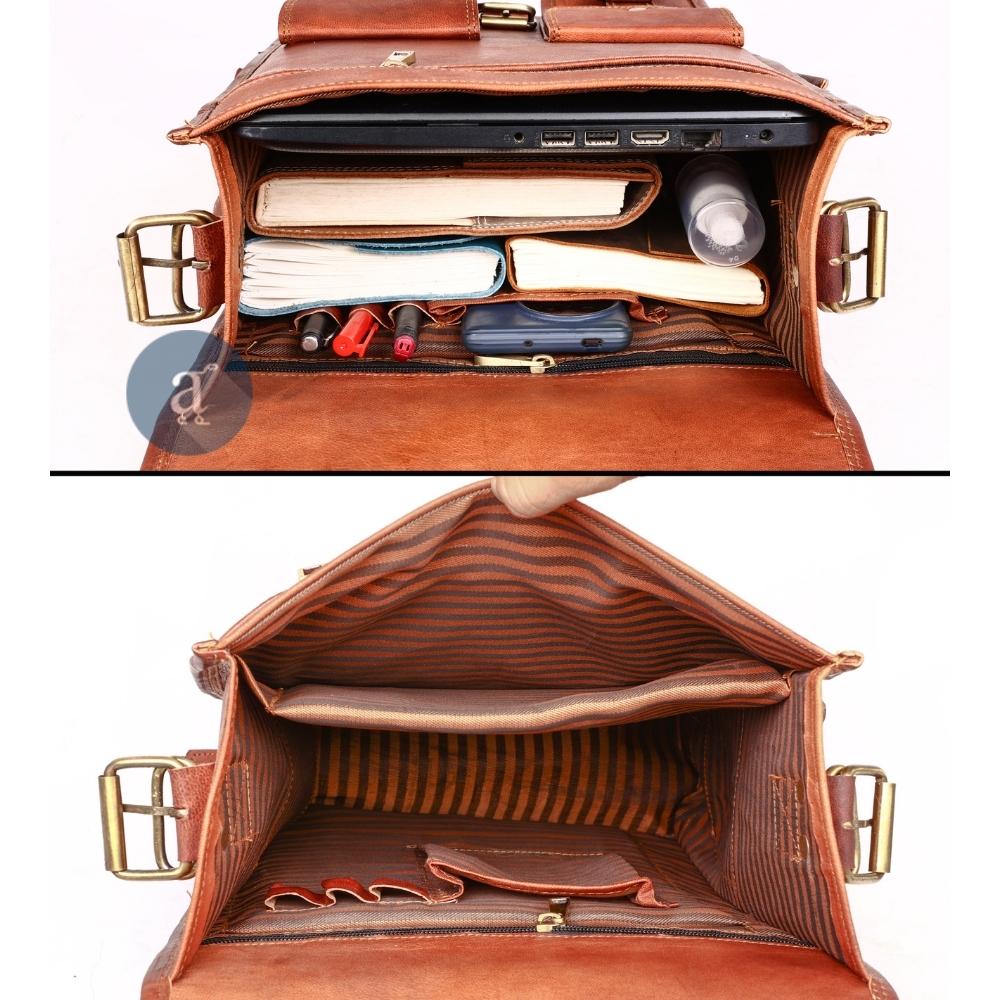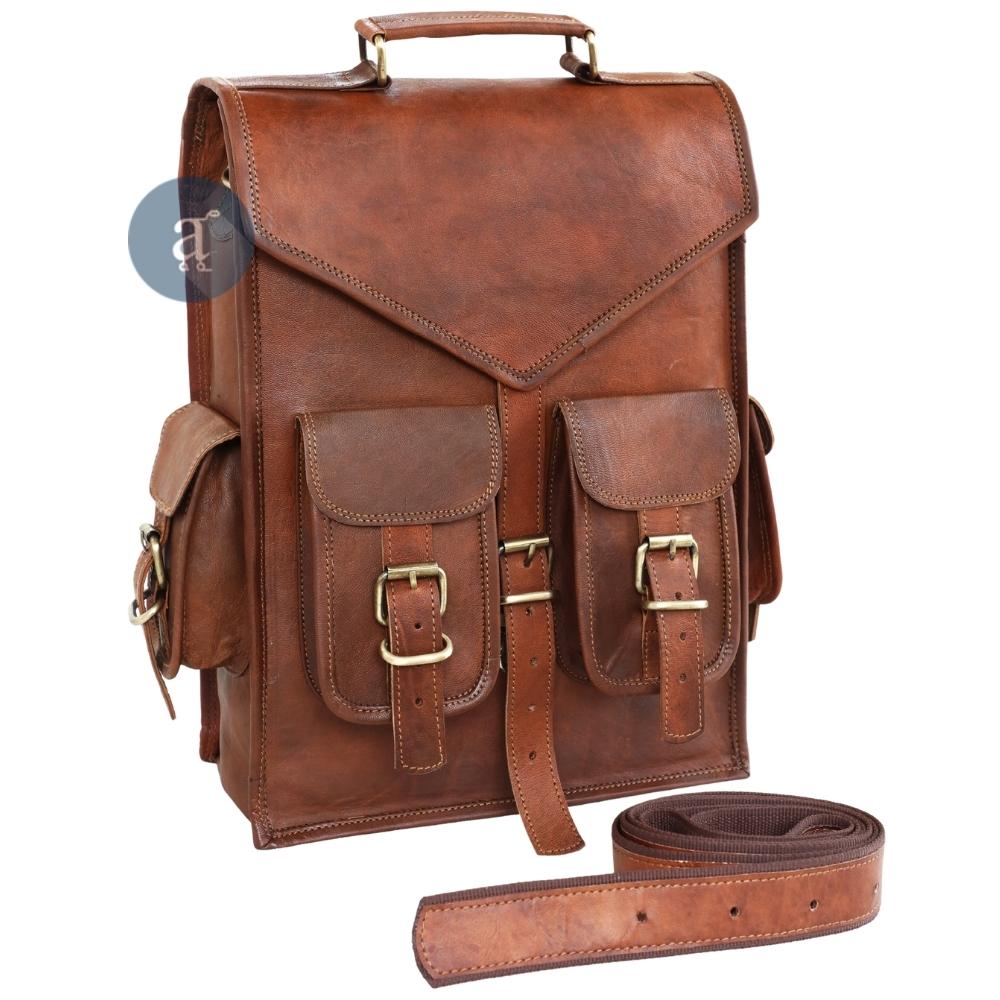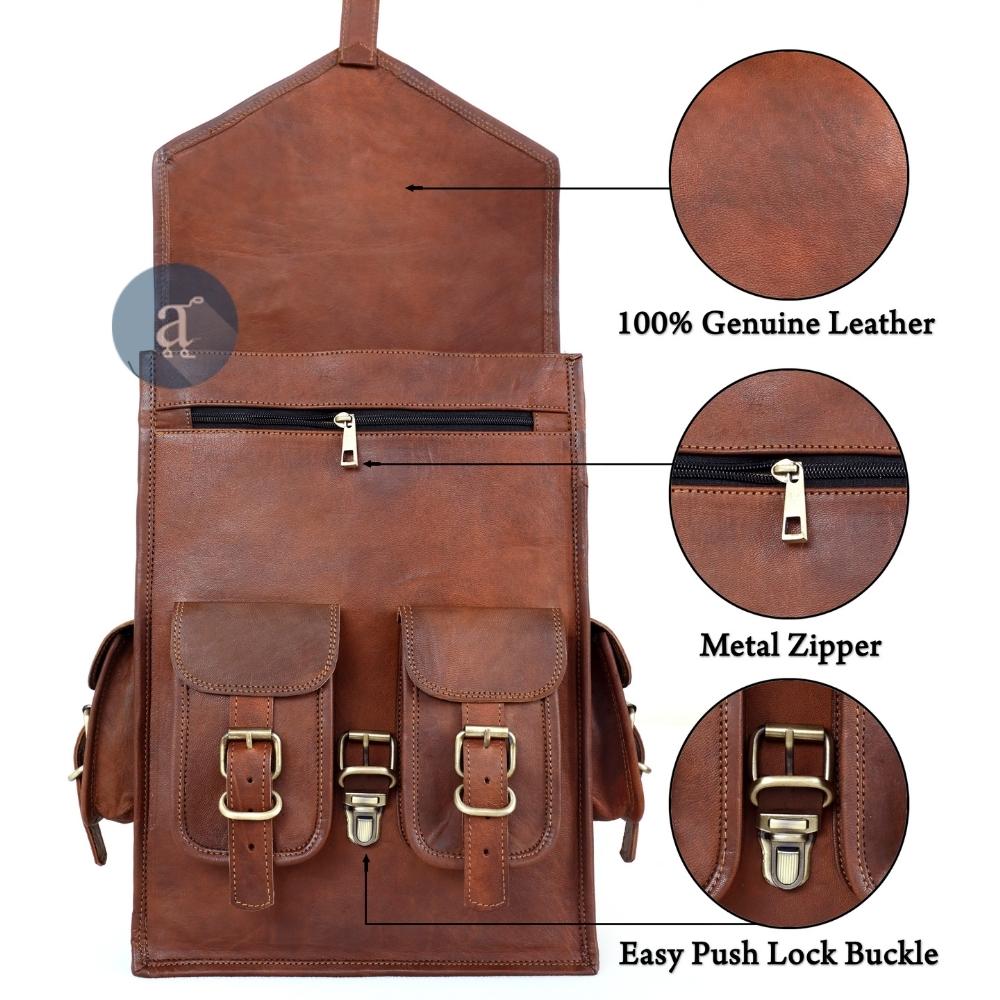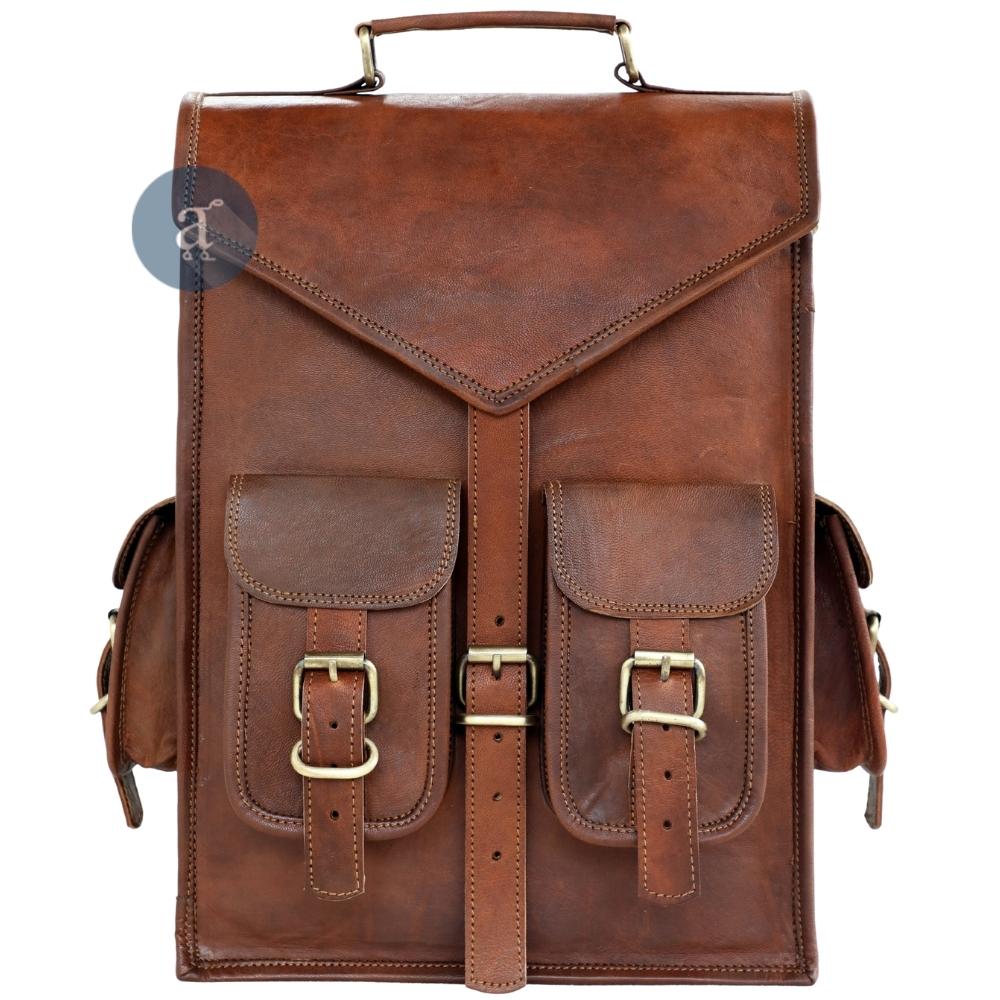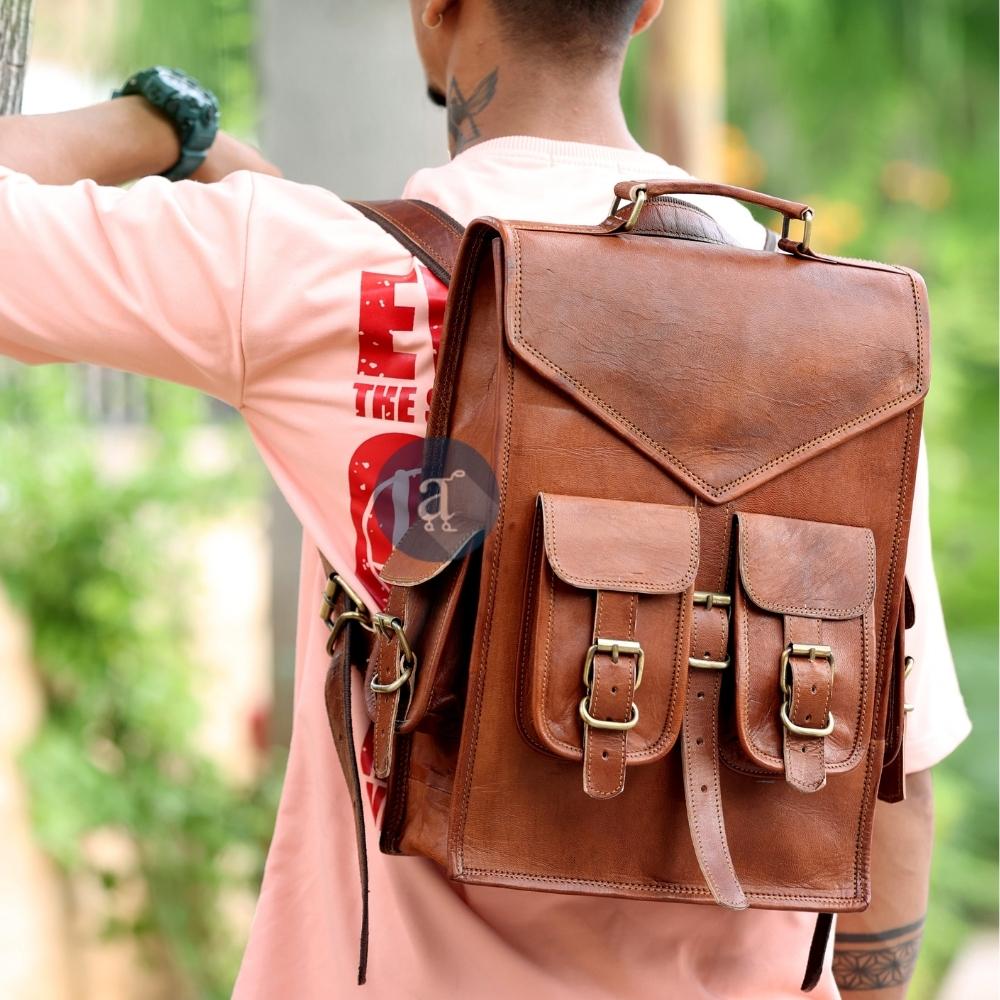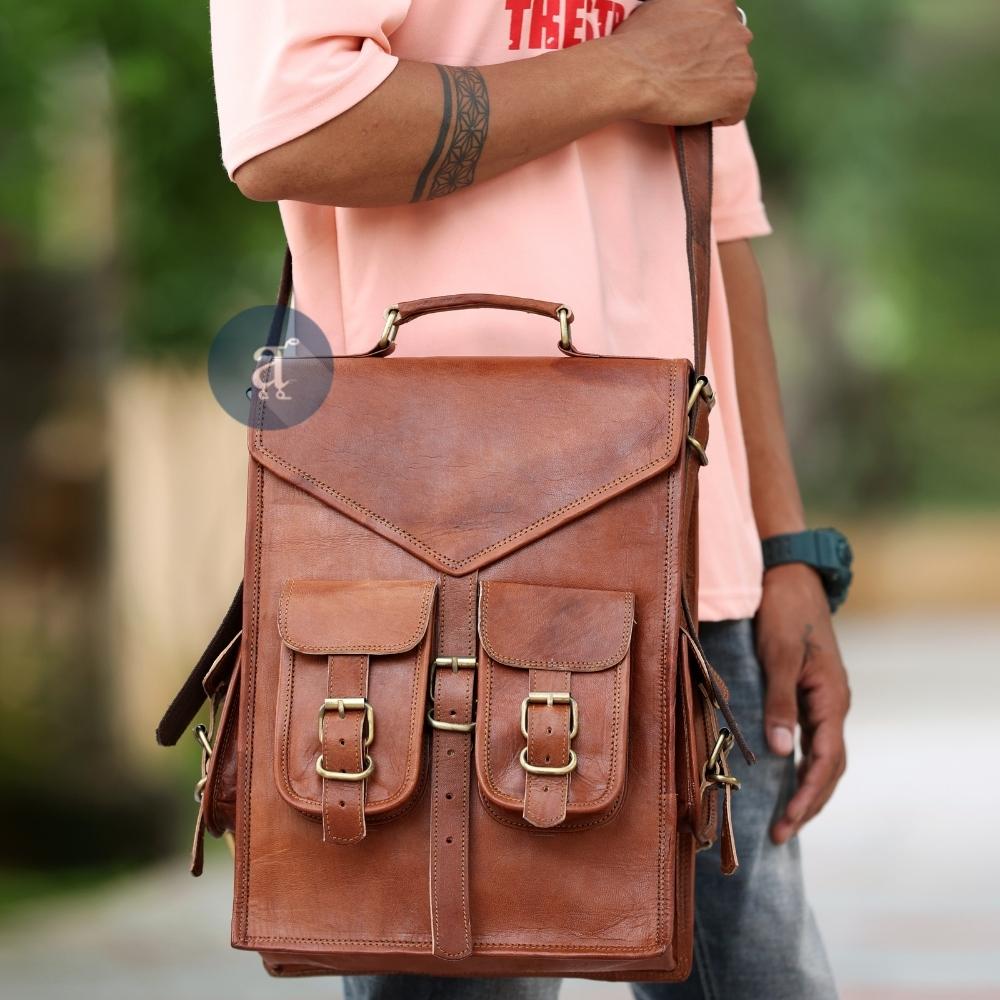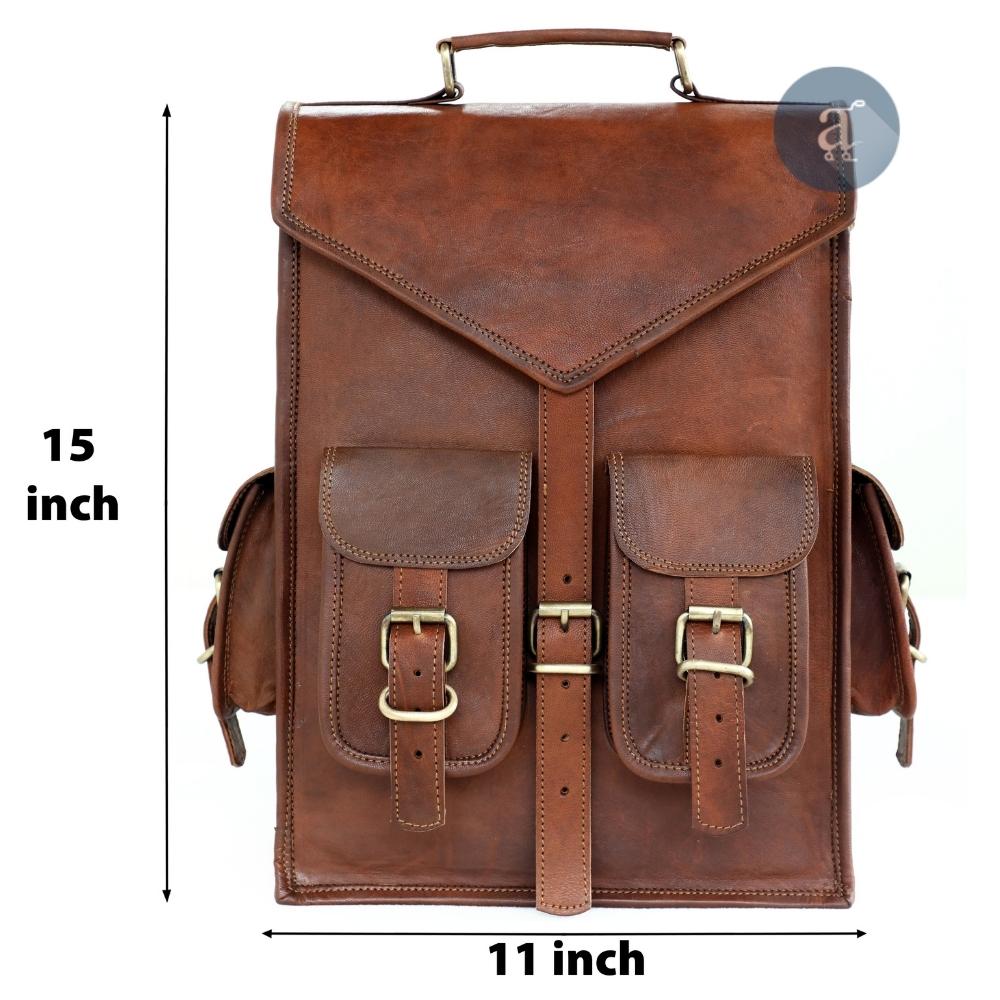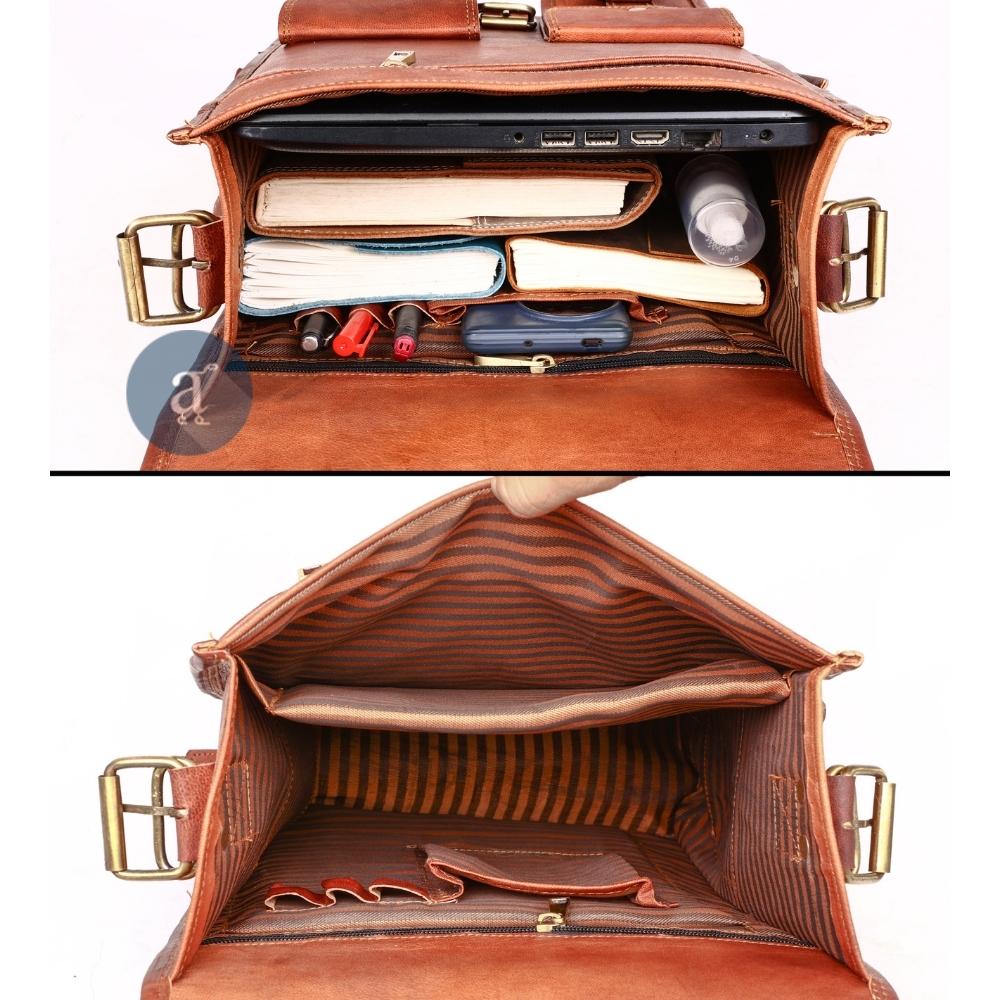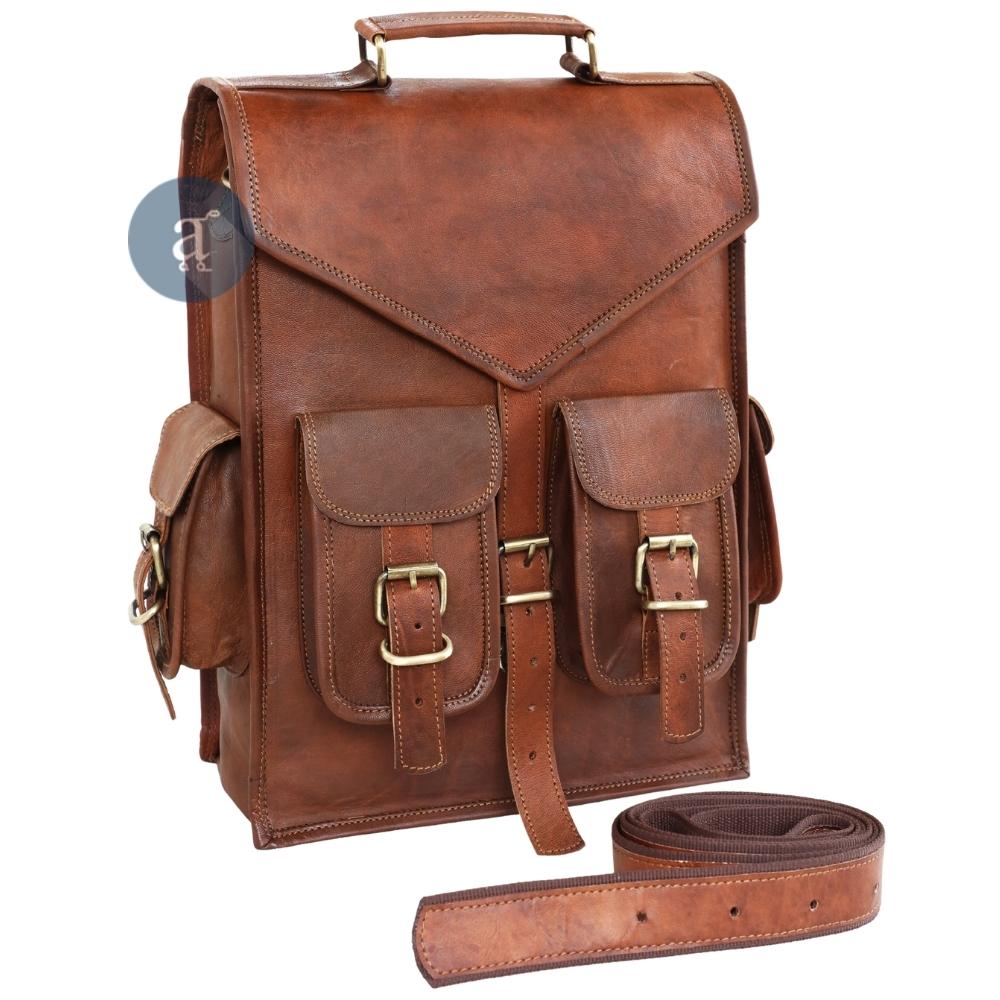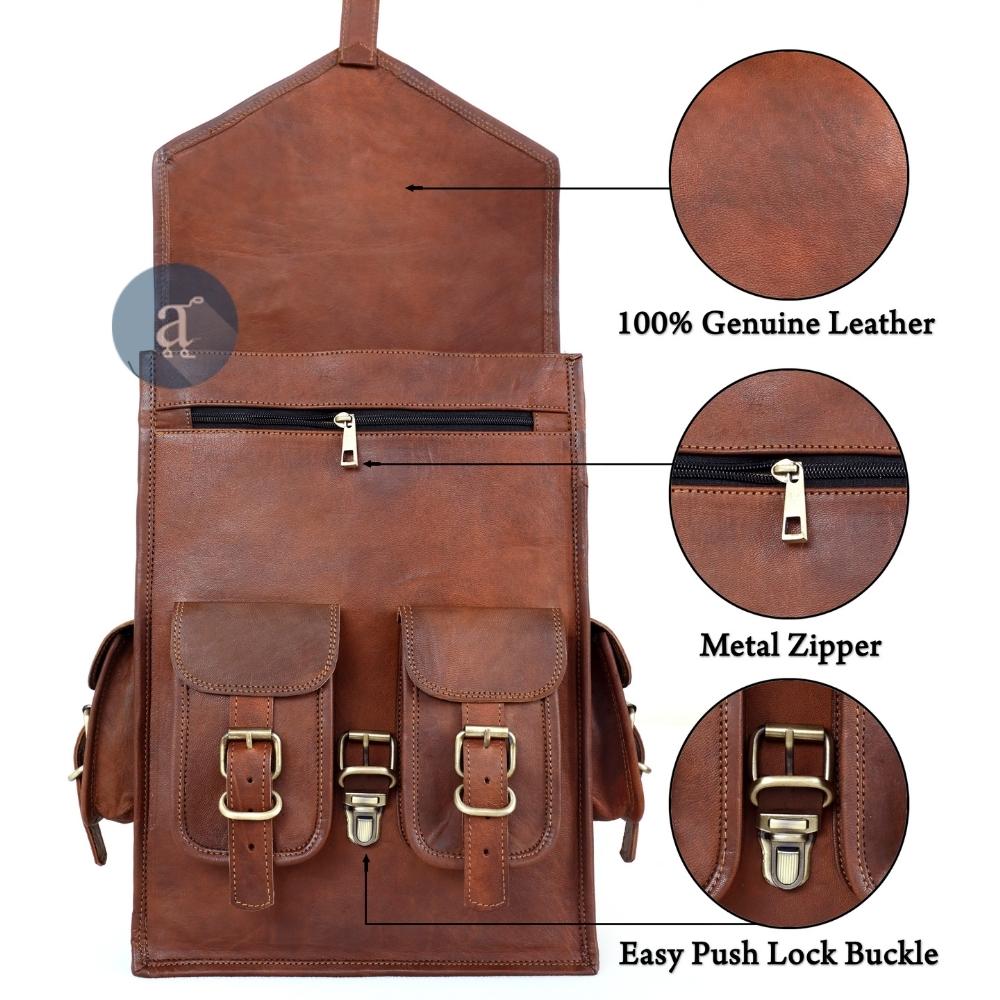 Leather Backpack For Laptop
Sale price
$84.99
Regular price
$110.00
Estimated Delivery:Dec 10 - Dec 14

Free Shipping: In USA, UK and Canada.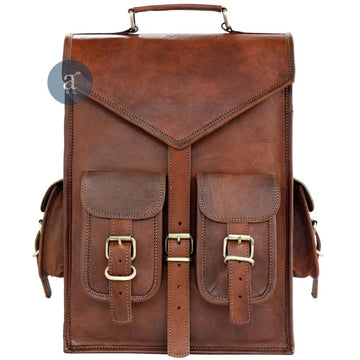 Leather Backpack For Laptop
Sale price
$84.99
Regular price
$110.00
DESCRIPTION
SPECS
FEATURES
MATERIALS
CARING
Leather Backpack For Laptop: Unveiling the Best Leather Laptop Backpack for Style and Functionality
Discover the enchanting beauty of Anuent's Leather Backpack For Laptop – the premier blend of elegance and utility. Whether you're traversing the world or powering through your daily commute, this best leather laptop backpack offers reliability like no other.
Brown Leather Laptop Backpack: Dark Brown Exterior Meets Ample Storage
Dive into the rich dark brown shade of this genuine leather masterpiece. Crafted with the finest goat leather, this brown leather laptop backpack is more than a fashion statement. It stands as a testament to luxury, resilience, and enduring style.
Leather Backpack Laptop Bag Features: More than Just a Backpack
Size Matters: Measuring 15 H x 11 L x 5 W inches, this leather backpack laptop bag provides an impressive storage capacity. Specifically, these dimensions equate to roughly 13.69 litres of space.
Laptop Compartment: Your 15-inch laptop or MacBook settles comfortably in the padded laptop compartment. Beyond being a mere backpack, it serves as a protective haven for your tech.
Organization at Its Best: The interior, apart from the dedicated laptop section, hosts two spacious compartments. Your laptop tablet fits snugly in the padded section, while documents and essentials occupy the main compartment. Additionally, there's a zippered pocket, a mobile holding pocket, and three pen holders for meticulous organization.
Outer Pockets: This genuine leather laptop backpack features five easily accessible outer pockets. The two front pockets, two side pockets, and a zippered front pocket ensure quick access to daily essentials.
Leather Laptop Backpack for Women and Men: Beyond Function to a Style Statement
This leather backpack laptop bag offers a versatile design suited for both men and women. Beyond its primary function as a backpack, it can transition to a shoulder or crossbody bag, thanks to the removable long and adjustable padded shoulder strap.
The Anuent caters to every style, be it for a leather laptop backpack for women or for men on the move.
Durability and Comfort with the Genuine Leather Laptop Backpack
While the exterior boasts rugged, genuine leather, the interior is caressed with brown cotton canvas, ensuring your devices stay scratch-free.
The padded backstraps, apart from their stylish essence, promise unparalleled comfort, even on lengthy adventures.
Best Leather Laptop Backpack: Secure and Easy-to-Use Closure
Security is paramount with the flap and buckle closure, further enhanced with a push lock. This ensures that your valuables remain safe, even amidst bustling transit systems or crowded streets.
Craftsmanship of Leather Laptop Backpack for Men and Women at Its Peak
Each leather laptop backpack from Anuent showcases impeccable craftsmanship. The brass hardware complements the dark brown leather perfectly.
Furthermore, a special tanning process ensures no unpleasant leather odor. This water-resistant leather guarantees your essentials remain dry, regardless of the weather.
Leather Laptop Backpack for Women and Men - An Ideal Gift
Searching for that perfect gift? This genuine leather laptop backpack is not merely functional, but it radiates luxury.
Whether it's for someone who would love a leather laptop backpack for women or a man with discerning tastes, it's the quintessential gift.
Added Benefits of the Best Leather Laptop Backpack
Wave goodbye to exorbitant prices as we offer free shipping across the USA. With this backpack, you're not just purchasing a bag but investing in style and practicality.
Elevate your fashion game and step into each day with added elegance. Order your Anuent Leather Backpack For Laptop today and immerse in unparalleled luxury.
---
Leather Laptop Backpack Specifications
Inner

1 Zipper Pocket On Front.
2 partitions inside for laptop, files, etc.
1 Zipper pocket Inside.
Outer
2 Pockets and 1 Zipper Pocket on the front

2 Side Pockets
Handle on top
Long adjustable shoulder strap for carrying as a crossbody bag.
2 Backstraps for carrying as a backpack.
Strong & durable brass fittings & buckles, quality zippers, and heavy-duty lining.
Material
Inner Material: Brown Linned Cotton Canvas
Outer Material: Goat leather
---
Best Leather Backpack For Laptop Features
Anuent laptop backpack is made of real leather, not vegan. Handcrafted skillfully, this brown leather laptop backpack is perfect for you. A classic leather backpack made of genuine goat leather with its uniqueness. It is soft yet strong, durable, and water-resistant.
Unlike Buffalo leather, which is fairly rigid and tough, our goat leather laptop backpack is flexible, preventing wear and tear. Available in dark brown and light brown. The choice is yours to pick.
The leather laptop backpack is 15" (H) x 11" (L) x 5" (W) Inches in dimension and features a 15-inch laptop sleeve. This laptop backpack is divided into compartments to aid in easy organization.
The inner part of the bag has three partitions properly padded for carrying a laptop, notebook computer, iPad, etc. This offers your padded laptop protection against falls and bumps.
The inner part of this brown leather laptop backpack also has two zipper pockets, one in front and another inside, for carrying books, files, business documents, and other valuables.
The outer part of this backpack has four outer pockets, fit for keeping your keys, pen, and other small-sized personal items. The perfect brown laptop bag for you on the go.

Double-secured with durable metal, anti-rust buckles, and zippers. Our leather backpack has high-quality zippers that slide smoothly, allowing easy opening and closing. They withstand wear and tear and enable long-term use.
Our 15-inch leather backpack for laptop has a shoulder strap that is properly placed and isn't dangling.  They are firm and fit the back without any noticeable gap, preventing back pain.
Because of this, the backpack rests easily on the shoulder without discomfort, giving equal and excellent weight distribution. The shoulder straps make the backpack comfortable even with all your travel gear.
This bag comes with a padded long adjustable shoulder strap that ensures comfort.

Water-Resistant Inner Fabric
Our laptop backpack is lined with water-resistant cotton canvas with reinforced stitching. Keeping your valuables dry always
This leather backpack is perfect for a laptop, shoulder, crossbody, or business bag. It is good for plane travel, elegant, perfect for professional use, and fit for casual use.
Rugged, durable, and hardwearing. Our leather laptop backpack is made of quality materials that stand the test of time. Becoming more pleasing to use.
Our leather backpack is unique, stylish, comfortable, and affordable. Shop for yours with us now.
Pros
Multifunctional
Affordability
---
Leather Laptop Backpack Frequently Asked Questions
Is this bag available in other colors?
This bag is only available in light brown and dark brown colors.
Would this bag fit my 15-inch laptop properly?
Yes, it has a 15-inch laptop sleeve and will fit perfectly.
SKU: AN0CB024
Dimensions: 15 H x 11 L x 5 W Inches
Color: Brown
Condition: New
Weight: 1.5 kg
Capacity: 13.52 L
Brand: Anuent
Style: Backpack | Crossbody | Shoulder
Laptop Compartment: Yes
Inner Pockets: 3
Outer Pockets: 5
Total Compartments: 3
Gender: Unisex
Closure Type: Flap With Buckle Closure
Exterior: Goat Leather
Interior: Cotton Canvas
Hardware: Steel
➡ Taking Care of your Leather Products
Leather products are often used in professional settings and require special care to keep them looking pristine.

If you take good care of your leather bag, backpack, or journal, the surface will stay bright for years to come!

● Always ensure that any product is dry before applying cream/moisture lotion onto it by using a soft cloth; this helps prevent stains from occurring when applied wisely.

● To ensure that your leather product lasts for years, never allow it to get wet. If the item gets soaked in water and you want to dry it out again quickly. Place thick microfiber cloths over any exposed surfaces of an absorbent material before allowing gravity to do its work.

➡ Note

The leather products may vary in color and size.

Some are slightly lighter, while others are darker than what is shown on your monitor - this will affect the outcome of a product's shade (due to natural materials).

However, you can be sure each bag or journal has been handmade with care for its unique features!

➡ Custom Duty

We take great pride in shipping all our products as quickly and efficiently as possible.

However, there's a chance that customs may cause delays if you don't provide them with contact information so they can reach out to collect customs duties on your behalf, which is why we must have this number!

Please let us know what phone number works best for International Shipping purposes at any time during checkout or after placing an order.

Also, email us if any questions arise about Customs-related matters.
Nice quality leather, holds my laptop perfectly and easy to access when I need it most (like in rush hour traffic...). But I was most pleased by how quick and efficient the customer service was, especially after I accidentally ordered two of these bags because I thought it would be nice to have one for myself and my boyfriend. They were kind enough to cancel my order which means they are an honest company that aims to please its customers!
I love backpacks and this is a unique one. Couldn't stop purchasing it.
Very happy with the purchase. This backpack's leather is subtle, the stitching is done with precision and the interior canvas is of premium quality.
Totally in love with this rugged vintage leather backpack from Anuent. This is my third bag from their store. The first one was a black laptop backpack and the second was a handbag for women I adore.
A leather rucksack with top handle makes it easy to carry like an office bag. The premium leather, vintage appeal, brown color and large compartment makes it an awesome purchase. Do remember that it's a goat leather bag. But, it's the best you can buy for the price.