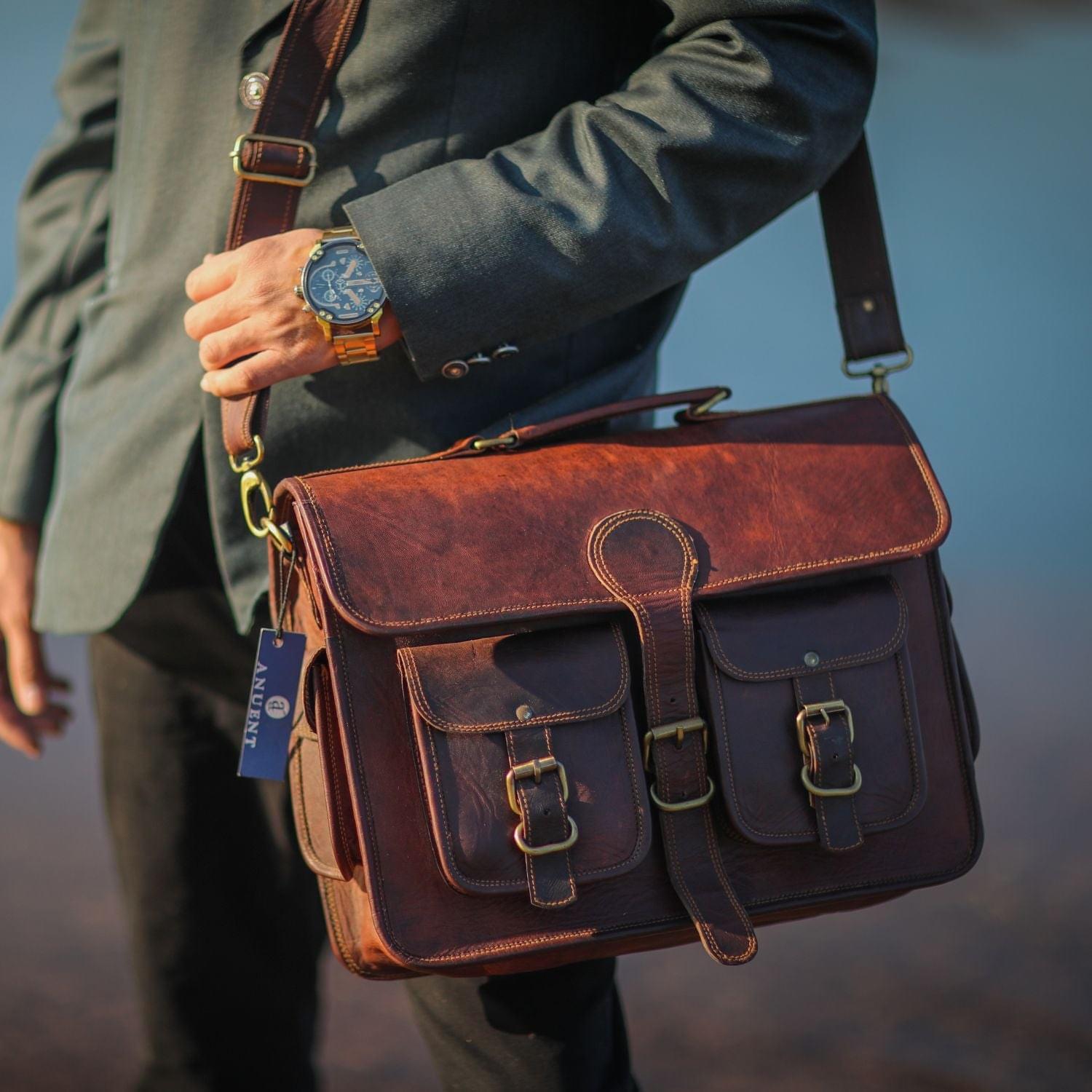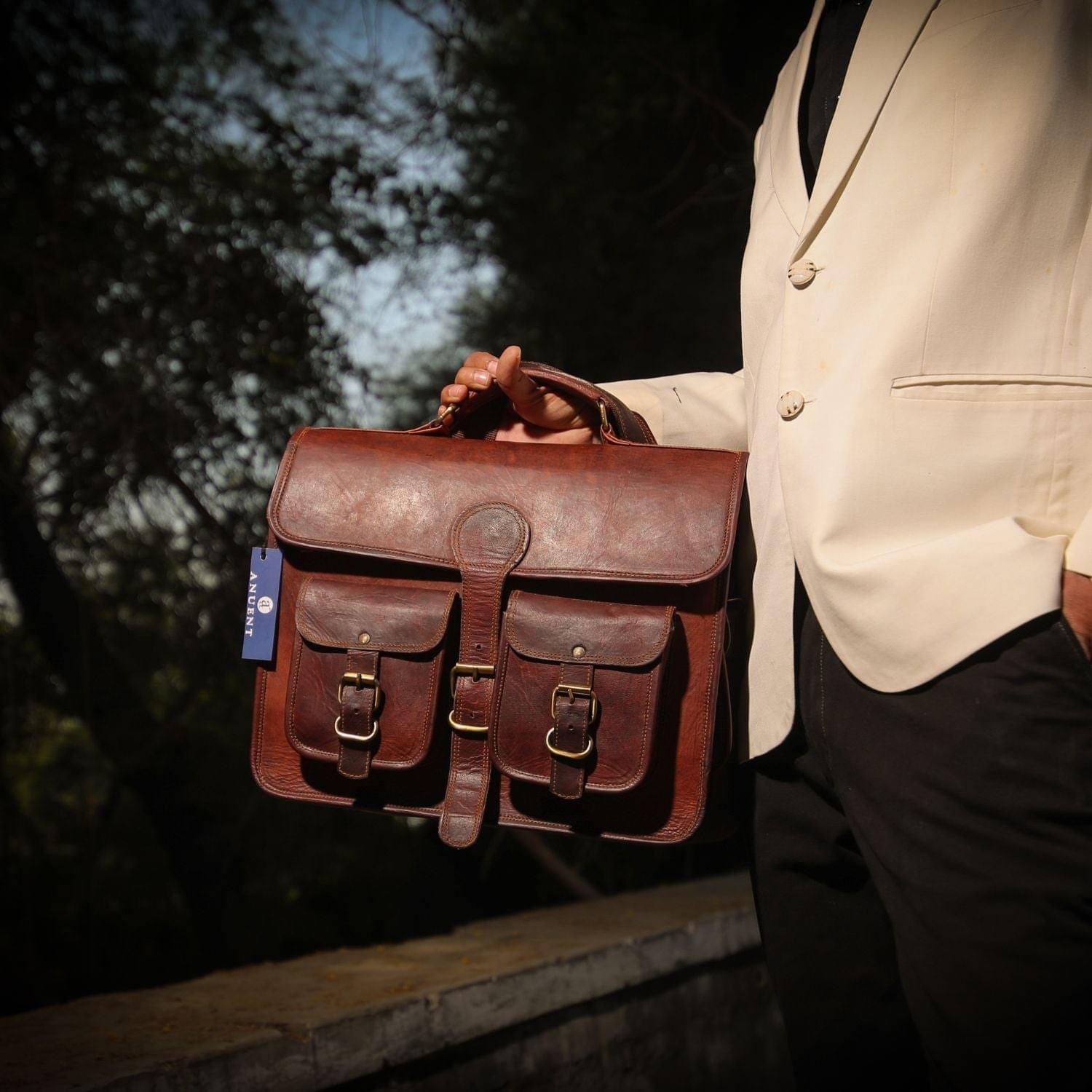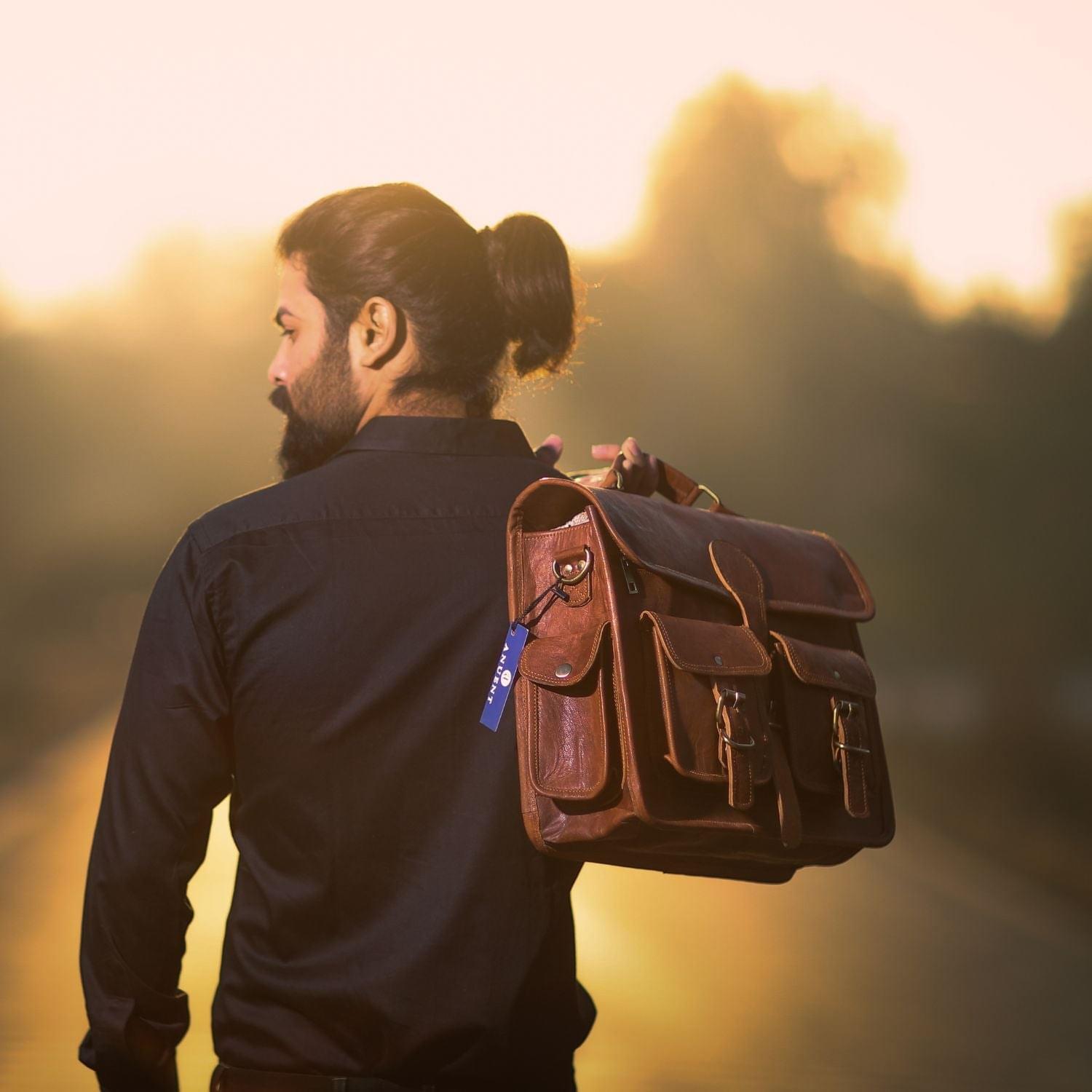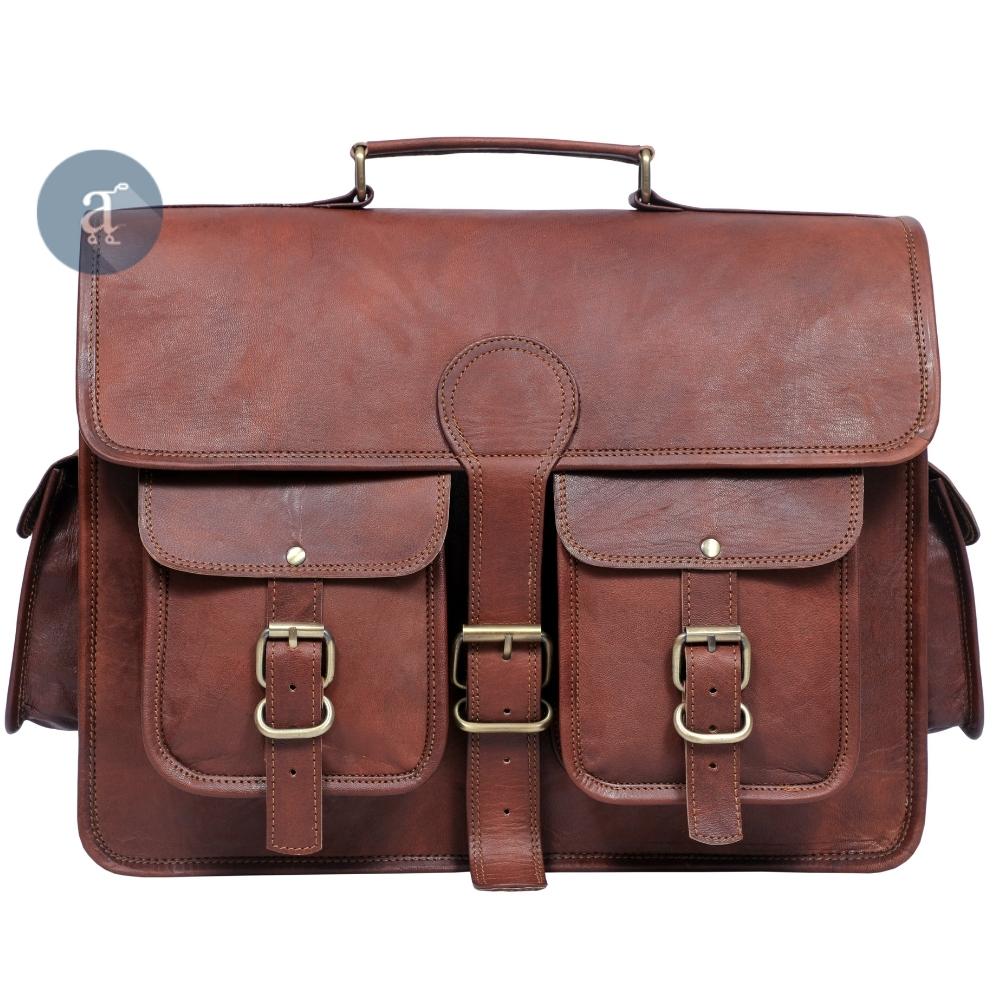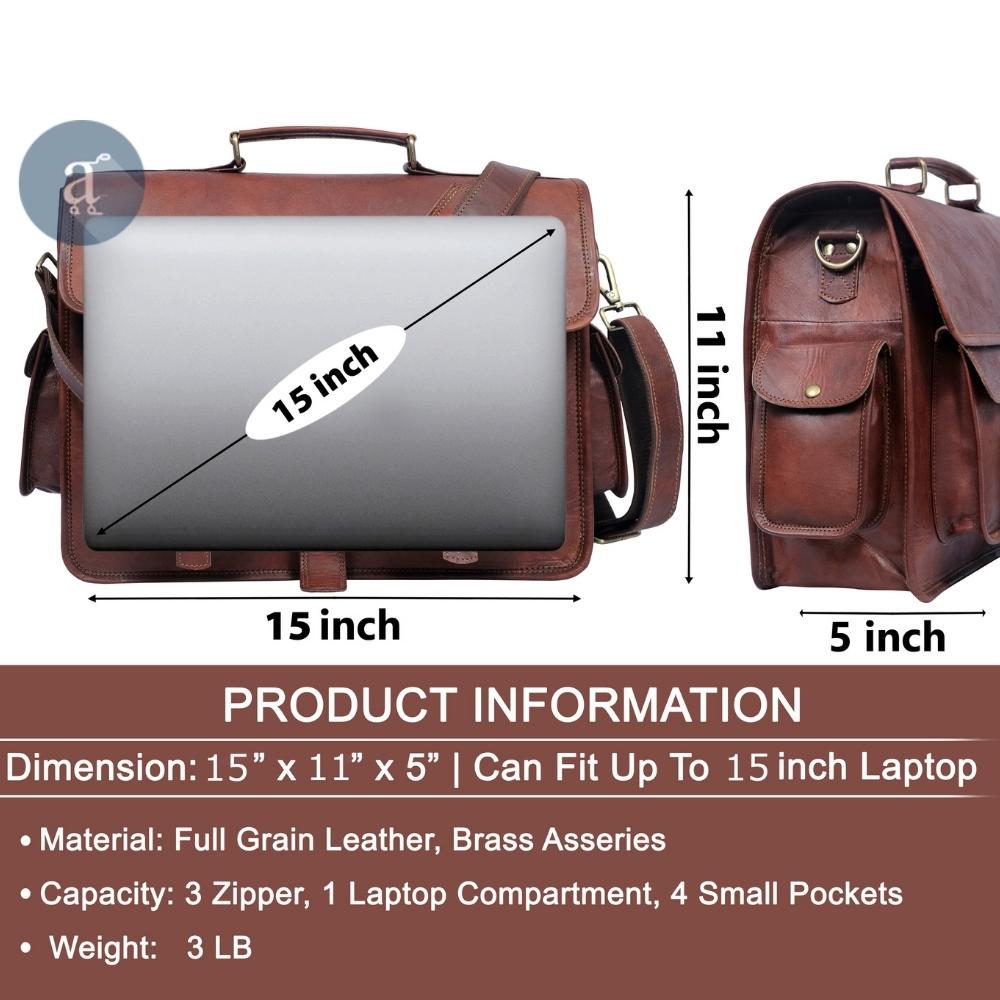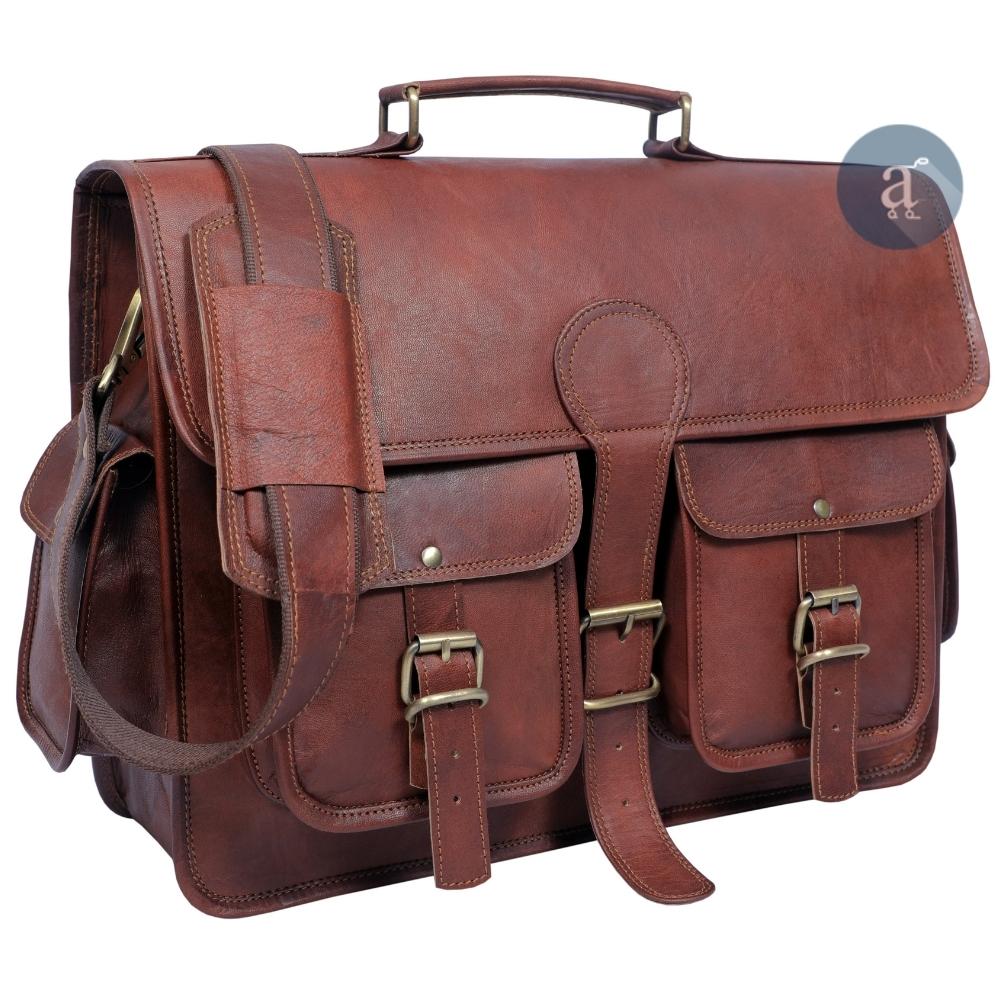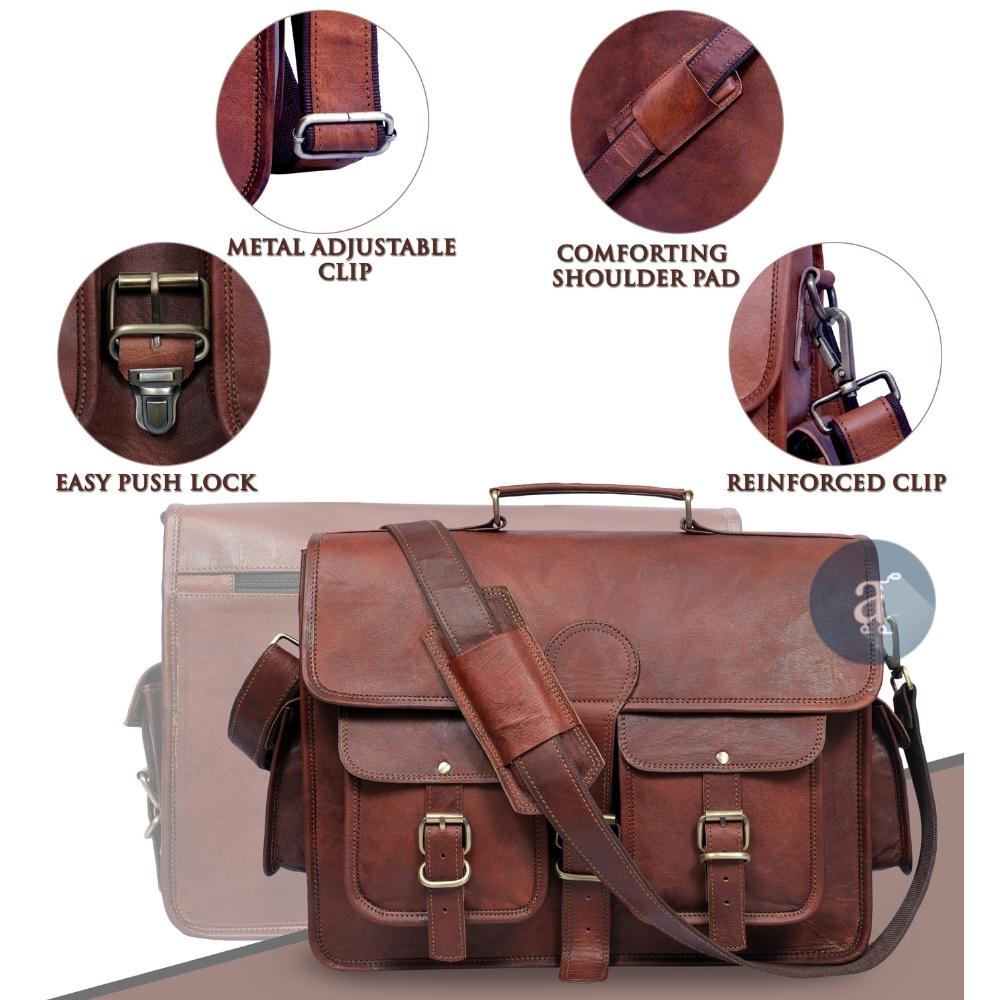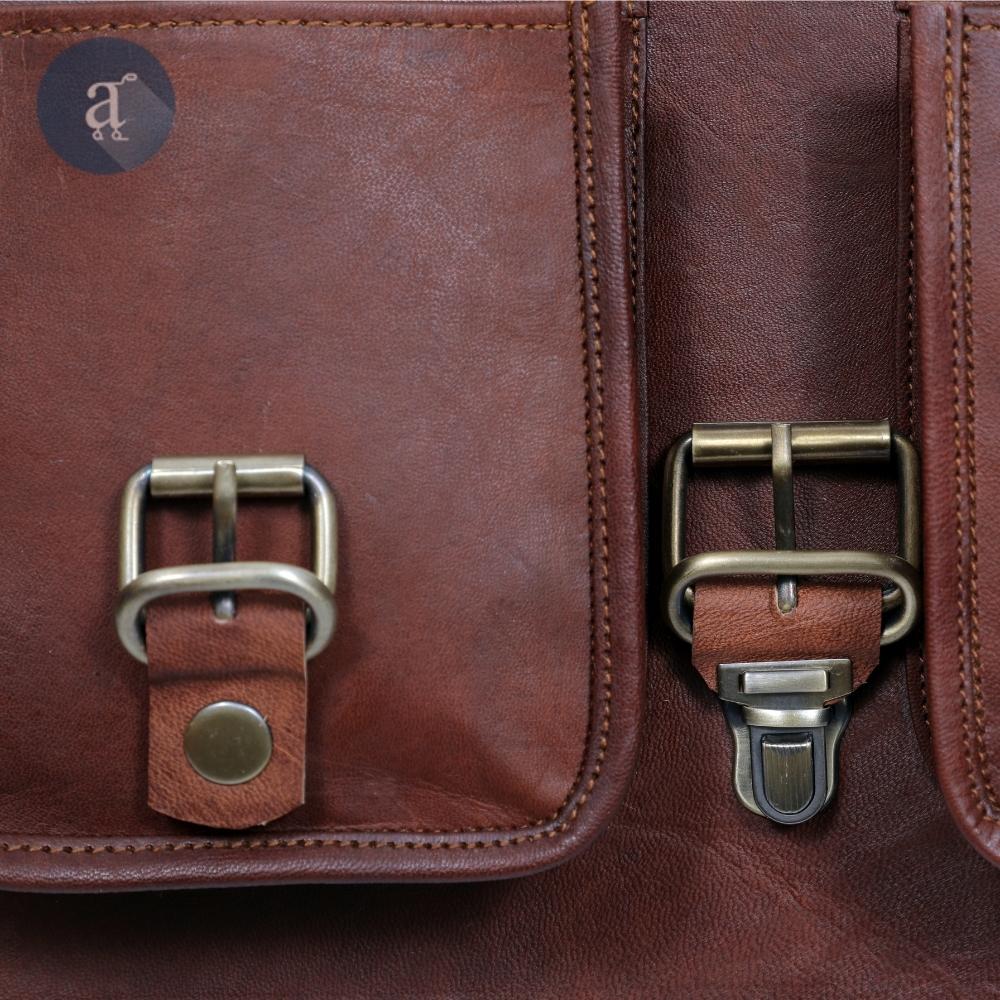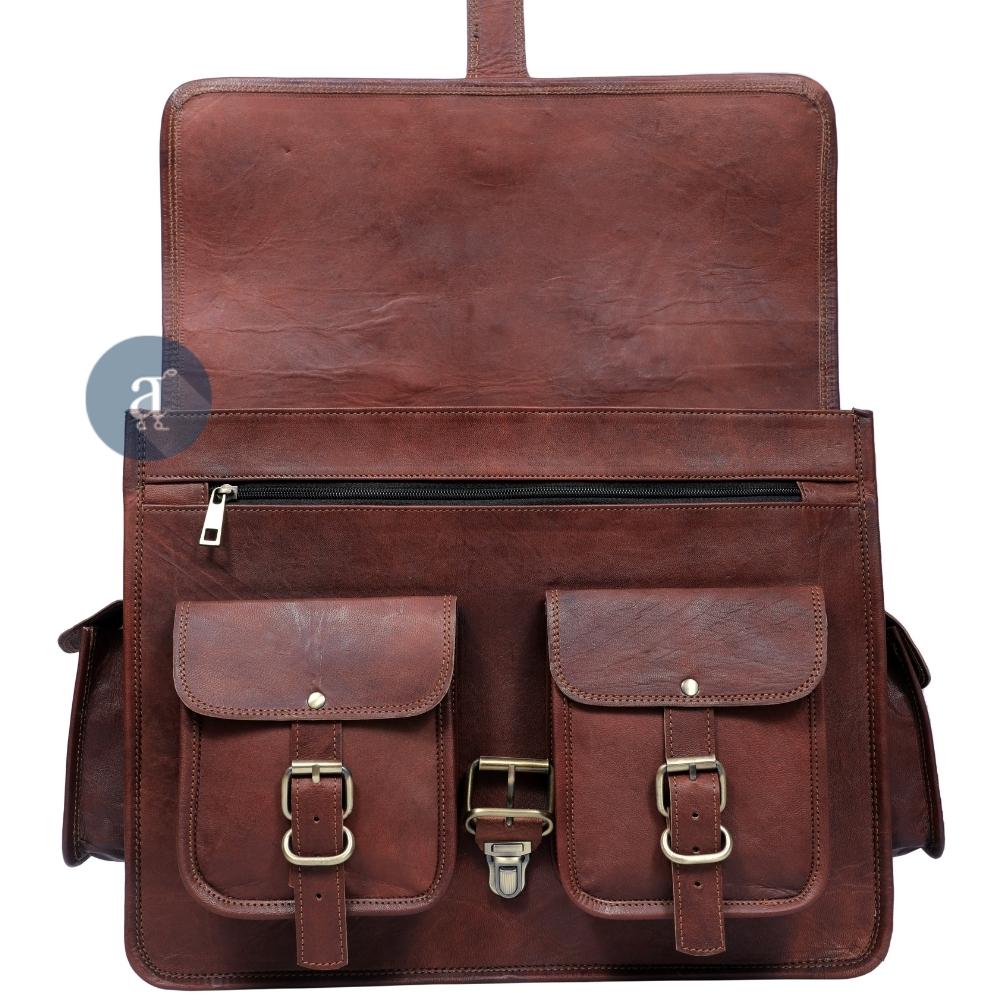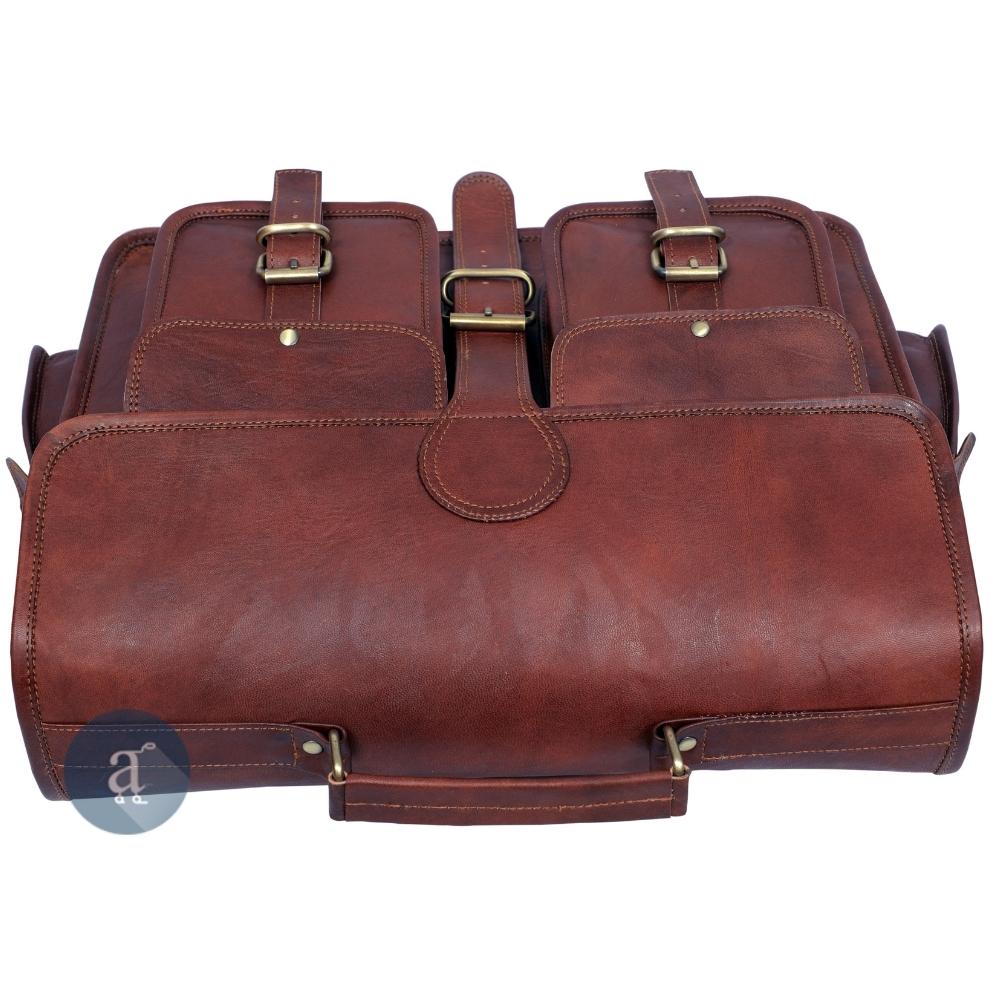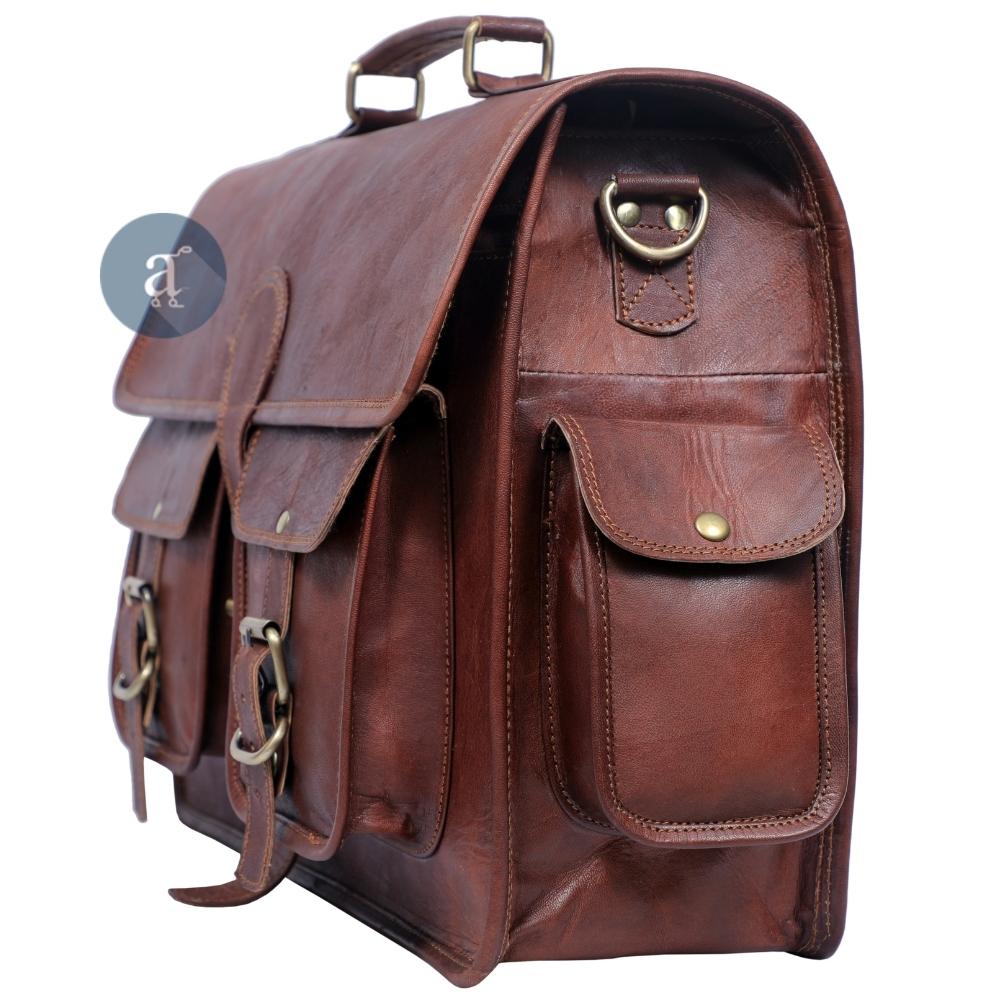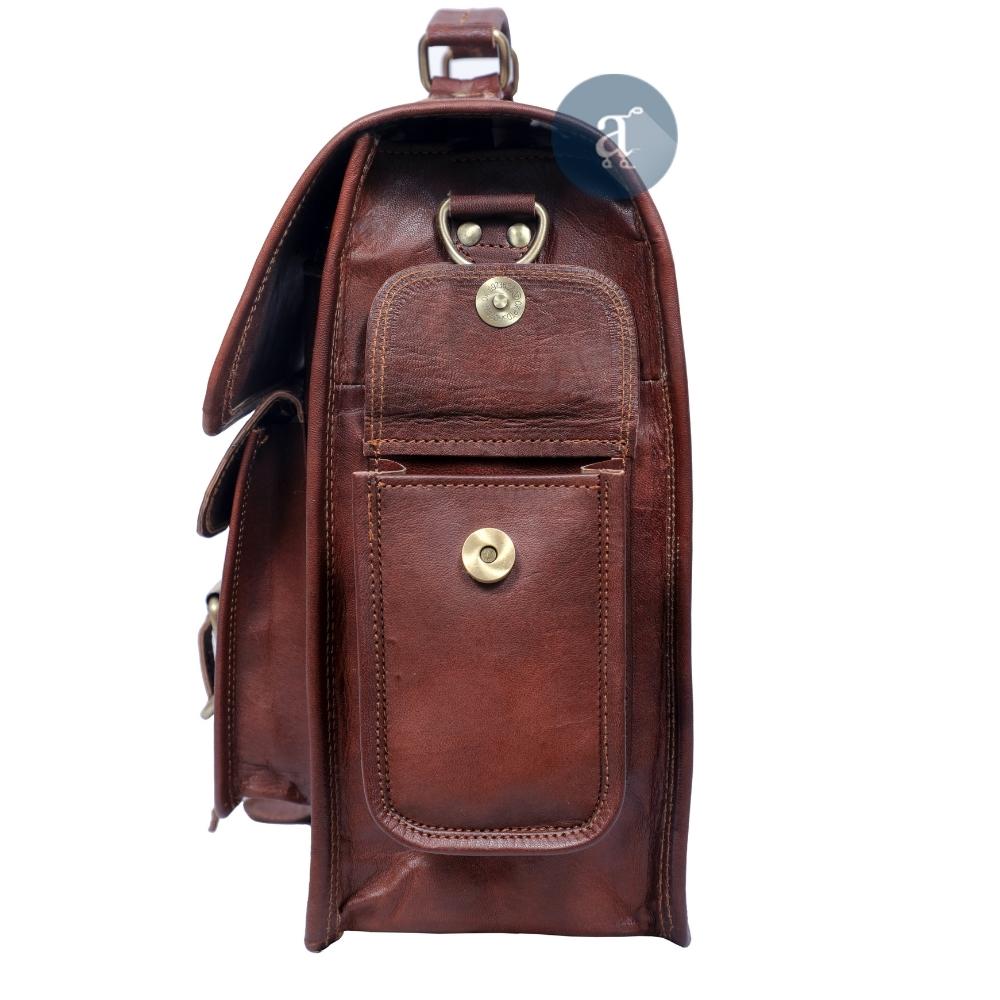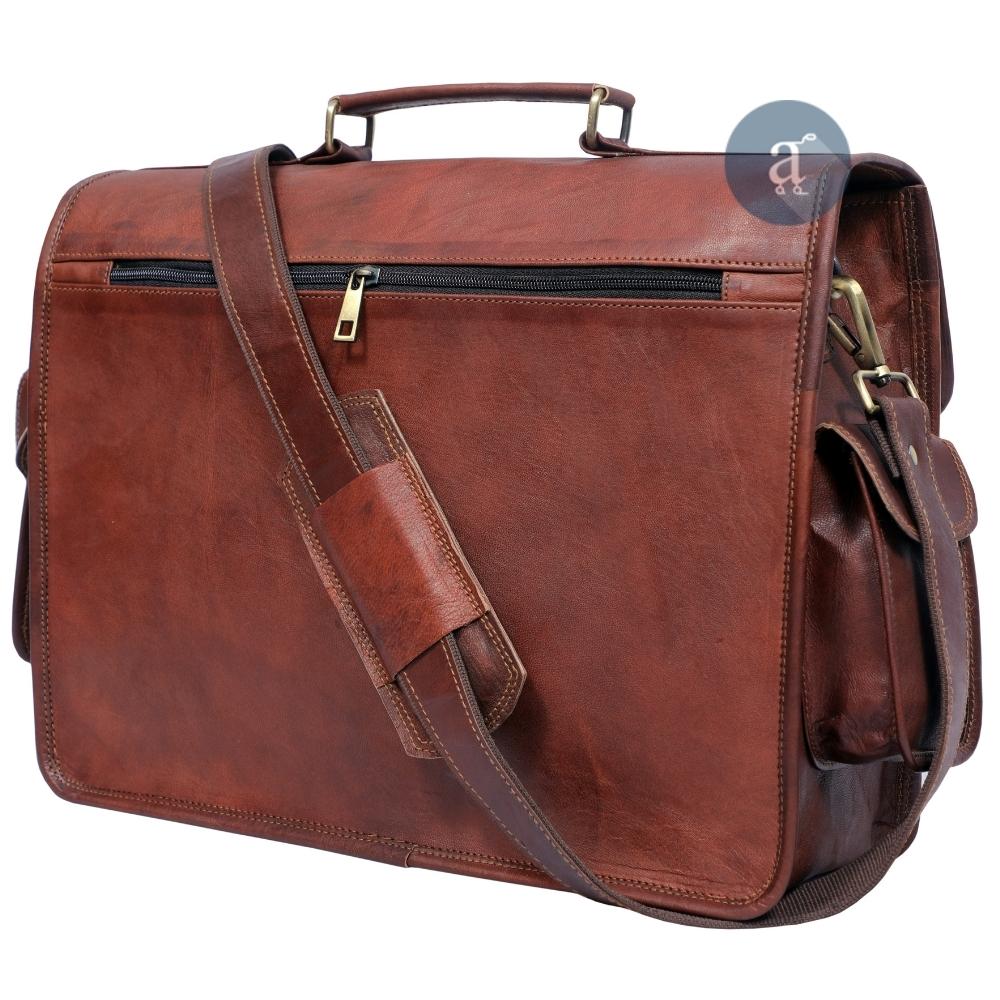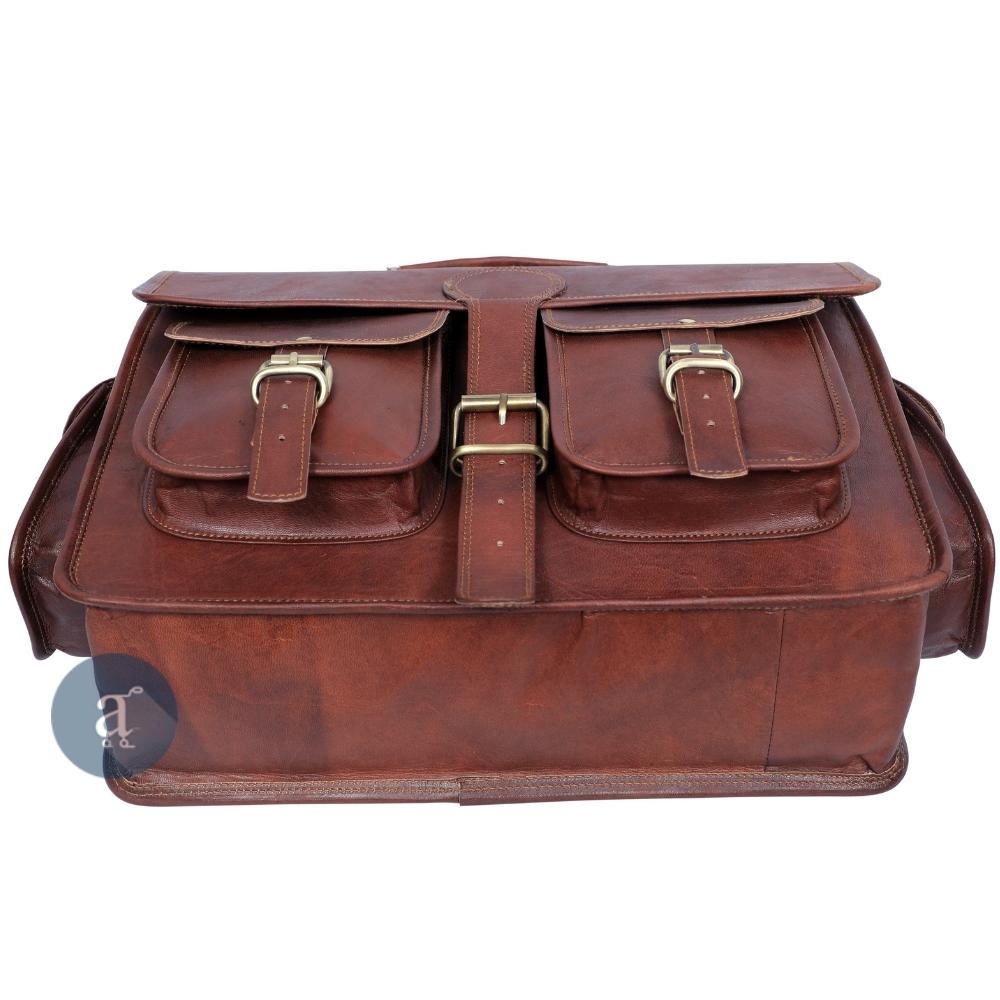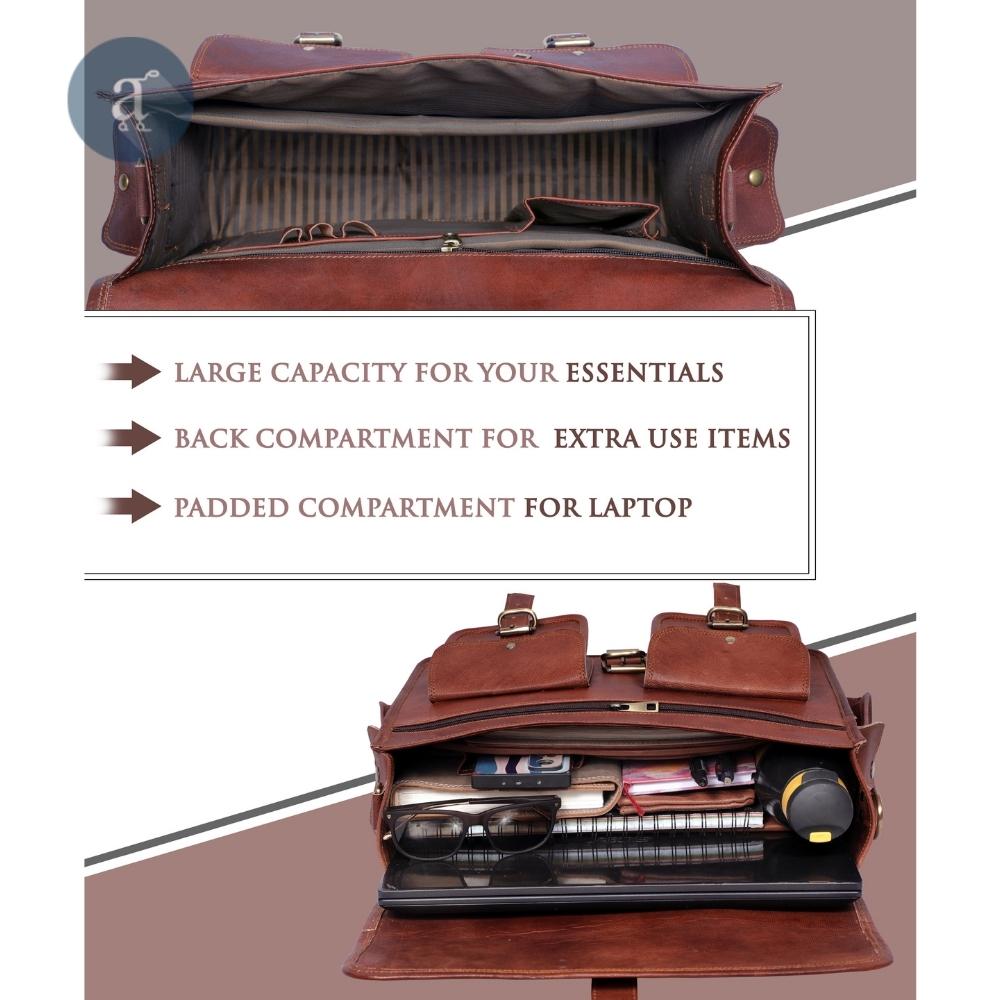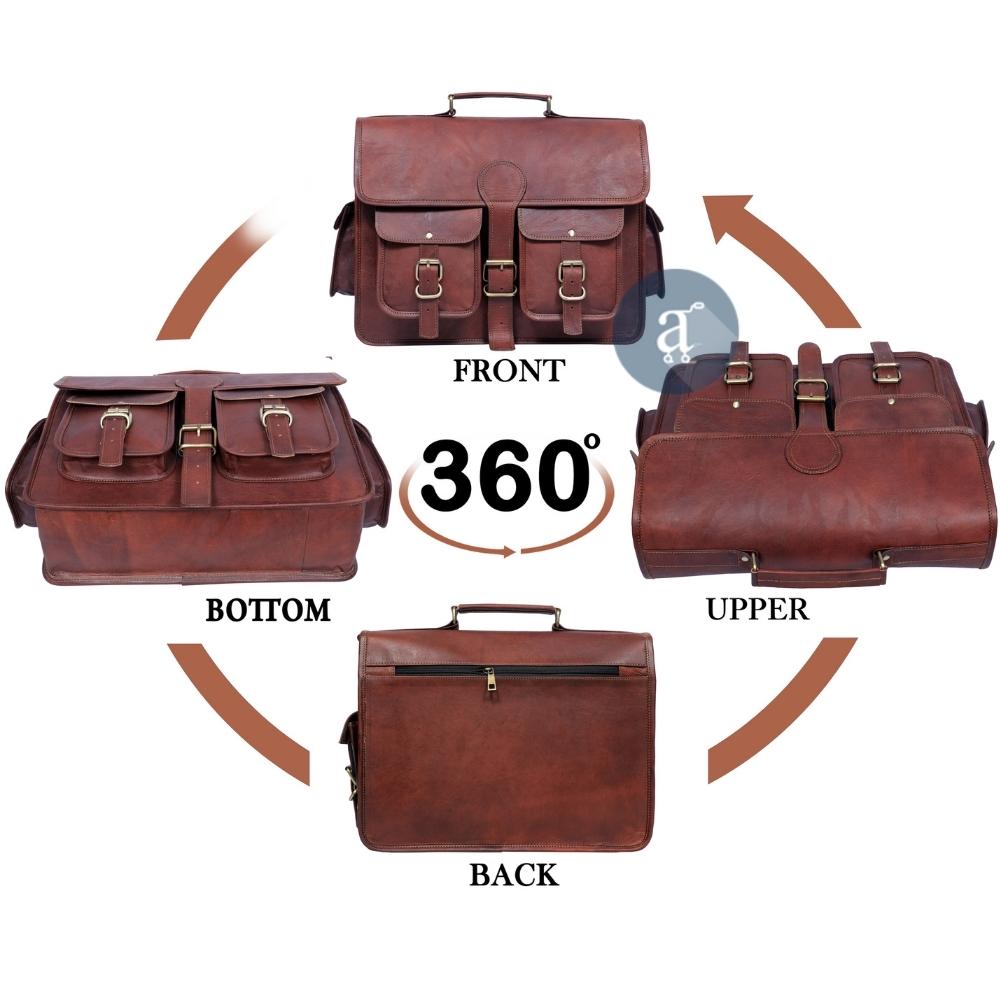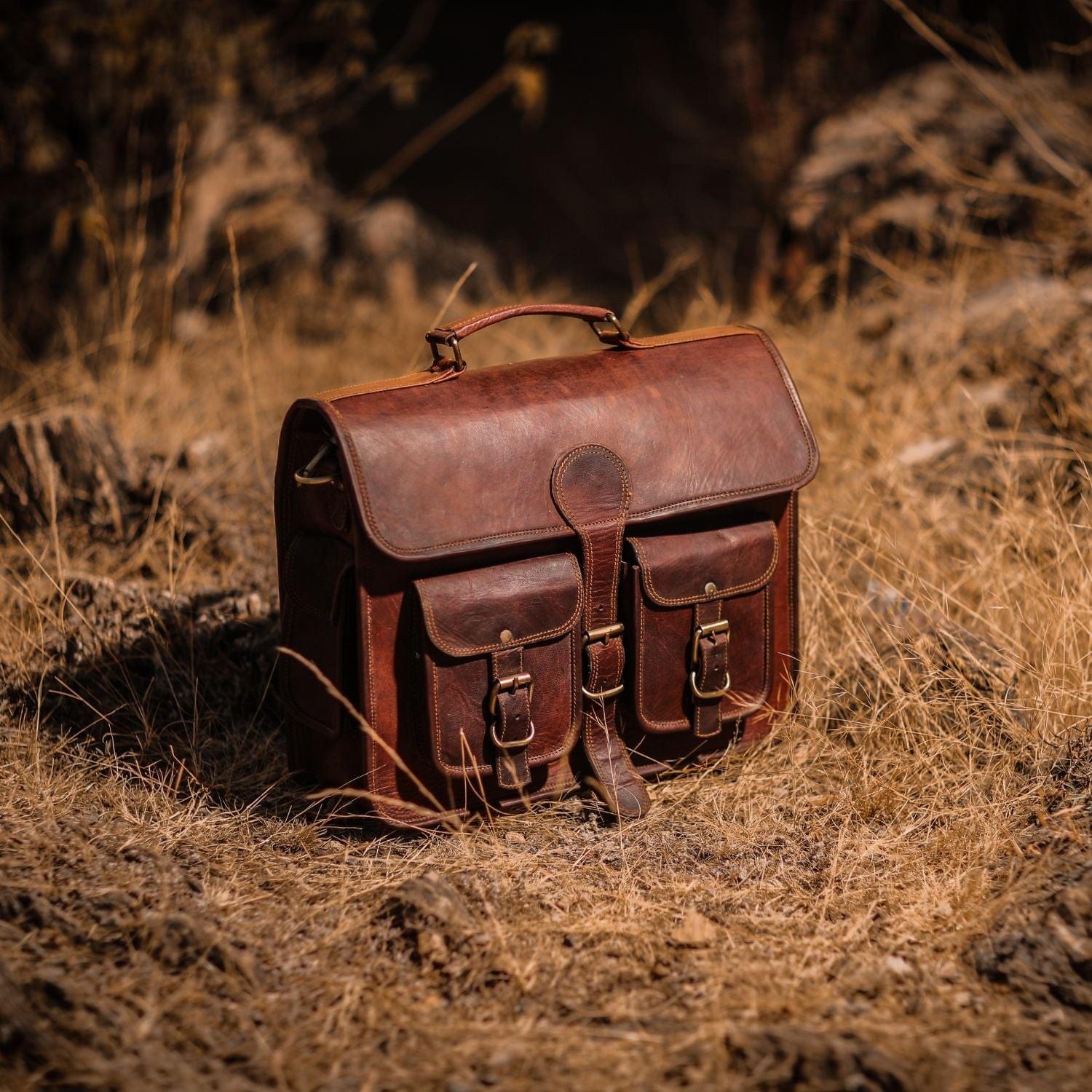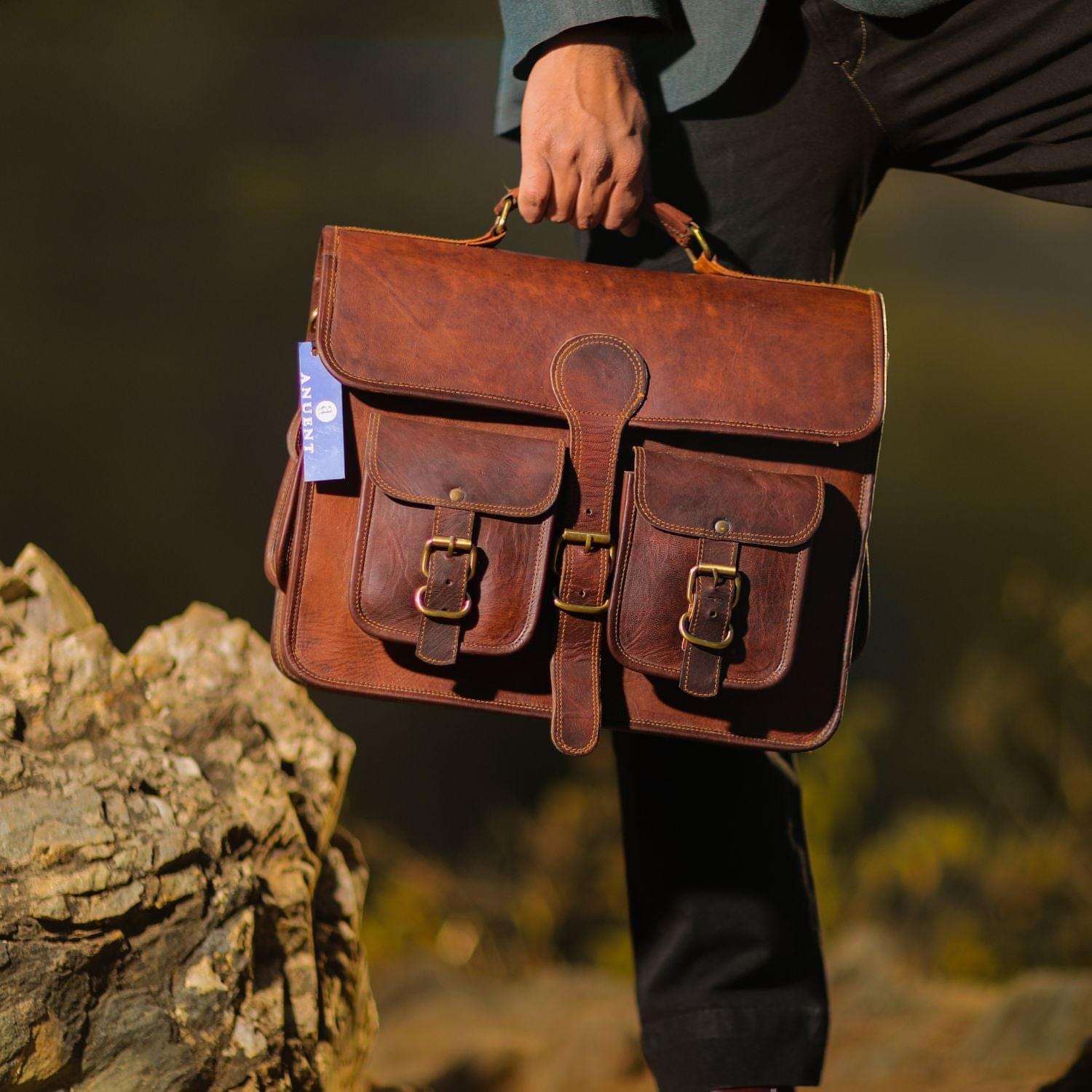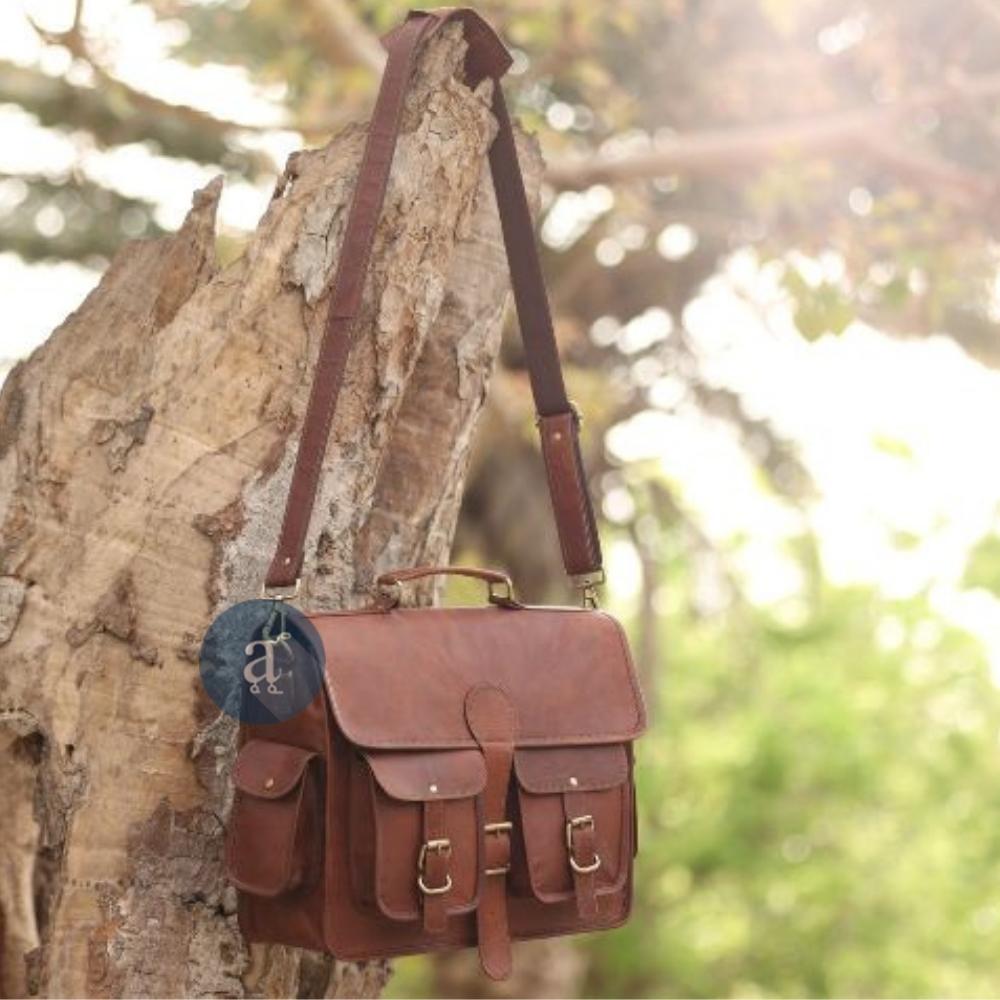 Sale price
$89.99
Regular price
$69.99
Estimated Delivery:Oct 04 - Oct 08

Free Shipping: In USA, UK and Canada.

DESCRIPTION
SPECS
FEATURES
MATERIALS
CARING
Leather Briefcase Bag by Anuent: A Confluence of Elegance and Efficiency
Masterful Craftsmanship of the Leather Briefcase Bag
Every inch of the Anuent Leather Briefcase Bag exudes fine craftsmanship. Its authentic grain leather construction from high-grade goat leather showcases the epitome of luxury. The enticing dark brown hue, coupled with the alluring sheen of brown leather, sets it apart.
Unlike many leather goods that carry an unsettling smell, this bag boasts a special tanning process that eliminates any unsavory leather odor.
The Versatility of Sizes in the Leather Briefcase Bag Collection
With Anuent, you have options tailored to your needs. The leather briefcase bag is available in:
15 Inches (Dimensions: 15 L x 5 W x 11 H Inches) suitable for professionals who seek compactness without compromising on space.
18 Inches (Dimensions: 18 L x 5 W x 13 H Inches) for those who need that extra space for their endeavors.
Inside the Leather Briefcase Bag: A Realm of Organization
Beyond being a business briefcase, this bag is your perfect travel companion. The 15-inch variant snugly fits up to a 15-inch laptop, while the 18-inch size embraces up to an 18-inch device. But that's not all; its interior is a testament to thoughtfulness.
With dedicated pockets for mobiles, pens, and a main compartment, everything finds its place. The business bags by Anuent redefine organized luxury.
The Exterior Aesthetics of the Leather Briefcase Bag
The outer design stands tall in the collection of leather briefcases. The six meticulously crafted pockets not only enhance its visual appeal but also amp up its functionality.
And the brass hardware? It perfectly marries vintage charm with modern sophistication.
More Than Just a Leather Briefcase Bag: It's an Experience
With its unisex design, it effortlessly blends with every personal style. It's not just a bag; it's a reflection of one's taste. It's an excellent choice for those looking to gift anniversary gifts that make a mark.
And the water-resistant property? That's Anuent ensuring your possessions stay protected, always.
Why Anuent's Leather Briefcase Bag is the Talk of the Town
Its distinct dark brown color, combined with the fine craftsmanship, sets it apart in the sea of briefcase bags. The removable, padded shoulder strap ensures that your shoulders remain unburdened, and when you wish to hand-carry it, the robust handle stands ready.
Quality, Style, and Durability: The Leather Briefcase Bag's Promise
Every stitch, every pocket, and every buckle speaks of the quality leather used in its construction. The leather business briefcase isn't just a product; it's a legacy.
The brown-lined cotton canvas interior, combined with its brass hardware, ensures that the bag isn't just about looks. It's built to last.
Elevate Your Daily Endeavors with the Leather Briefcase Bag
Grain leather, functional design, and unmatched style—this bag is designed for professionals and travelers alike. Whether you're stepping into a boardroom or jet-setting across the globe, it promises to be one of your finest travel companions.
With free shipping across the USA, UK, and Canada, there's no reason to wait. Experience the confluence of elegance, efficiency, and excellence. Add this leather masterpiece to your collection today!
SKU: AN0UBB015 | AN0UBB018
Dimensions: 15 L x 5 W x 11 H Inches | 1.25 Kg | 13.52 Ltr and 18 L x 5 W x 13 H Inches | 1.5 Kg | 19.17 Ltr
Color: Brown
Condition: New
Weight: 1.25 kg
Capacity:
Brand: Anuent
Style: Crossbody | Shoulder | Briefcase | Messenger
Laptop Compartment: Yes
Inner Pockets: 4
Outer Pockets: 6
Total Compartments: 3
Gender: Unisex
Closure Type: Flap With Buckle Closure
Exterior: Goat Leather
Interior: Orange Cotton Canvas
Hardware: Brass
➡ Taking Care of your Leather Products
Leather products are often used in professional settings and require special care to keep them looking pristine.

If you take good care of your leather bag, backpack, or journal, the surface will stay bright for years to come!

● Always ensure that any product is dry before applying cream/moisture lotion onto it by using a soft cloth; this helps prevent stains from occurring when applied wisely.

● To ensure that your leather product lasts for years, never allow it to get wet. If the item gets soaked in water and you want to dry it out again quickly. Place thick microfiber cloths over any exposed surfaces of an absorbent material before allowing gravity to do its work.

➡ Note

The leather products may vary in color and size.

Some are slightly lighter, while others are darker than what is shown on your monitor - this will affect the outcome of a product's shade (due to natural materials).

However, you can be sure each bag or journal has been handmade with care for its unique features!

➡ Custom Duty

We take great pride in shipping all our products as quickly and efficiently as possible.

However, there's a chance that customs may cause delays if you don't provide them with contact information so they can reach out to collect customs duties on your behalf, which is why we must have this number!

Please let us know what phone number works best for International Shipping purposes at any time during checkout or after placing an order.

Also, email us if any questions arise about Customs-related matters.
I LOVE this bag! It's exactly what I wanted and it's very durable.
This bag has good design and plenty of storage space, it's a great value for a low price.
This is the second one of these bags that I have purchased- great quality and style.
This bag is exactly what it says it is, and the quality of the materials is great for this price.
My current favorite bag for commuting to work and it fits the profile of my professional style. Also, this is one tough bag; it's getting rougher everyday.