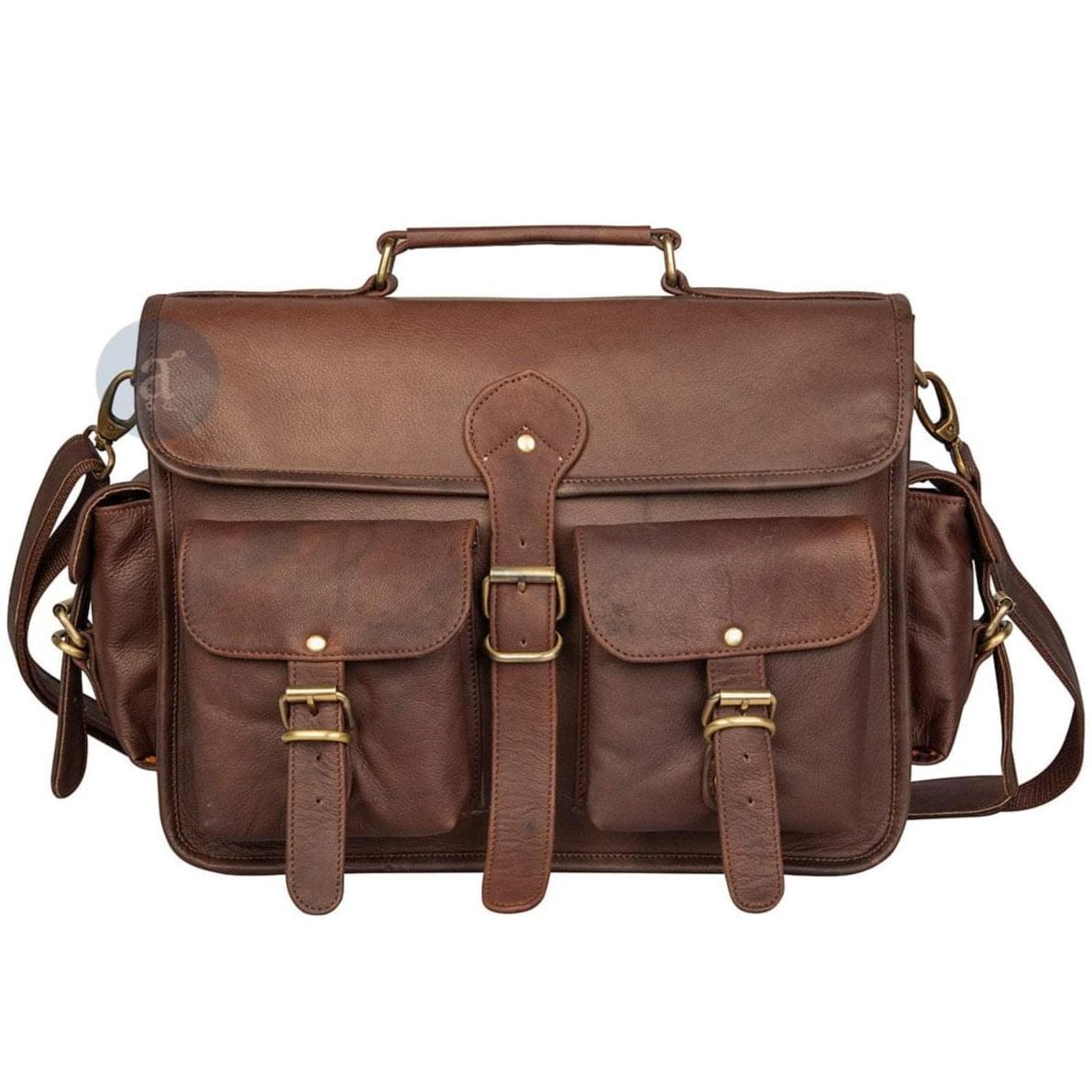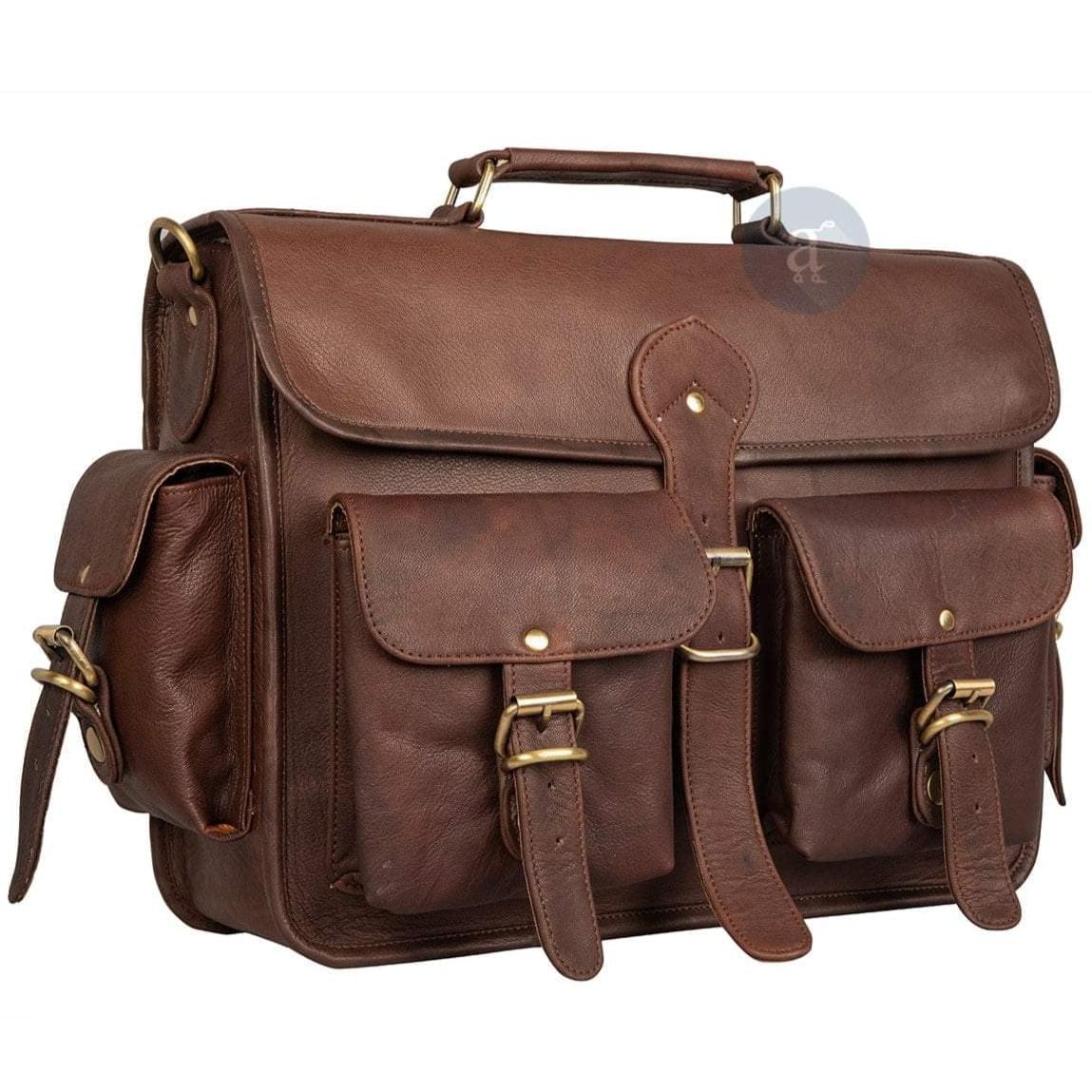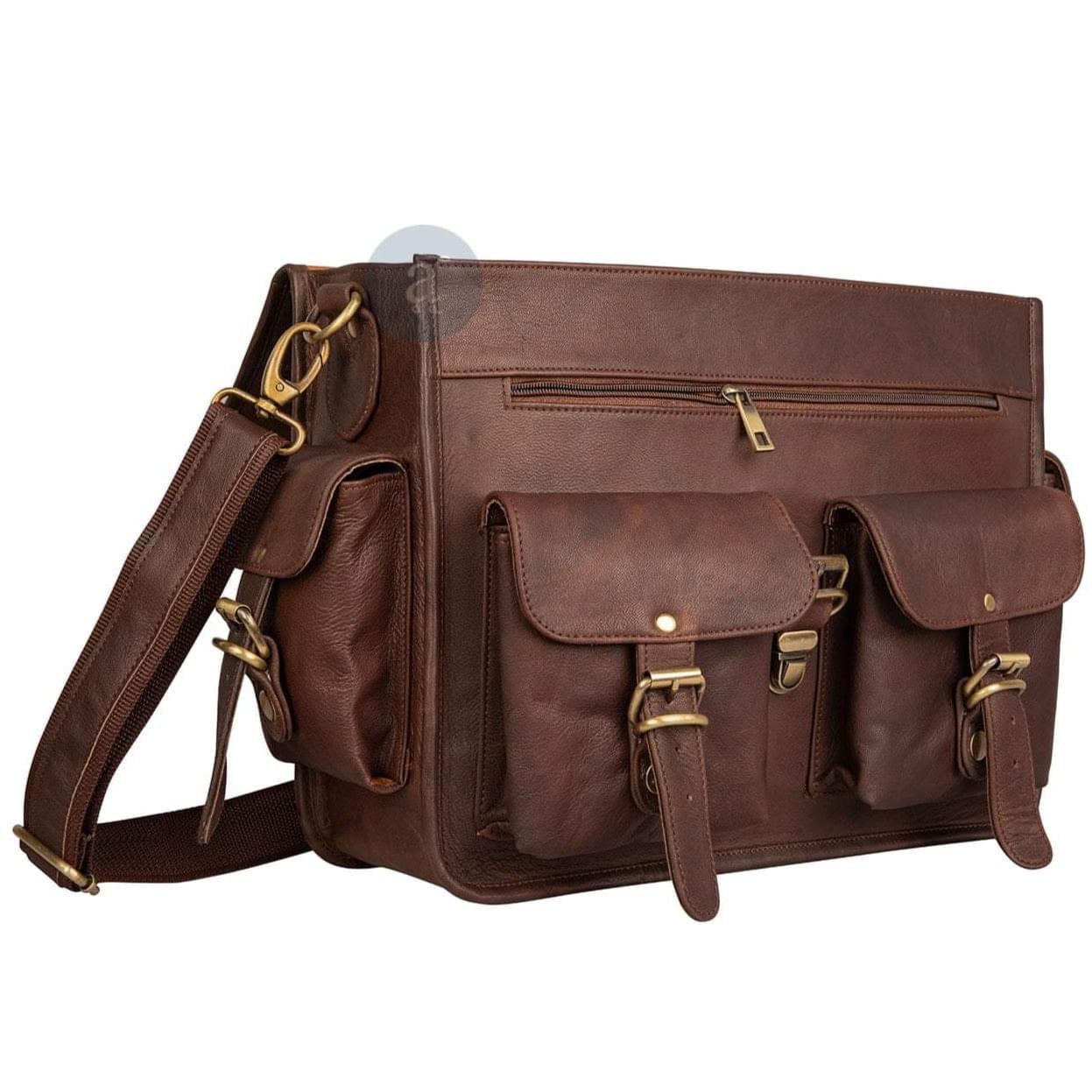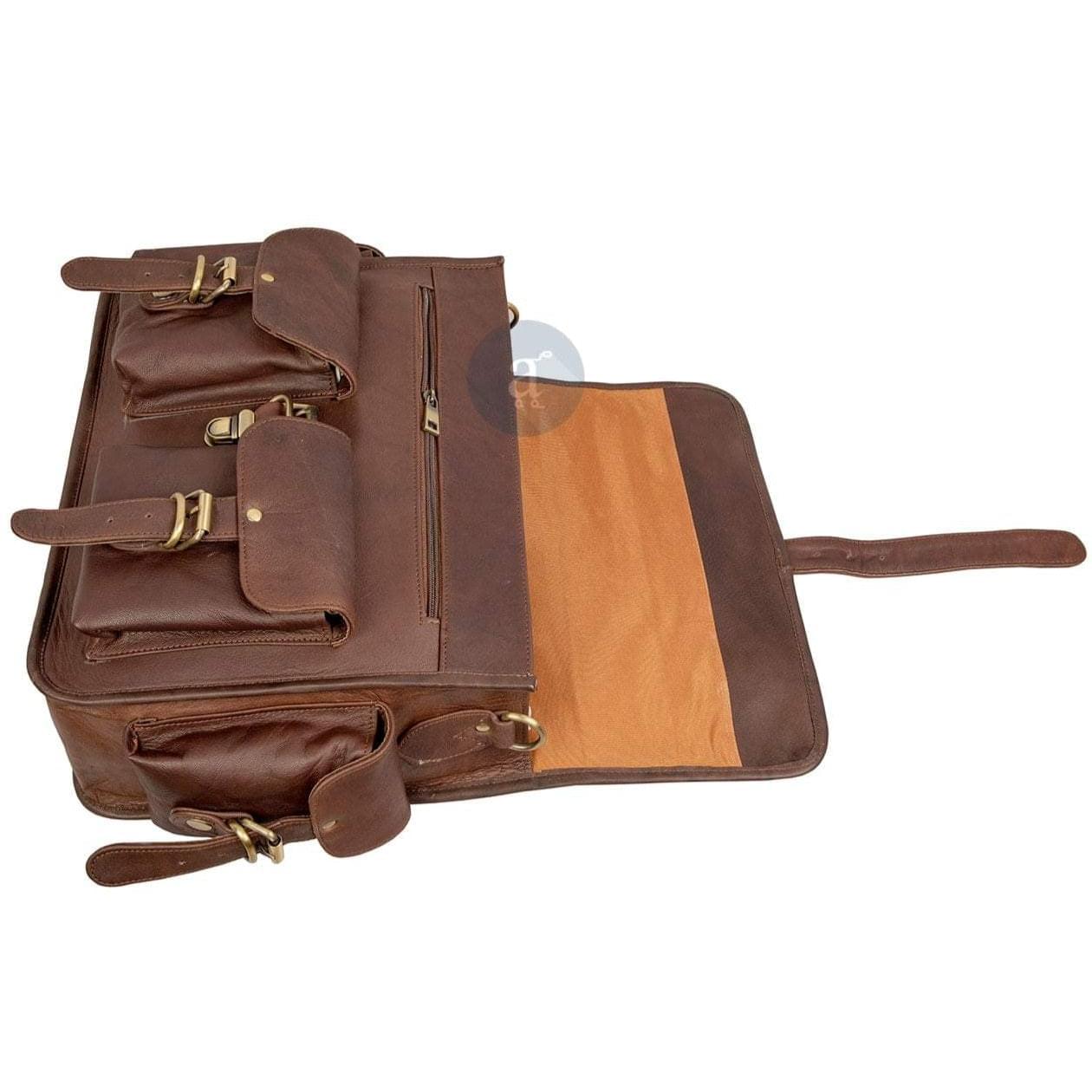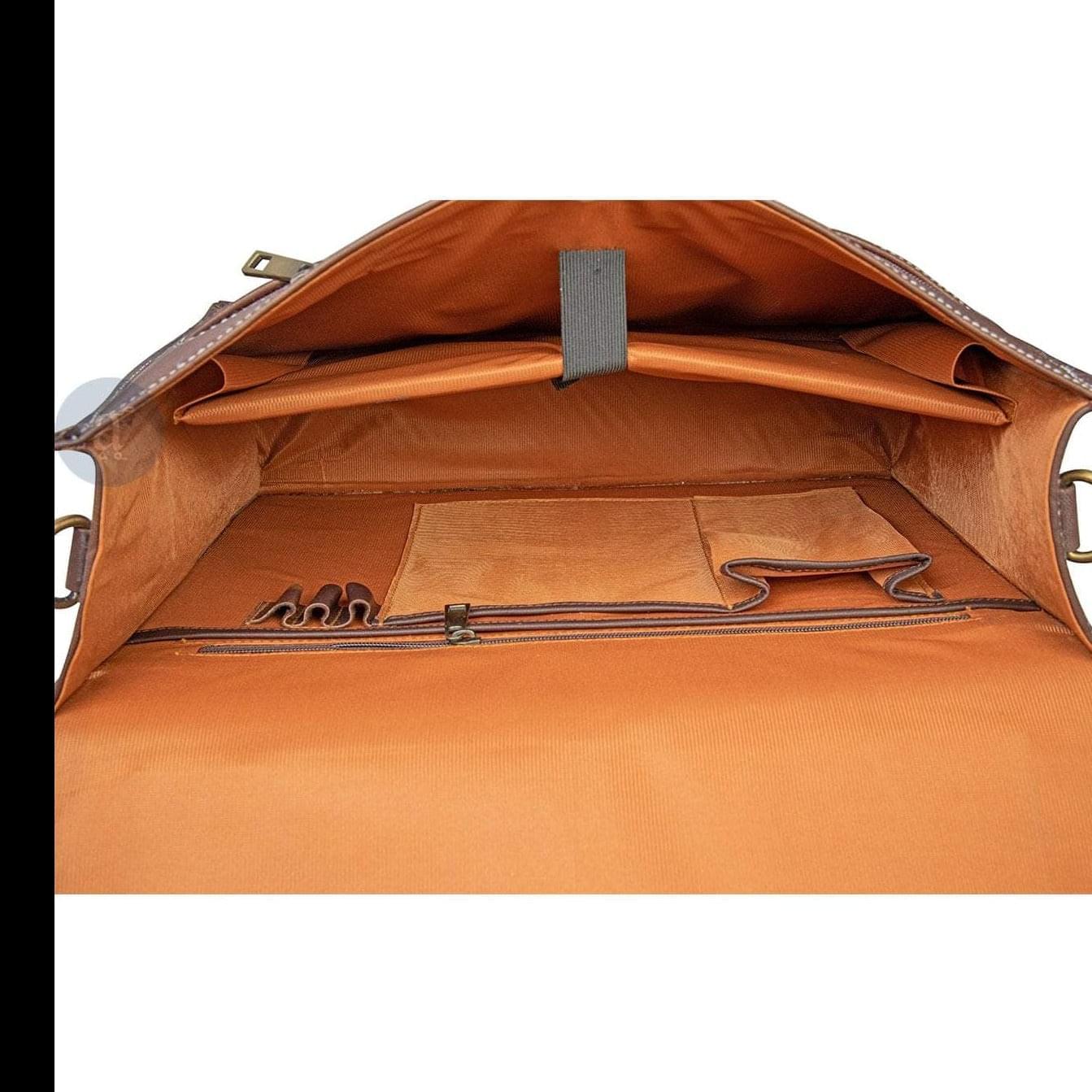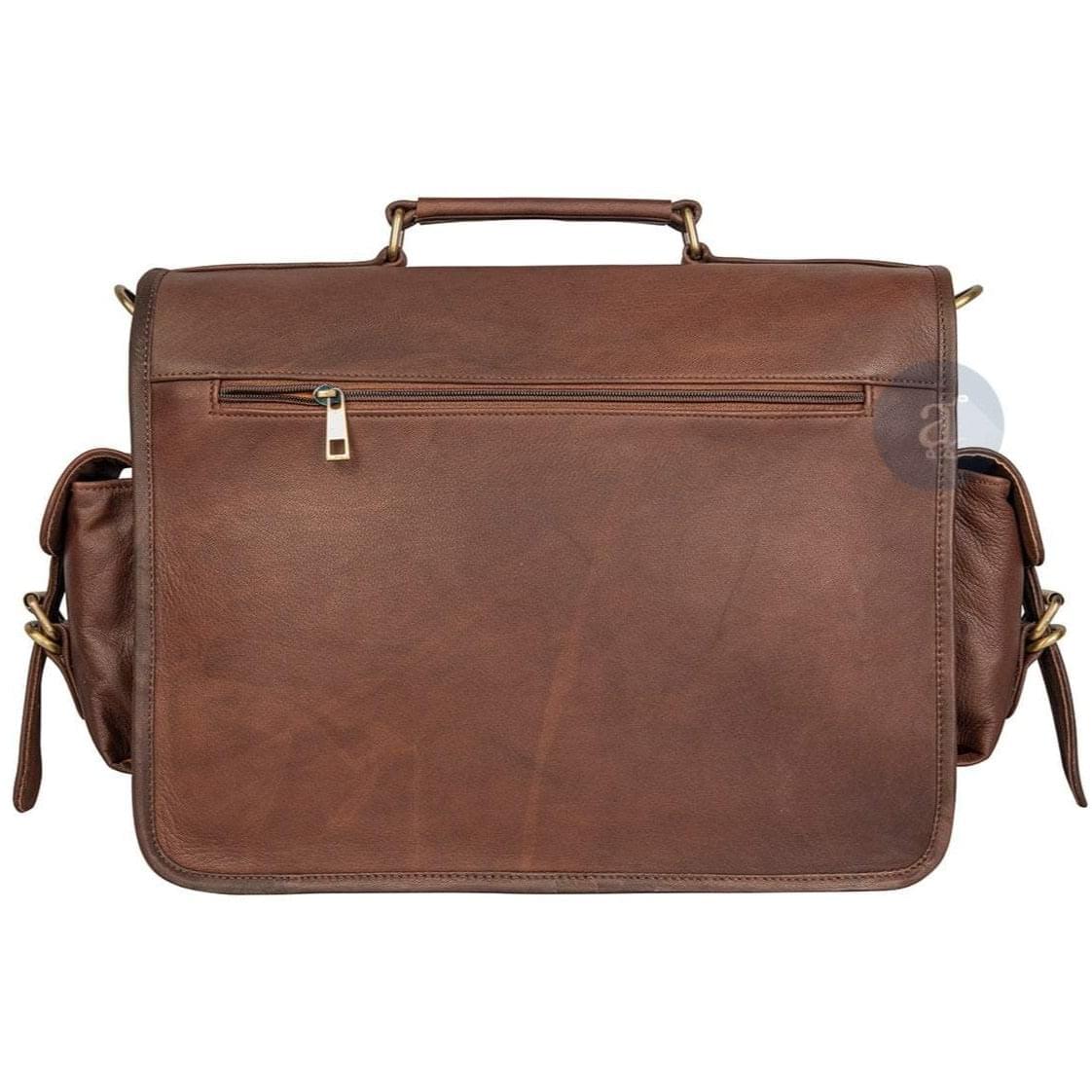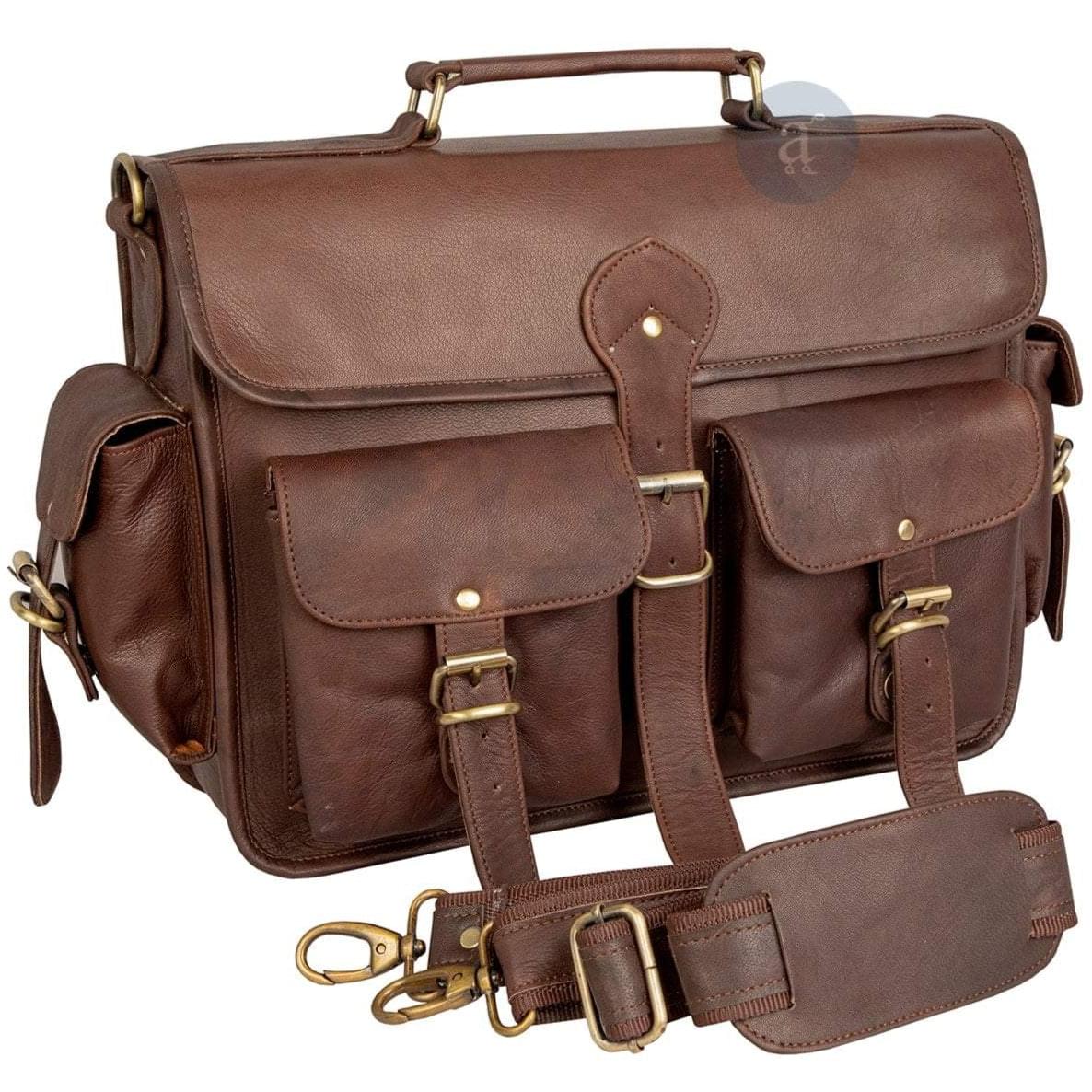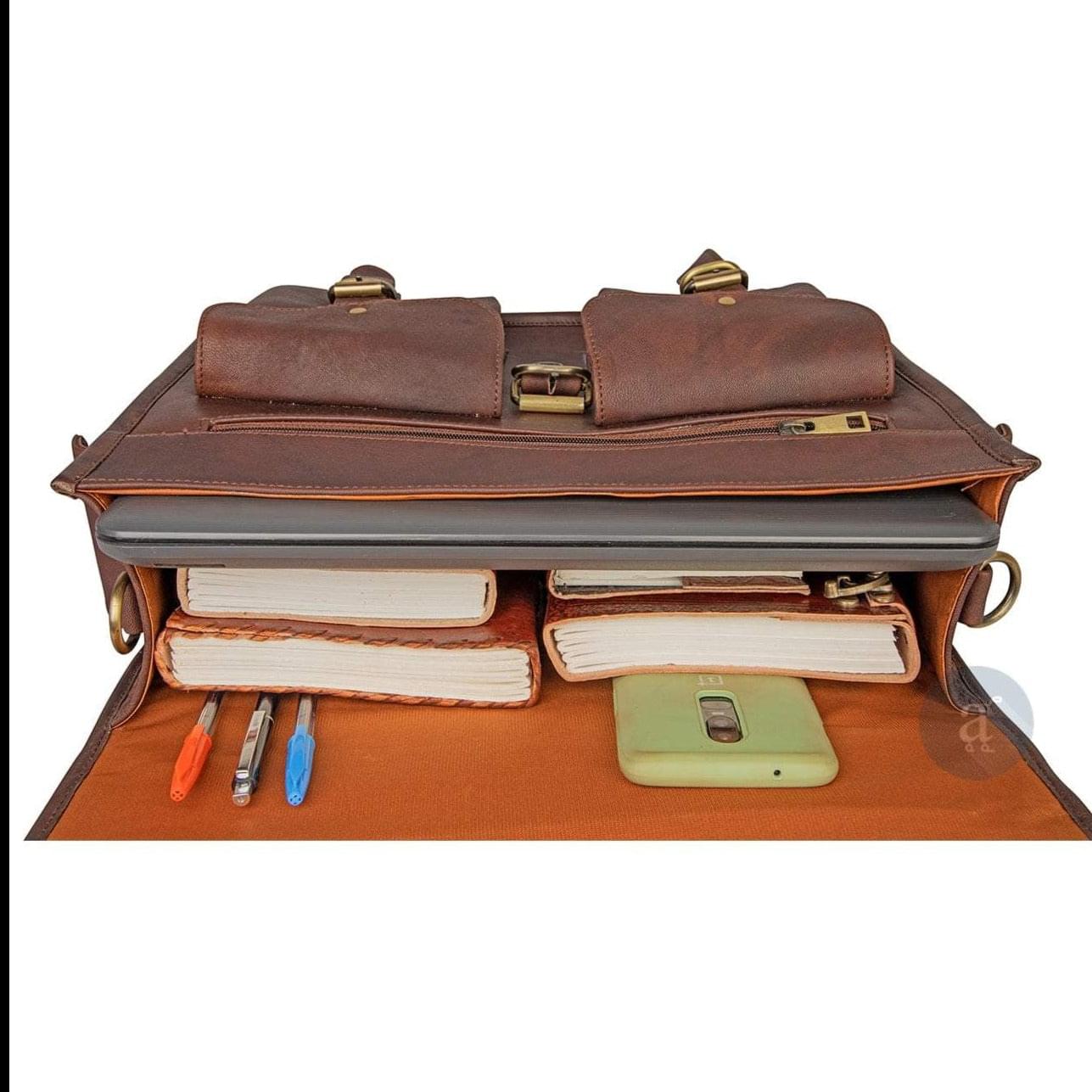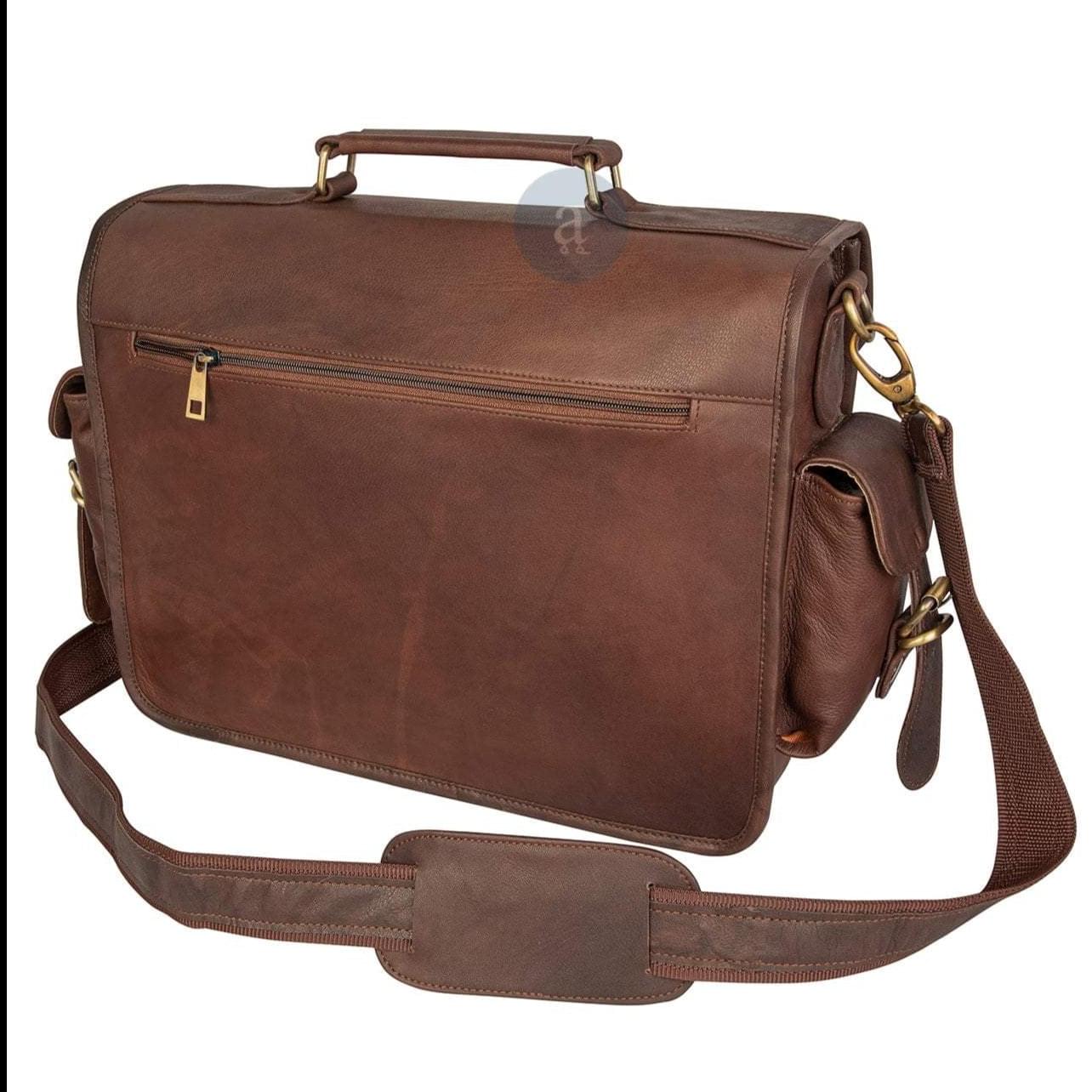 Leather Briefcase For Men
Sale price
$149.99
Regular price
$149.99
Estimated Delivery:Oct 04 - Oct 08

Free Shipping: In USA, UK and Canada.

DESCRIPTION
SPECS
FEATURES
MATERIALS
CARING
Leather Briefcase For Men: Where Craftsmanship Meets Utility
Dimensions & Capacity: More Than Just Numbers
The Anuent Leather Briefcase doesn't just present dimensions; it offers a world of space. With 15 L x 11 H x 5 W inches measurements, it graciously unfolds a vast capacity of 16.25 liters. Such space speaks not just volume but versatility.
Whether you're an entrepreneur juggling tech gadgets, a lawyer with heavy legal bundles, or a student with numerous books, this briefcase accommodates all with aplomb.
Material Matters: The Soul of Anuent's Leather Briefcase for Men
Genuine leather carries a legacy. When you touch the dark brown goat leather exterior, you're touching history, craftsmanship, and luxury. But Anuent doesn't stop there.
The radiant orange cotton canvas interior, juxtaposed against the leather, showcases a celebration of contemporary design choices. Every detail, down to the shimmering brass hardware, echoes a story of quality and finesse.
Pockets & Compartments: A Place for Everything
Let's embark on a journey inside this masterpiece. The Padded Laptop Compartment is the heart of the bag, safeguarding your tech investments. But the beauty lies in the intricate details:
Outer Sanctuaries: Six exterior pockets, thoughtfully positioned, ensure your essentials are always within arm's reach.
Interior Wonders: Beyond the generous compartments, specialized pockets cater to the modern individual. Dedicated spaces for mobiles, keys, cards, pens, and even secret compartments demonstrate meticulous planning and user-centric design.
Style & Adaptability: Wear It Your Way
Style is personal. So is comfort. Recognizing this, Anuent offers diverse carrying options. Drape it crossbody during those subway commutes, swing it over your shoulder at the airport, or grasp it traditionally for that power-packed boardroom entrance.
The padded shoulder strap is a testament to Anuent's commitment to comfort without compromising on elegance.
Anuent's Unique Innovations: Setting the Men's Leather Briefcase Apart
What distinguishes a product are the subtle touches that often go unnoticed.
Anuent's unique tanning process ensures a dual advantage: a water-resistant exterior guarding against unpredictable weather and an odor-free experience, eliminating the strong scent often accompanying new leather products.
Security with Sophistication: The Classic Buckle Closure
While zippers are common, there's a timeless elegance to the flap with a buckle closure. It offers a two-fold benefit: security and style. Each time you secure that buckle, it's a silent affirmation of your belongings' safety.
In today's dynamic world, the accessories we choose are reflections of our personalities. They speak of our choices, tastes, and attention to detail.
The Anuent Leather Briefcase for Men isn't just another accessory; it's a statement, a testament to the blend of tradition and modernity.
Isn't it time you invested in a classic? Elevate your everyday ensemble with the Anuent Leather Briefcase for Men. Embrace elegance, utility, and a legacy. Your next step to sophistication awaits. Dive into the world of Anuent and stand out in the crowd.
SKU: AN0BND015
Dimensions: 15 L x 11 H x 5 W Inches
Color: Dark Brown
Condition: New
Weight: 1.5 kg
Capacity: 16.25 L
Brand: Anuent
Style: Briefcase | Crossbody | Shoulder
Laptop Compartment: Yes
Inner Pockets: 3
Outer Pockets: 6
Total Compartments: 3
Gender: Men
Closure Type: Flap With Buckle Closure
Exterior: Goat Leather
Interior: Orange Cotton Canvas
Hardware: Brass
➡ Taking Care of your Leather Products
Leather products are often used in professional settings and require special care to keep them looking pristine.

If you take good care of your leather bag, backpack, or journal, the surface will stay bright for years to come!

● Always ensure that any product is dry before applying cream/moisture lotion onto it by using a soft cloth; this helps prevent stains from occurring when applied wisely.

● To ensure that your leather product lasts for years, never allow it to get wet. If the item gets soaked in water and you want to dry it out again quickly. Place thick microfiber cloths over any exposed surfaces of an absorbent material before allowing gravity to do its work.

➡ Note

The leather products may vary in color and size.

Some are slightly lighter, while others are darker than what is shown on your monitor - this will affect the outcome of a product's shade (due to natural materials).

However, you can be sure each bag or journal has been handmade with care for its unique features!

➡ Custom Duty

We take great pride in shipping all our products as quickly and efficiently as possible.

However, there's a chance that customs may cause delays if you don't provide them with contact information so they can reach out to collect customs duties on your behalf, which is why we must have this number!

Please let us know what phone number works best for International Shipping purposes at any time during checkout or after placing an order.

Also, email us if any questions arise about Customs-related matters.
The stitching, zipper and hardware are all top notch! I'm impressed with my purchase so far! Very happy!
Very classy looking briefcase with room enough to hold all my daily work essentials!
This briefcase is awesome! It has enough room for all of my work stuff and more!!
I love this briefcase! The size is perfect; the quality seems great; and the hardware works well for someone like me who prefers to use a shoulder strap when carrying around work documents all day.
Best buy for money where I can find it in stores but some colors are available online.. Well done Anuent!!!