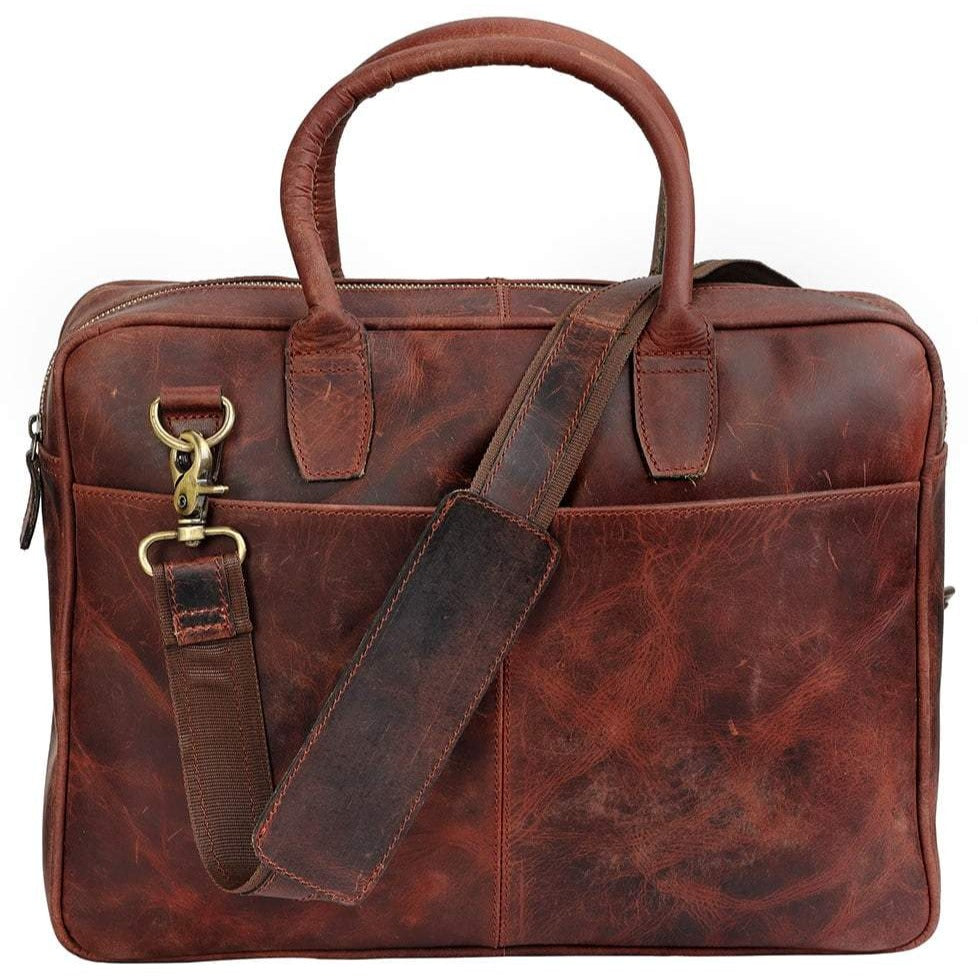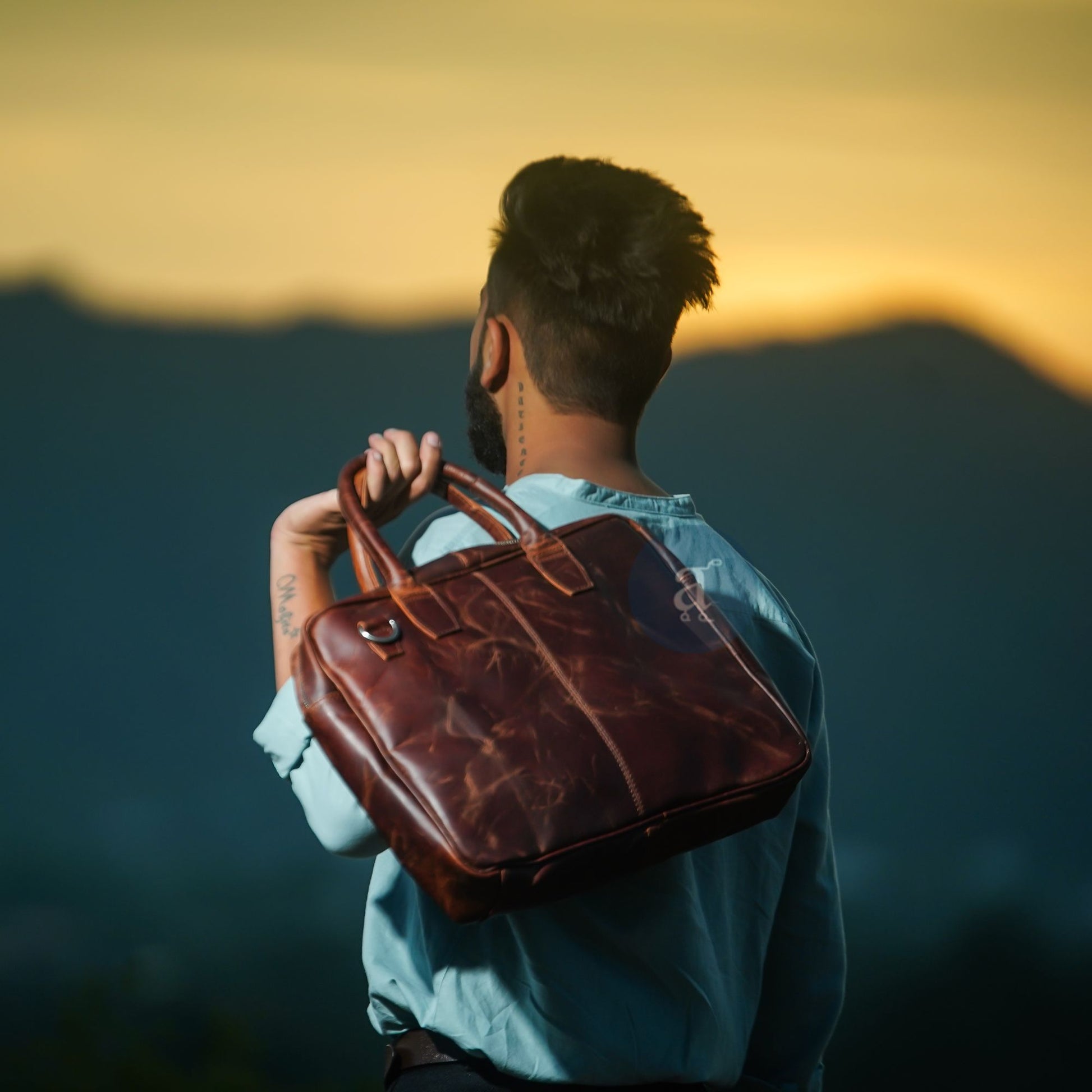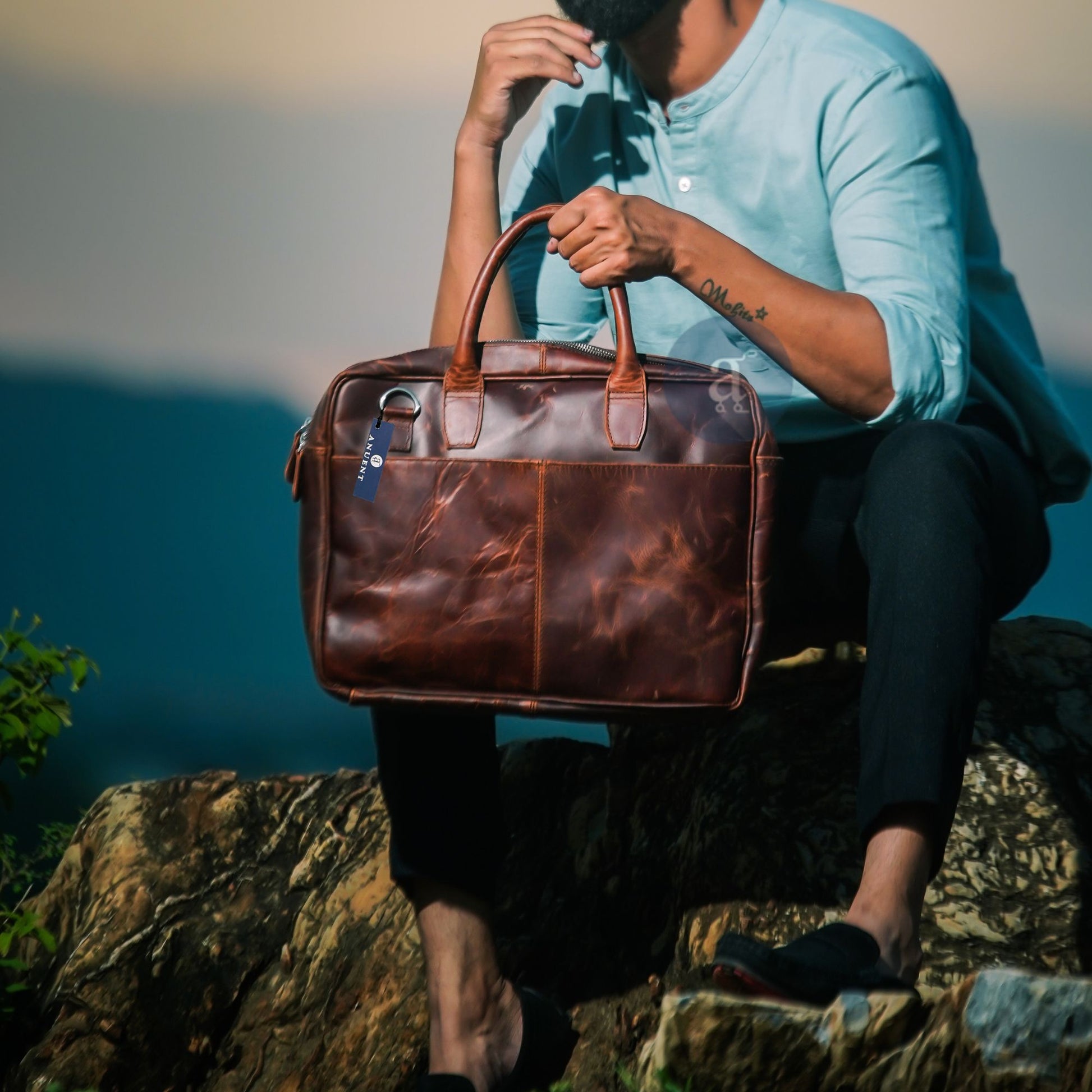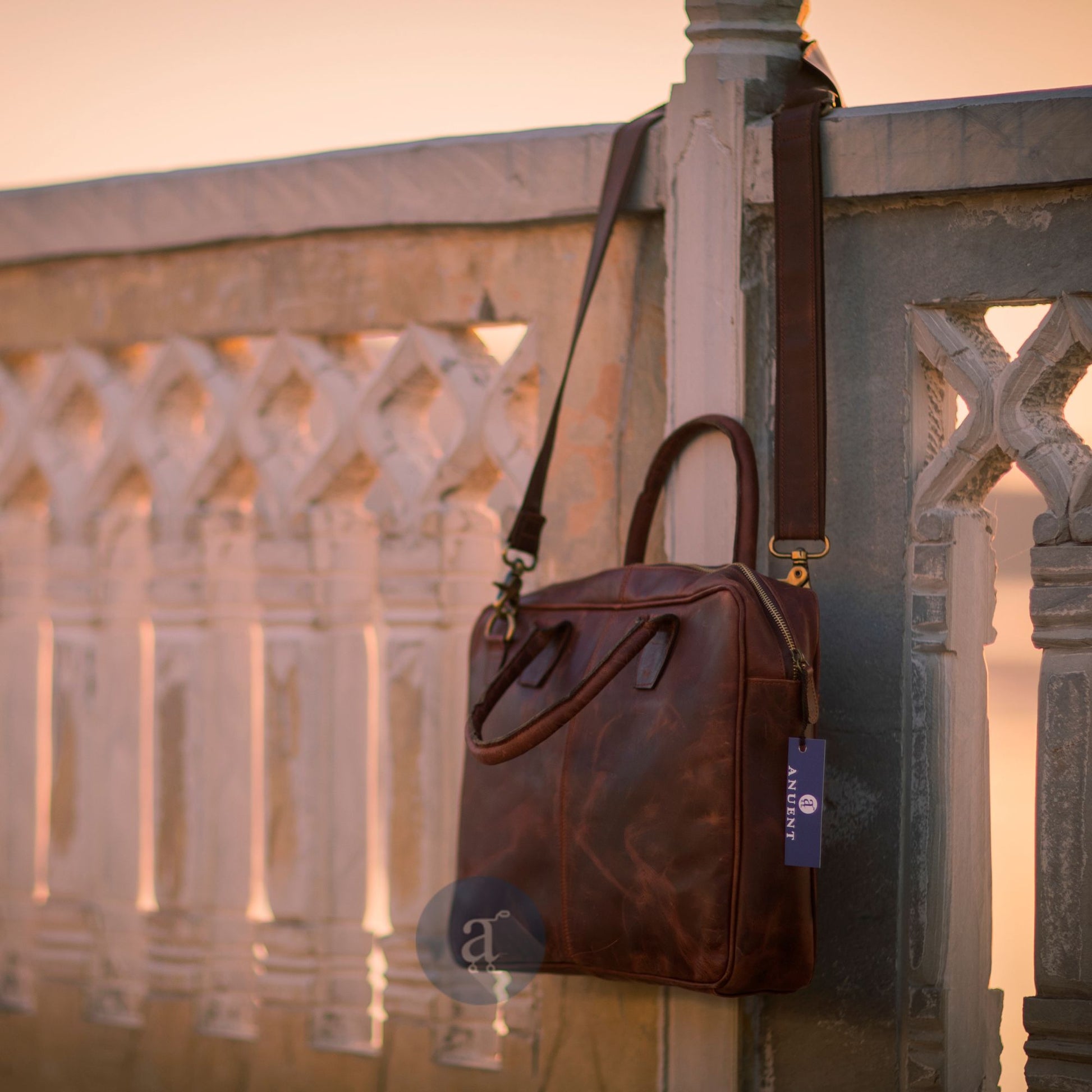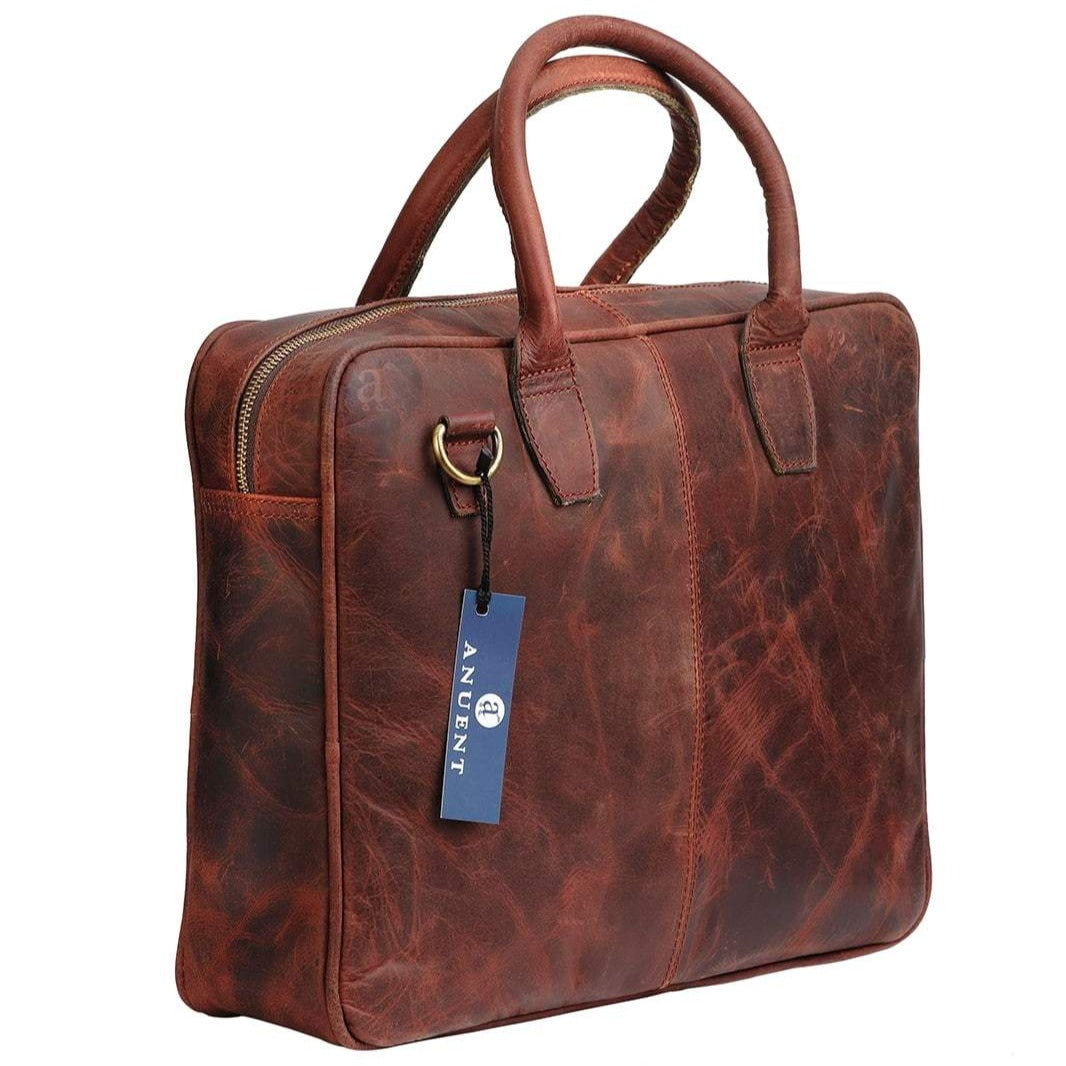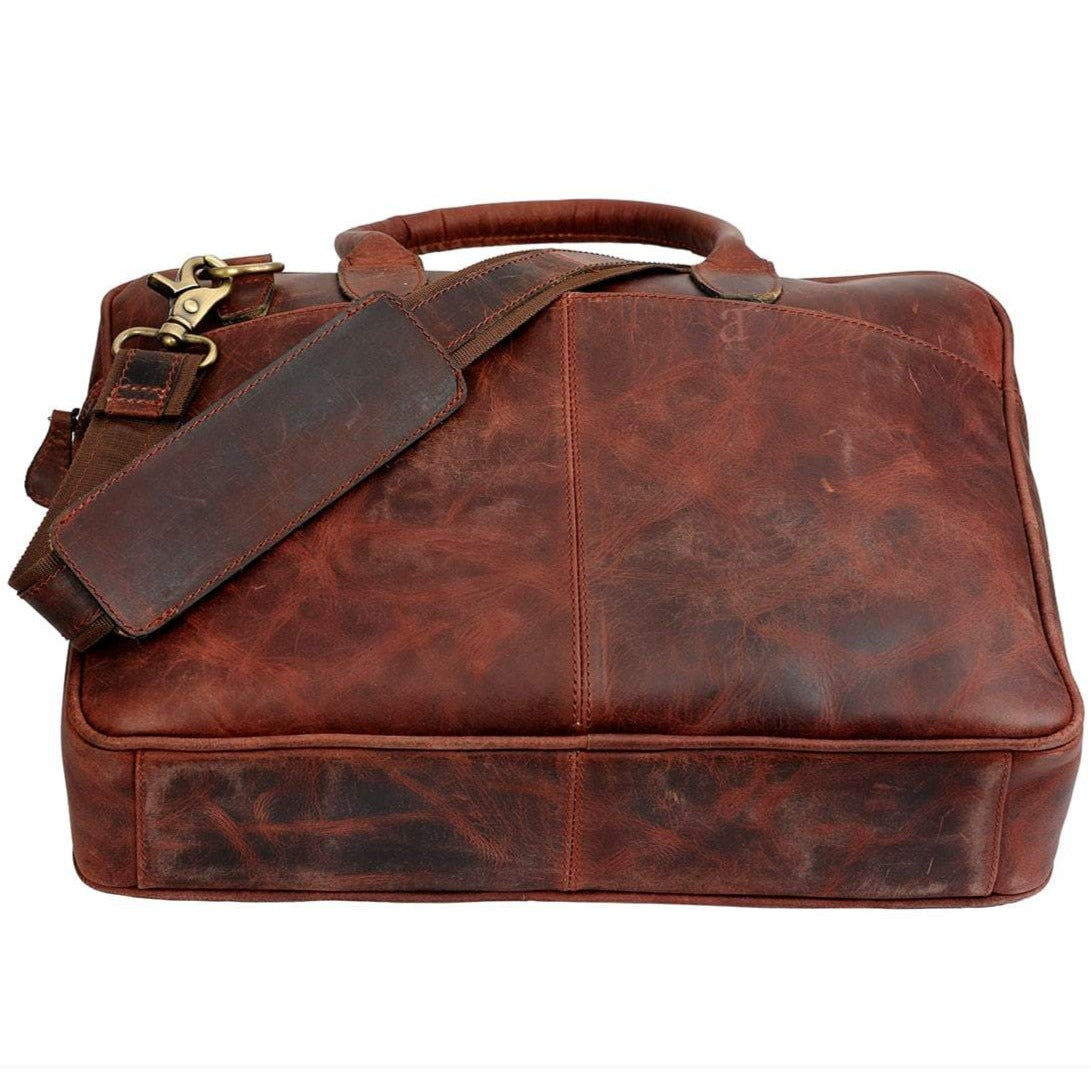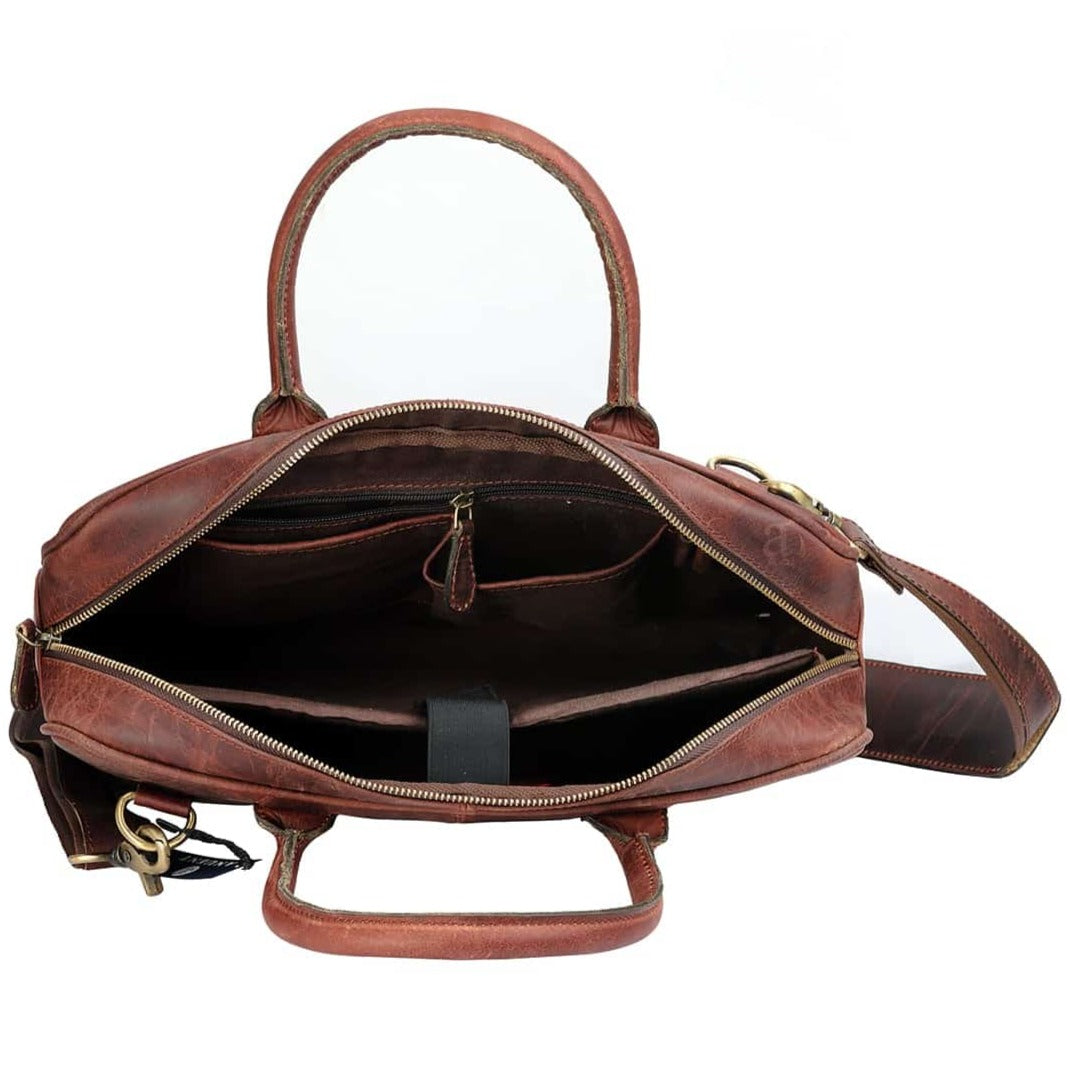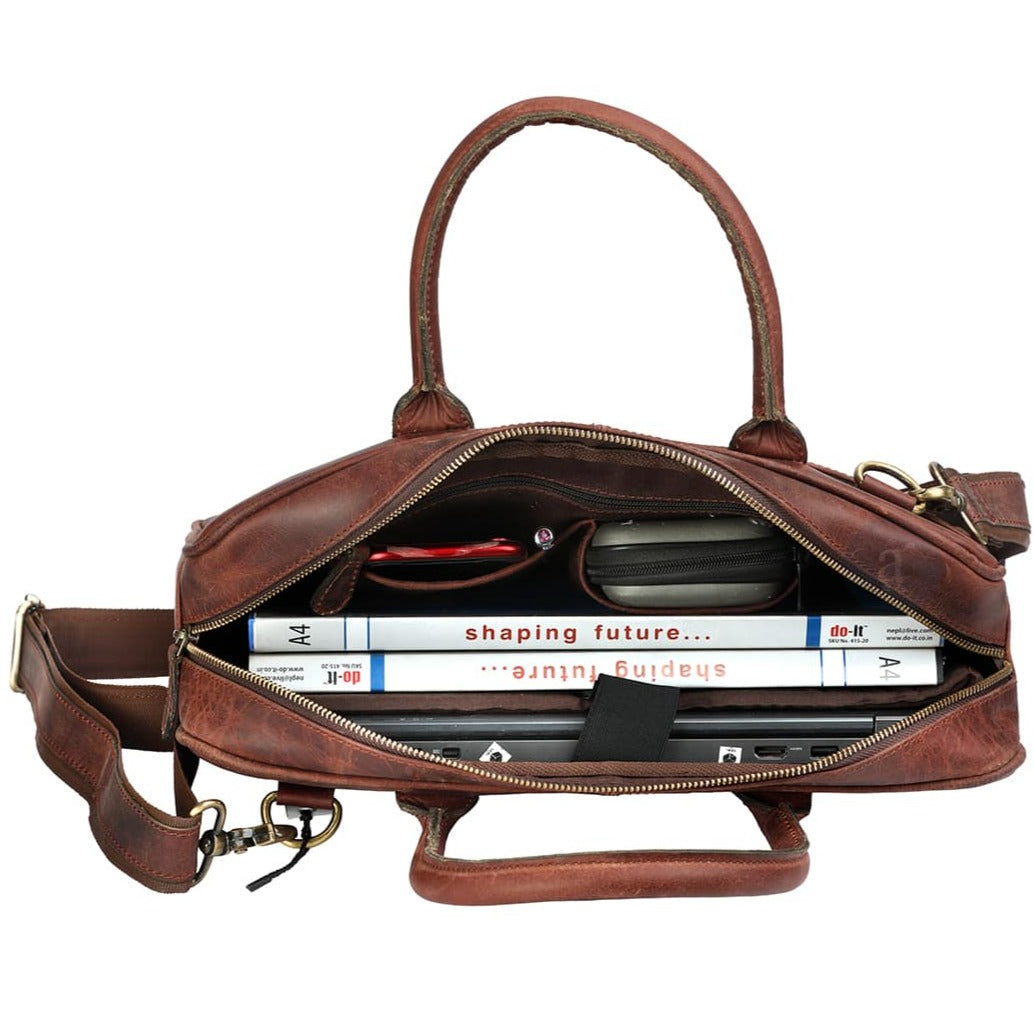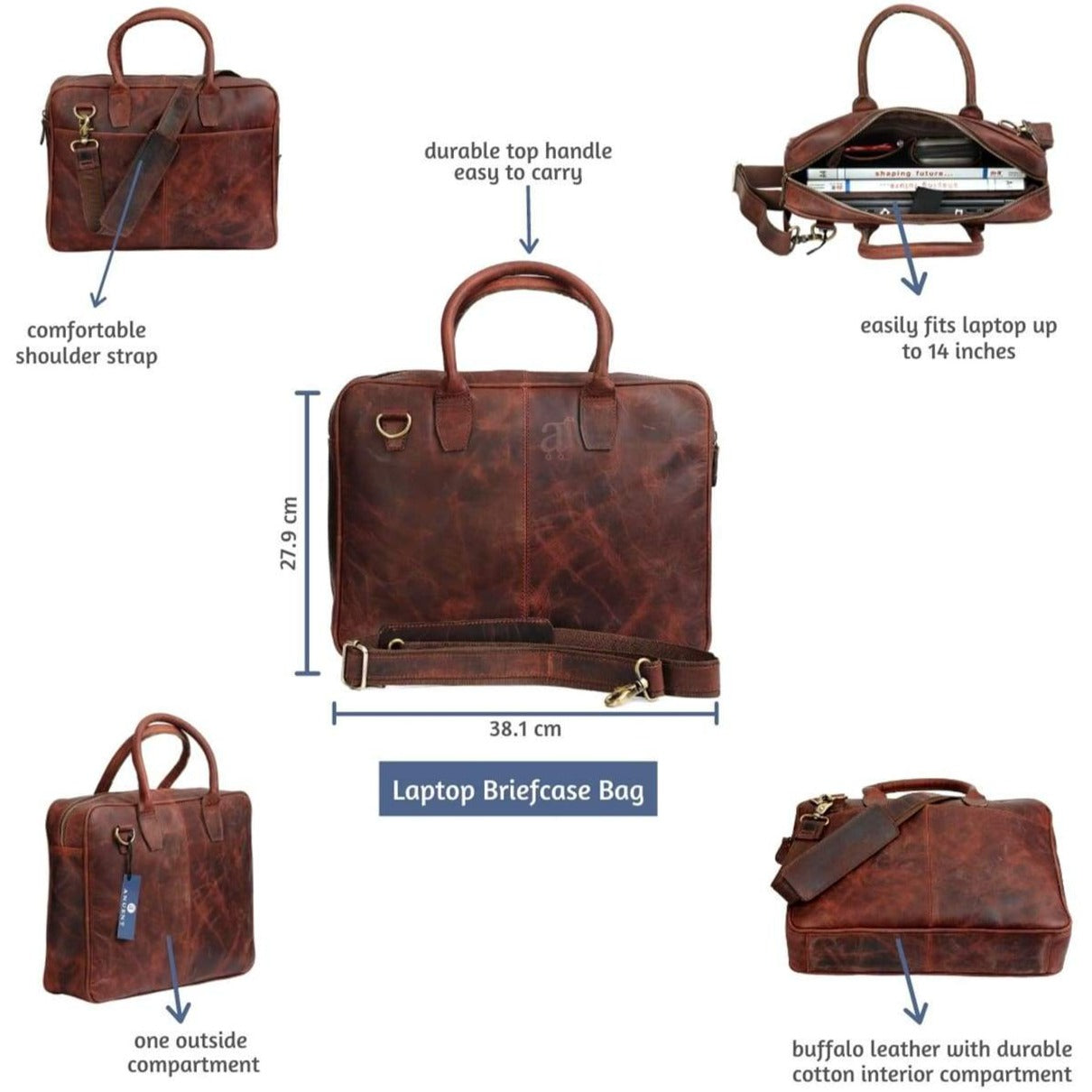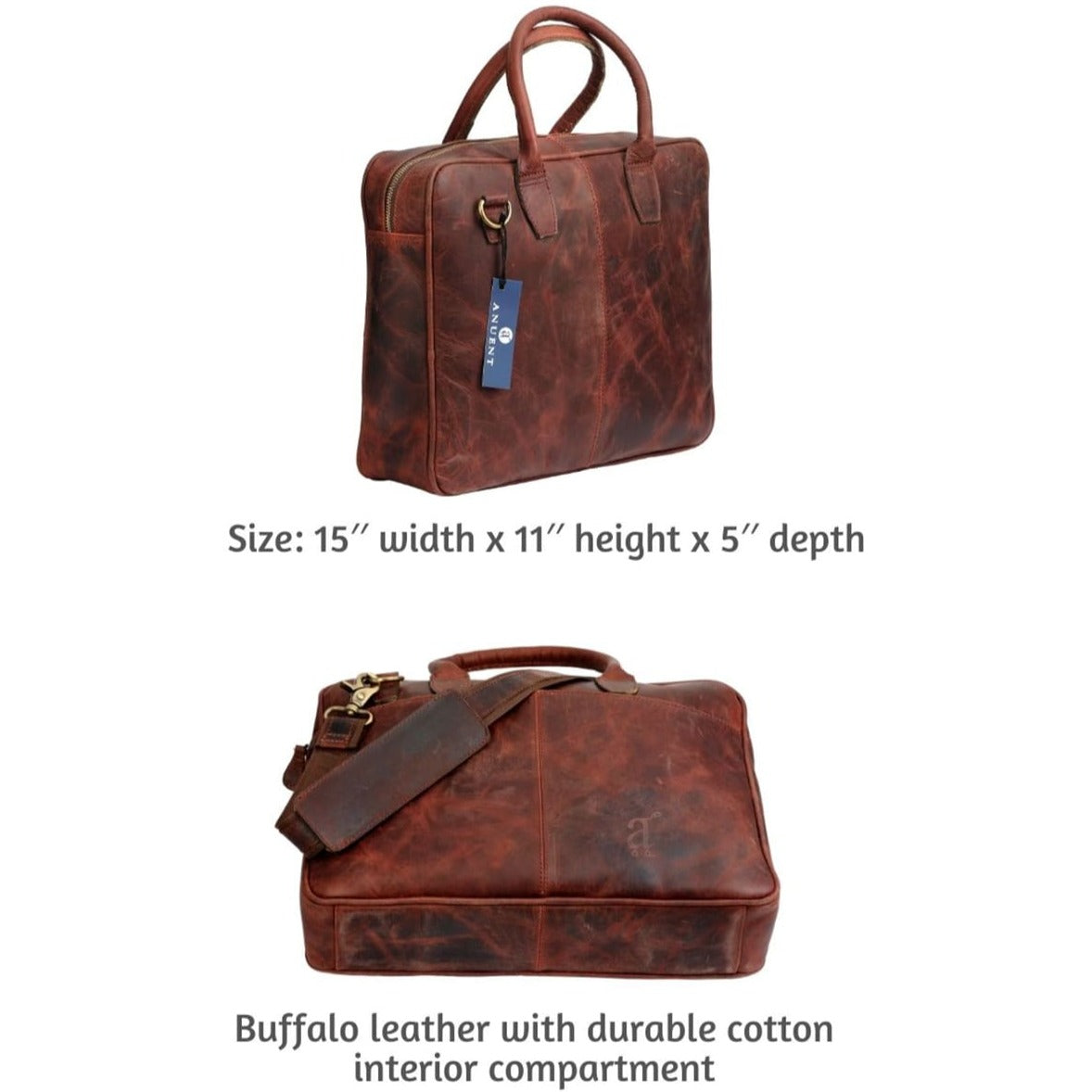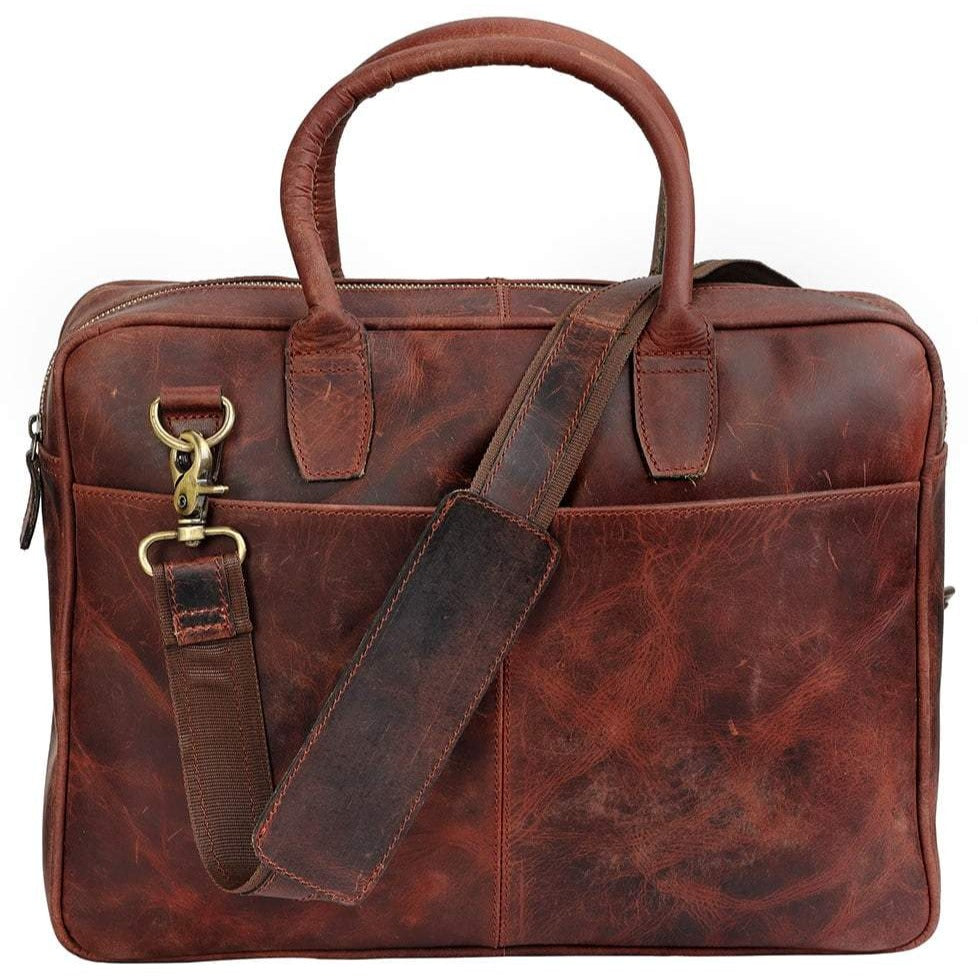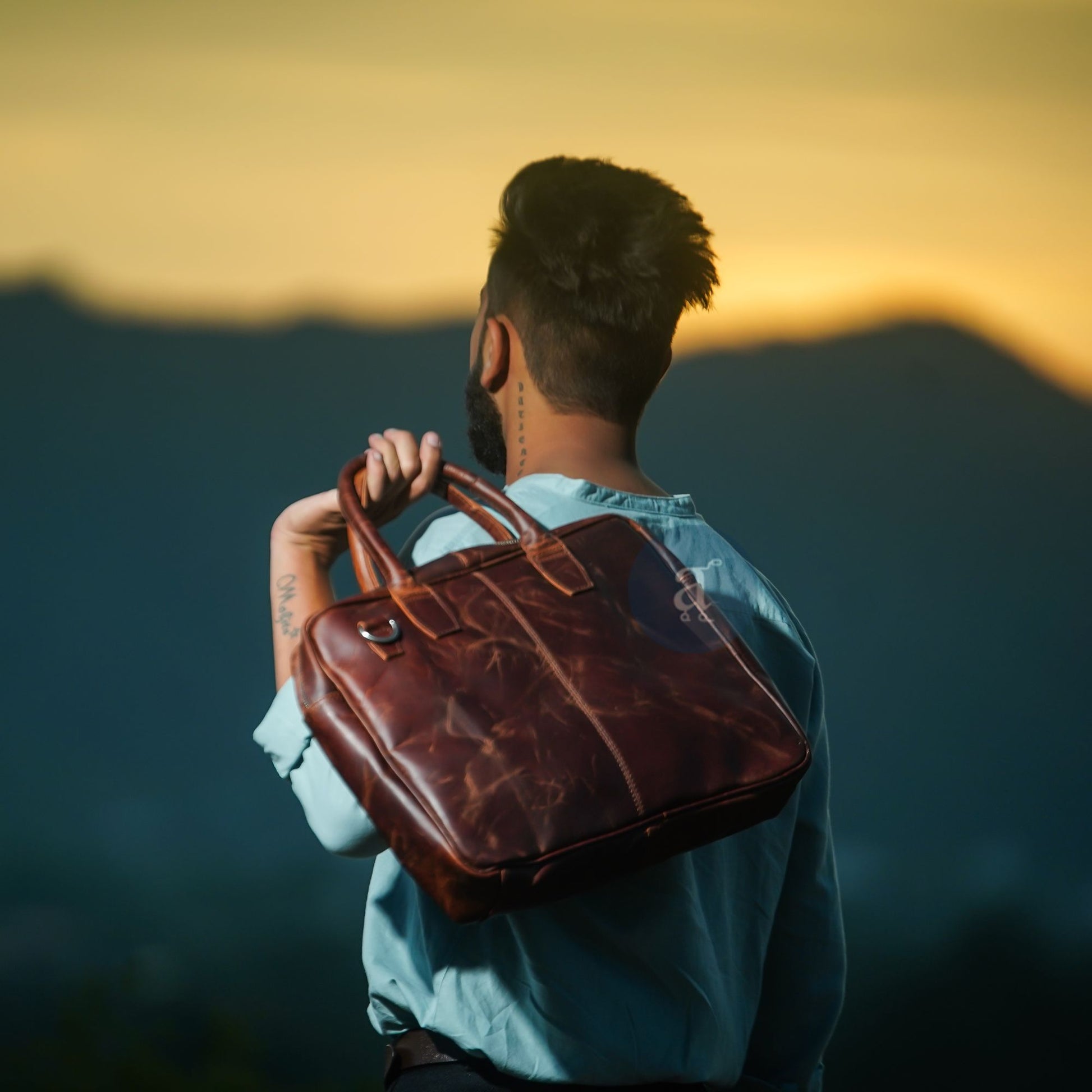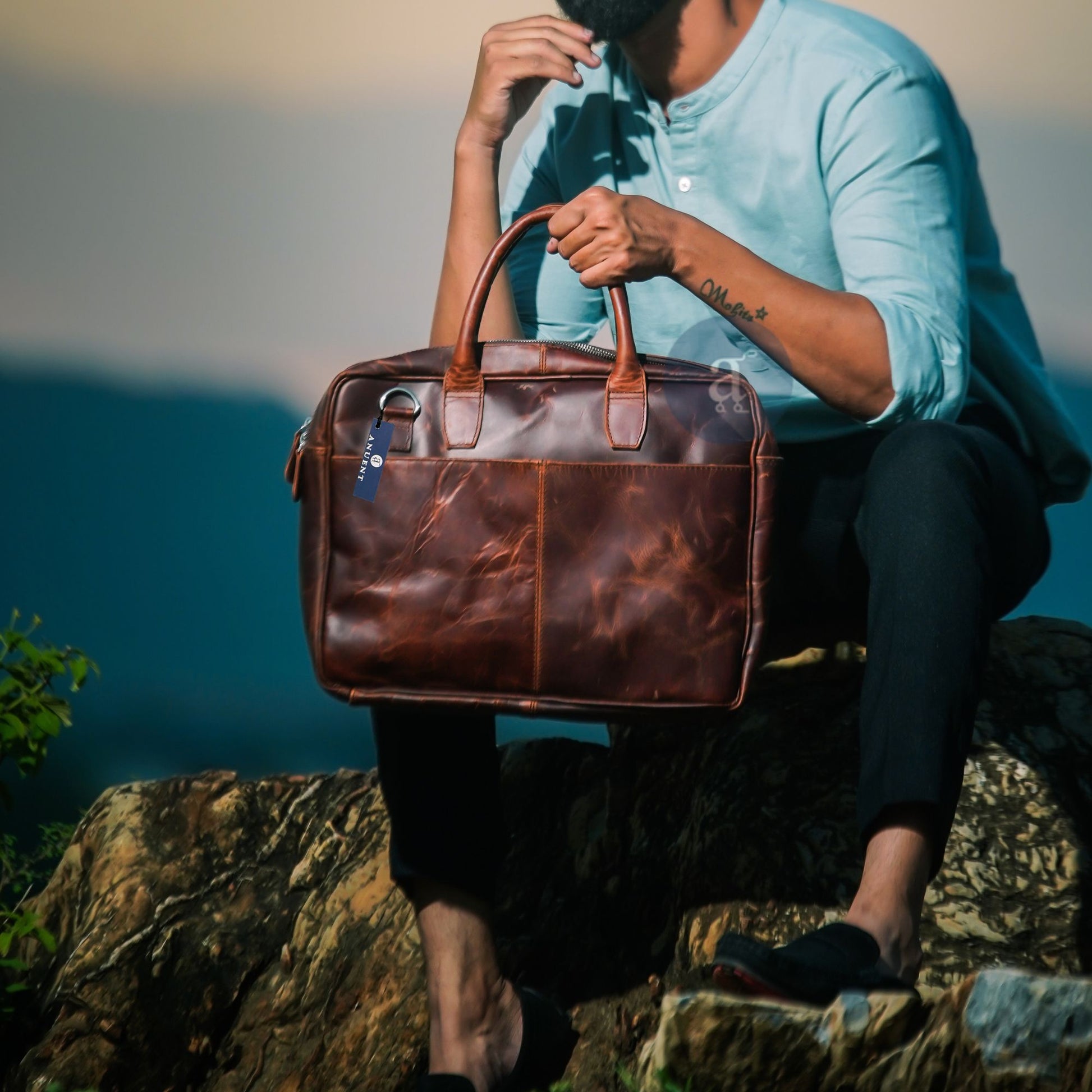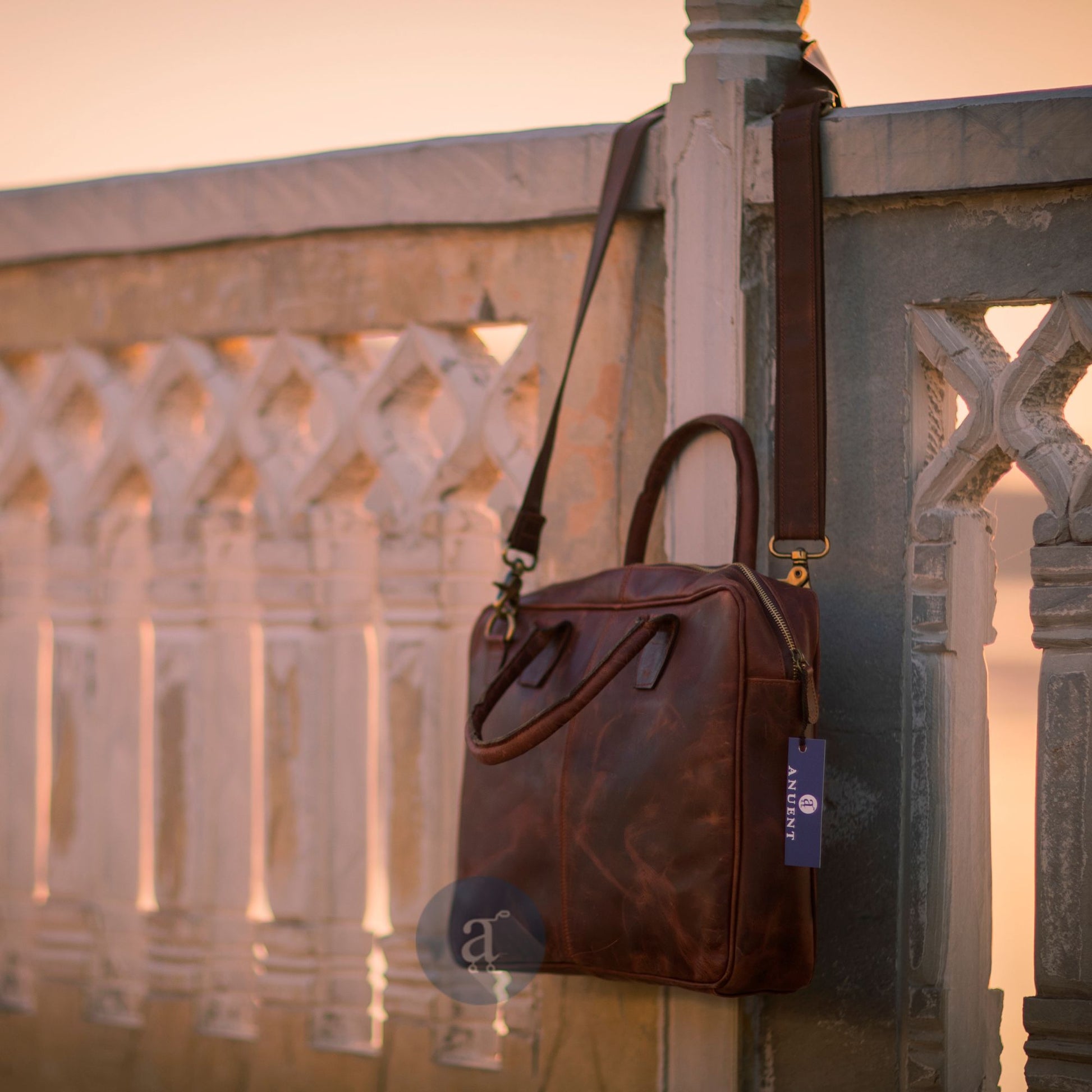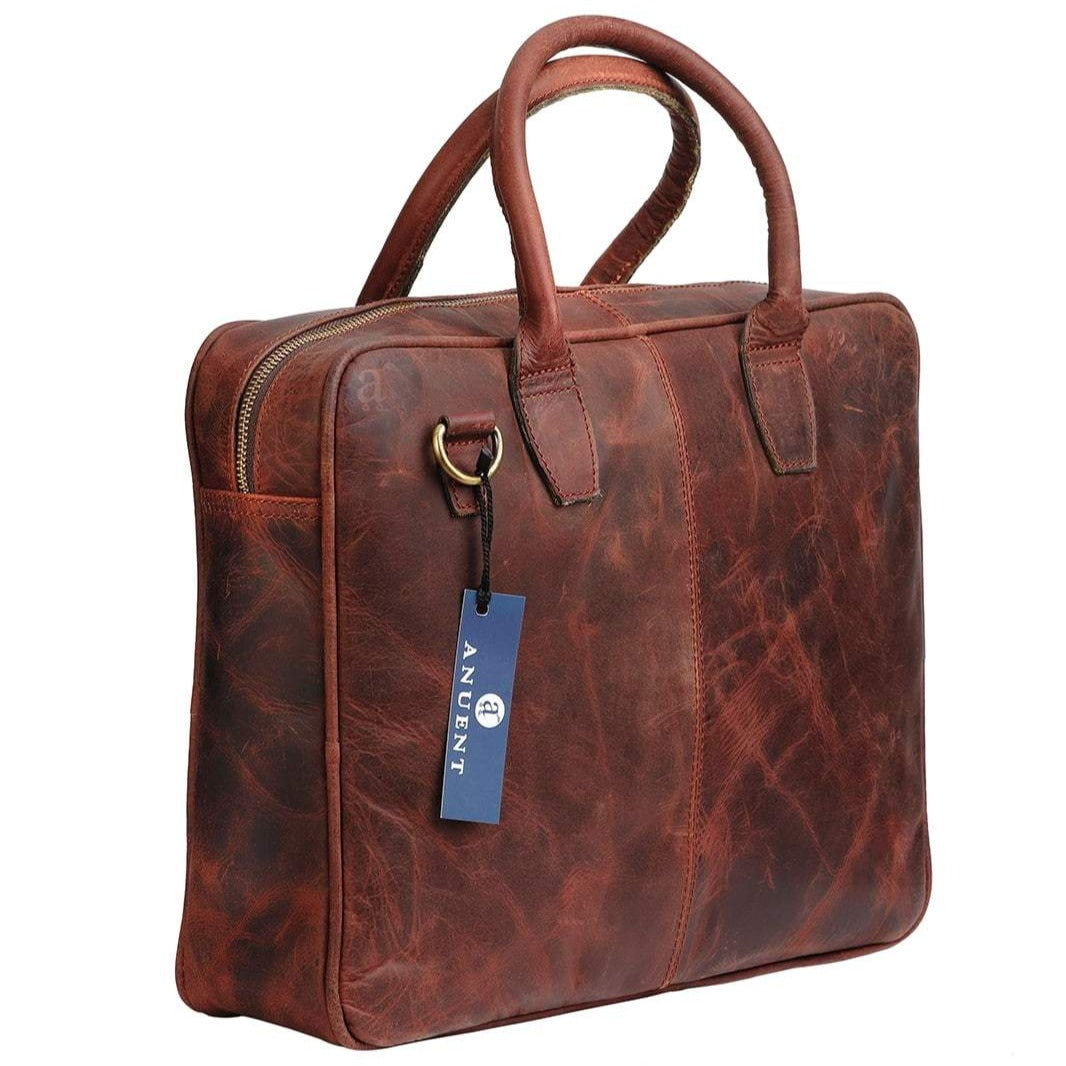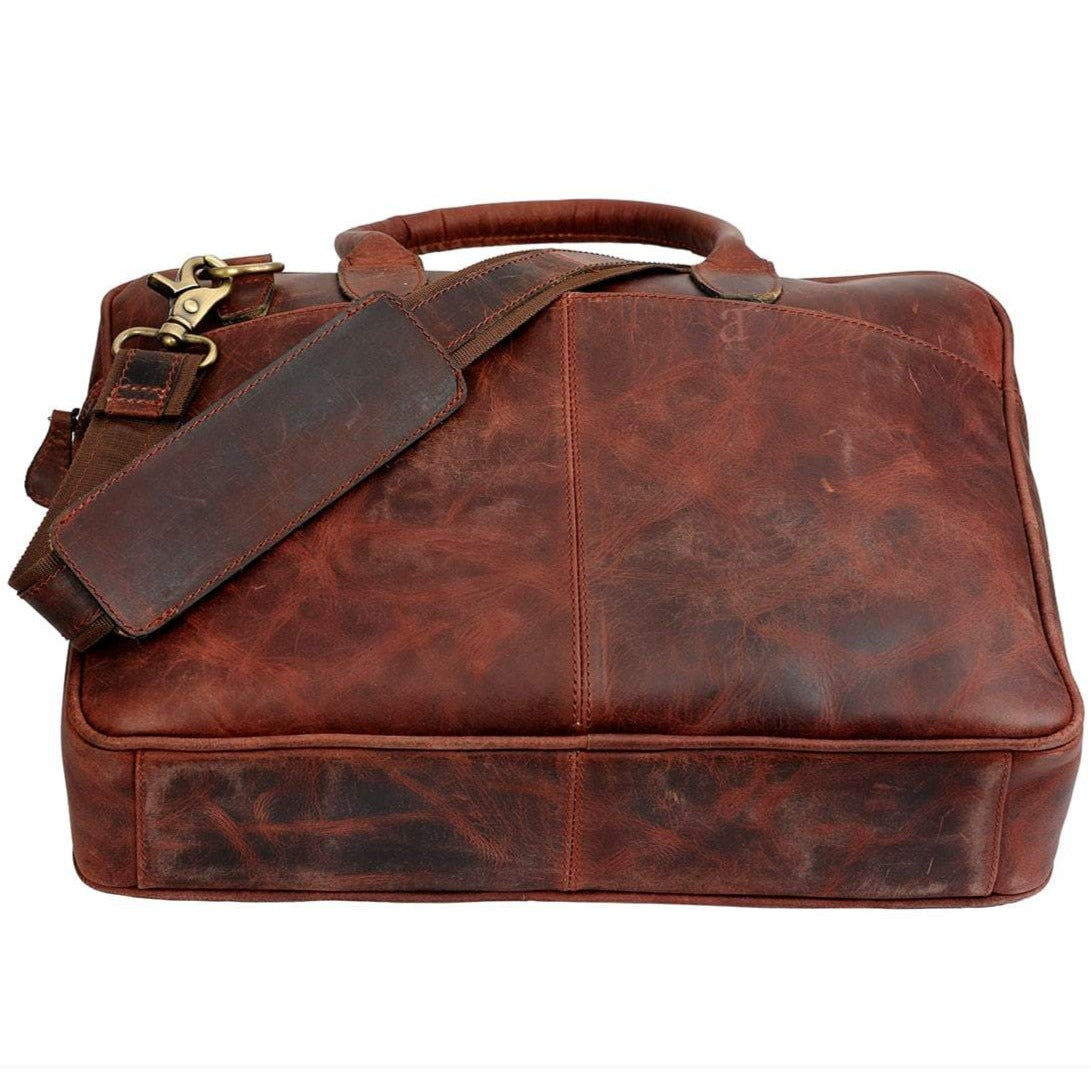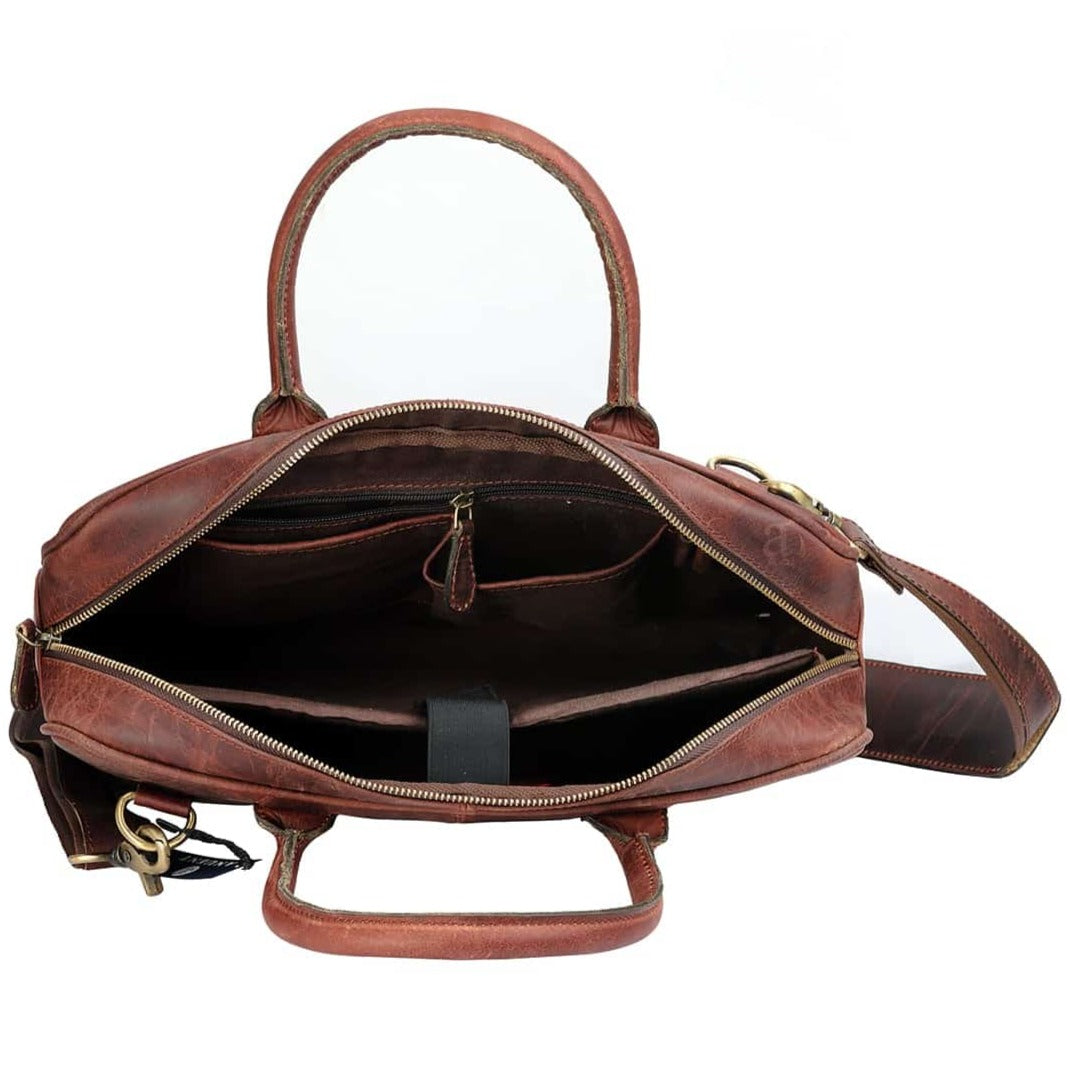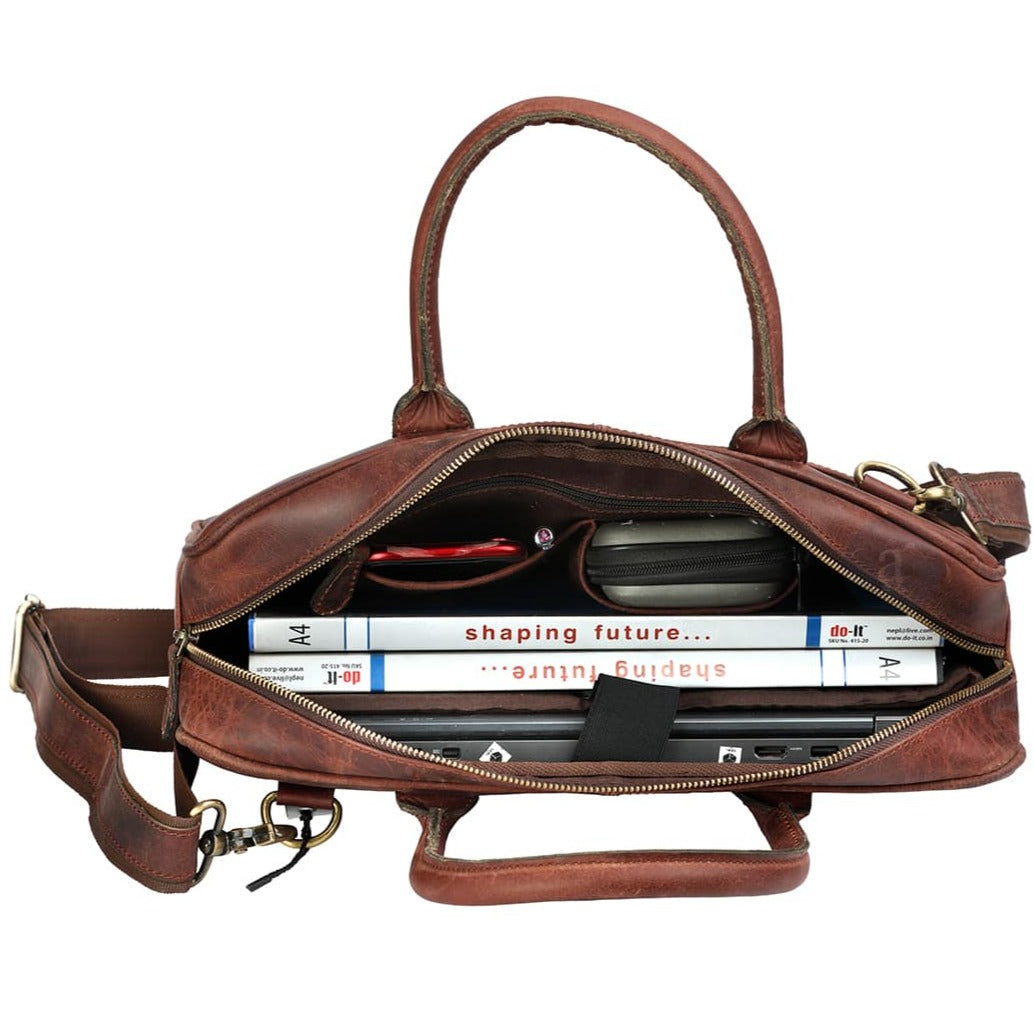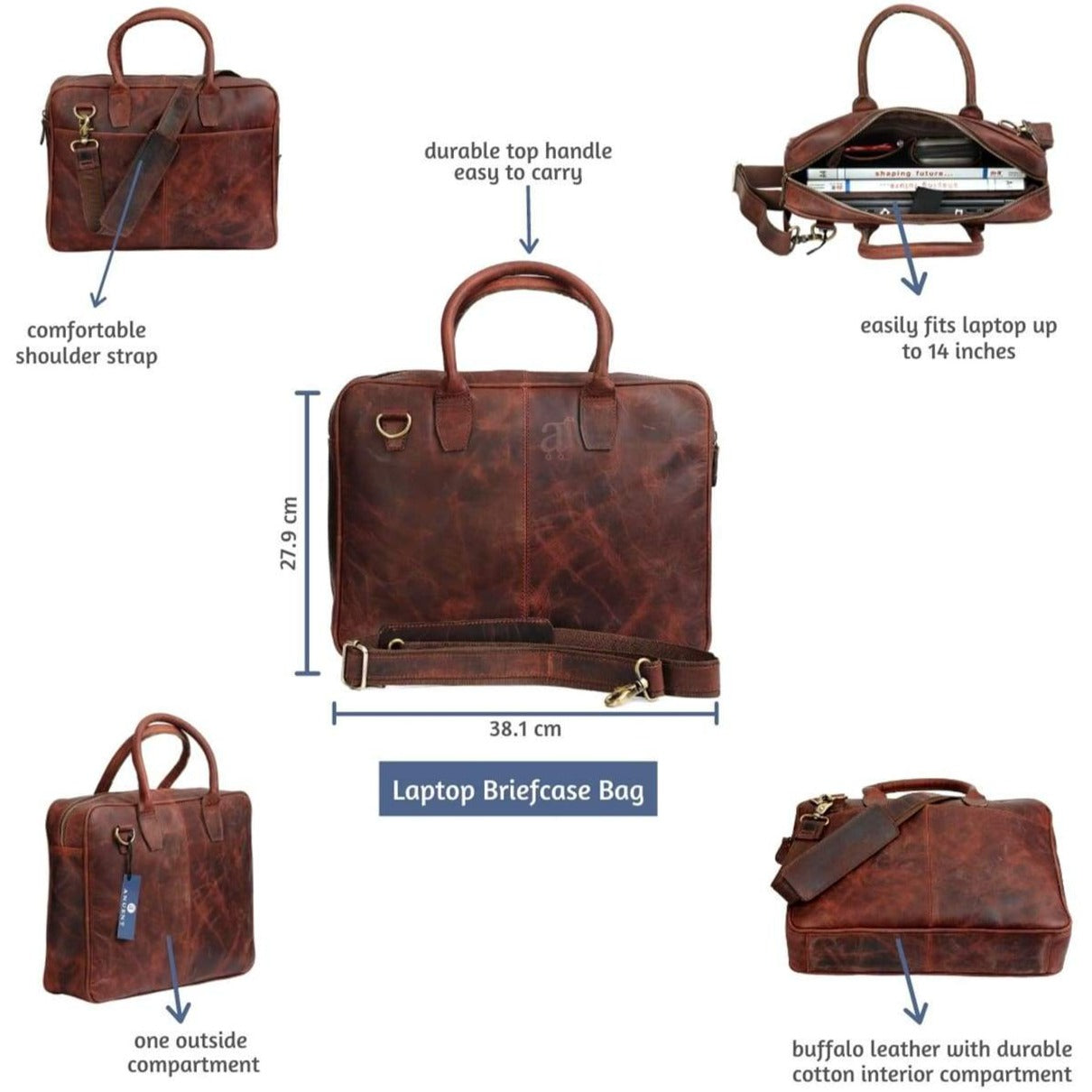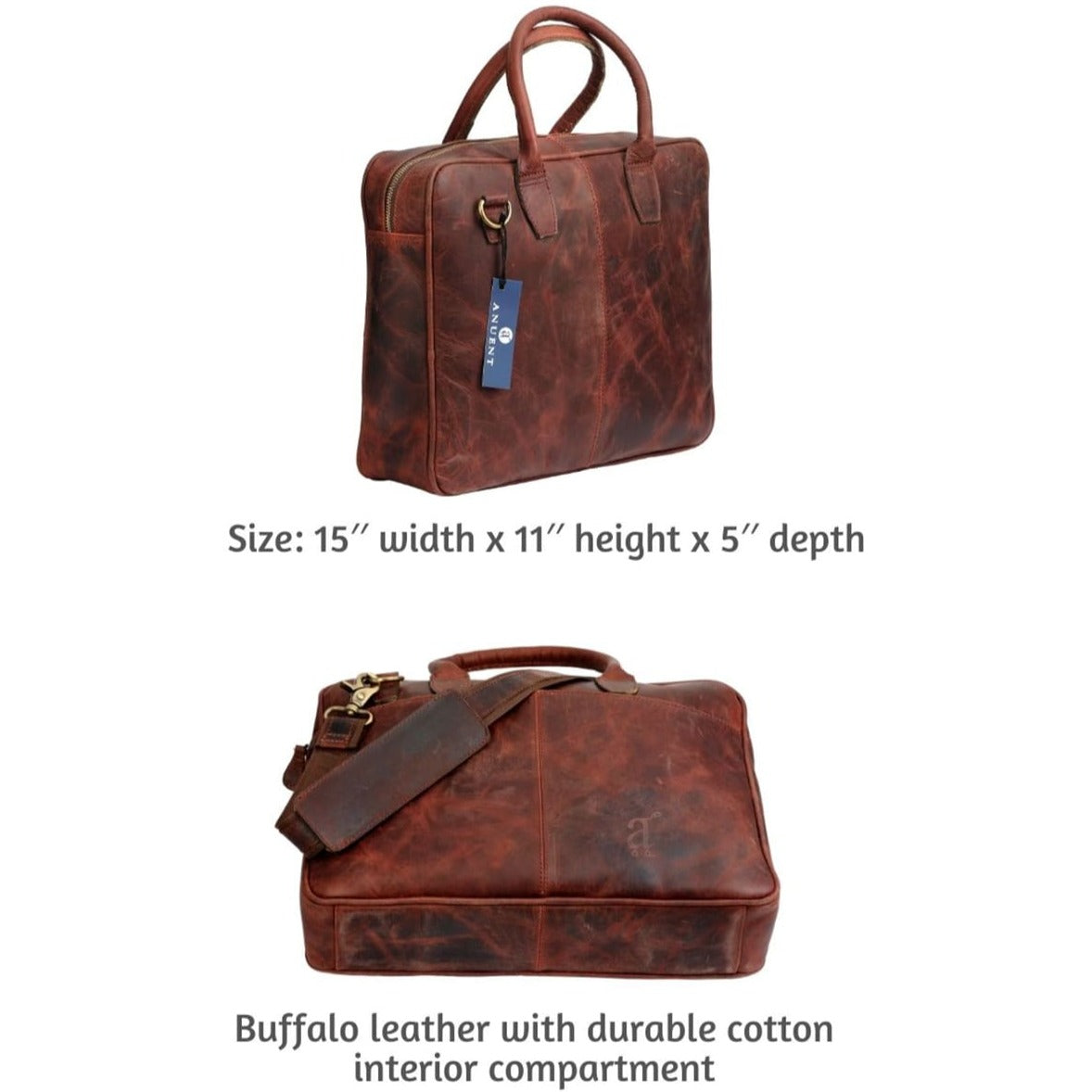 Sale price
$199.99
Regular price
$259.99
Estimated Delivery:Dec 10 - Dec 14

Free Shipping: In USA, UK and Canada.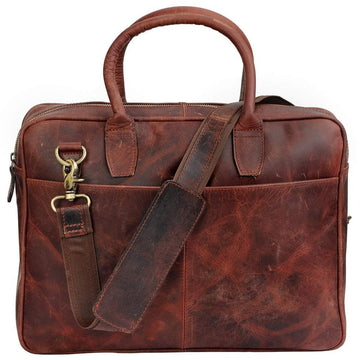 Leather Laptop Briefcase
Sale price
$199.99
Regular price
$259.99
DESCRIPTION
SPECS
FEATURES
MATERIALS
CARING
Leather Laptop Briefcase Description
In the intersection of tradition and innovation, where luxury intermingles with practicality, stands Anuent's Leather Laptop Briefcase—a harmonious blend of style, purpose, and timeless design.
Elevate Your First Impression:
Crafted meticulously from top-grain buffalo leather, this briefcase isn't merely a bag; it's an experience. Every inch, every seam resonates with the dedication and passion of skilled artisans who understand that in today's fast-paced world, first impressions count.
With its polished aesthetic and refined appeal, this Leather Laptop Briefcase is designed to make an impression before you even say a word.
Indulge in the Touch:
The tactile pleasure of top-grain buffalo leather is undeniable. Rich, supple, and robust, the outer material exudes an aura of luxury that's palpable from the first touch.
But it's not just about the luxurious feel; the leather is water-resistant, guarding your precious belongings against unexpected drizzles or accidental spills.
Plus, say goodbye to that overpowering leather smell. This briefcase promises the luxury of leather without the often accompanying bad odor, making it a delight to carry around.
A Glimpse Inside:
Beyond its mesmerizing exterior, the interior of this briefcase is a testament to thoughtful design and attention to the modern individual's needs. The two expansive compartments offer ample space for your documents, notes, and essentials.
Among them, a specially padded laptop compartment cradles up to a 14-inch MacBook, ensuring your tech companion remains safe and sound throughout your travels.
Additional features like a zipper pocket provide security for your valuables, while the dedicated pen holder and a small pocket ensure that everything, from your signature pen to your smartphone, has a designated, easy-to-access spot.
Carry with Elegance:
Understanding the diverse needs of today's dynamic world, Anuent has infused versatility into this masterpiece. Classic handles allow it to be carried with an air of professionalism, perfect for boardrooms and business meetings.
But for those on-the-go moments, the detachable and adjustable padded shoulder strap ensures comfort and adaptability, embodying the perfect balance of form and function.
Details that Speak:
It's often said that the essence of luxury lies in the details. The brass hardware on this briefcase stands as a testament to this belief.
Not just sturdy and durable, but these brass elements add a touch of vintage charm to the overall modern design, creating a beautiful juxtaposition of eras.
Your Unisex Companion:
Breaking away from gender norms, this Leather Laptop Briefcase is designed for everyone. Its universal appeal makes it a fitting companion, regardless of gender, ensuring that it complements every individual's unique style.
The Invitation:
In a world where every accessory is an extension of one's personality, the Anuent Leather Laptop Briefcase is more than just an accessory—it's a statement.
It's a declaration of style, substance, and sophistication. Why settle for the ordinary when you can elevate every step of your journey with this embodiment of luxury?
Embrace the fusion of tradition and modernity. Make the Anuent Leather Laptop Briefcase a part of your daily narrative. Elevate your professional journey; claim your piece of luxury now.
---
Leather Laptop Briefcase Specifications
Dimensions: 15 L x 4 W x 11 H Inches (38 x 10 x 28 cms)
Brand: Anuent
Type: Briefcase
Laptop Compartment: Yes
Material Used:
Outer Material: Buffalo leather

Inner Material: Cotton canvas
Hardware Material: Brass
Outer:
Handle on top carry

Detachable and adjustable shoulder strap
Inner:
1 Big compartment and 1 padded laptop compartment

1 Zipper pocket

Pen holder

Small pockets to carry important accessories.
---
Leather Laptop Briefcase Bag Features
Top-Grain Vintage Leather
Handcrafted with 100% premium top-grain buffalo leather. This leather briefcase is strong and durable.
We chose the best leather type, buffalo leather, in manufacturing this bag; compared with goat and Columbian leather, buffalo leather is thick, tear-resistant yet flexible, strong, and beautiful, making this briefcase durable yet elegant. Enjoy the rustic vintage feel of our laptop briefcase.
Gadget-Friendly Size and Design
This vintage leather laptop briefcase fits up to a 15-inch laptop. It has a dimension of 15(38)" Length x 4(10)" Width x 11(28)" Height in inches and offers multiple storage options. It is divided into compartments to aid easy access.
The inner parts of this briefcase have 2 big compartments for holding laptops, iPads, and files, and your padded laptop is protected from bumps and falls.
Also, in the inner part of this 15-inch laptop briefcase, there 1 inner zip pocket for things like wallets, essential files, etc. Smaller pockets to carry small accessories such as phones, chargers, and 1 pen slot. This 15-inch vintage leather briefcase is roomy enough for your needs.
Hardware
This leather briefcase shoulder bag is doubly secured by zipping, fittings,  buckle, and snap closures for easy closure. They are all made of durable antirust metal. The metal zipper is smooth and slides easily to ensure easy opening and closure.
Anuent's laptop briefcase also has a long adjustable strap. You can easily adjust the length of the strap as you desire. You can also detach the strap and carry it with its top handle, like a bag briefcase. With its professional look, you can be confident as you go to work.
Inner lining
This briefcase bag is lined internally with waxed canvas durable cotton lining. This makes it waterproof, and you don't need to worry about damage to your items if water mistakenly pours into your bag.
Use
Carefully organize all your items in this briefcase bag or carry it on your shoulder, and you're good to go. This leather laptop briefcase is perfect for a laptop, office, college, or work. Its design to adapt to all your outings makes it multifunctional and perfect for you.
Durability
Made of quality materials. Our leather briefcase is hard-wearing and has rugged durability that will last a lifetime, developing, over time, a rich patina that enhances the beauty of the leather.
Price range
Our unique and stylish leather briefcase for laptop offer value for your money. Shop for yours with us now at a very affordable price.
---
Pros
Lightweight and Strong Build.

Quality leather, materials, and construction
---
Final Words
We are an exclusive brand for style, durability, and affordability. Our leather bags are of high quality, masterfully sewn with excellent artistry. 
Ranging from our leather laptop messenger bags to shoulder and canvas messenger bags. Other related products include duffel bags, leather backpacks, etc. We delight in your exuding style and confidence.
---
Leather Laptop Briefcase Bag Frequently Asked Questions
Can this bag fit a 14-inch laptop perfectly?
Yes, it can fit a 14-inch laptop securely.
What is the measurement of the bag in inches?
15(38)″ Length x 4(10)″ Width x 11(28)″ Height in inches
SKU: AN0BBB015
Dimensions: 15 L x 4 W x 11 H Inches (38 x 10 x 28 cms)
Color: Dark Brown
Condition: New
Weight: 1.3 kg
Capacity: 10.82 L
Brand: Anuent
Style: Briefcase | Shoulder | Crossbody
Laptop Compartment: Yes
Inner Pockets: 3
Outer Pockets:
Total Compartments: 2
Gender: Unisex
Closure Type: Zipper Closure
Exterior: Top-Grain Buffalo Leather
Interior: Brown Cotton Canvas
Hardware: Brass
➡ Taking Care of your Leather Products
Leather products are often used in professional settings and require special care to keep them looking pristine.

If you take good care of your leather bag, backpack, or journal, the surface will stay bright for years to come!

● Always ensure that any product is dry before applying cream/moisture lotion onto it by using a soft cloth; this helps prevent stains from occurring when applied wisely.

● To ensure that your leather product lasts for years, never allow it to get wet. If the item gets soaked in water and you want to dry it out again quickly. Place thick microfiber cloths over any exposed surfaces of an absorbent material before allowing gravity to do its work.

➡ Note

The leather products may vary in color and size.

Some are slightly lighter, while others are darker than what is shown on your monitor - this will affect the outcome of a product's shade (due to natural materials).

However, you can be sure each bag or journal has been handmade with care for its unique features!

➡ Custom Duty

We take great pride in shipping all our products as quickly and efficiently as possible.

However, there's a chance that customs may cause delays if you don't provide them with contact information so they can reach out to collect customs duties on your behalf, which is why we must have this number!

Please let us know what phone number works best for International Shipping purposes at any time during checkout or after placing an order.

Also, email us if any questions arise about Customs-related matters.
Nice briefcase for the money especially when you consider what others are asking for similar bags in department stores today.
Great look, well made. The shoulder straps are a little short for my liking but I'm only 5'9 so someone over 6 feet should be fine.
Perfect for carrying my laptop, paperwork, lunch, phone and more while at work or on the commute to work. Great value!
"The retro buffalo leather bag is the perfect bag. I am using it for the past 2 years for carrying my laptop and office documents."
It's a nice looking bag that I can take anywhere with me.