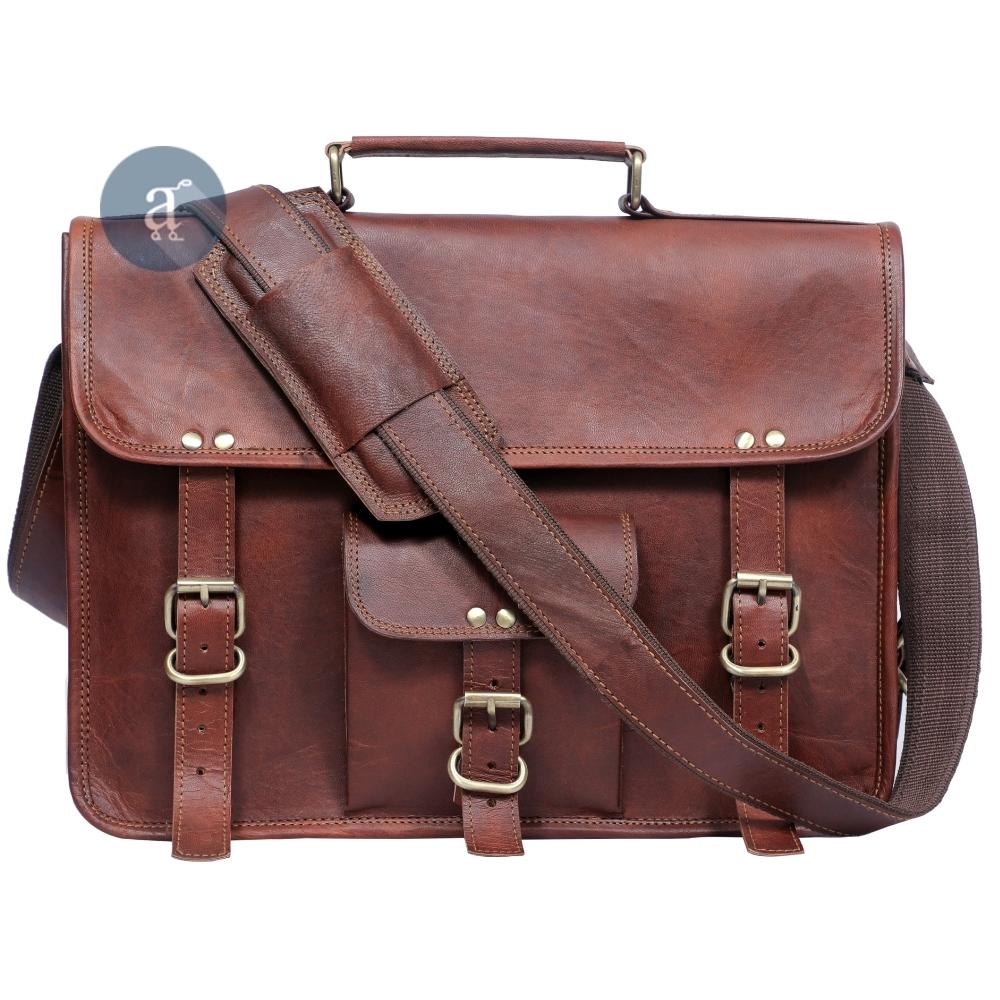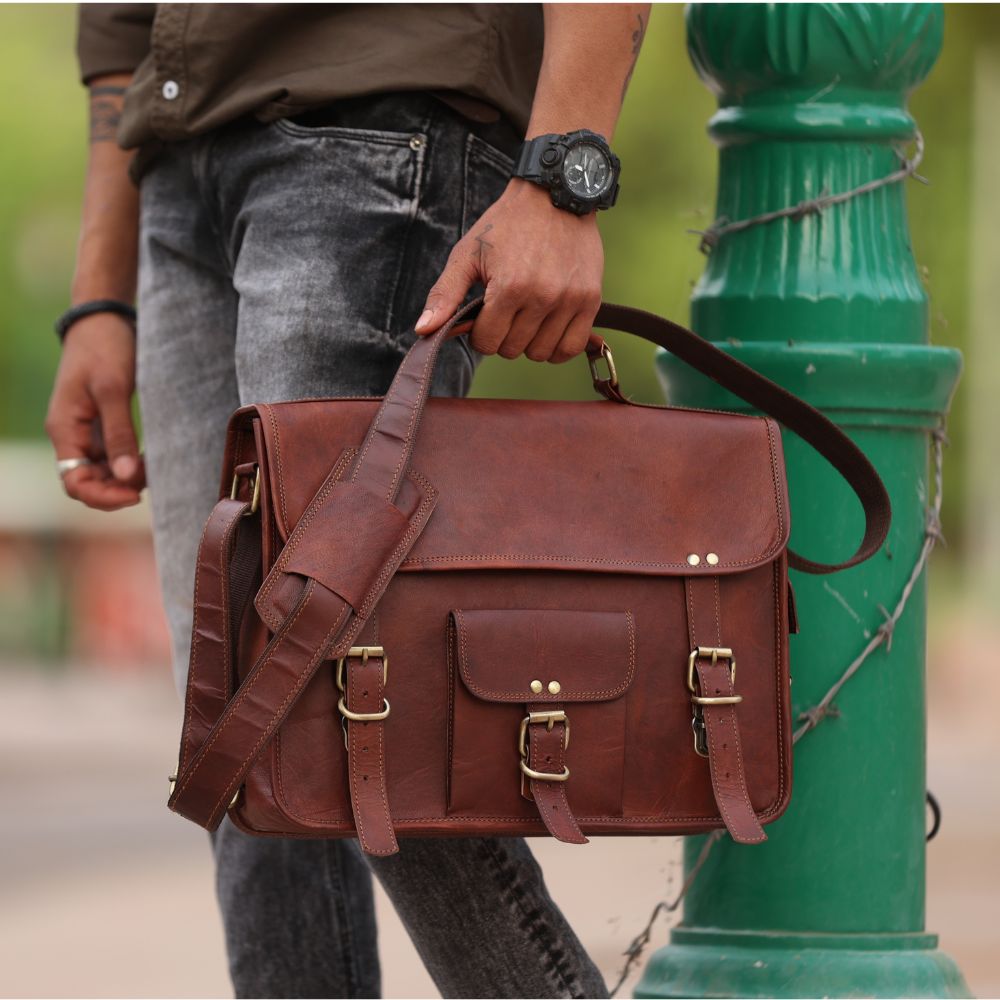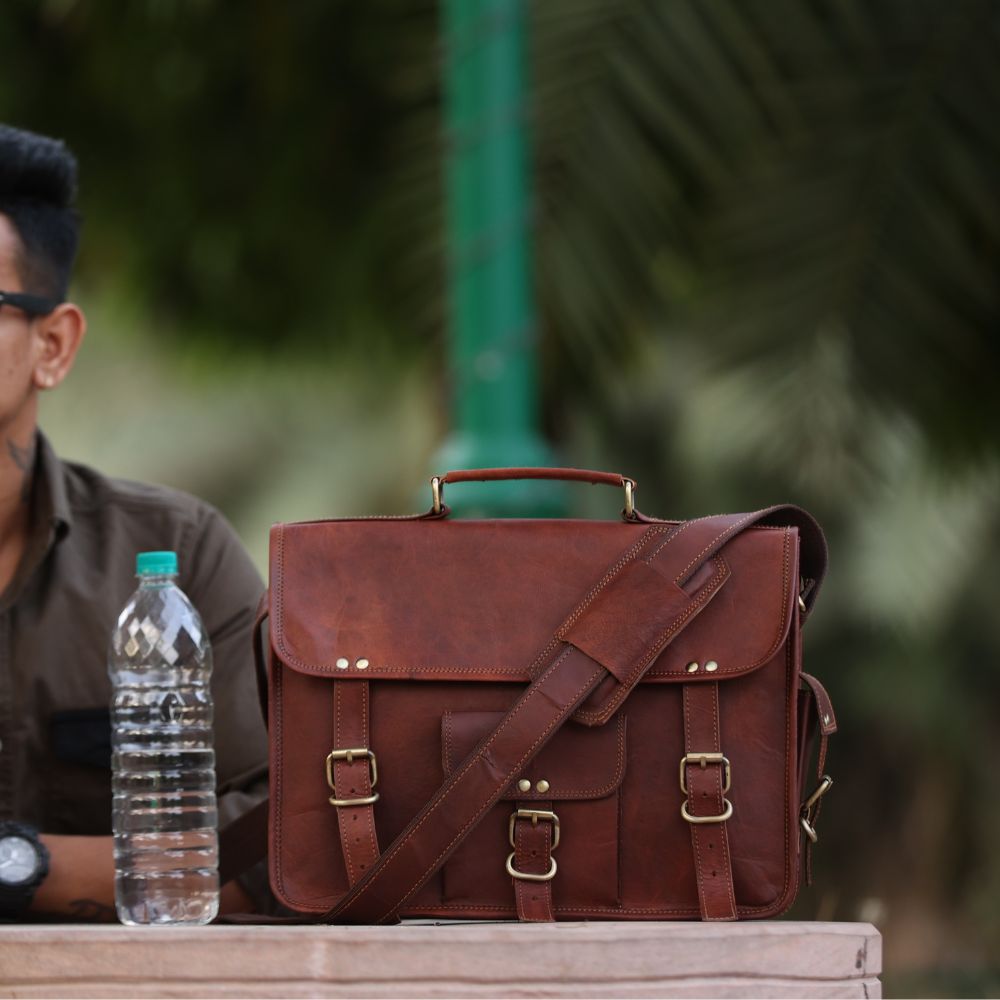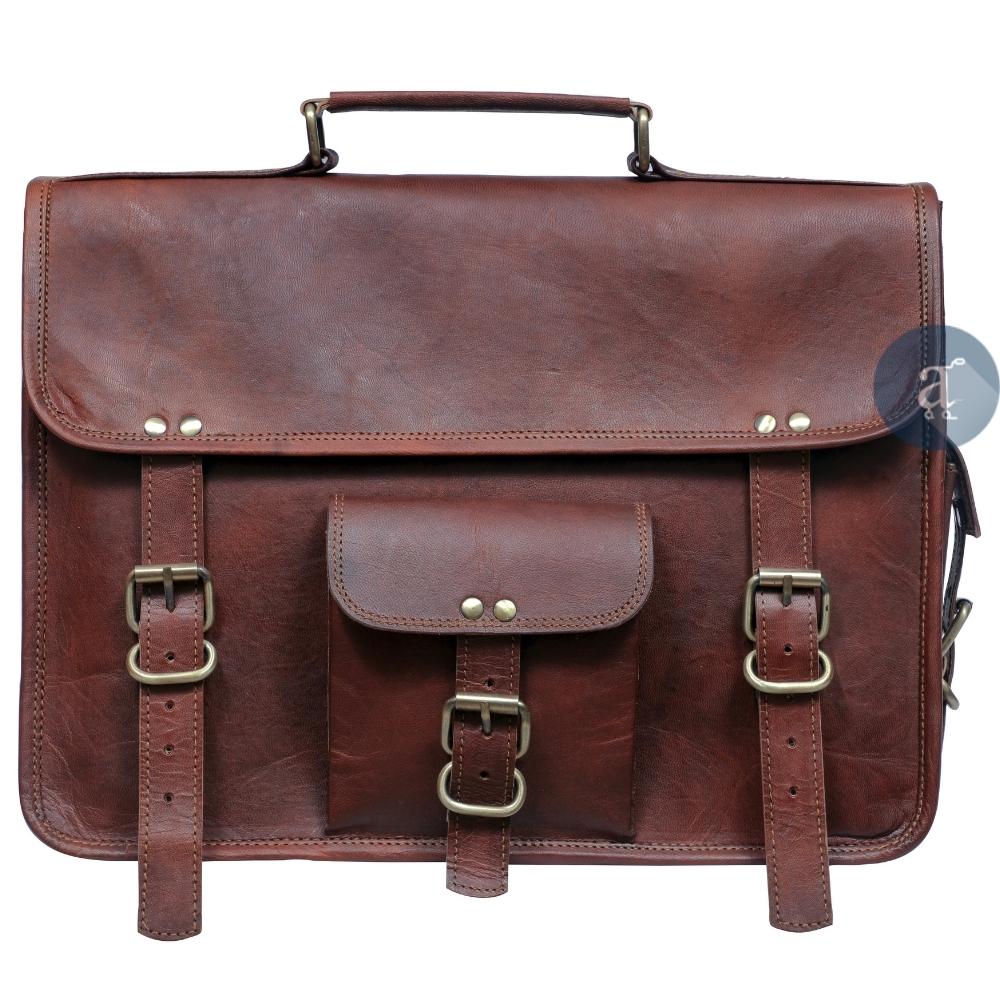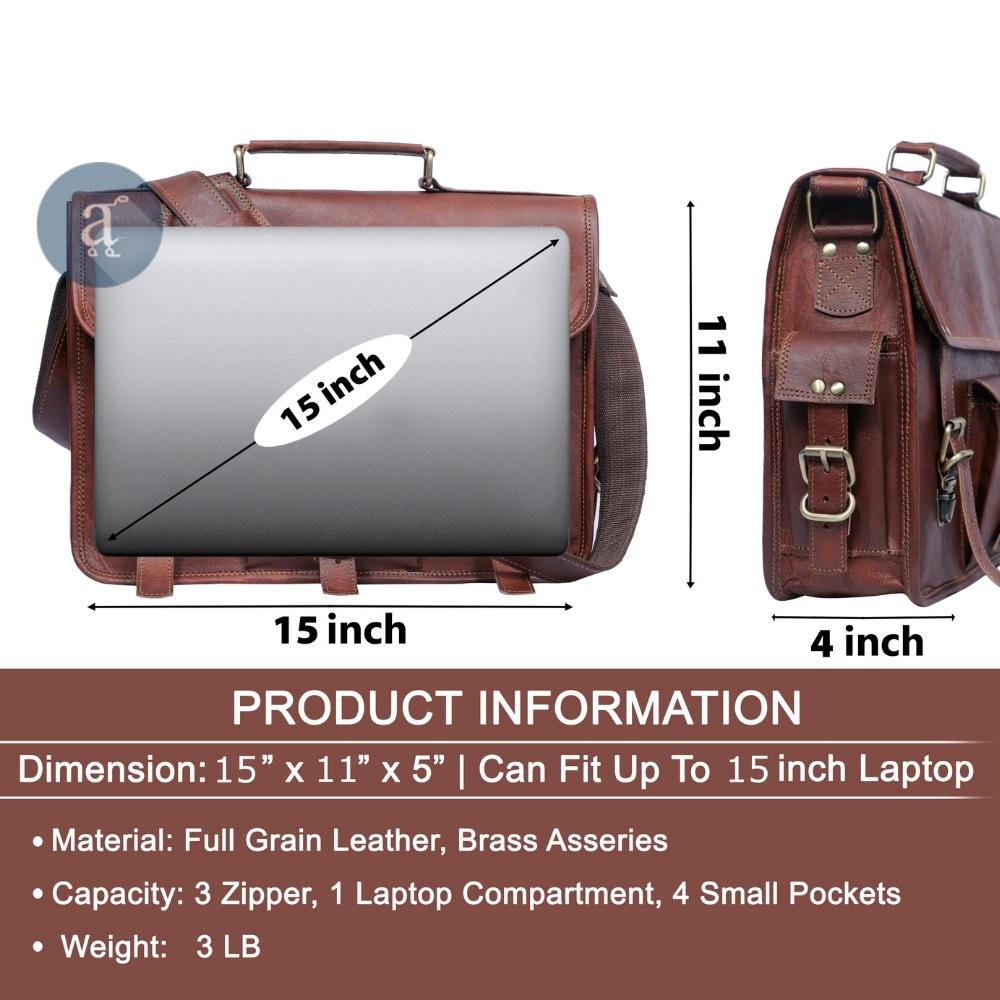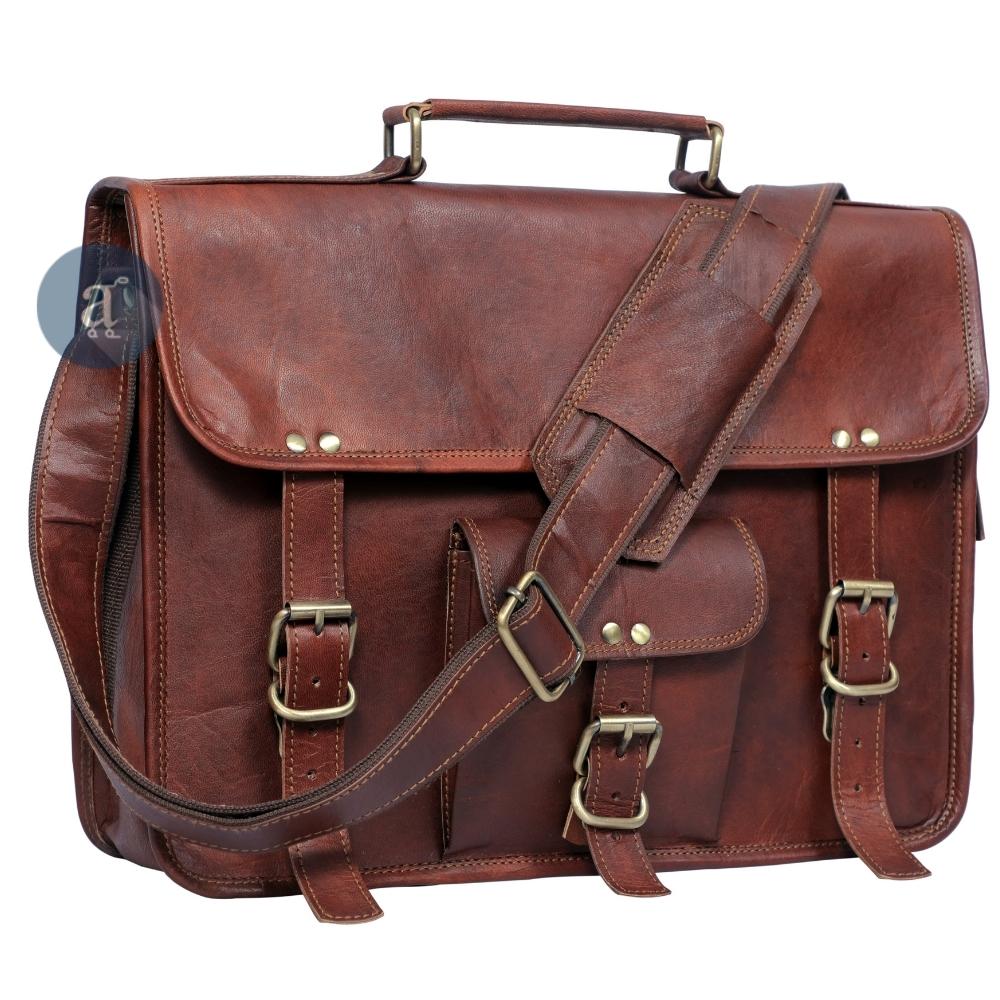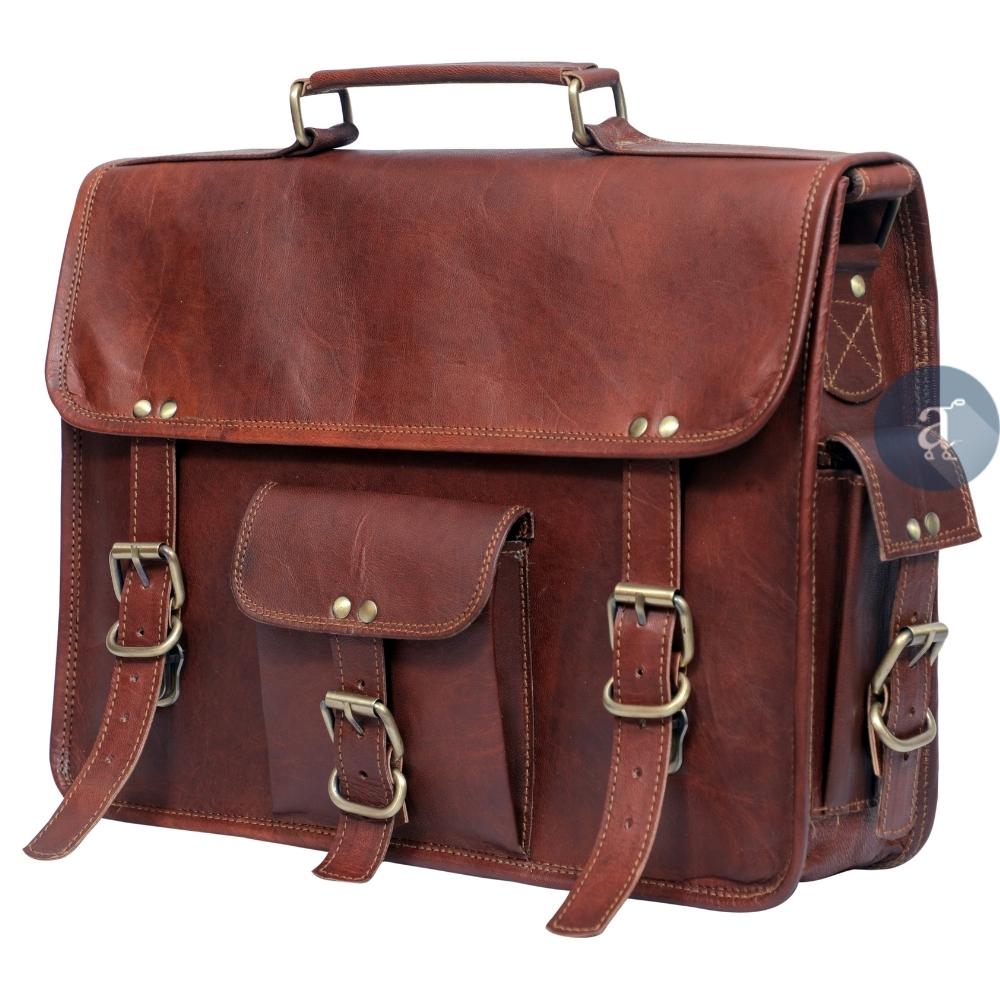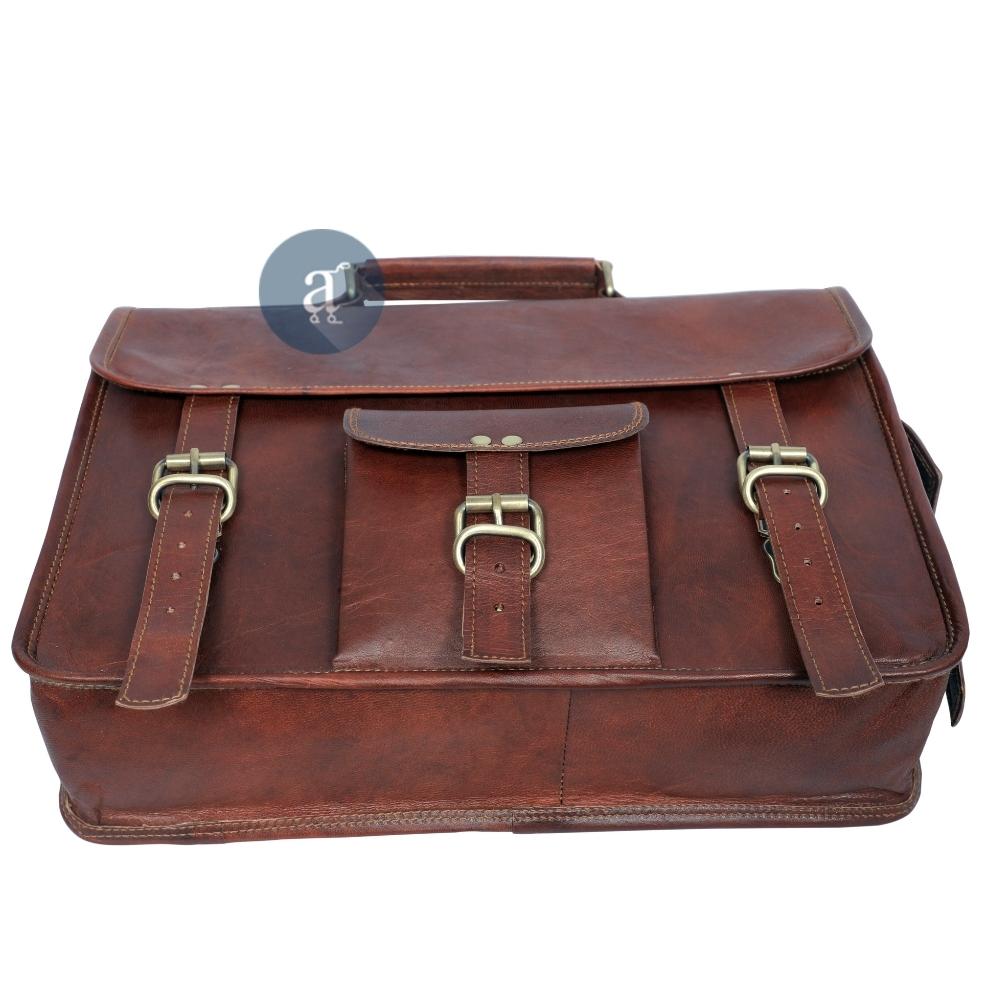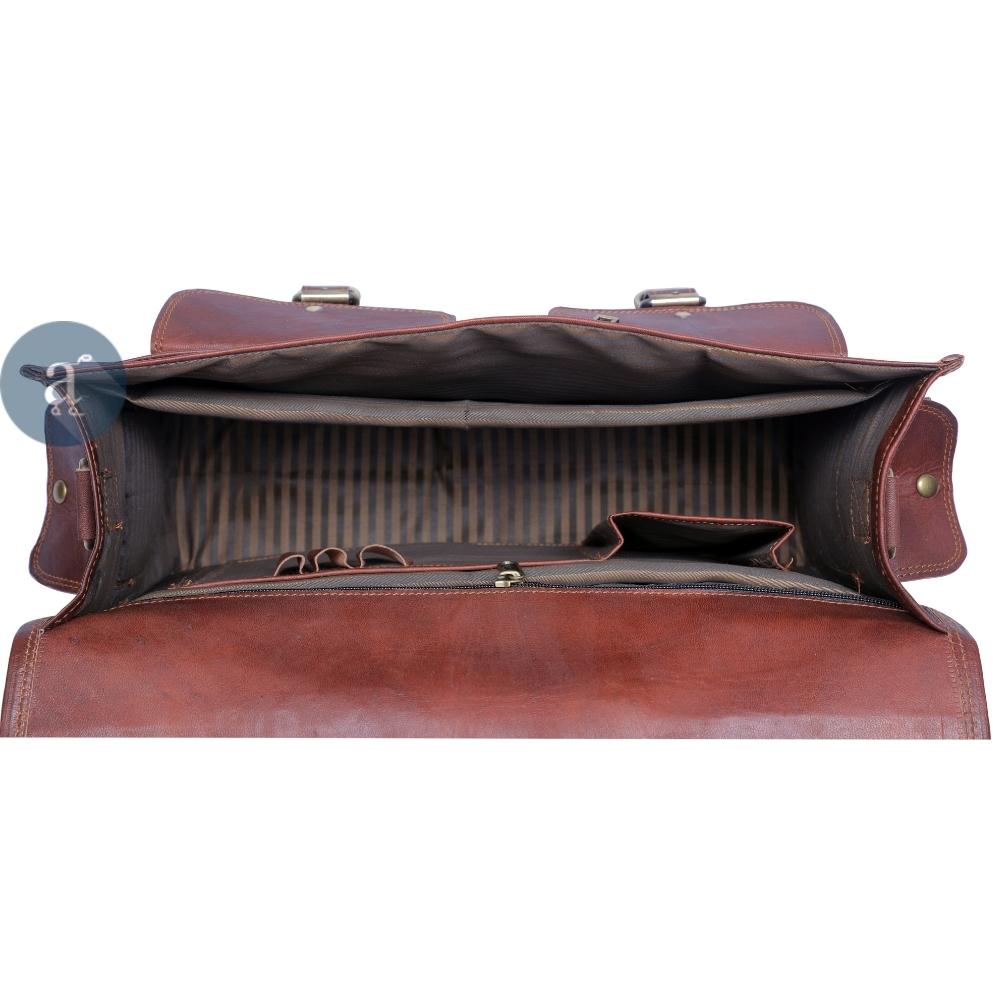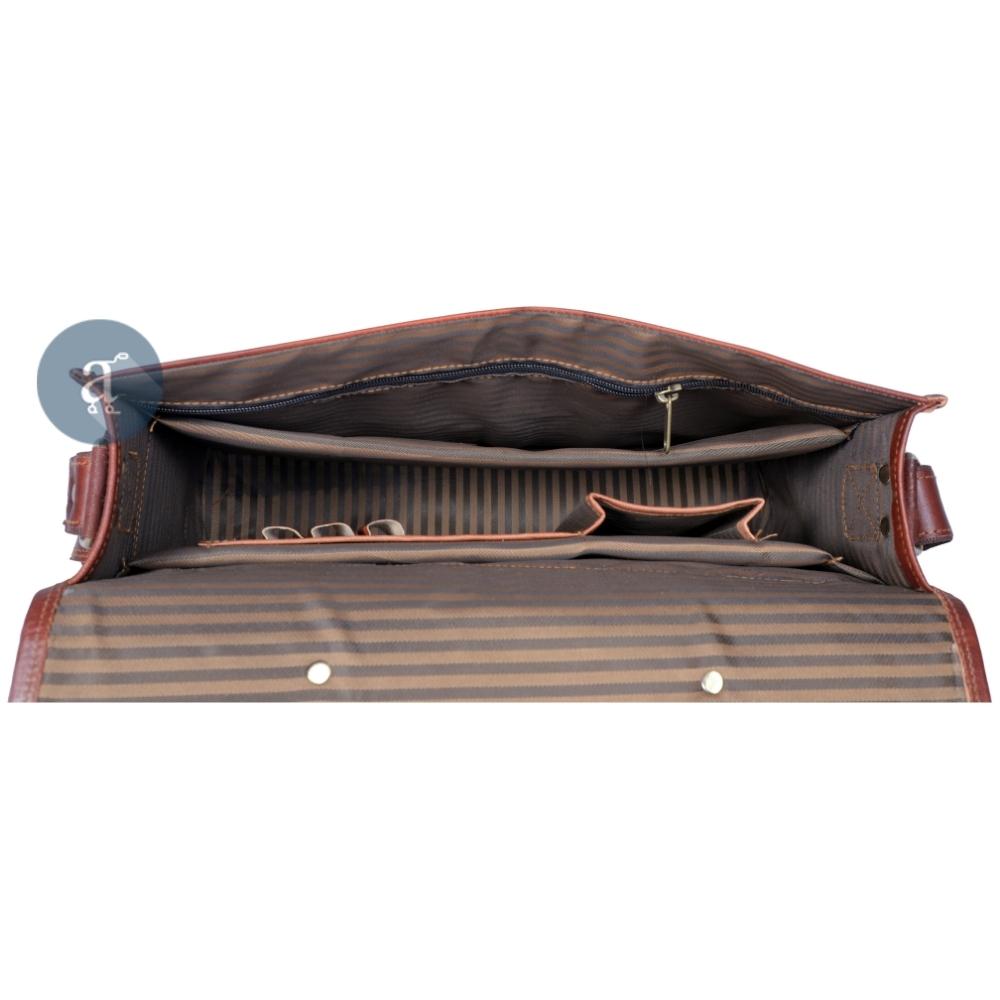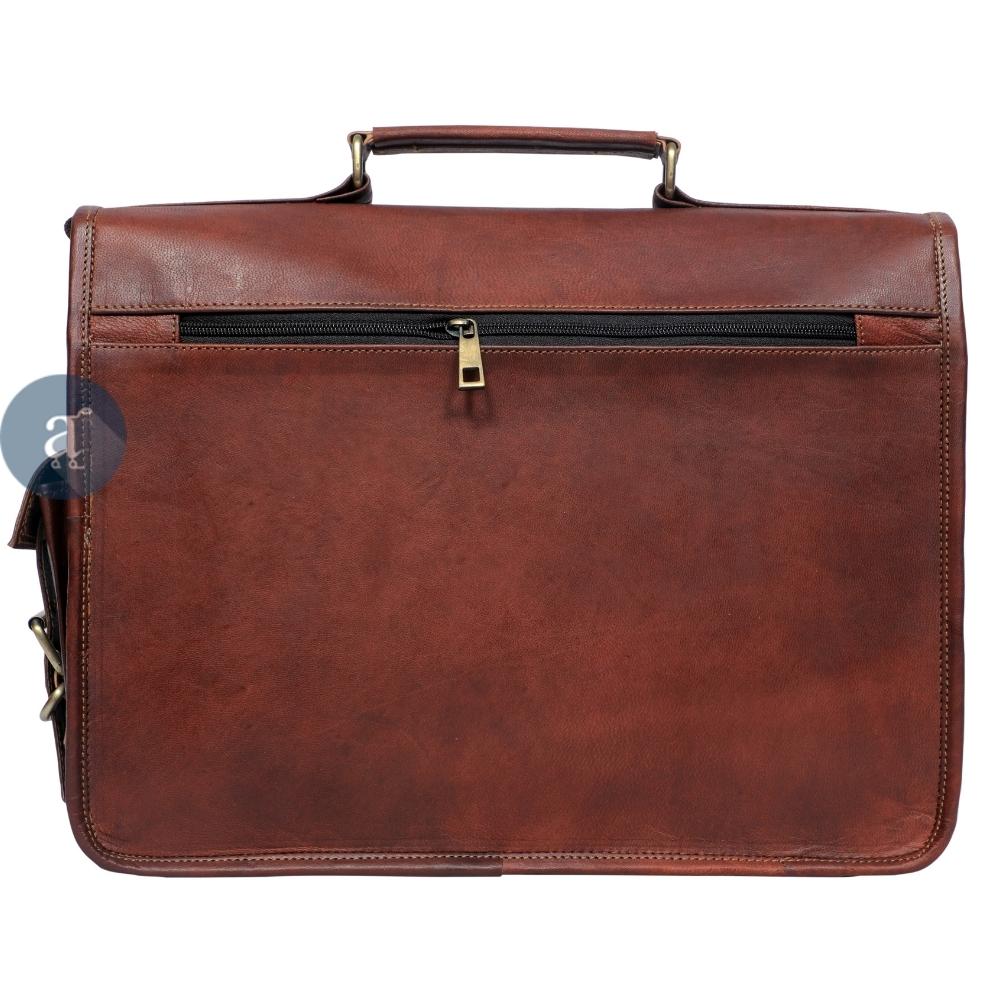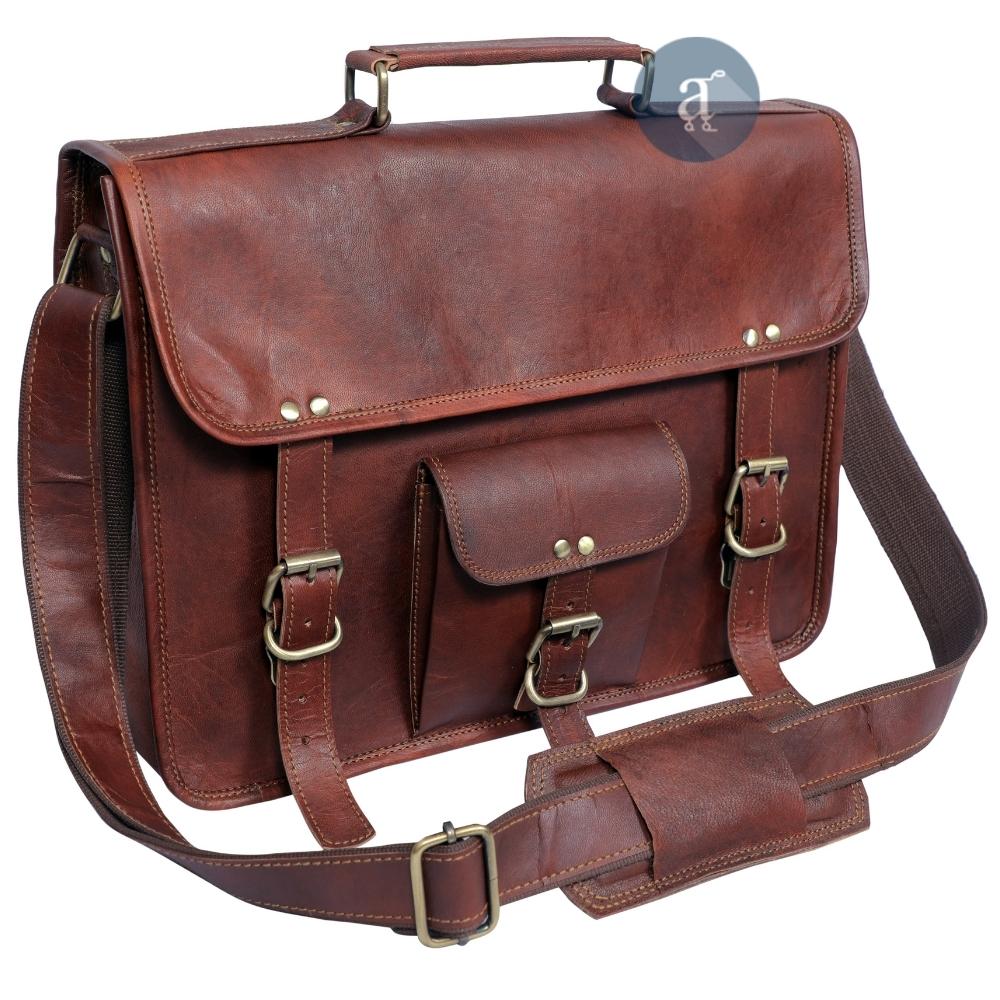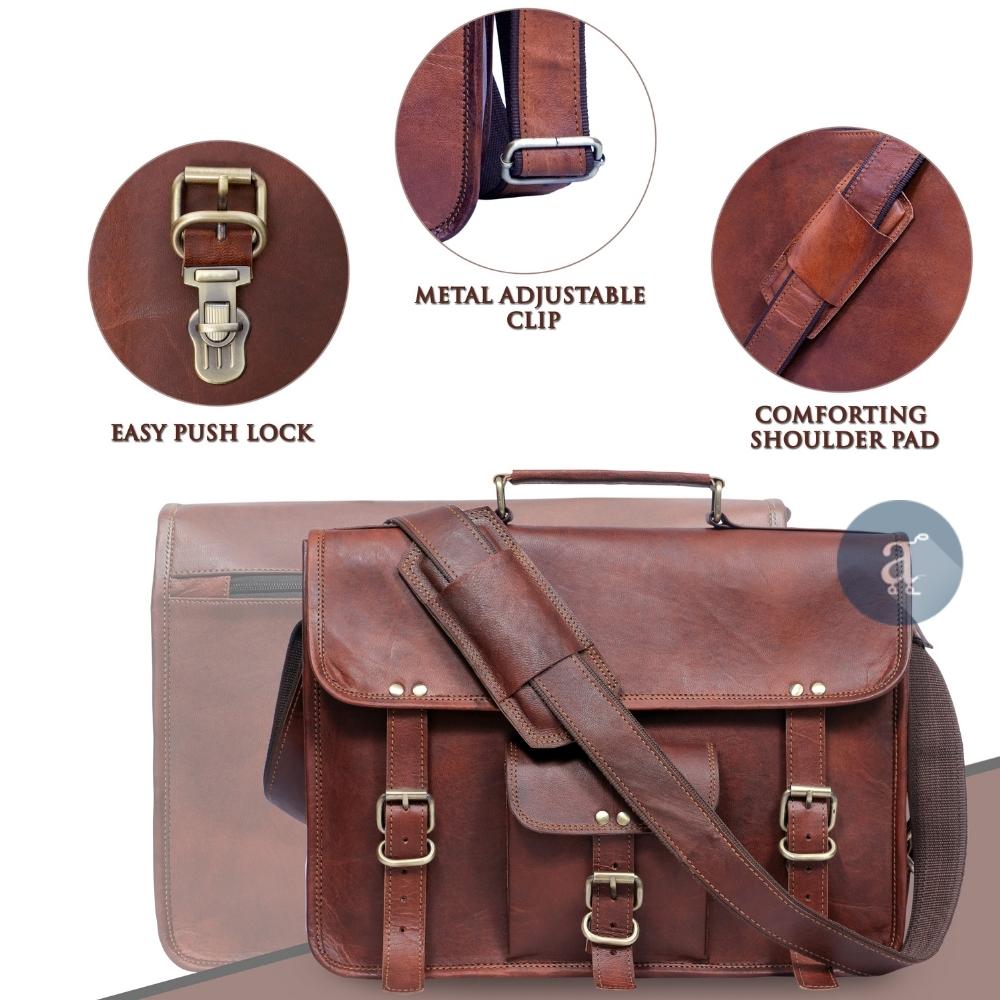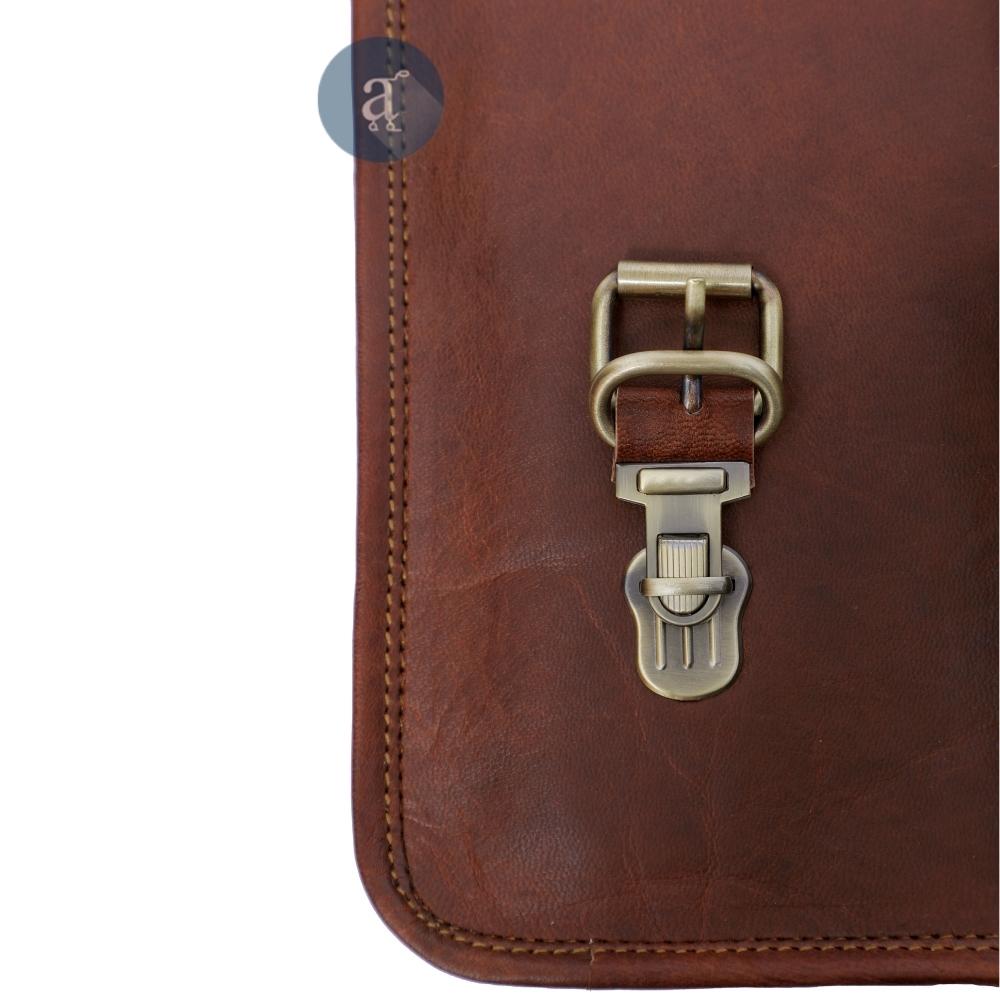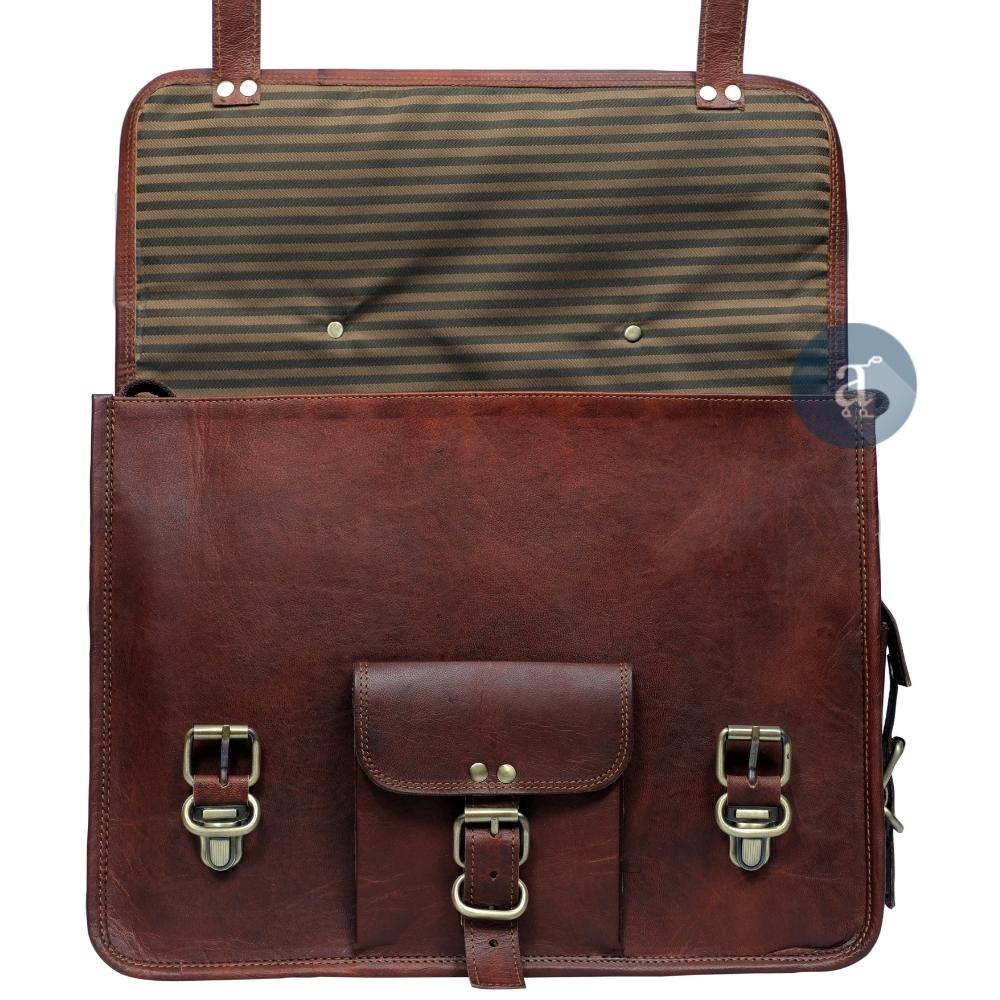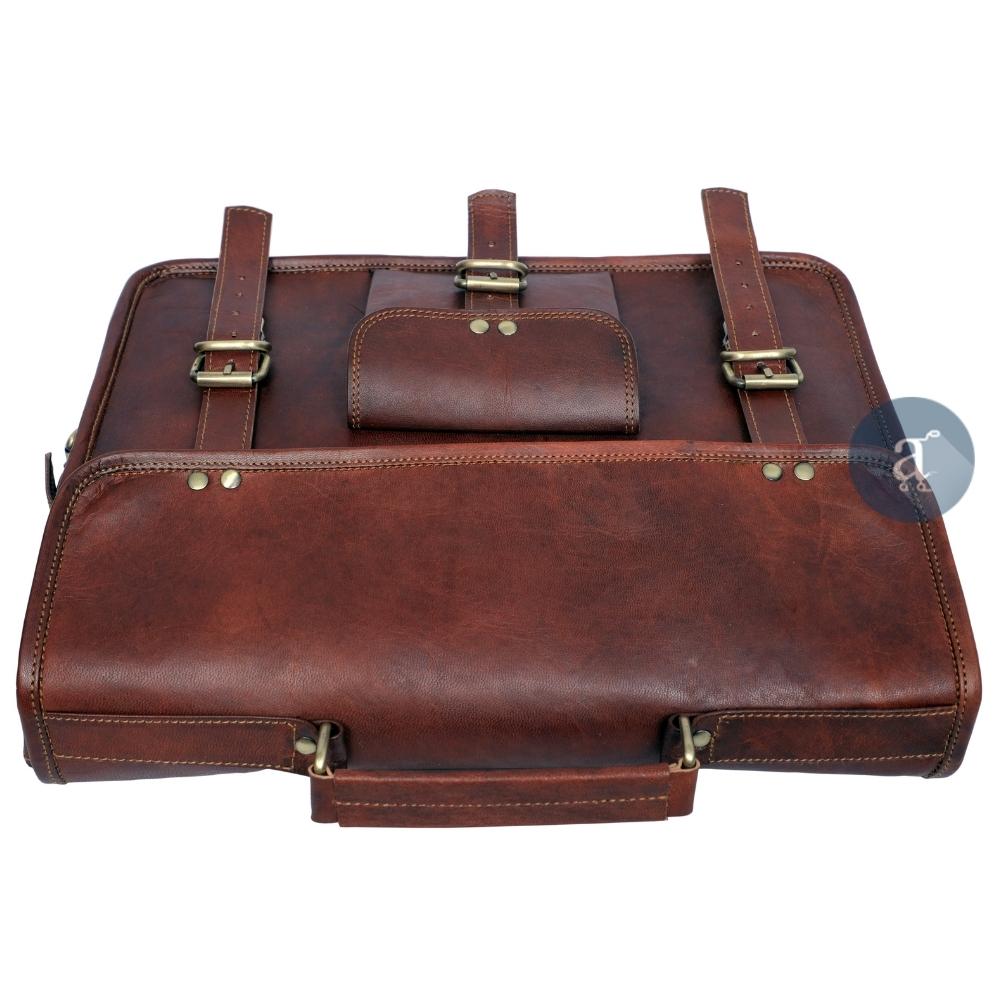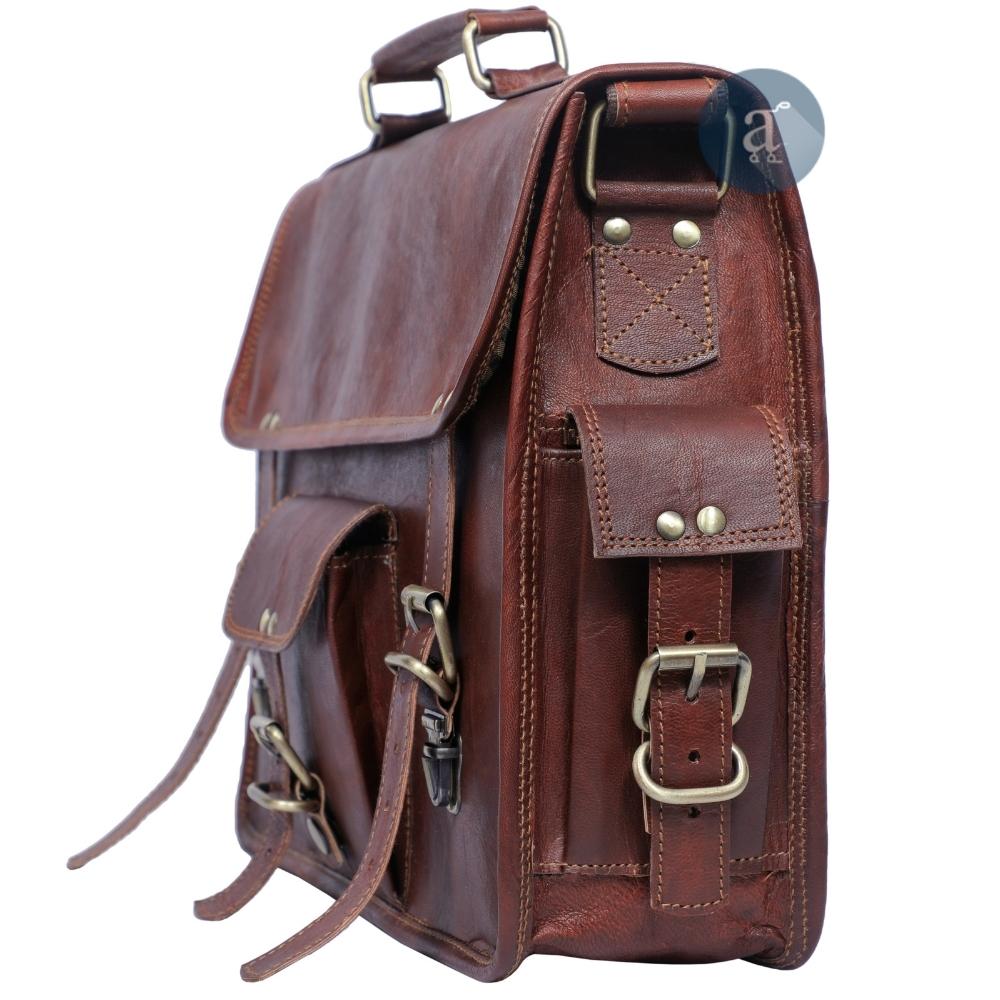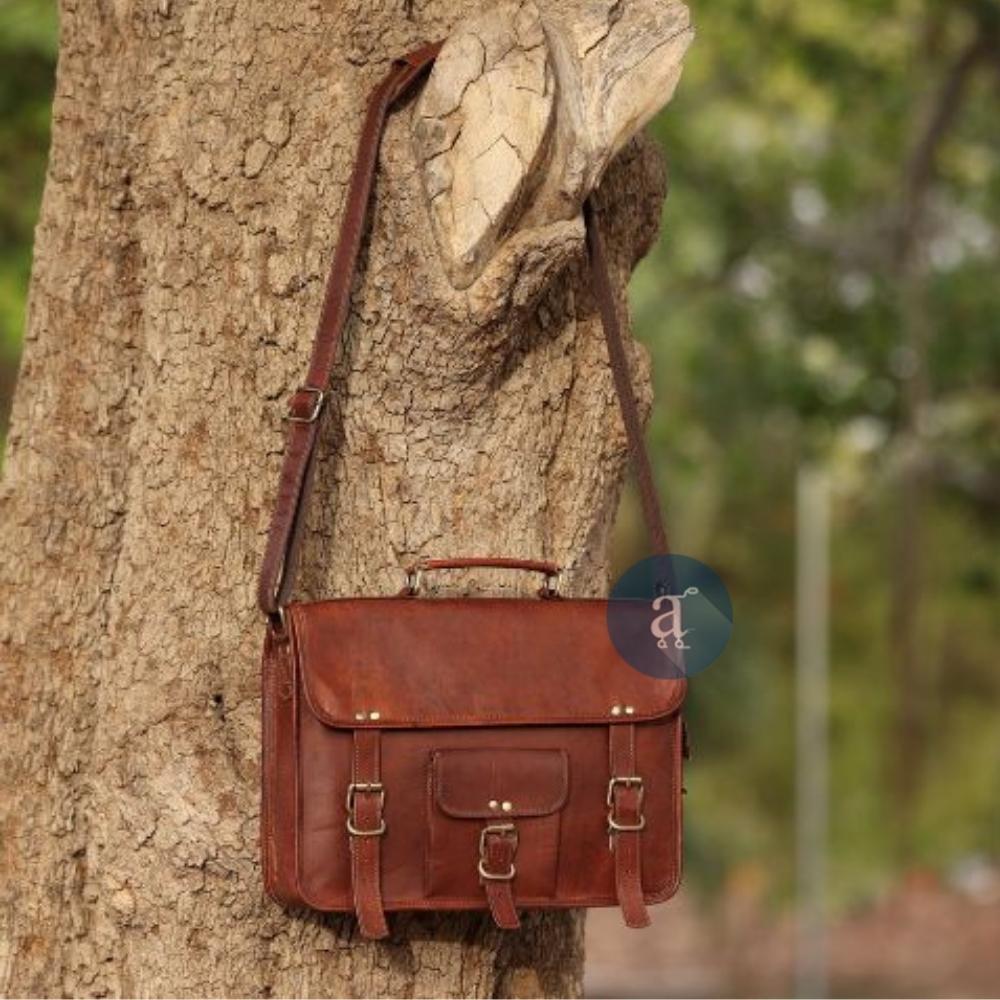 Leather Messenger Bag for Men
Sale price
$79.99
Regular price
Estimated Delivery:Oct 04 - Oct 08

Free Shipping: In USA, UK and Canada.

DESCRIPTION
SPECS
FEATURES
MATERIALS
CARING
Leather Messenger Bag for Men Description
In a world of fleeting fashion, certain things remain timeless, exuding a charm that's unparalleled. Among these classics, leather bags have carved a niche of their own.
But when you talk about leather messenger bags designed explicitly for men, you're not just discussing an accessory; you're narrating a tale of elegance, functionality, and robustness. Allow us to introduce you to Anuent's Leather Messenger Bag for Men—a perfect blend of sophistication and utility.
Exquisite Exterior:
The first impression often lasts, and with this messenger bag, that first impression is bound to be iconic. Crafted with premium quality goat leather, this bag emanates a lustrous shine, offering not just a visual treat but a tactile experience that's buttery smooth.
Its rich brown shade is not just a color but an embodiment of elegance, suitable for any setting - be it a corporate meeting or a casual outing.
Versatility in Size:
Understanding the diverse needs of modern men, Anuent presents this bag in a variety of sizes—11-inch, 13-inch, 15-inch, and a grand 17-inch. Whether you're a minimalist who carries just the essentials or someone who believes in being prepared for any situation, there's a size tailored just for you.
Interior Ingenuity:
Unbuckle the flap closure, and you're welcomed by a burst of vibrant brown crafted with high-quality cotton canvas. The interior isn't just about aesthetics; it's a realm of organized brilliance.
With two main compartments, you can keep your belongings segregated and easily accessible. Are you tech-savvy with a penchant for gadgets? Fret not, as one of these compartments is specifically designed to cradle your laptop securely.
Adding to this are two additional inner pockets, making sure that from your business cards to your pens, everything has its designated spot.
Practical Exterior Pockets:
On the outside, three methodically positioned pockets adorn the bag. These are not just design enhancements but practical spaces where you can quickly stash items you need on the go, ensuring that essentials are always within arm's reach.
Superlative Hardware:
A bag's beauty isn't just skin deep. The brass hardware accentuating this leather messenger bag is a testament to its overall quality. Each buckle, rivet, and zipper showcases resilience, ensuring that they not only look good but stand the test of time.
A Scented Surprise:
One of the significant apprehensions many have when purchasing leather goods is the overpowering leather odor. However, with Anuent's leather messenger bag, you're in for a refreshing experience. Bid farewell to unpleasant smells and embrace the pure essence of high-grade leather.
Fashioned for All:
While the product is labeled as a "Leather Messenger Bag for Men," its design resonates with a universal appeal. Thanks to its unisex design, it can be seamlessly sported by anyone and everyone who appreciates the finer things in life.
Why Anuent Stands Out:
A brand is not just a name; it's a promise. Anuent has consistently lived up to this promise by offering products that are a melange of quality, durability, and style.
Their attention to detail, coupled with a commitment to using only the best materials, ensures that when you invest in an Anuent product, you're getting nothing short of perfection.
In a landscape flooded with fleeting trends, the Anuent Leather Messenger Bag for Men stands tall as a symbol of timeless elegance.
Whether you're gifting it to someone special or treating yourself, this bag promises to be a cherished companion, seamlessly blending with every chapter of your life.
Why wait? Dive into a world of luxury, functionality, and timeless appeal. Add the Anuent Leather Messenger Bag to your collection today!
---
Leather Messenger Bag for Men Specifications
Dimensions:
Small: 11 L x 3 W x 9 H Inches | Weight - 0.7 Kg

|

Capacity - 4.86 Ltr
Medium: 13 L x 4 W x 10 H Inches 

|

Weight - 

0.9

Capacity - 

Kg

|

8.52 Ltr
Medium: 15 L x 4 W x 11 H Inches 

|

Weight -

1.3 Kg

|

Capacity - 

10.82 Ltr
Large: 17 L x 5 W x 12 H Inches 

|

Weight - 

1.5 Kg

|

Capacity - 

16.71 Ltr
Outer Details

1 small front pocket

2 small side pockets

Handle on top

Long adjustable padded strap for carrying
Inner Details
3 compartments

2 zipper pocket

Sturdy canvas lining on the inside.
---
Men Leather Laptop Messenger Bag Features
Premium quality: Made of genuine leather
This vintage men's leather messenger bag is handcrafted by skilled people and made of goat leather – a real leather that is strong and durable.
Goat leather is popularly known for its flexibility; compared with cowhide leather, they are supple and lightweight, making them easier to carry.

Like Italian leather, they are both soft and flexible. This leather bag is designed not to get scratched up and scuffed all too easily, maintaining its natural, authentic character for a long period.
Our leather messenger offers various storage options. It is garnished with a front pocket, three inner compartments, and two zipper pockets.

This comforts and ensures that your valuables, files, books, etc., are properly arranged in different sections. This makes it easier to arrange and recover your personal materials quickly.

With a size up to 17 inches, this bag can properly fit your 16.5-inch laptop, tablet, files, etc., with other valuables.

It has a leather flap that keeps all your materials secure. The small outer pocket also has a flap, which keeps your frequently used device/material firmly in place and safe.
Our genuine leather messenger bag for men has a firm, adjustable padded shoulder strap, making it easy to carry around. It also comes with a top handle giving you options to choose from, and it's up to you.

Our messenger bag can also be carried as a crossbody, giving you a fashionable look.

Its zippers and buckles are made of quality materials that are strong and close completely, preventing the breaking and spilling of your documents.
Our brown leather messenger is lined with waxed canvas inner fabric. Because of its water-resistant ability, you don't have to worry too much about bad weather.
Compared with other bags, this bag is very strong for everyday use. It can be used as a briefcase, laptop, messenger, shoulder, college, and office bag.
Hard-wearing, durable, and rugged. Our bag is made of quality materials that stand the test of time. Acquires the unique look of distressed leather with time, becoming more pleasing to use.

Our brown messenger bag is unique, stylish, comfortable, and affordable. Shop for yours with us now.
---
Leather Messenger Bag for Men Frequently Asked Questions
Is the exterior material made of real leather?
Yes, with goat leather, and it is nicely done.
Is this bag water-resistant?
Yes, this bag is water-resistant.
SKU: AN0LCB15
Dimensions: Small: 11 L x 3 W x 9 H Inches - 0.7 Kg - 4.86 Ltr, Medium: 13 L x 4 W x 10 H Inches - 0.9 Kg - 8.52 Ltr, Medium: 15 L x 4 W x 11 H Inches - 1.3 Kg - 10.82 Ltr, and Large: 17 L x 5 W x 12 H Inches - 1.5 Kg - 16.71 Ltr
Color: Brown
Condition: New
Weight:
Capacity:
Brand: Anuent
Style: Messenger | Crossbody | Shoulder
Laptop Compartment: Yes
Inner Pockets: 2
Outer Pockets: 3
Total Compartments: 2
Gender: Unisex
Closure Type: Flap With Buckle Closure
Exterior: Goat Leather
Interior: Orange Cotton Canvas
Hardware: Brass
➡ Taking Care of your Leather Products
Leather products are often used in professional settings and require special care to keep them looking pristine.

If you take good care of your leather bag, backpack, or journal, the surface will stay bright for years to come!

● Always ensure that any product is dry before applying cream/moisture lotion onto it by using a soft cloth; this helps prevent stains from occurring when applied wisely.

● To ensure that your leather product lasts for years, never allow it to get wet. If the item gets soaked in water and you want to dry it out again quickly. Place thick microfiber cloths over any exposed surfaces of an absorbent material before allowing gravity to do its work.

➡ Note

The leather products may vary in color and size.

Some are slightly lighter, while others are darker than what is shown on your monitor - this will affect the outcome of a product's shade (due to natural materials).

However, you can be sure each bag or journal has been handmade with care for its unique features!

➡ Custom Duty

We take great pride in shipping all our products as quickly and efficiently as possible.

However, there's a chance that customs may cause delays if you don't provide them with contact information so they can reach out to collect customs duties on your behalf, which is why we must have this number!

Please let us know what phone number works best for International Shipping purposes at any time during checkout or after placing an order.

Also, email us if any questions arise about Customs-related matters.
Classy & Stylish
Online pictures didn't do this bag enough justice. It looks very cool and stylish for real. It will an ideal gift for any Classy Gentleman.
I've always wanted one of these but never had the money until now, and honestly this bag looks like you can go hiking with it. I love the casual look which makes it not too much of a pain to bring around.
"I always wanted a leather cross body top handle bag for my 17 inch laptop. It's made of soft leather and the interior is perfect to hold my stuff for office."
My husband bought this bag as a replacement to his old one that finally bit the dust. This is much better quality and more convenient for carrying around. It's quite spacious and has a lot of room for all sorts of things.
I bought this as a gift to my boyfriend who just got accepted into medical school. He loves its sleek design and doesn't have any complaints about it being uncomfortable when he rides his bike to school every day.