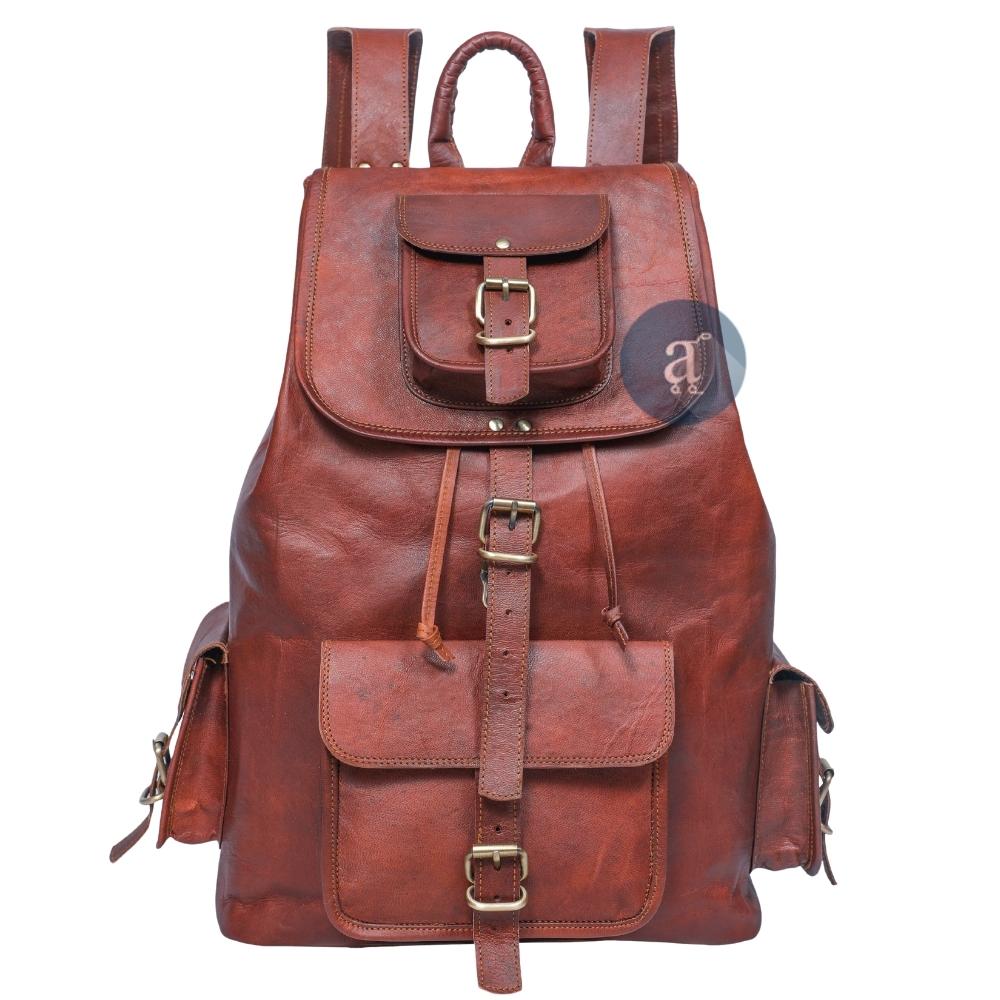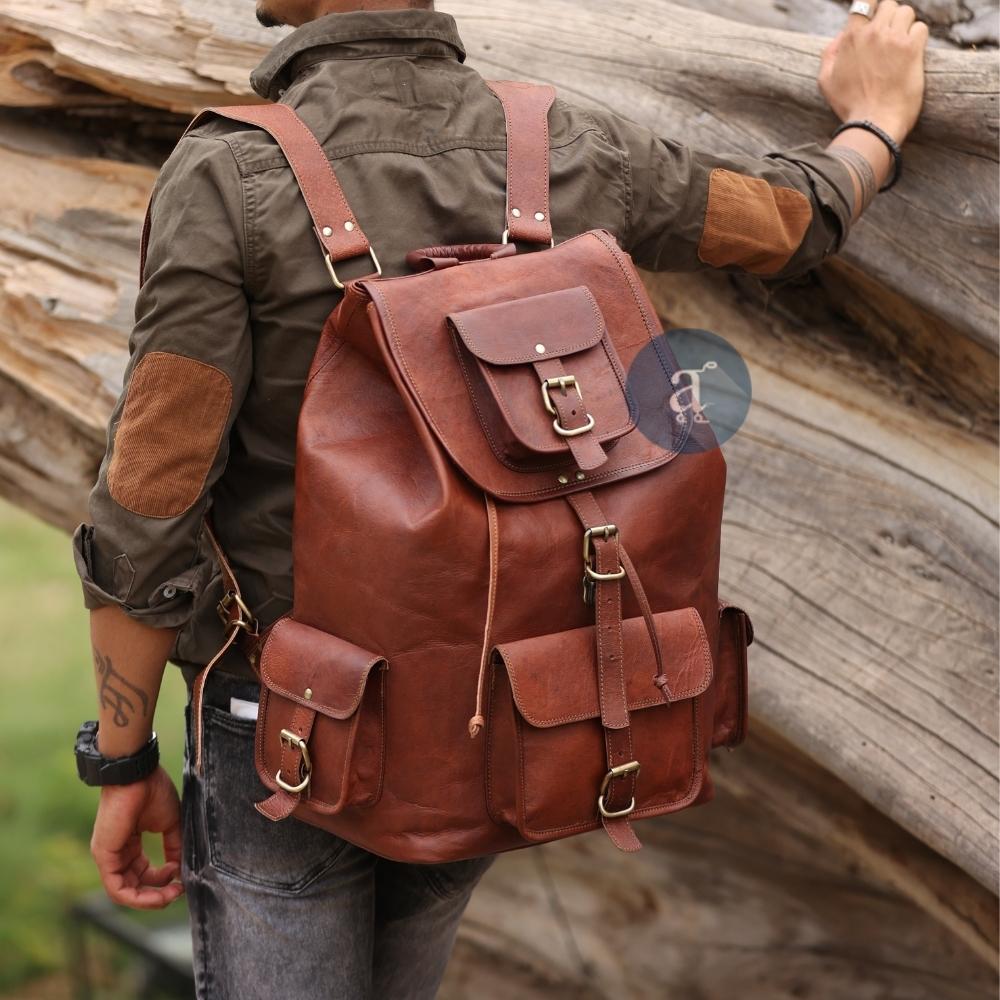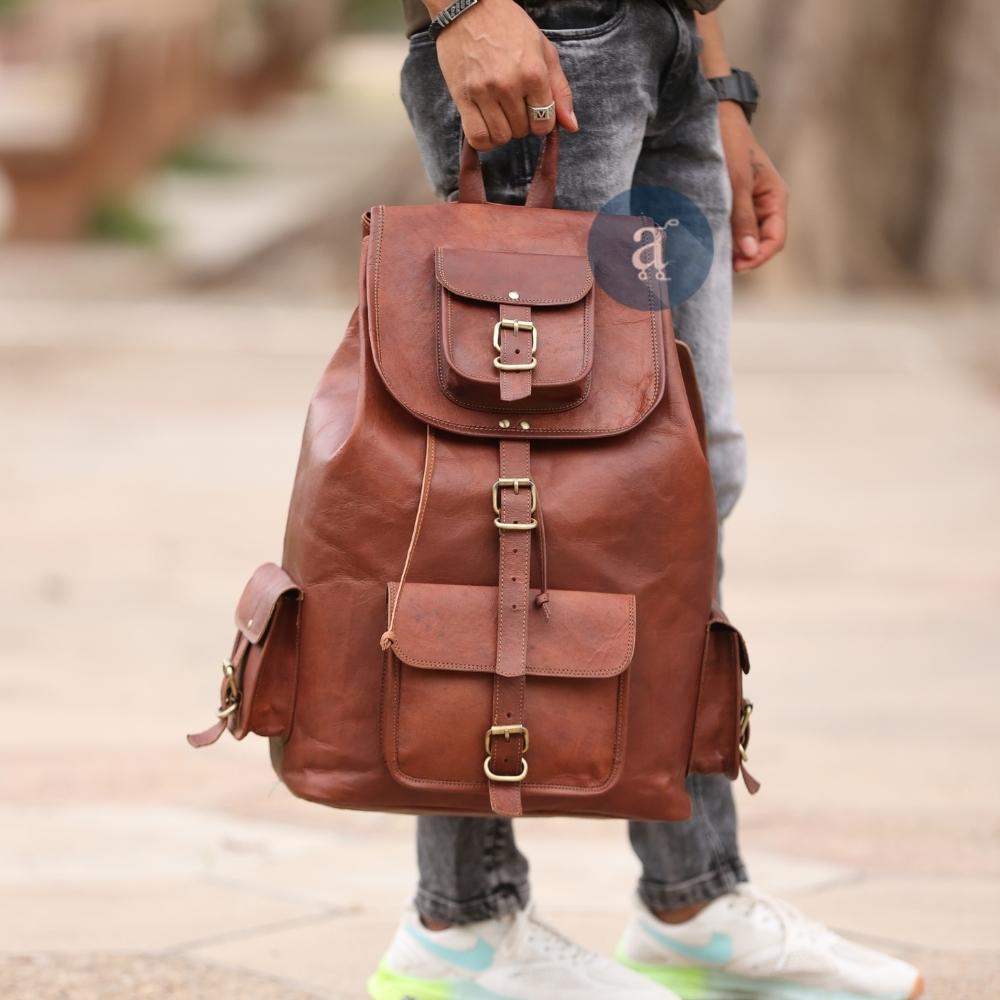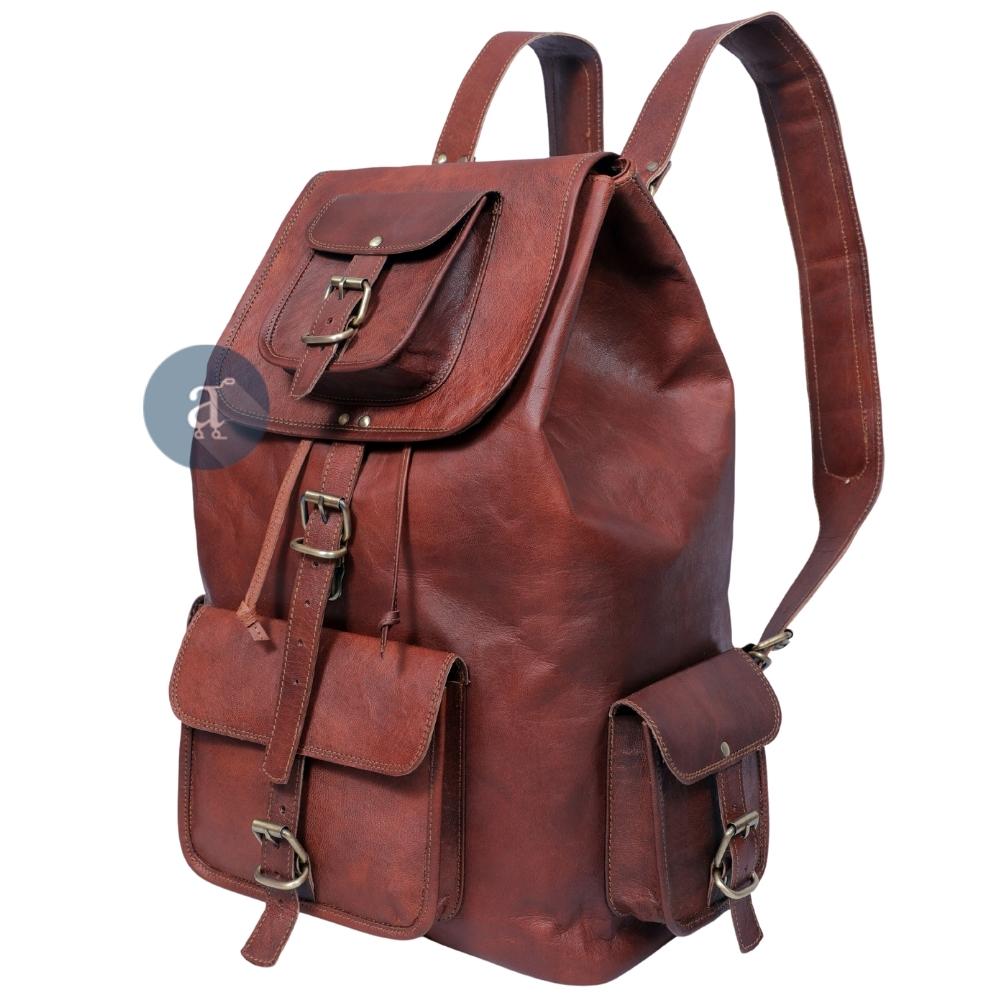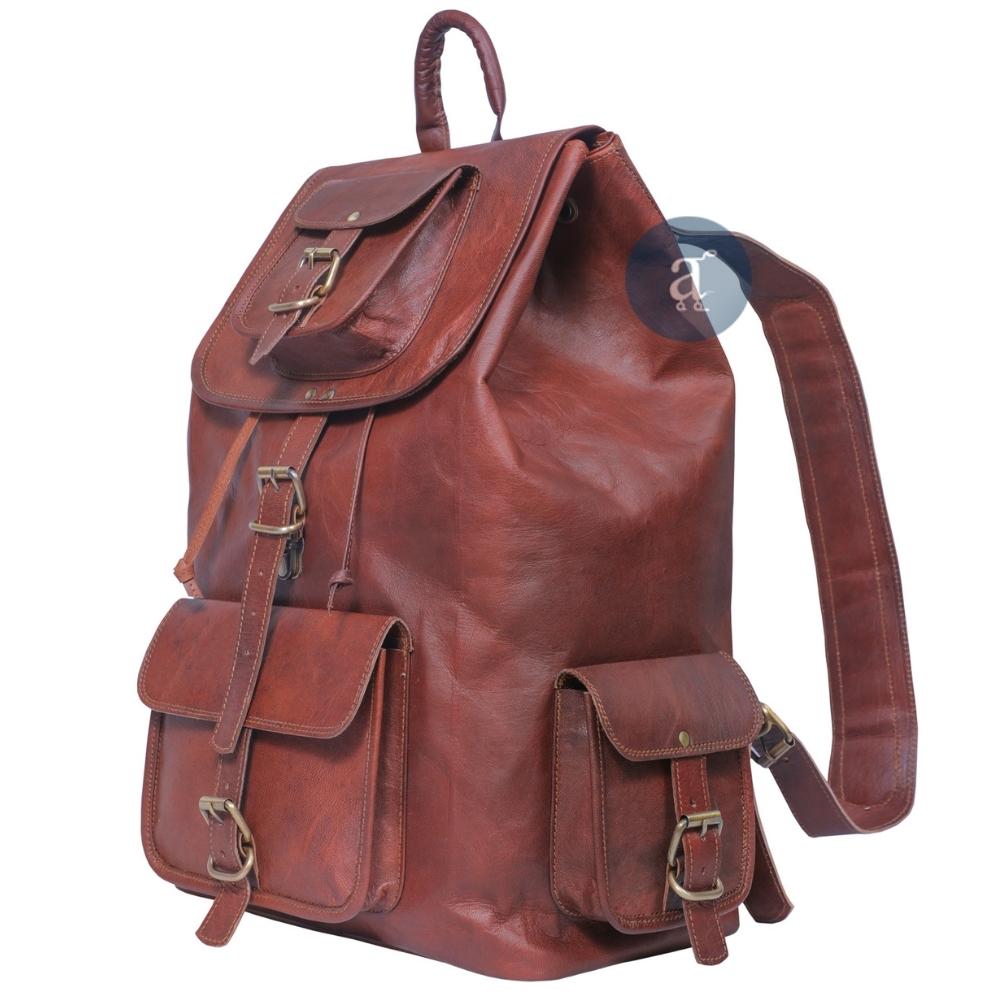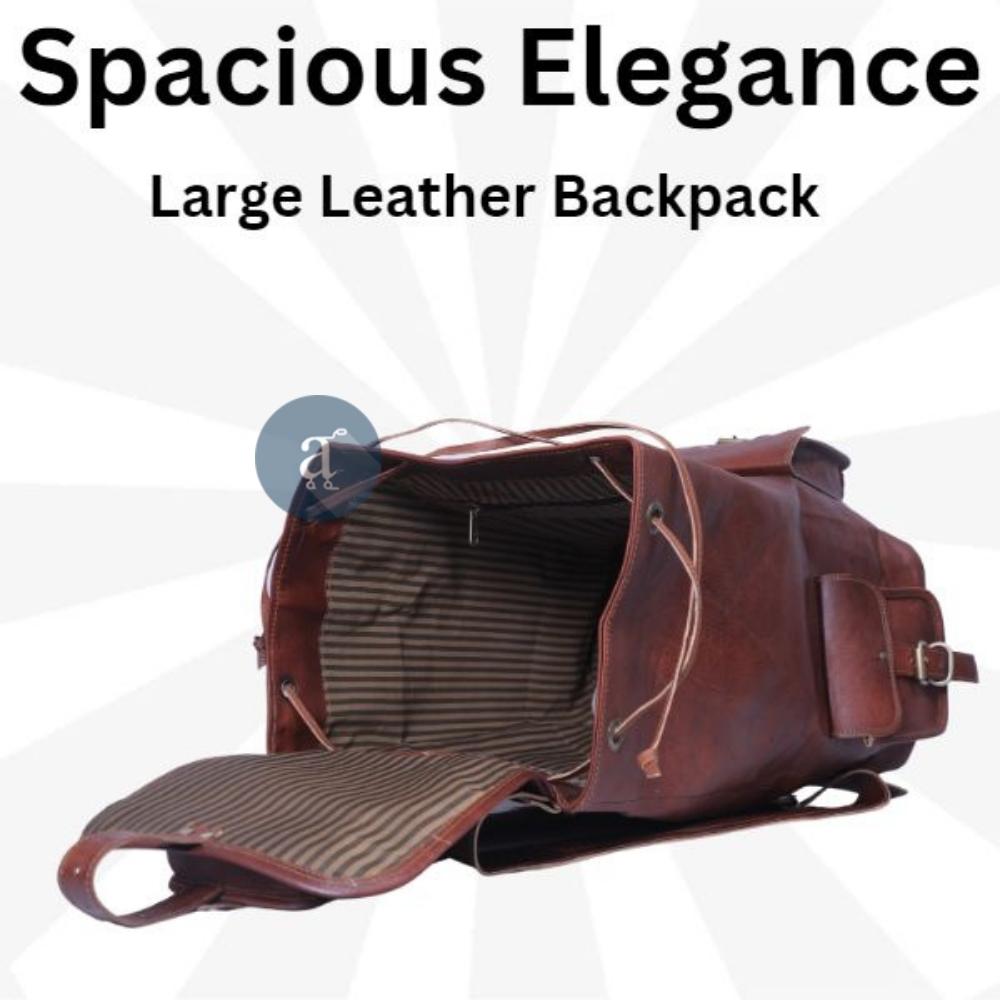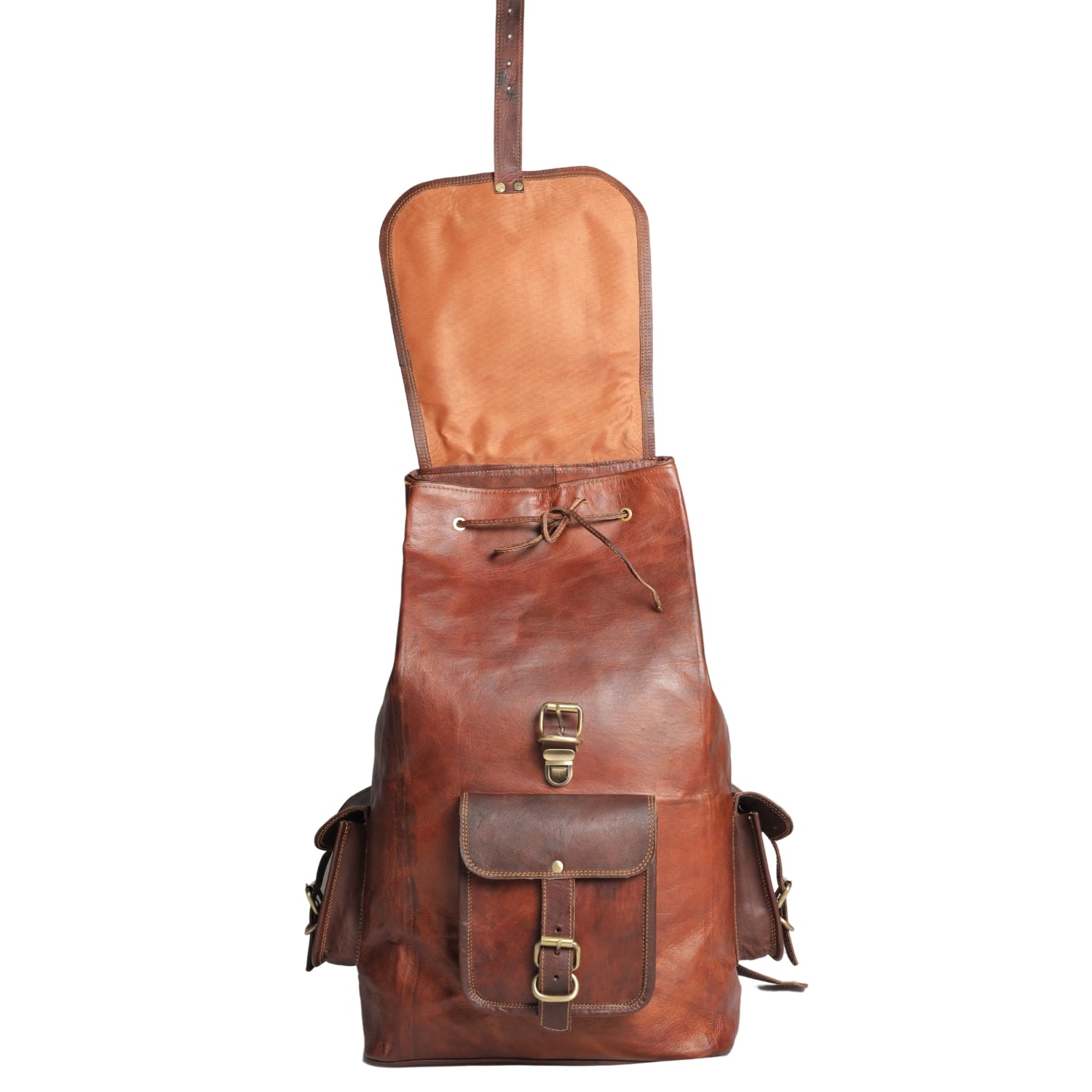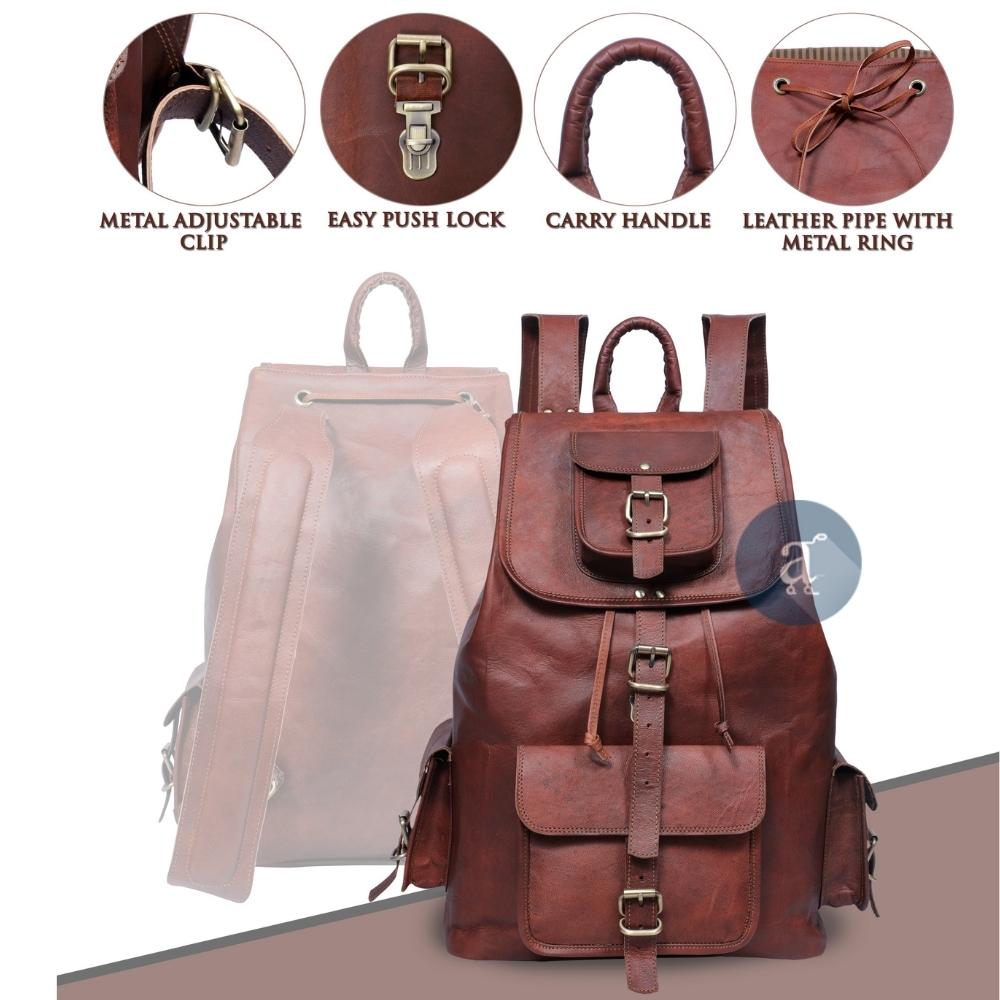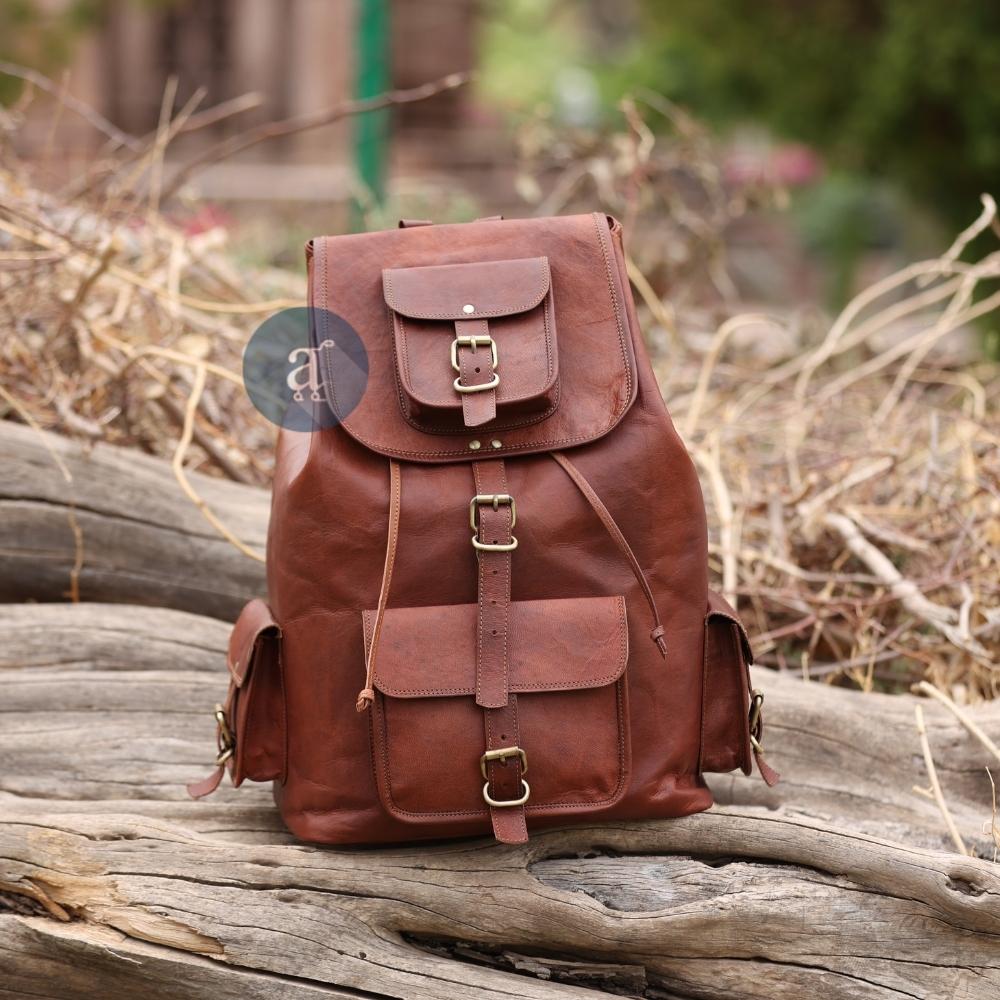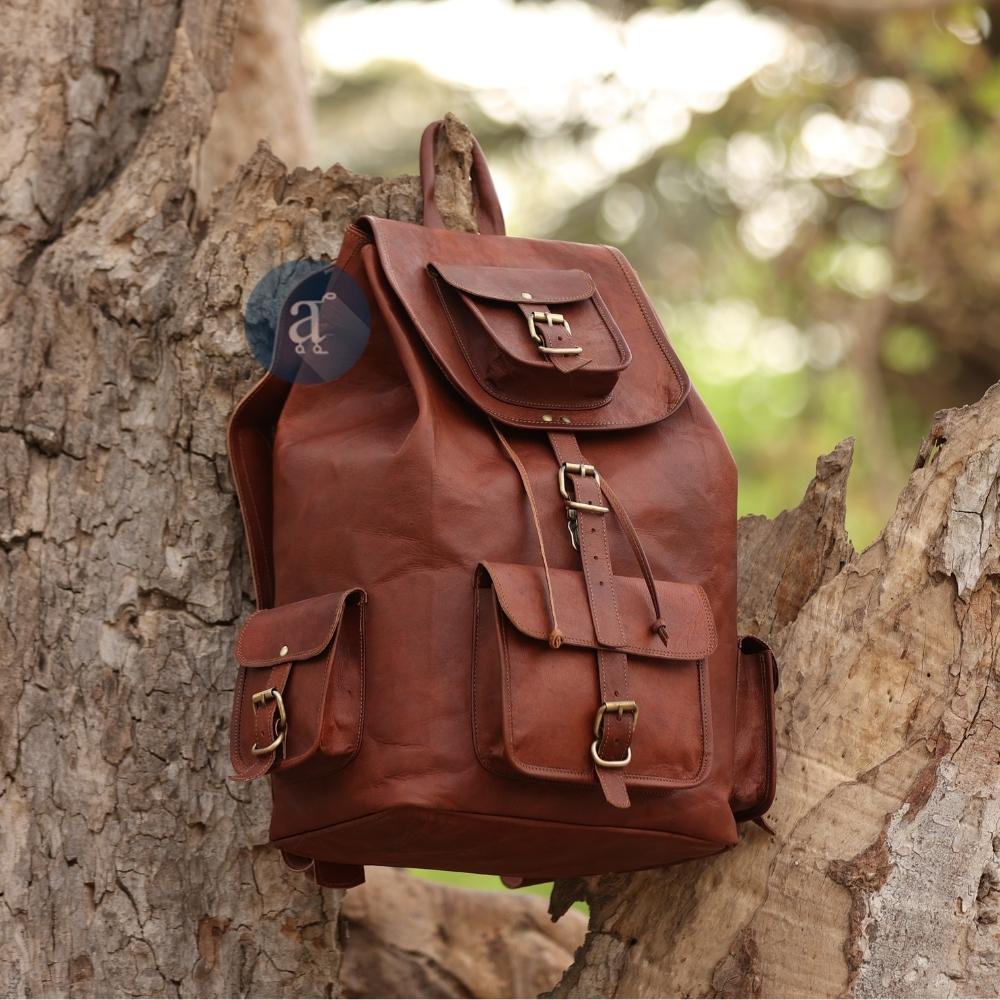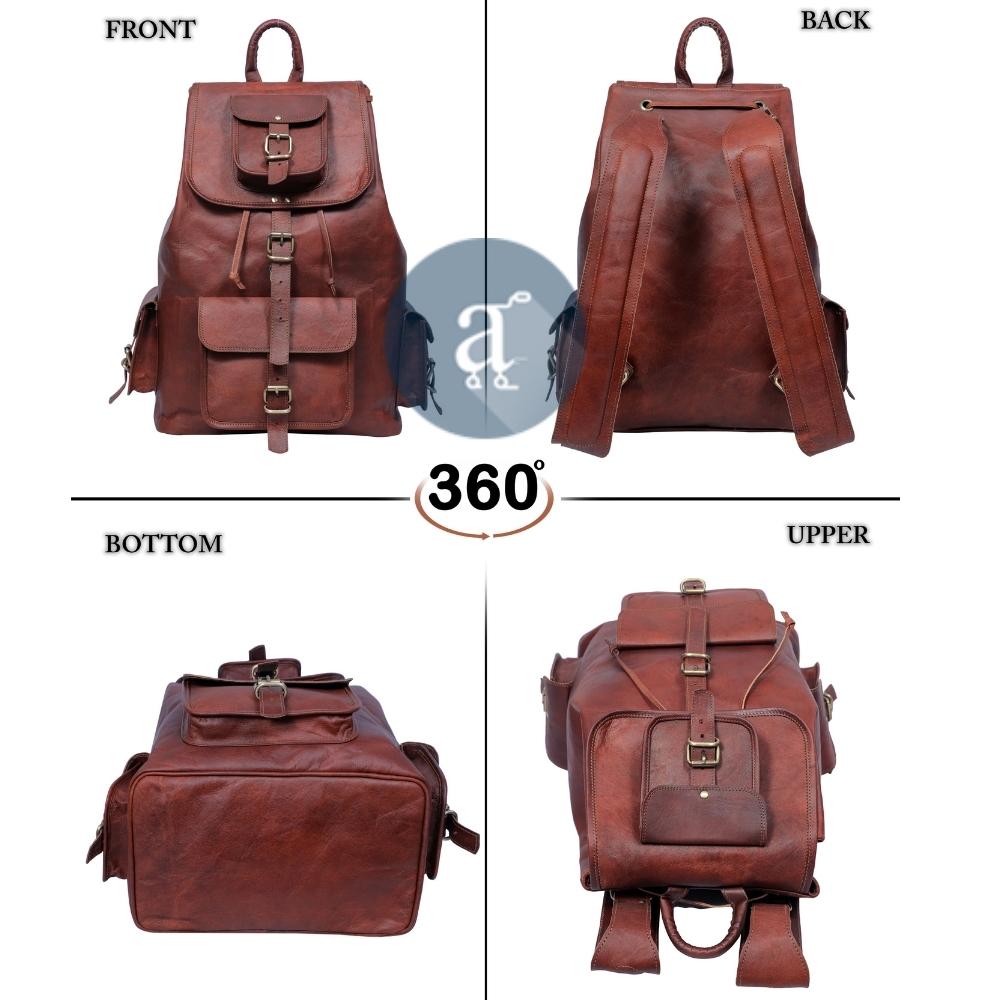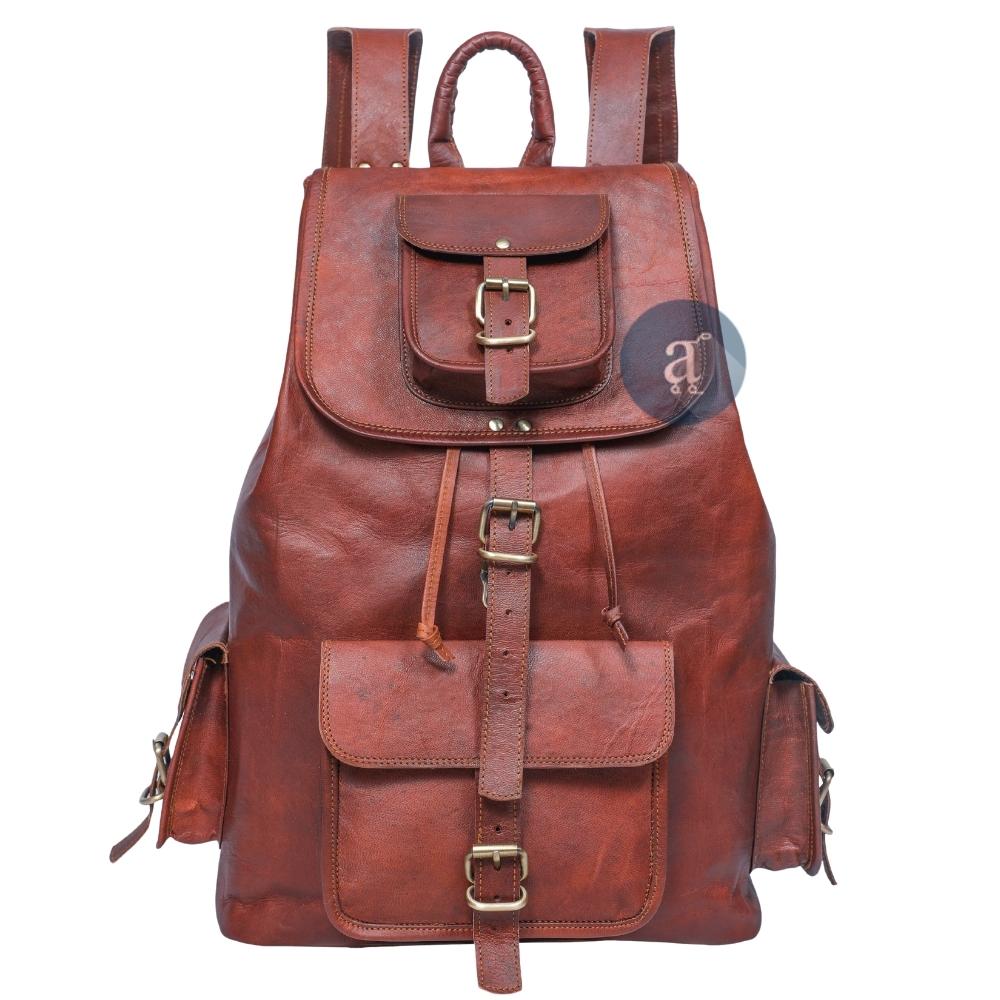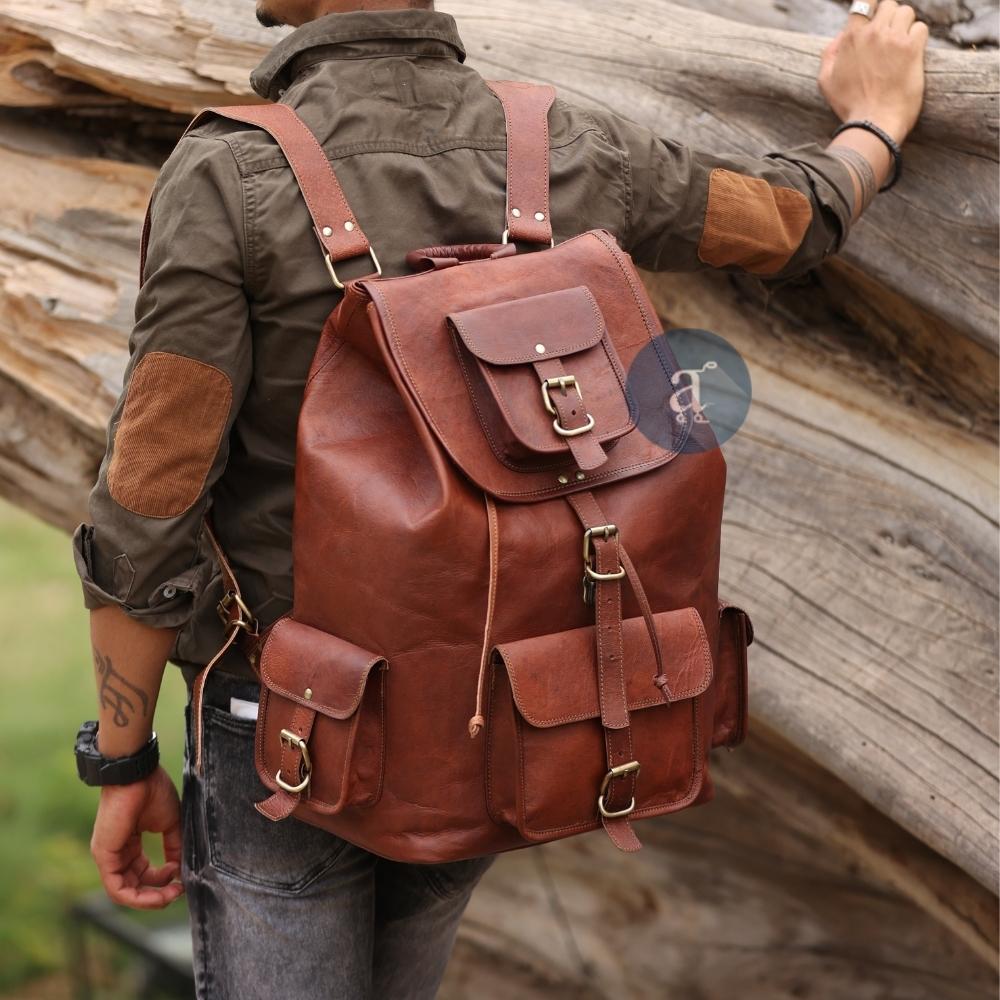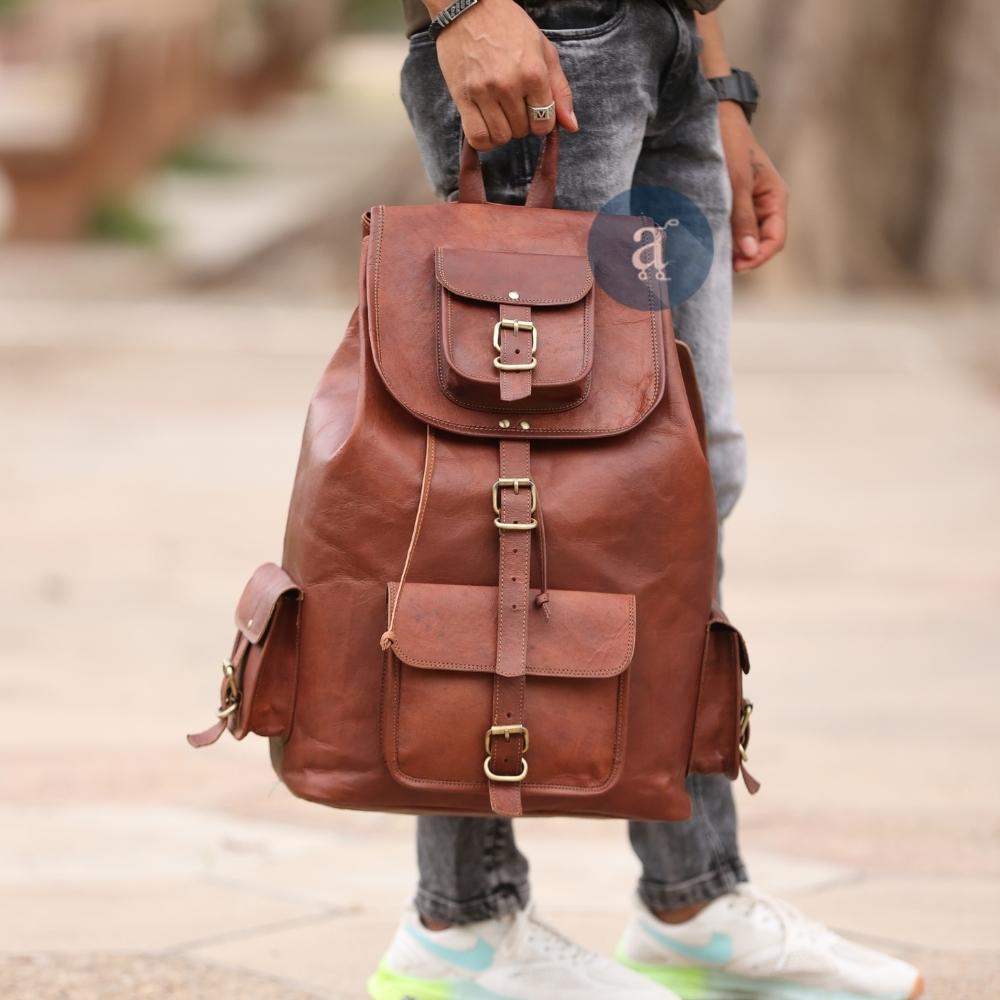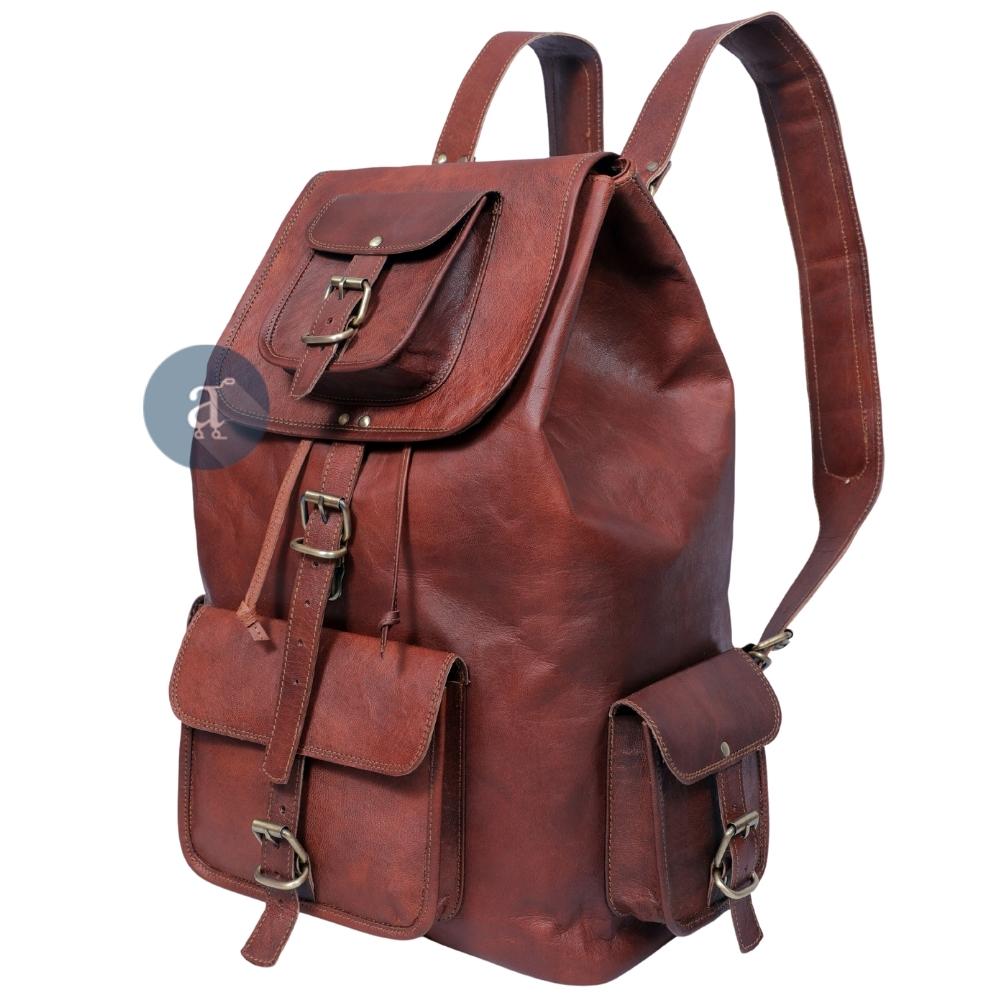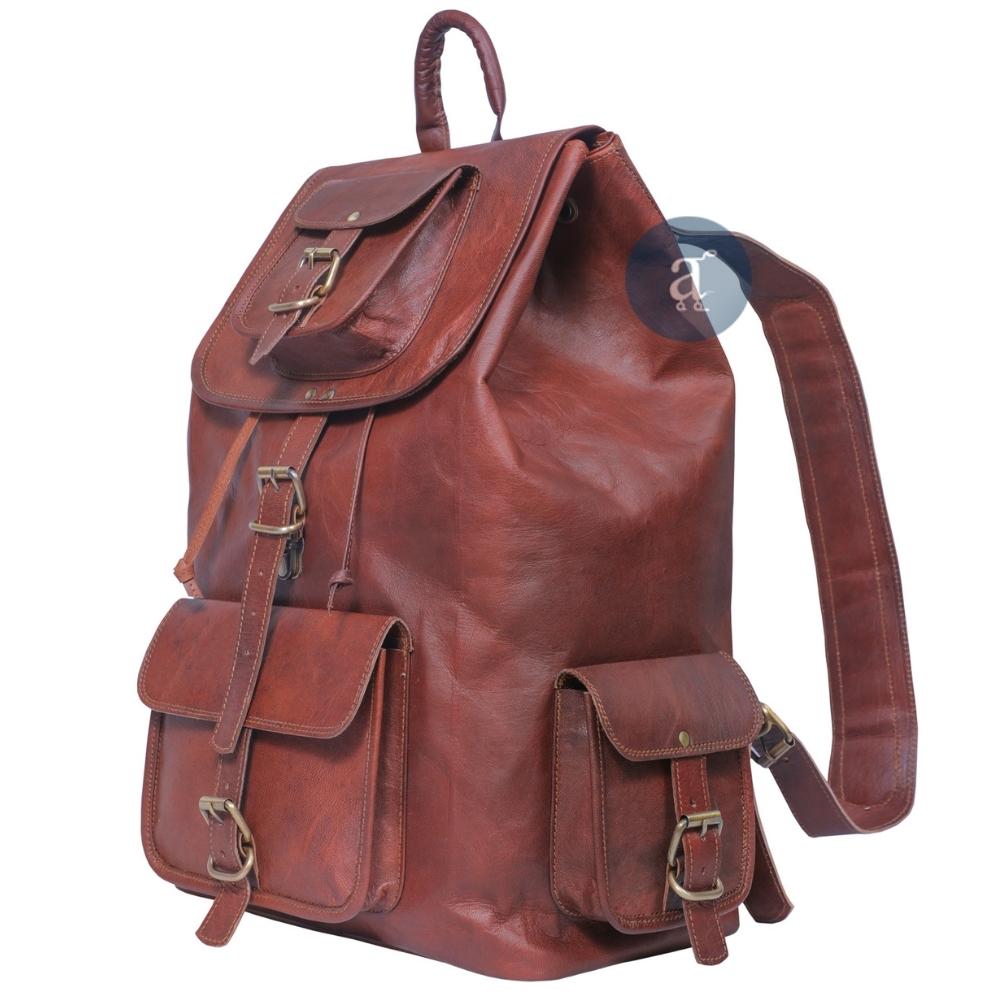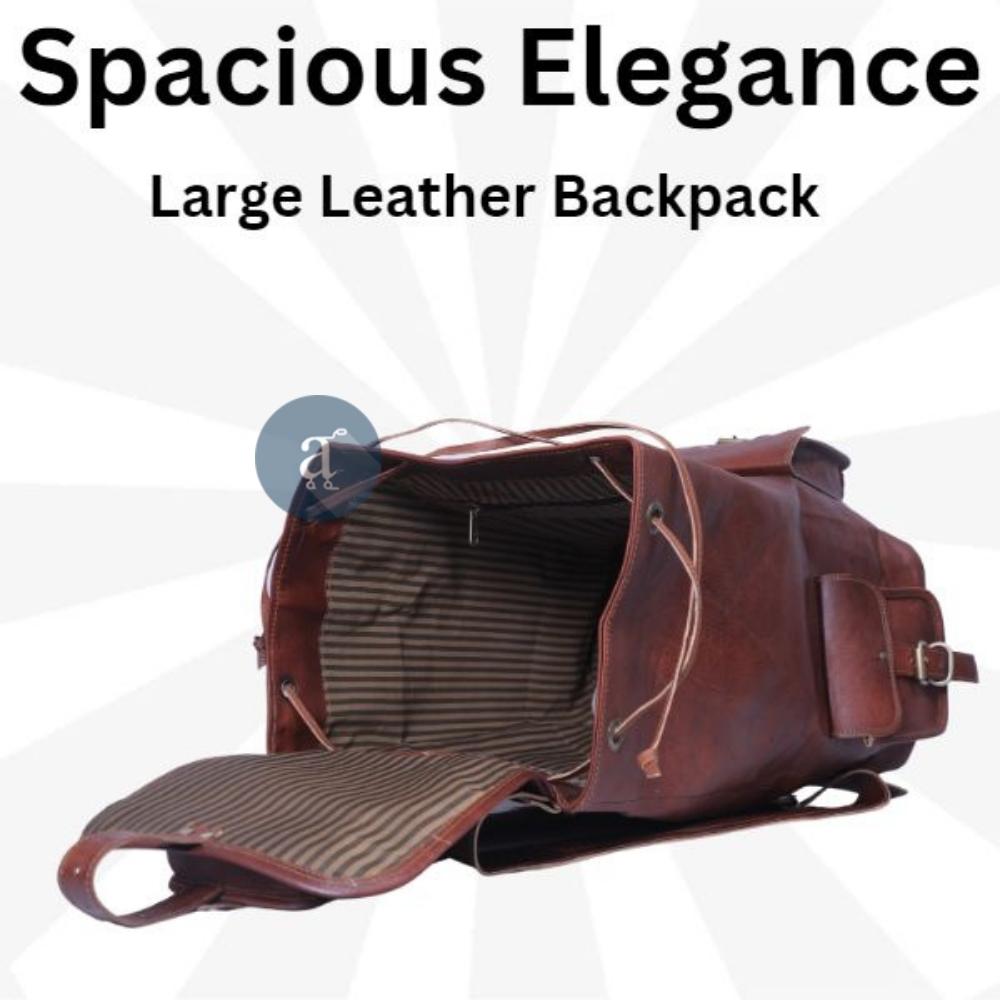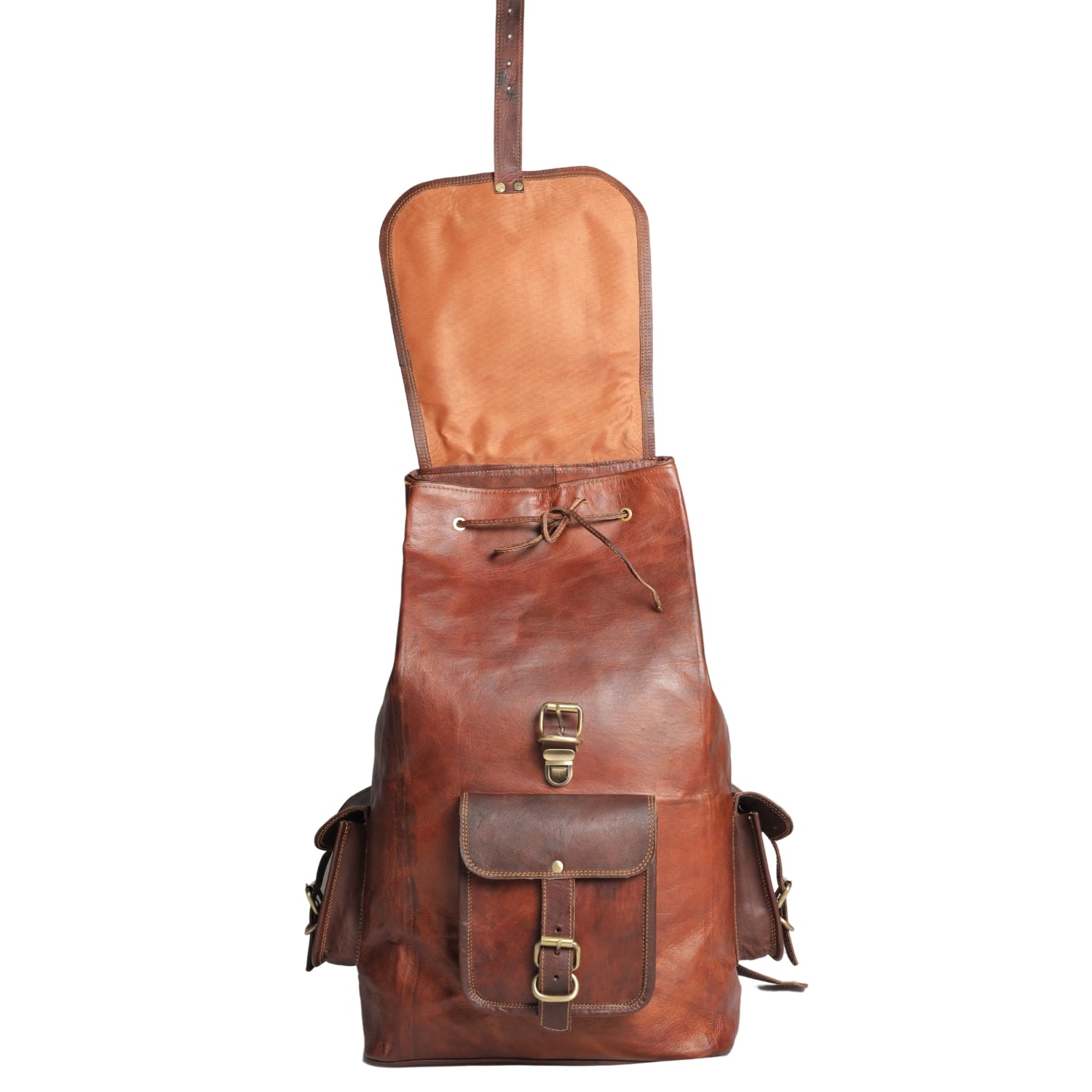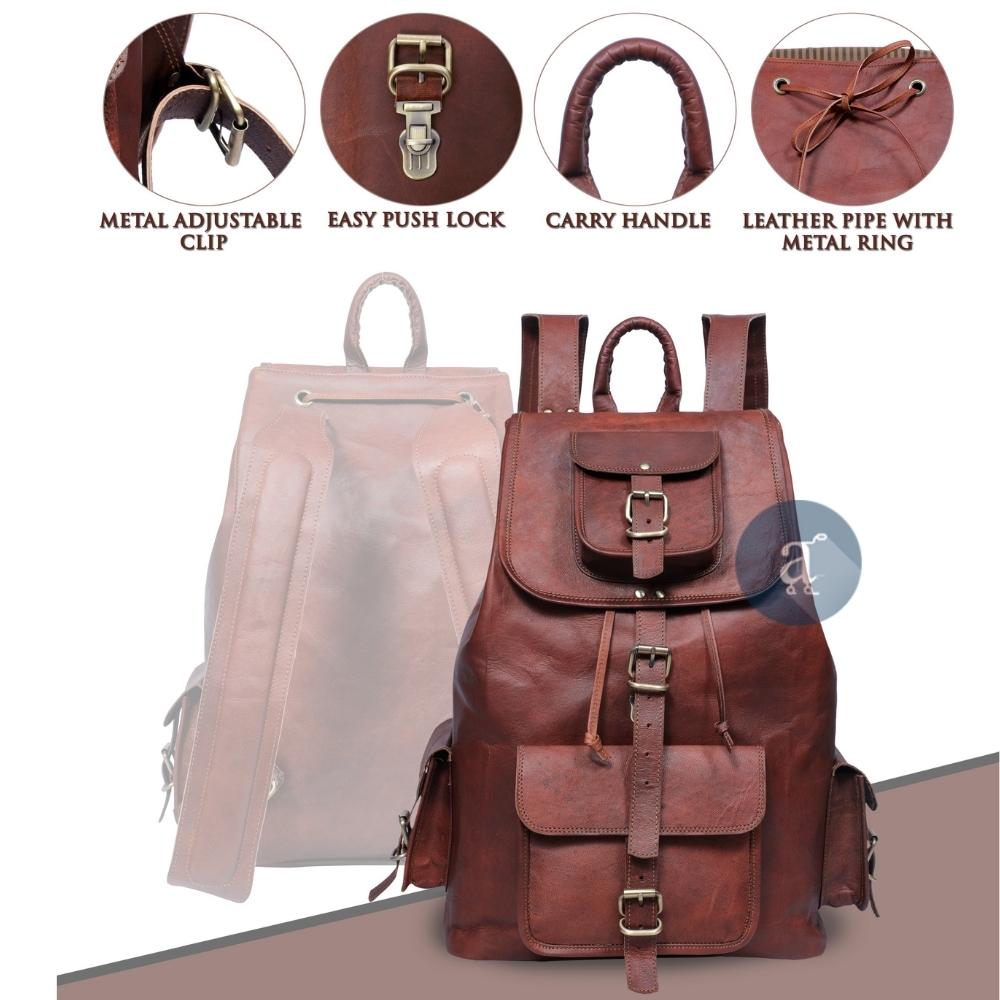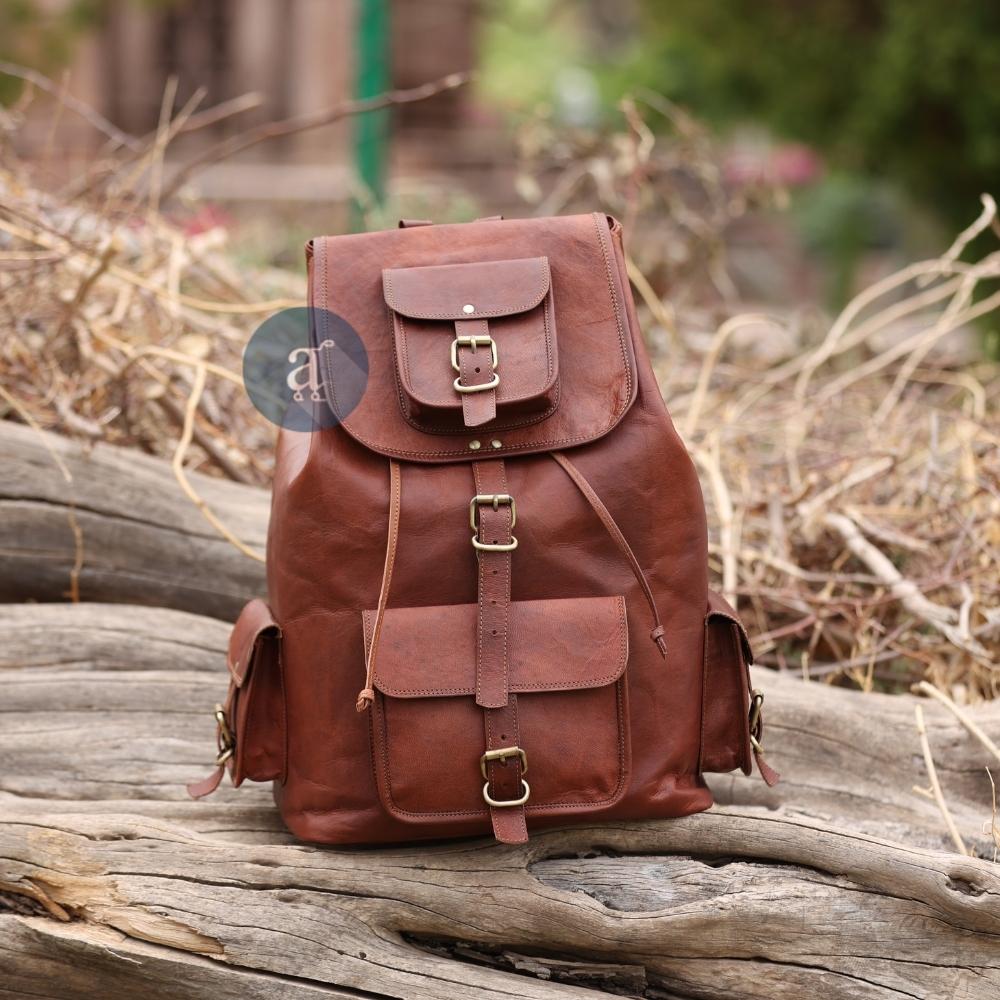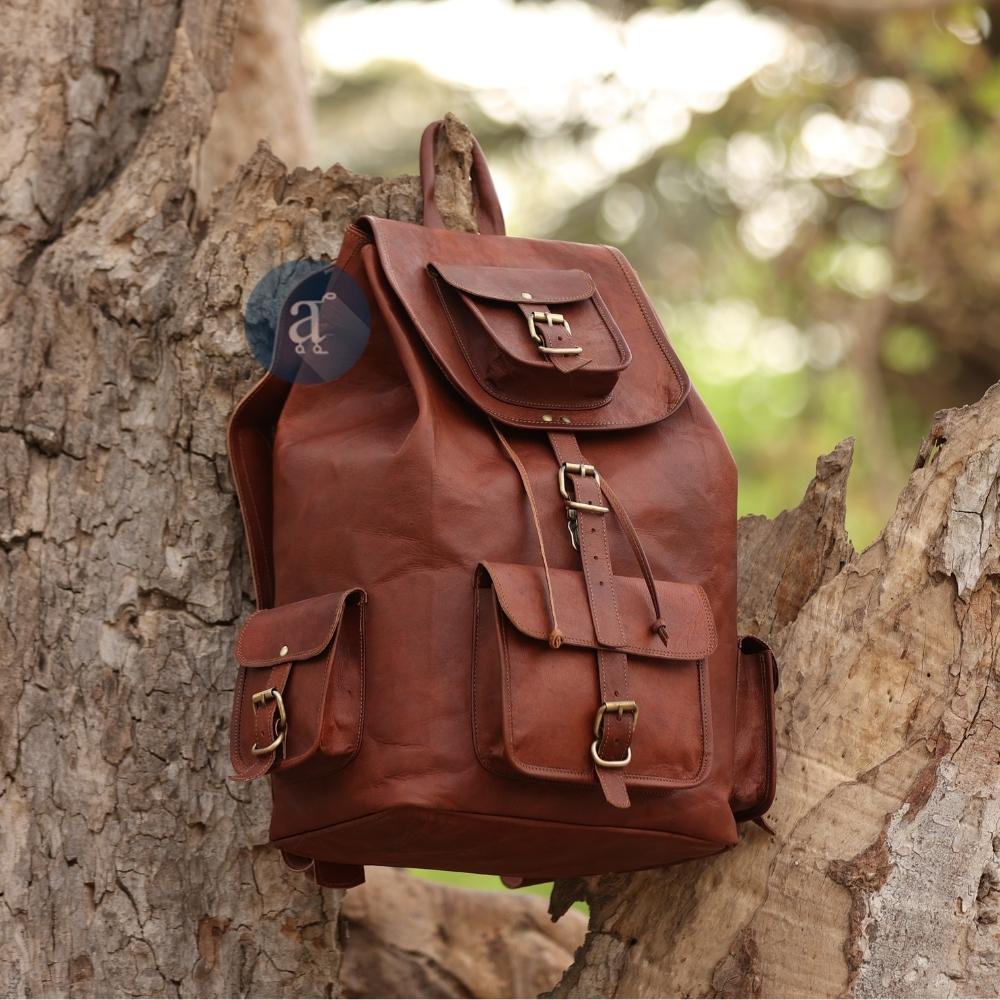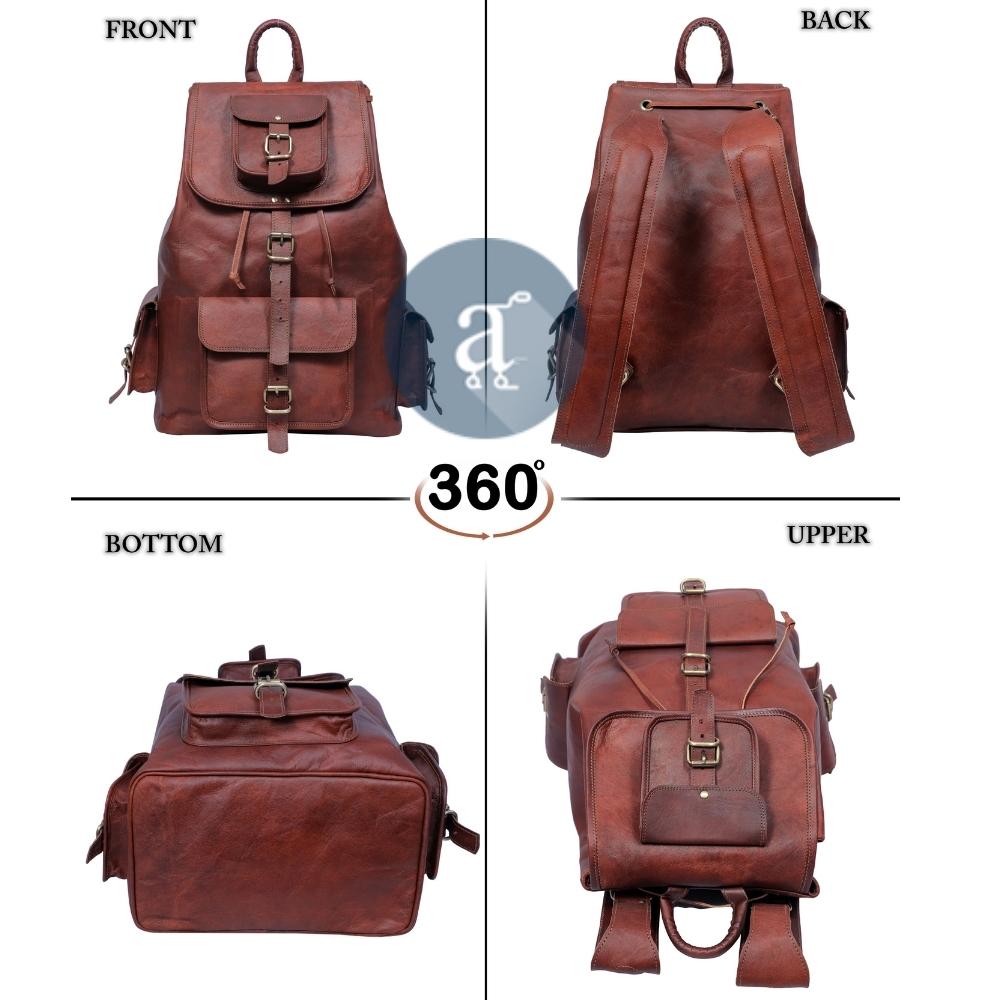 Sale price
$99.99
Regular price
$129.99
Estimated Delivery:Dec 10 - Dec 14

Free Shipping: In USA, UK and Canada.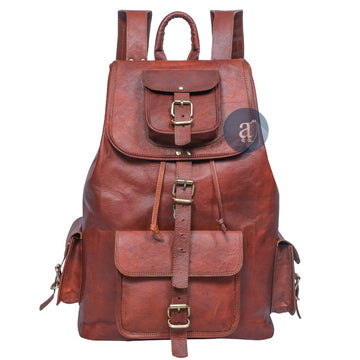 Leather Travel Backpack
DESCRIPTION
SPECS
FEATURES
MATERIALS
CARING
Leather Travel Backpack: The Ultimate Companion for Every Journey
Leather Travel Backpack: An Overview
Introducing the Anuent Leather Travel Backpack - a perfect blend of aesthetics and functionality. Every globetrotter's dream, this unisex backpack is available in a mesmerizing dark brown hue, adding a touch of vintage charm to your journey.
Designed for the modern traveler with a penchant for genuine quality, this leather travel backpack ensures that your essentials remain safe and stylish.
Dimensions and Sizing: Choose What Fits You Best
This backpack comes in two sizes to cater to every travel need. The 16-inch variant measures 16 H x 8 L x 8 W inches, weighing just 1.0 kg and boasting a generous capacity of 16.78 liters.
The larger 18-inch size, perfect for those longer trips or for those who simply love to pack a little more, measures 18 H x 10 L x 8 W inches, weighs 1.2 kg, and offers an impressive 23.60-liter capacity.
Leather Travel Backpack: Style Meets Functionality
No matter the destination, Anuent's leather travel backpack promises to be your reliable companion. The exterior boasts genuine goat leather, renowned for its durability and fine texture. Meanwhile, the interior is lined with a sturdy brown cotton canvas, ensuring longevity and maintaining the bag's shape.
The leather backpack for travel is equipped with various compartments designed to house all your essentials. The inside features a zippered pocket on the front wall and a spacious main compartment.
On the outside, there's a prominent front pocket, a handy pocket on the closure flap, and two convenient side pockets. All these features ensure you have ample space and easy access to your belongings.
Quality Build: A Promise of Durability
When you invest in the Anuent travel leather backpack, you are investing in quality. Every backpack side view showcases meticulous craftsmanship. The hardware is made of sturdy brass, adding to the backpack's vintage look while ensuring durability.
Moreover, thanks to a special tanning process, you won't encounter the typical bad leather odor. Additionally, the backpack is water-resistant, ensuring your belongings stay dry even if you encounter an unexpected downpour.
Features Tailored for Comfort
Traveling is all about comfort, and this leather travel backpack ensures just that. The closure type includes a flap with a push lock and a leather thread with a metal ring, ensuring your belongings are safe.
For ease of carrying, there are long, adjustable, padded shoulder backstrap straps complemented by a handle on top.
For the discerning traveler looking for the best men's leather travel backpack or the most stylish women's leather travel backpack, Anuent's offering is hard to overlook.
Free Shipping and More on Our 
Adding to the charm of this leather travel rucksack is the promise of free shipping in the USA, UK, and Canada.
It's not just a purchase; it's an experience, an investment in quality materials, and a promise of adventures filled with style.
Why Choose the Anuent Leather Travel Backpack?
If you're searching for the best leather backpack for travel, look no further. With features tailored for comfort, quality build materials, and a design that screams luxury, the Anuent Leather Travel Backpack is your ultimate travel companion.
Whether you're a man searching for a durable leather travel backpack or a woman looking for a blend of style and function, this backpack caters to all.
Ready to elevate your travel experience? Don't wait! Add this genuine leather travel backpack to your collection and embark on a journey of a lifetime.
---
Leather Travel Backpack Features
Inner Details
Main Large Compartment
1 Zipper Pocket
Outer Details
1 Front Pocket
2 Side Pockets
1 Pocket on Flap
Strong Top Handle
Adjustable Back Straps
SKU: AN0PB016 | AN0PB018
Dimensions: 16 H x 8 L x 8 W Inches | 1.0 kg | 16.78 Ltr and 18 H x 10 L x 8 W Inches | 1.2 Kg | 23.60 Ltr
Color: Brown
Condition: New
Weight:
Capacity:
Brand: Anuent
Style: Backpack | Travel
Laptop Compartment: No
Inner Pockets: 2
Outer Pockets: 4
Total Compartments: 1
Gender: Unisex
Closure Type: Flap With Buckle Closure
Exterior: Goat Leather
Interior: Cotton Canvas
Hardware: Brass
➡ Taking Care of your Leather Products
Leather products are often used in professional settings and require special care to keep them looking pristine.

If you take good care of your leather bag, backpack, or journal, the surface will stay bright for years to come!

● Always ensure that any product is dry before applying cream/moisture lotion onto it by using a soft cloth; this helps prevent stains from occurring when applied wisely.

● To ensure that your leather product lasts for years, never allow it to get wet. If the item gets soaked in water and you want to dry it out again quickly. Place thick microfiber cloths over any exposed surfaces of an absorbent material before allowing gravity to do its work.

➡ Note

The leather products may vary in color and size.

Some are slightly lighter, while others are darker than what is shown on your monitor - this will affect the outcome of a product's shade (due to natural materials).

However, you can be sure each bag or journal has been handmade with care for its unique features!

➡ Custom Duty

We take great pride in shipping all our products as quickly and efficiently as possible.

However, there's a chance that customs may cause delays if you don't provide them with contact information so they can reach out to collect customs duties on your behalf, which is why we must have this number!

Please let us know what phone number works best for International Shipping purposes at any time during checkout or after placing an order.

Also, email us if any questions arise about Customs-related matters.
The material looks great, very durable. I love the design of it, it is small and simple but still makes a statement. The only thing that bothers me is that sometimes if you have a lot of things in your bag with no dividers or pockets then it becomes difficult to find what you are looking for.
This leather backpack is an amazing value.
This is a great commuter backpack, holds everything you need and fits comfortably.