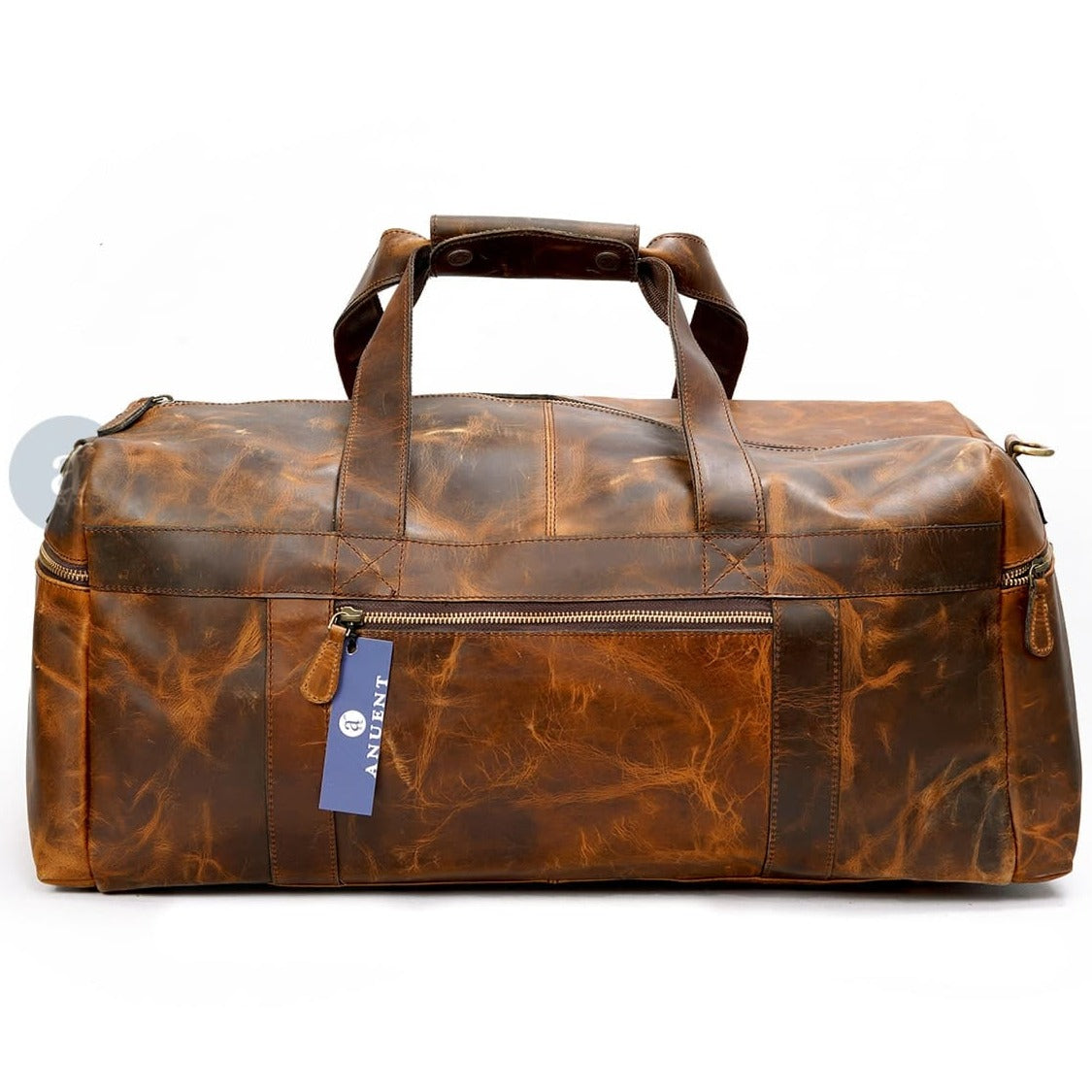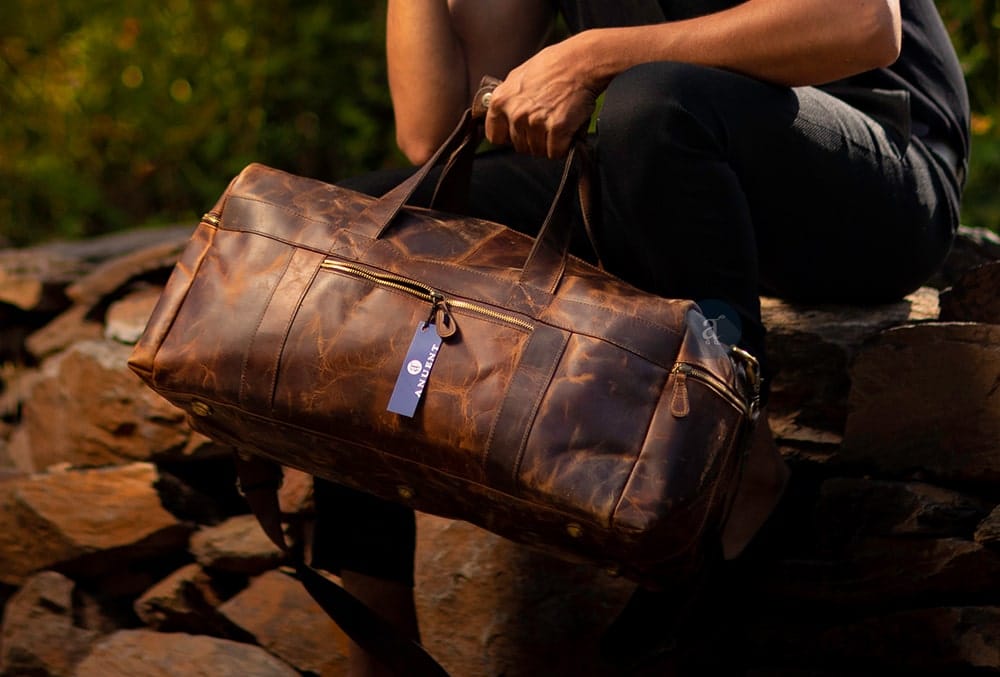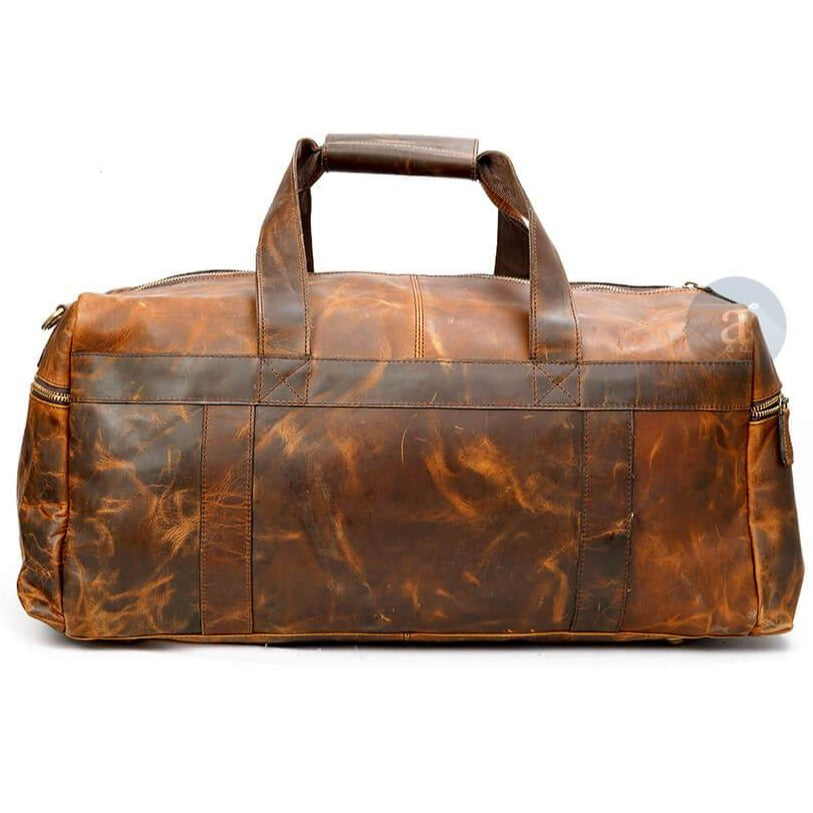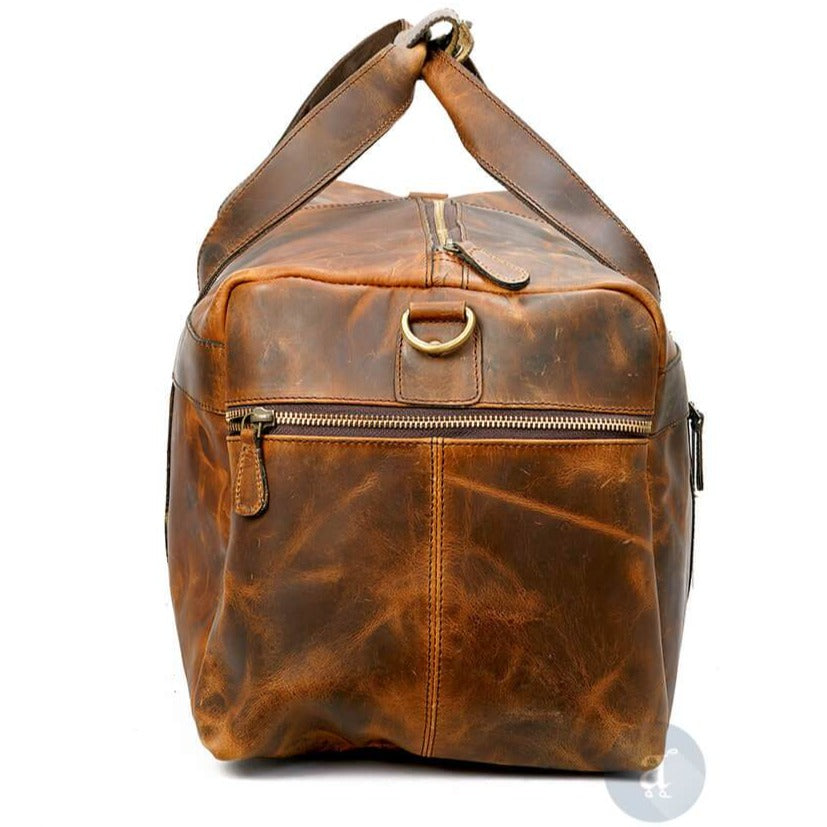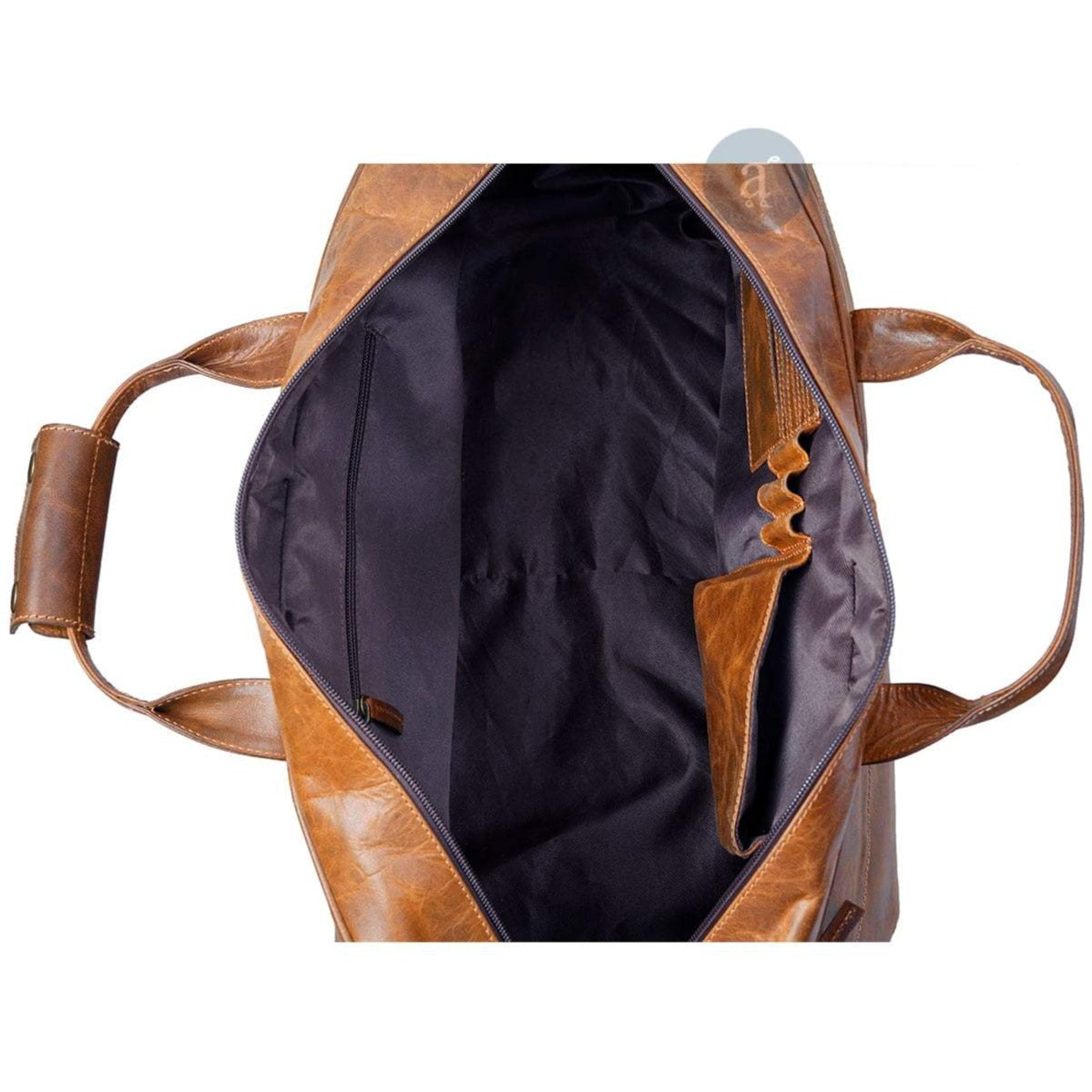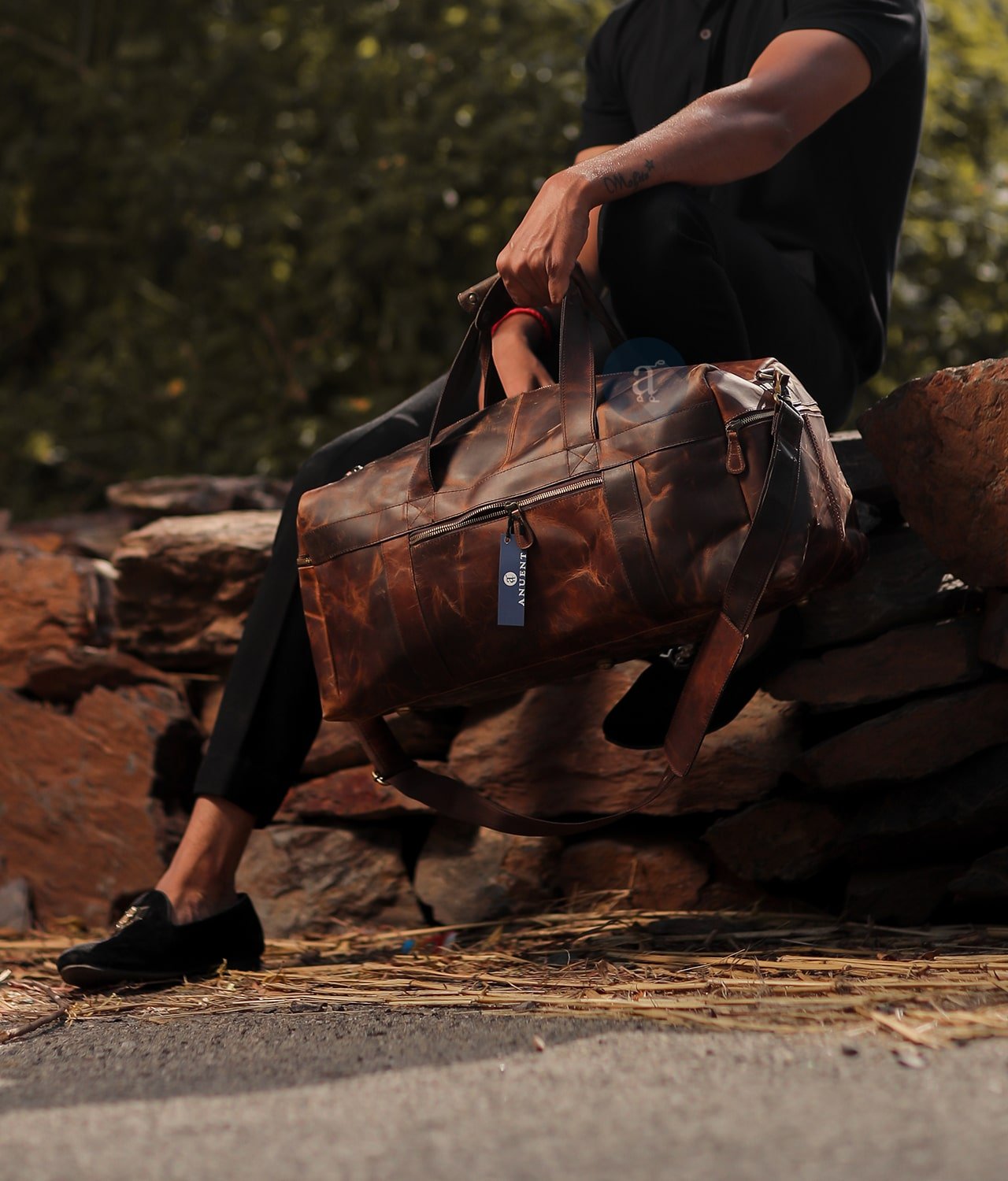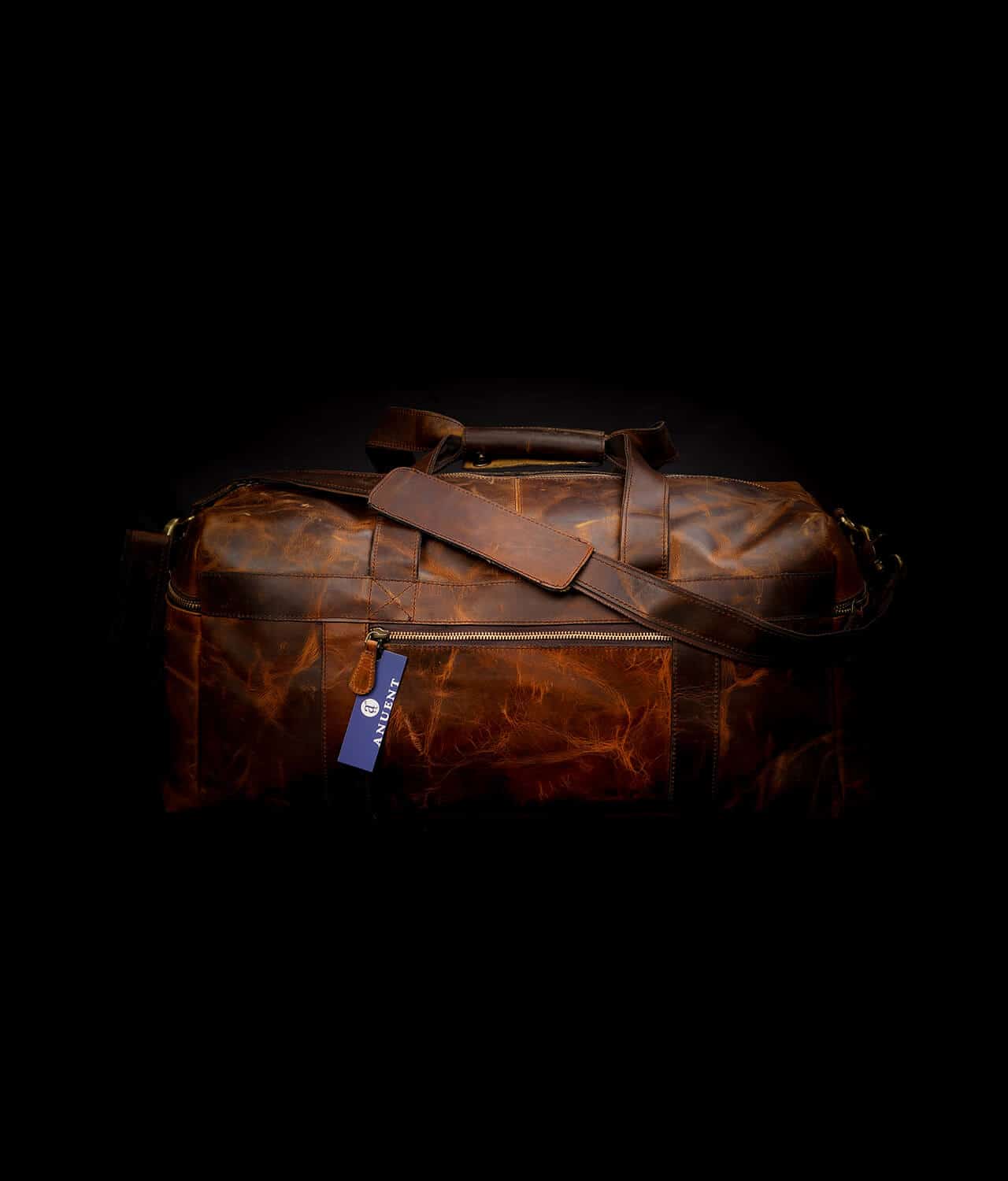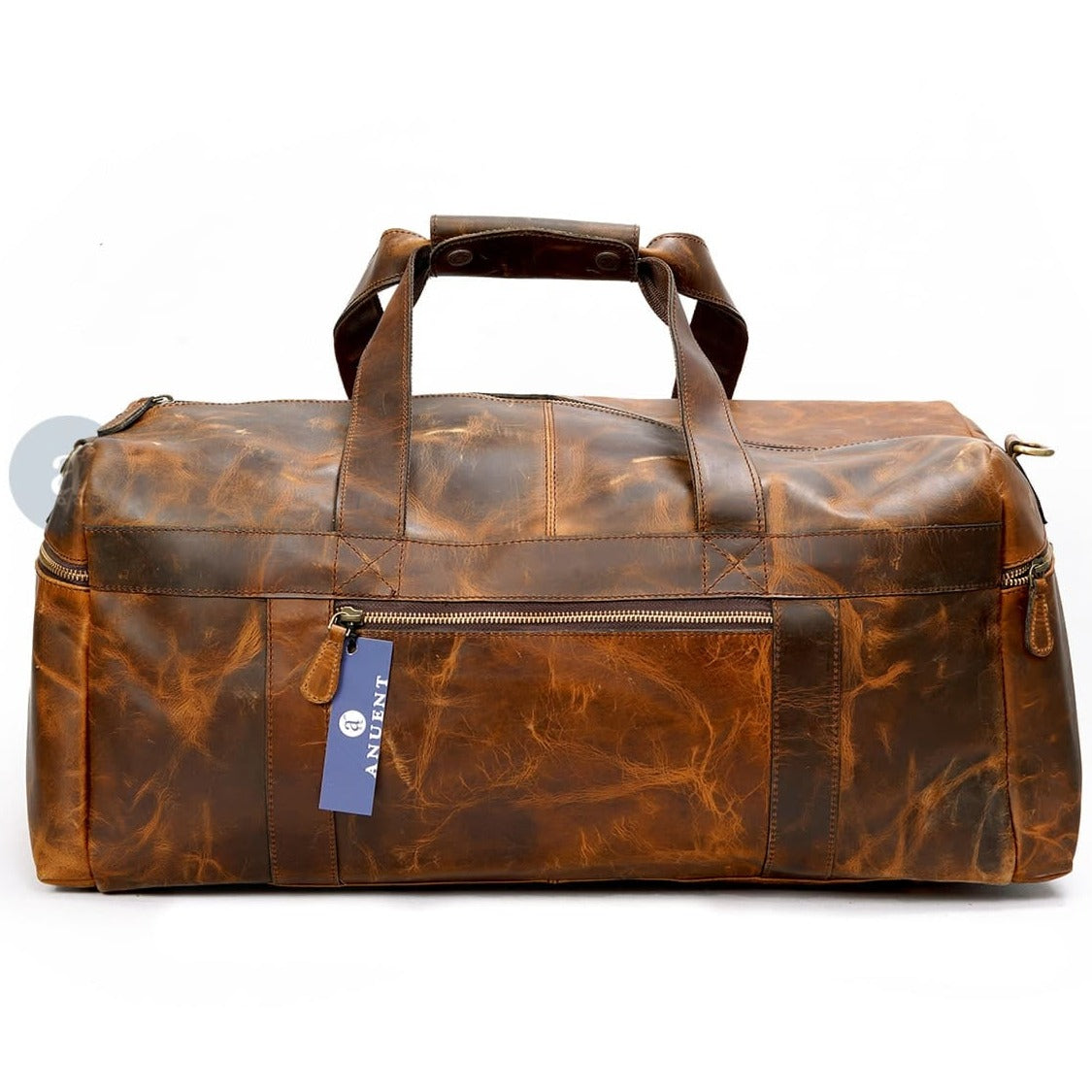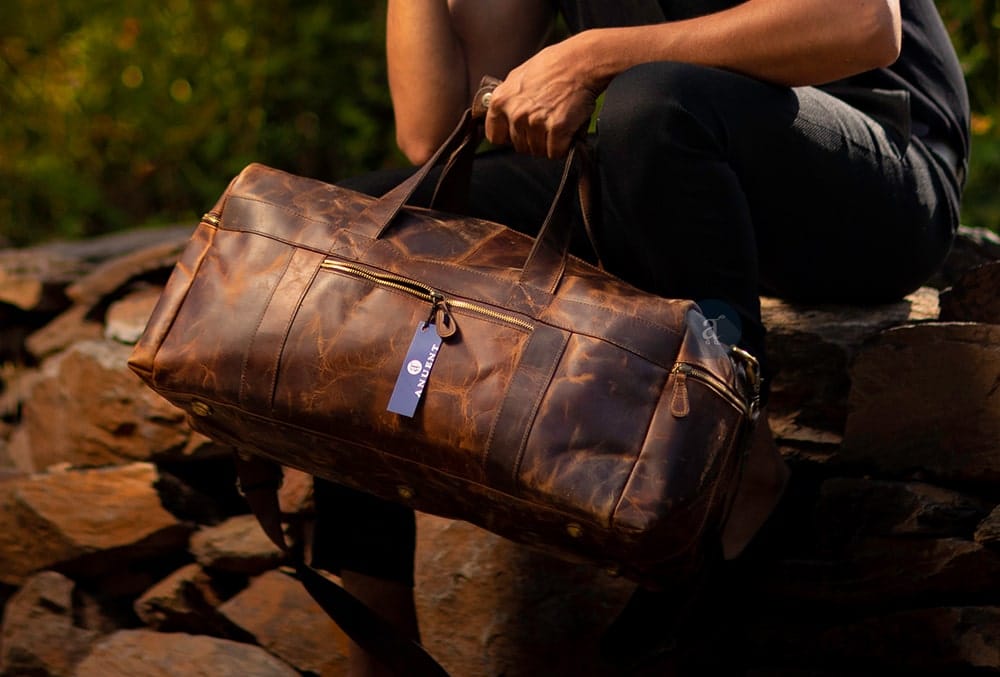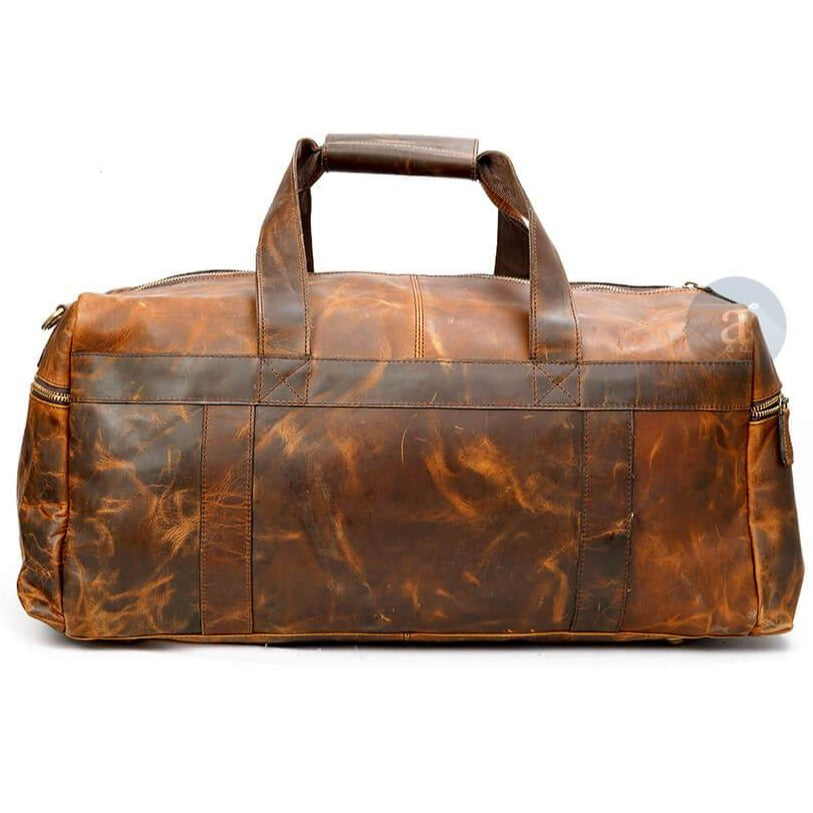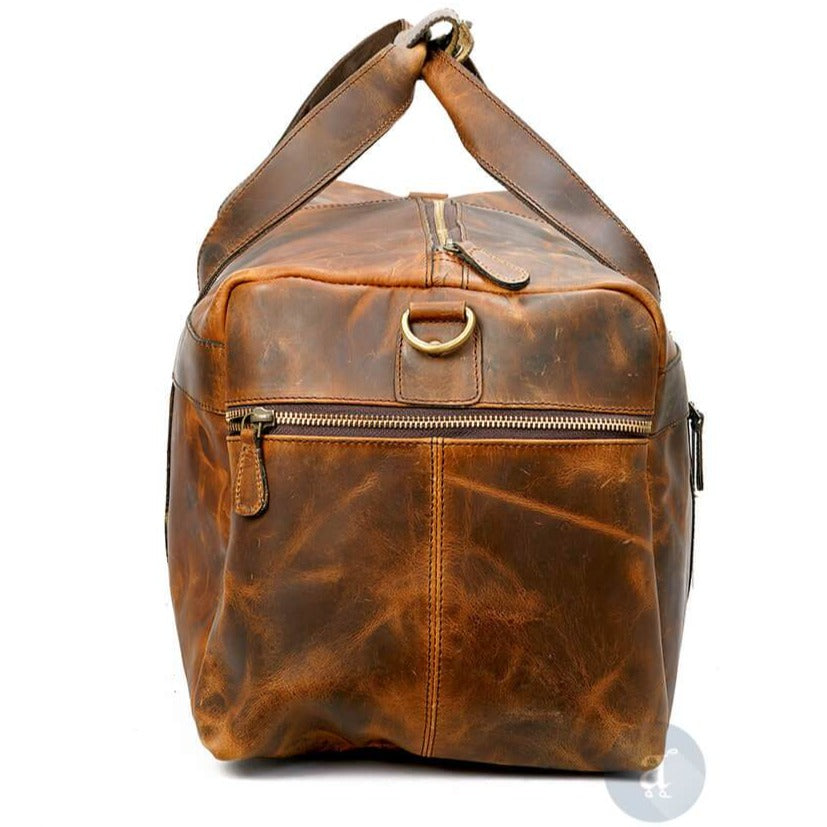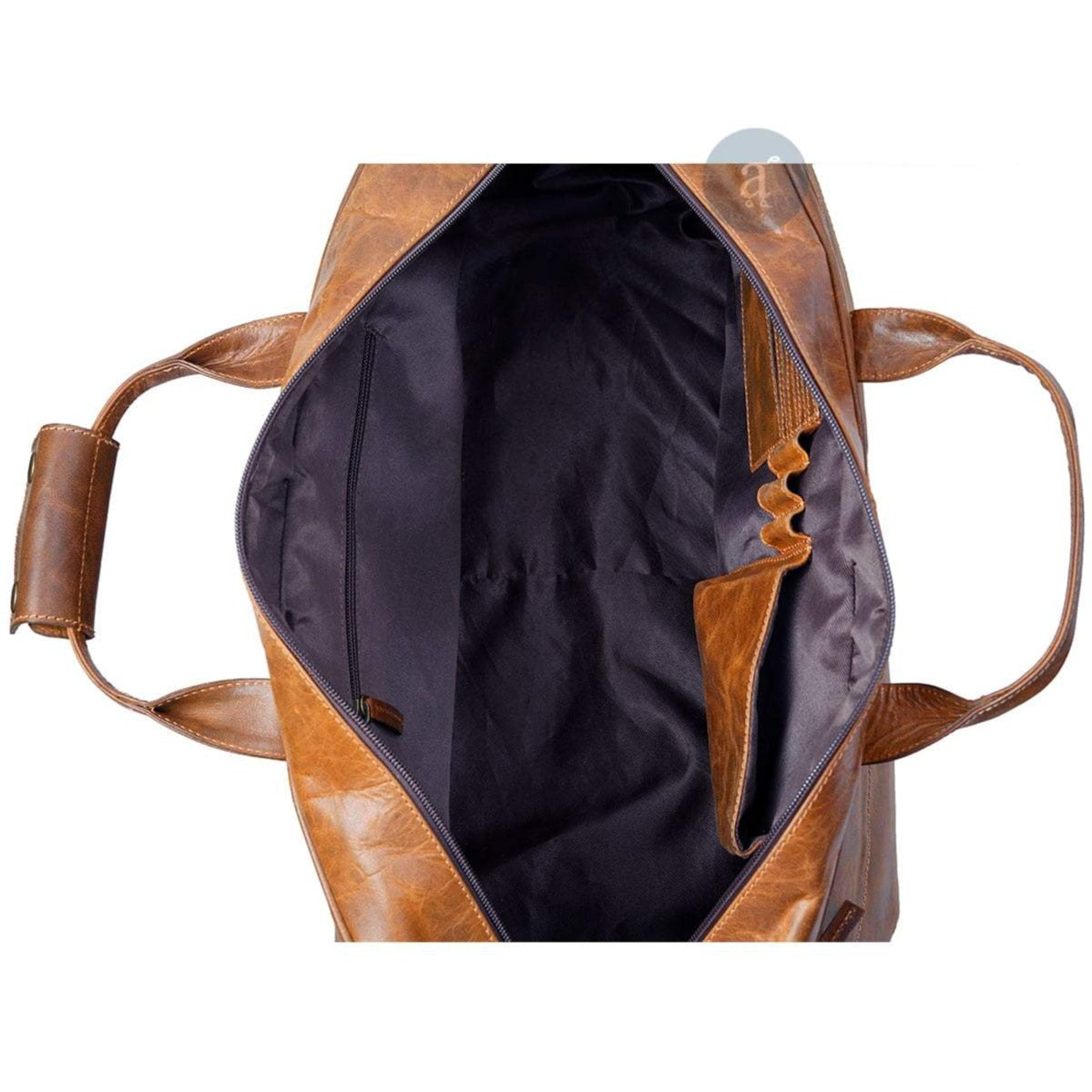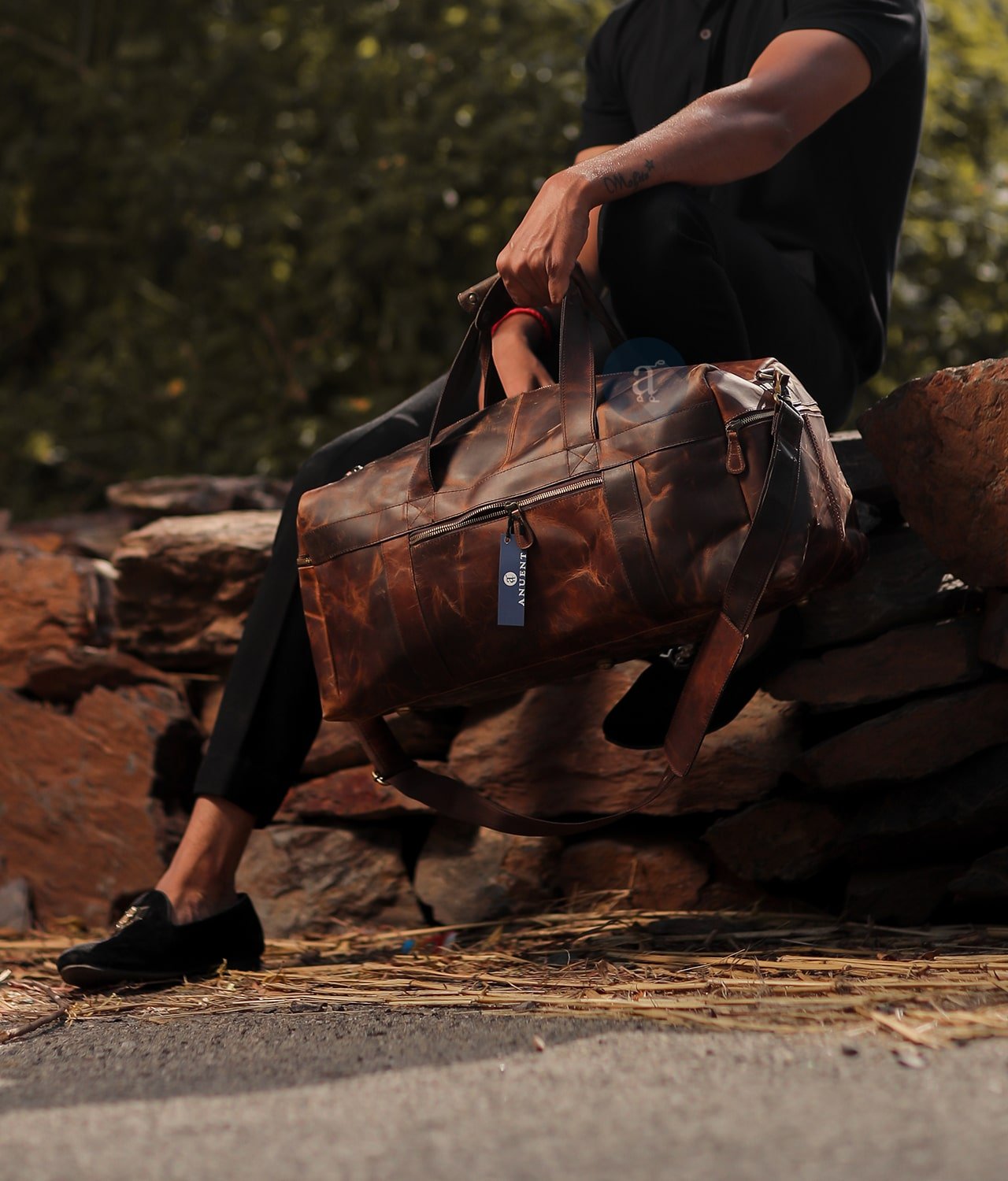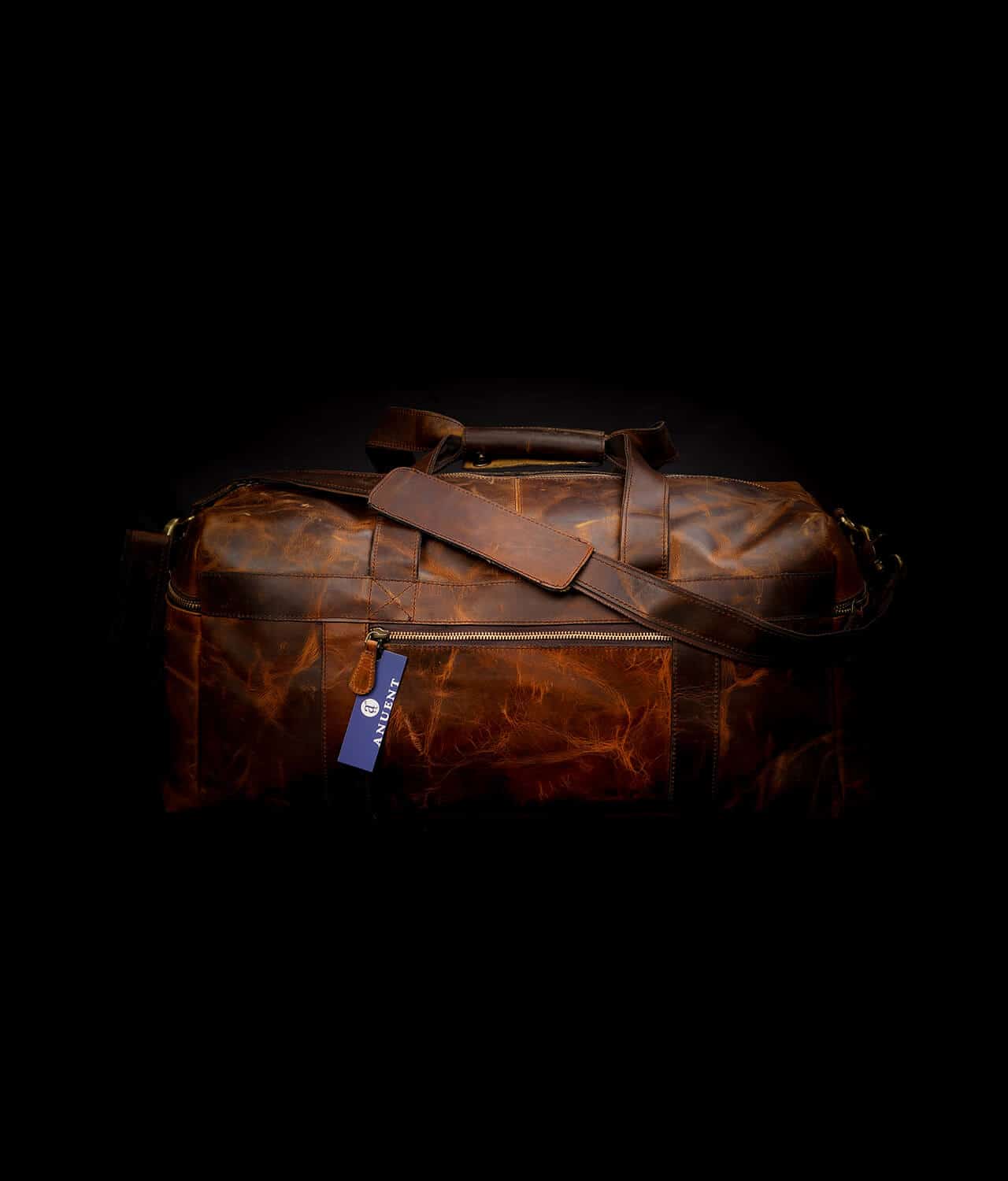 Sale price
$189.99
Regular price
$249.99
Estimated Delivery:Dec 10 - Dec 14

Free Shipping: In USA, UK and Canada.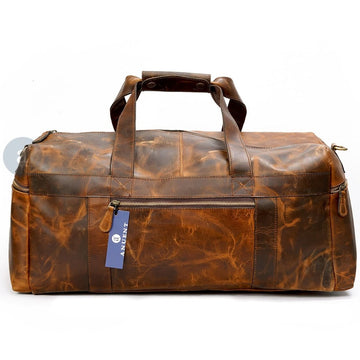 Leather Travel Bag
Sale price
$189.99
Regular price
$249.99
DESCRIPTION
SPECS
FEATURES
MATERIALS
CARING
Leather Travel Bag Description
Ah, the thrill of travel! Whether it's the hum of an airplane engine or the rhythmic chug of a train, the excitement of embarking on a new journey is unmatched.
But every seasoned traveler knows your voyage isn't just about the destination but also the journey. And no journey is complete without the perfect companion by your side—the Anuent Leather Travel Bag.
Craftsmanship Meets Style:
One glance at this duffle, and you can almost sense the passion and dedication that went into crafting it. Made from the finest top-grain buffalo leather, this bag isn't just an accessory; it's an experience waiting to be had.
The rich texture, the exquisite craftsmanship, and the subtle aroma—all come together to give you a tangible feel of luxury. No overpowering leather smell here, just pure, refined elegance.
Outside Appeal:
This 20-inch duffle bag effortlessly combines style with utility. The long, detachable strap is not just adjustable but padded for added comfort—perfect for those long hauls.
Prefer to go hands-free? The dual carry handles offer a comfortable grip, ensuring your bag is always by your side, ready for your next move.
Functionality is at the forefront with an external zipper pocket—perfect for quick access to essentials. Power bank, charger, mouse; everything you might need in a hurry finds a cozy spot here.
The two additional zipper pockets on the side further ensure that your travel knick-knacks are always organized and within arm's reach.
Inside Wonders:
Unzip the bag, and you're greeted with ample space that every traveler craves. The main compartment is vast, waiting to be filled with memories, souvenirs, and stories from your trips.
For those smaller items—perhaps a cherished piece of jewelry or important documents—the inner zipper pocket on the left wall is perfect.
But Anuent's Leather Travel Bag knows the modern traveler needs more. Thus, the right wall is adorned with designated spots—a pen holder for the wandering writer, a mobile phone holder for the always connected, and a cardholder for the business-savvy globetrotter.
Robust and Refined:
This duffle doesn't just talk the talk, but it walks the walk. Every detail screams durability. Strong and resilient brass fittings, robust buckles, quality zippers, and a heavy-duty cotton canvas lining ensure this bag is ready for any adventure you throw its way.
And with the water-resistant leather, a little rain is no match for this stalwart travel companion.
A Bag For Everyone:
Why confine elegance and functionality to just one gender? The Anuent Leather Travel Bag breaks free from the ordinary and resonates with a universal appeal.
Designed with a vision of inclusivity, it stands as a testament that style and utility know no gender.
Embark on Your Next Journey:
Travel is an emotion, an experience, a story waiting to be written. And every story needs the right setting. Let the Anuent Leather Travel Bag be the backdrop to your travel tales.
Whether you're jetting off on a business trip or a leisurely vacation, make this leather duffle your go-to companion. Embrace the world with Anuent by your side. Ready to travel in style? Grab yours today, and let the adventures begin!
---
Structure Details of Leather Travel Bag
Outer Details:
Long adjustable strap to carry.

The duffle bag has two carry handles with a comfortable grip for easy carrying.

One zipper pocket outside it can be used for smaller things like a charger, mouse, power bank, etc.
2 Zipper Pockets On Side
Inner:

One large main compartment for other things.

One inner zipper pocket.

The duffel bag has an organizer, pen holder, Mobile phone holder, and cardholder.

Strong, durable brass fittings, buckles, quality zippers, and heavy-duty lining.
Leather Travel Bag Features
Durable buffalo leather
The leather travel duffle bag features strong, durable buffalo (bison), water- and scratch-resistant leather.
Durable zippers
This leather travel bag features high-quality zippers that are difficult to break or damage, ensuring longevity even with excessive use. The bags also feature sturdy metal studs for extra reinforcement along the seams.
Multiple pockets for convenience
This travel bag features multiple small pockets for storing smaller items or valuables.
Adjustable shoulder strap
This leather travel bag comes with an adjustable padded shoulder strap so you can carry it comfortably on your back, over one shoulder, or in the crook of an arm.
High-quality build and construction
Each bag is crafted from tough buffalo leather and features heavy-duty stitching, ensuring durability no matter what you put it through.
Hardware reinforcement
This travel bag comes with metal studs on the base for extra reinforcement so it can stand independently without fear of damage to the bottom. The strap also includes metal adjusters to ensure a secure fit.
Padded main compartment lining
The inside of the main flap includes additional padding to protect your belongings and provides an extra layer of protection against any bumps or knocks while traveling.
Limited Stock. Buy the Leather Travel Bag Now!
SKU: AN0BDB020
Dimensions: 20 W x 9 L x 9 H Inches (50.8 x 22.86 x 22.86 cms)
Color: Brown
Condition: New
Weight: 1 kg
Capacity: 26.55 L
Brand: Anuent
Style: Duffle | Gym | Travel
Laptop Compartment:
Inner Pockets: 2
Outer Pockets: 3
Total Compartments: 1
Gender: Unisex
Closure Type: Zipper Closure
Exterior: Top-Grain Buffalo Leather
Interior: Cotton Canvas
Hardware: Brass
➡ Taking Care of your Leather Products
Leather products are often used in professional settings and require special care to keep them looking pristine.

If you take good care of your leather bag, backpack, or journal, the surface will stay bright for years to come!

● Always ensure that any product is dry before applying cream/moisture lotion onto it by using a soft cloth; this helps prevent stains from occurring when applied wisely.

● To ensure that your leather product lasts for years, never allow it to get wet. If the item gets soaked in water and you want to dry it out again quickly. Place thick microfiber cloths over any exposed surfaces of an absorbent material before allowing gravity to do its work.

➡ Note

The leather products may vary in color and size.

Some are slightly lighter, while others are darker than what is shown on your monitor - this will affect the outcome of a product's shade (due to natural materials).

However, you can be sure each bag or journal has been handmade with care for its unique features!

➡ Custom Duty

We take great pride in shipping all our products as quickly and efficiently as possible.

However, there's a chance that customs may cause delays if you don't provide them with contact information so they can reach out to collect customs duties on your behalf, which is why we must have this number!

Please let us know what phone number works best for International Shipping purposes at any time during checkout or after placing an order.

Also, email us if any questions arise about Customs-related matters.
I've had this bag for a few weeks and I love it! The pockets are very helpful and the size is perfect. Totally recommend!
I use this as my everyday bag and love it! The quality of the leather is very nice and the bag holds up very well.