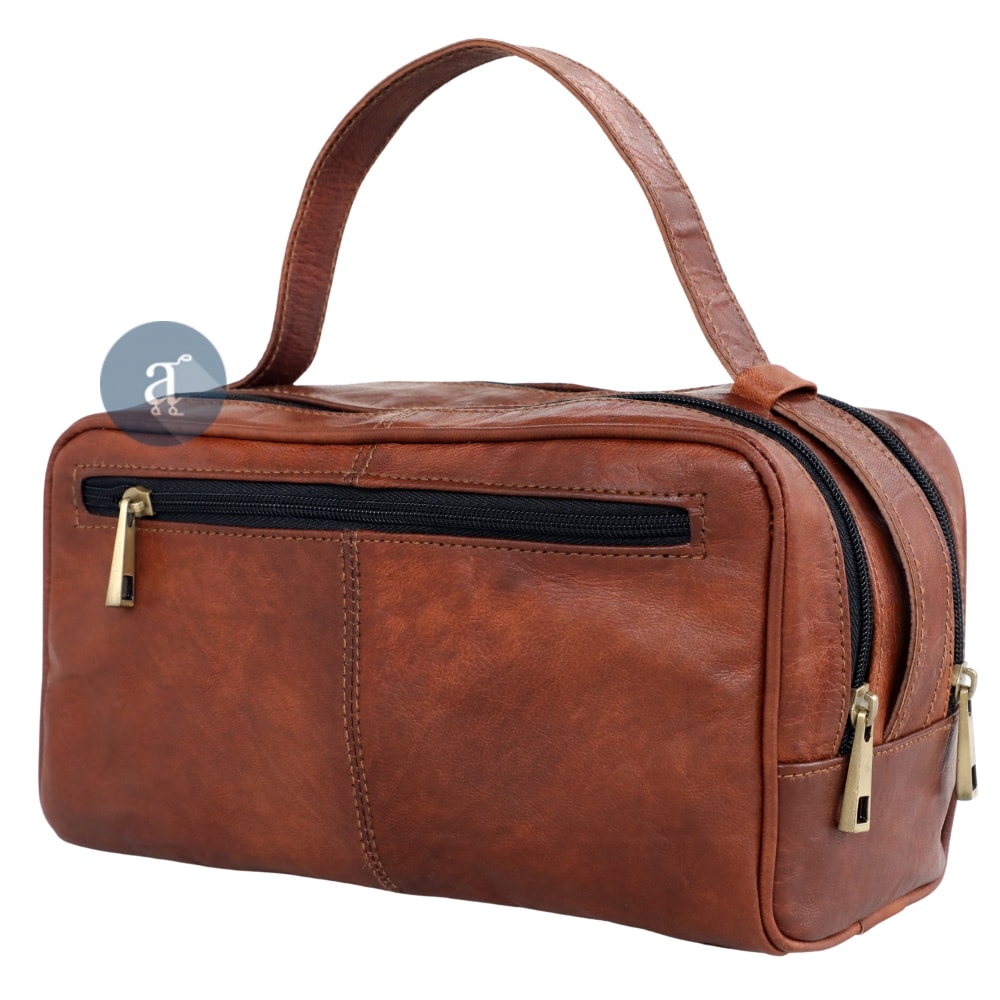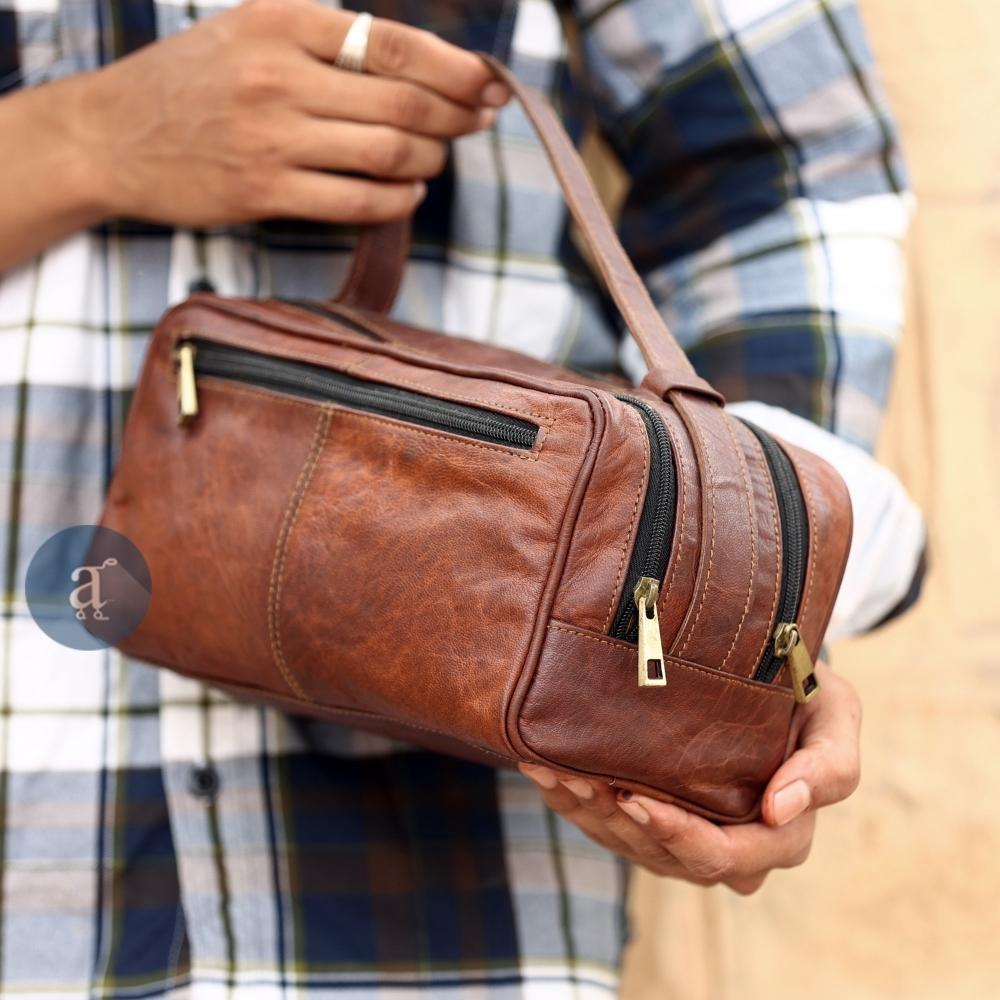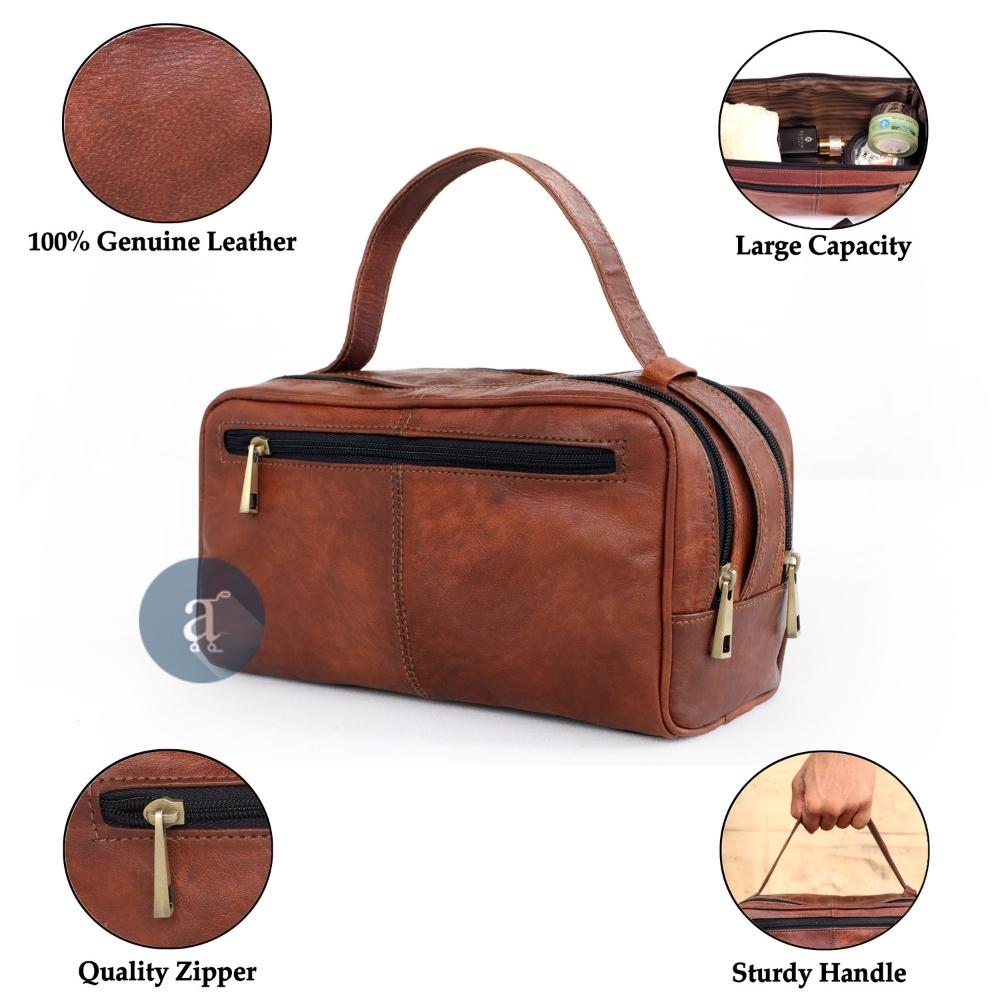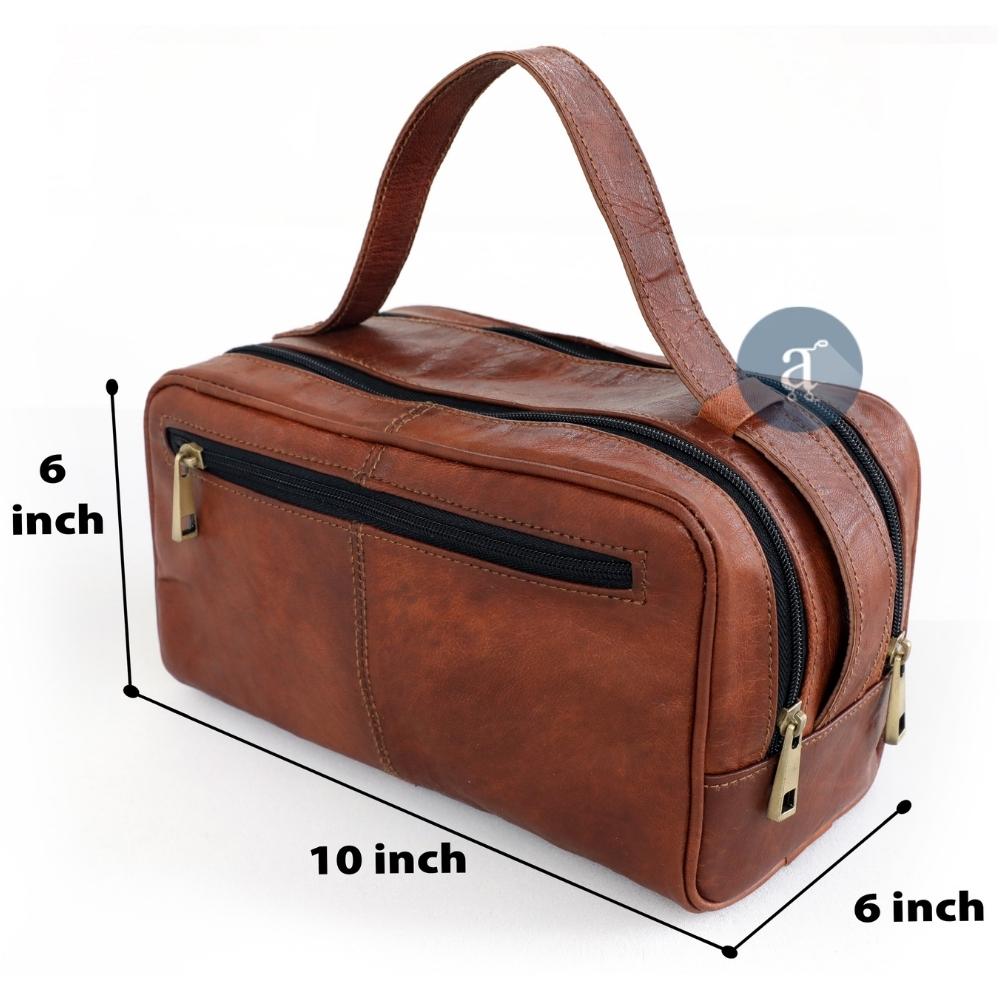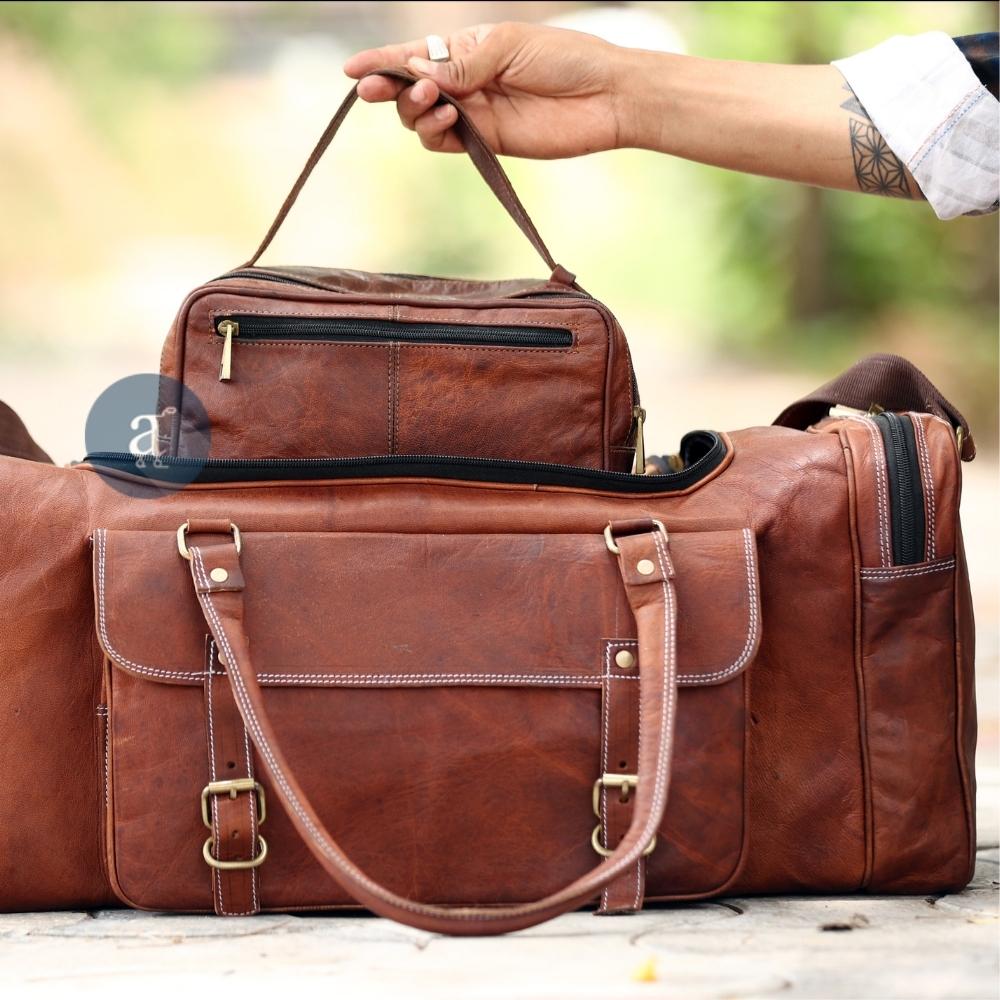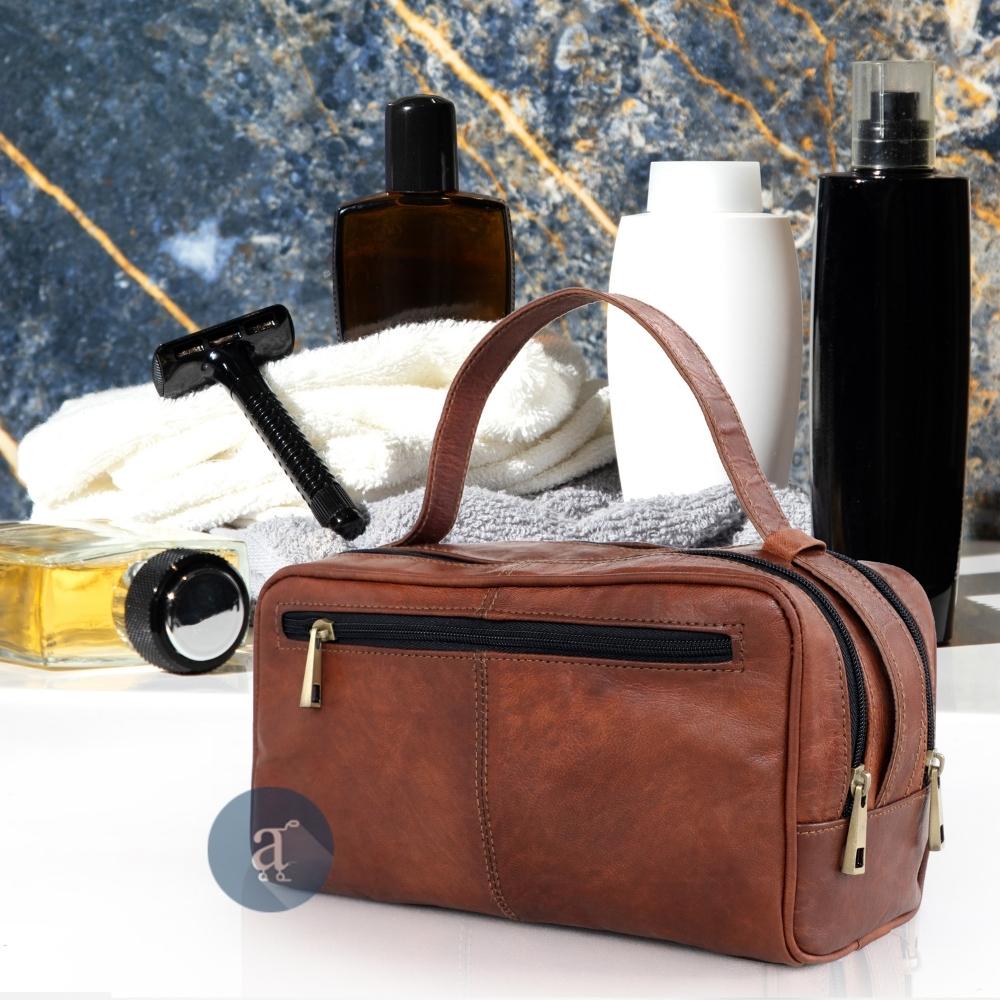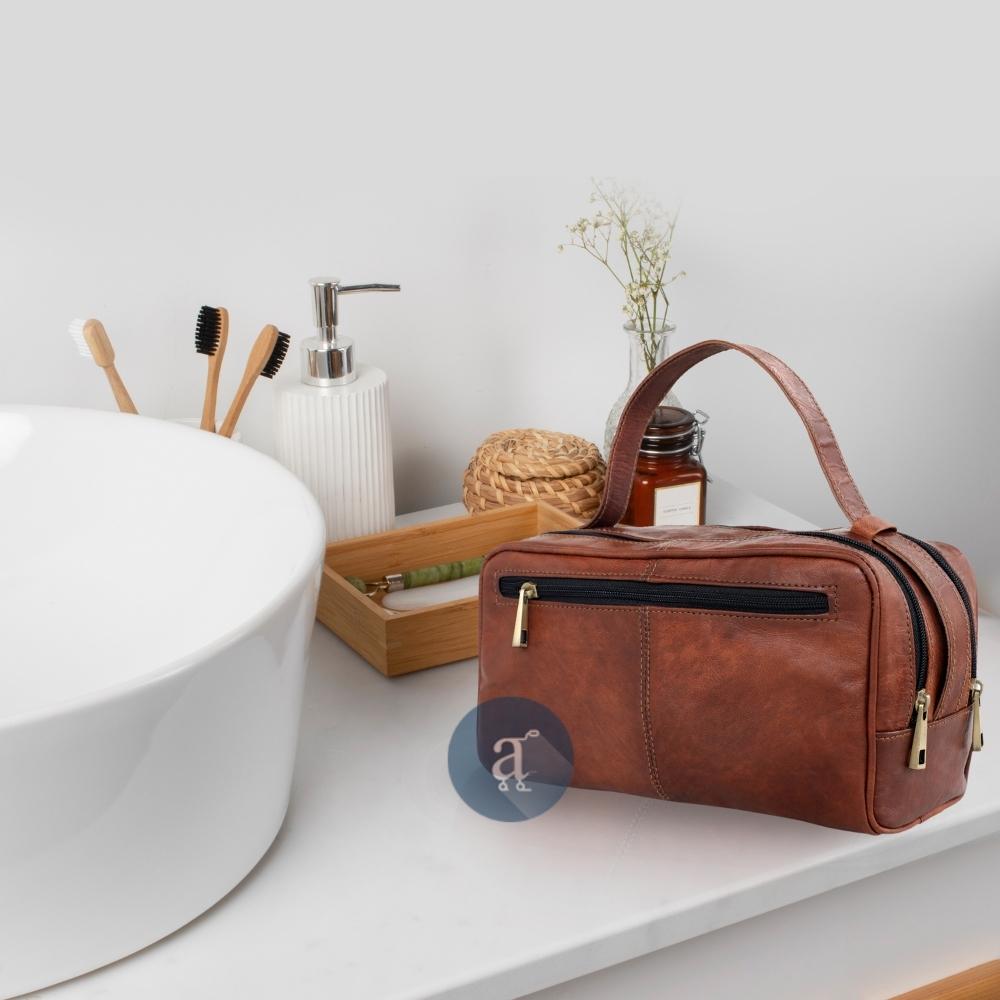 Leather Travel Toiletry Bag
Sale price
$49.99
Regular price
$74.99
Estimated Delivery:Oct 04 - Oct 08

Free Shipping: In USA, UK and Canada.

DESCRIPTION
SPECS
FEATURES
MATERIALS
CARING
Leather Travel Toiletry Bag Description
Are you ready to revolutionize the way you travel? To seamlessly blend style with functionality? The Anuent Leather Travel Toiletry Bag is more than just a bag – it's an experience and calling out to the explorer in you.
A Size That Surprises:
Despite its compact 10-inch structure, this travel wonder opens up to a world of space. With two generously sized compartments, there's ample room for all your essentials, making last-minute packing a delightful breeze.
For those little items that you need on the go, the easily accessible outer zipper pocket becomes your quick-reach buddy.
Craftsmanship at Its Peak:
Every inch of this unisex toiletry bag whispers luxury. The impeccable goat leather exterior not only exudes class but promises an ageless charm and remarkable durability.
And, while the outside captivates your senses, the inner cotton canvas lining caresses your treasures with a soft touch. Weighing a mere 0.4 Kg, it's a luxury that won't weigh you down.
Say Goodbye to Typical Leather Woes:
The familiar concern of a lingering leather odor? Non-existent here. The Anuent Leather Travel Toiletry Bag has been meticulously processed to ensure there's no unpleasant smell.
And that's not all! An accidental splash of water or an unexpected spill won't dampen your spirits, thanks to the bag's outstanding water-resistant properties.
Details That Delight:
Every element of this bag spells excellence. The high-quality brass hardware not only amplifies its visual appeal but guarantees a rust-free and smooth experience, ensuring every open and close is a pleasure.
Why Anuent Stands Out:
Anuent isn't about mere products; it's about lifestyle choices. When you choose the Anuent Leather Travel Toiletry Bag, you're not just picking a bag; you're making a statement. A statement that you value quality, durability, and elegance.
Seal The Deal:
Imagine stepping into an airport, a hotel, or a gym with this stunner by your side. It's not just about carrying your essentials; it's about carrying them in style. It's a conversation starter, a compliment magnet, and a trusty travel companion rolled into one.
So, why wait? Elevate your travel game. Dive into the world of luxury, efficiency, and undeniable charm. Gift yourself or a loved one the Anuent experience today.
After all, every journey deserves the best, and with Anuent, that's precisely what you get.
Leather Travel Toiletry Bag Details
Dimensions: 10 L x 6 H x 6 W Inches
Brand: Anuent
Type: Toiletry
For: Unisex
Outer Material: Goat Leather
Inner Material: Cotton Canvas
Hardware Material: Brass
Weight: 0.4 Kg

Compartment: 2 Compartments

Outer Pockets: 1 Zipper Pocket
Other Details
Top Handle for Carrying
Water-resistant
No bad leather odor
Buy this Leather Travel Toiletry Bag today!
SKU: AN0LTT010
Dimensions: 10 L x 6 H x 6 W Inches
Color: Brown
Condition: New
Weight: 0.4 kg
Capacity:
Brand: Anuent
Style: Toiletry Bag
Laptop Compartment: No
Inner Pockets:
Outer Pockets: 1
Total Compartments: 2
Gender: Unisex
Closure Type: Zipper Closure
Exterior: Goat Leather
Interior: Cotton Canvas
Hardware: Brass
➡ Taking Care of your Leather Products
Leather products are often used in professional settings and require special care to keep them looking pristine.

If you take good care of your leather bag, backpack, or journal, the surface will stay bright for years to come!

● Always ensure that any product is dry before applying cream/moisture lotion onto it by using a soft cloth; this helps prevent stains from occurring when applied wisely.

● To ensure that your leather product lasts for years, never allow it to get wet. If the item gets soaked in water and you want to dry it out again quickly. Place thick microfiber cloths over any exposed surfaces of an absorbent material before allowing gravity to do its work.

➡ Note

The leather products may vary in color and size.

Some are slightly lighter, while others are darker than what is shown on your monitor - this will affect the outcome of a product's shade (due to natural materials).

However, you can be sure each bag or journal has been handmade with care for its unique features!

➡ Custom Duty

We take great pride in shipping all our products as quickly and efficiently as possible.

However, there's a chance that customs may cause delays if you don't provide them with contact information so they can reach out to collect customs duties on your behalf, which is why we must have this number!

Please let us know what phone number works best for International Shipping purposes at any time during checkout or after placing an order.

Also, email us if any questions arise about Customs-related matters.