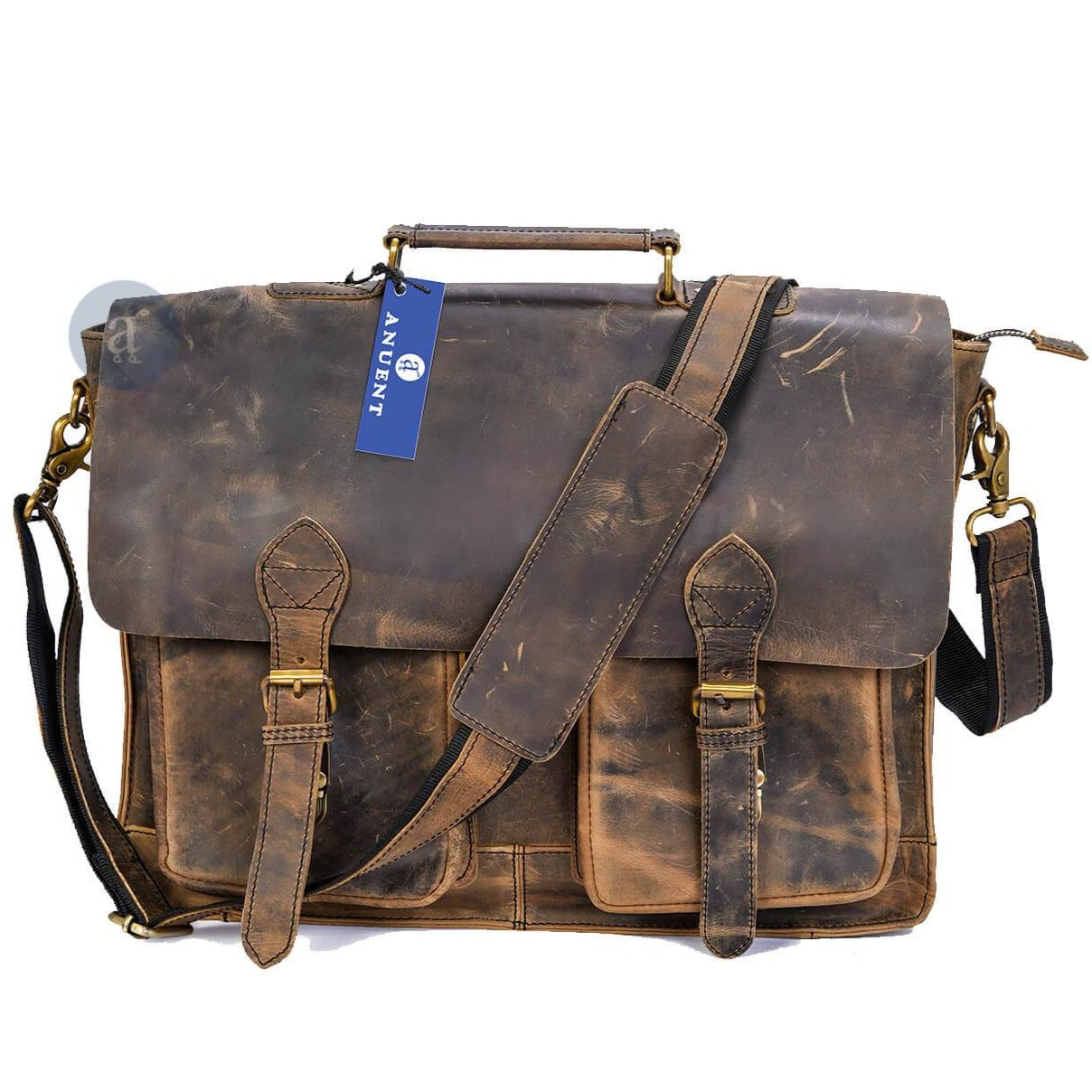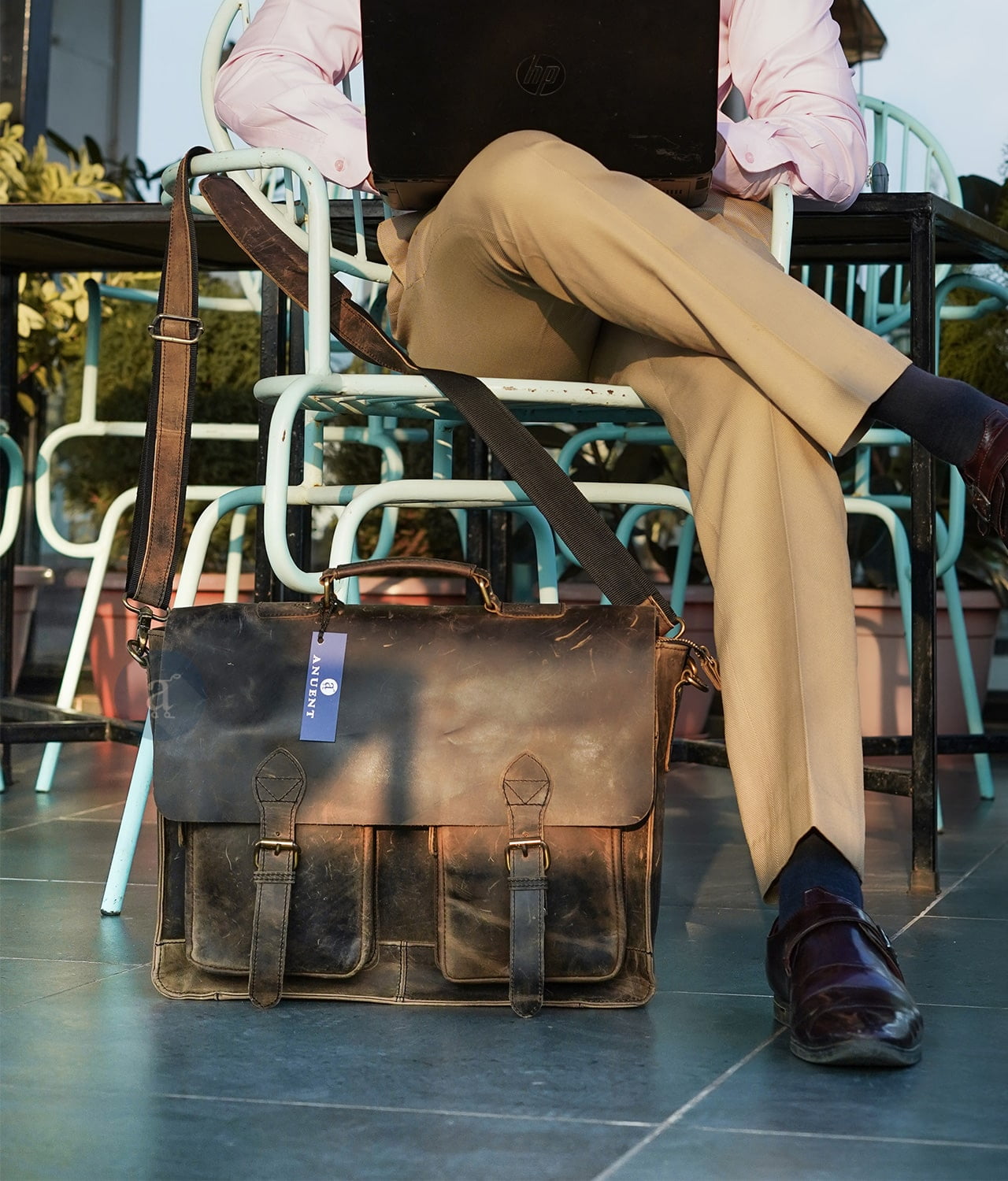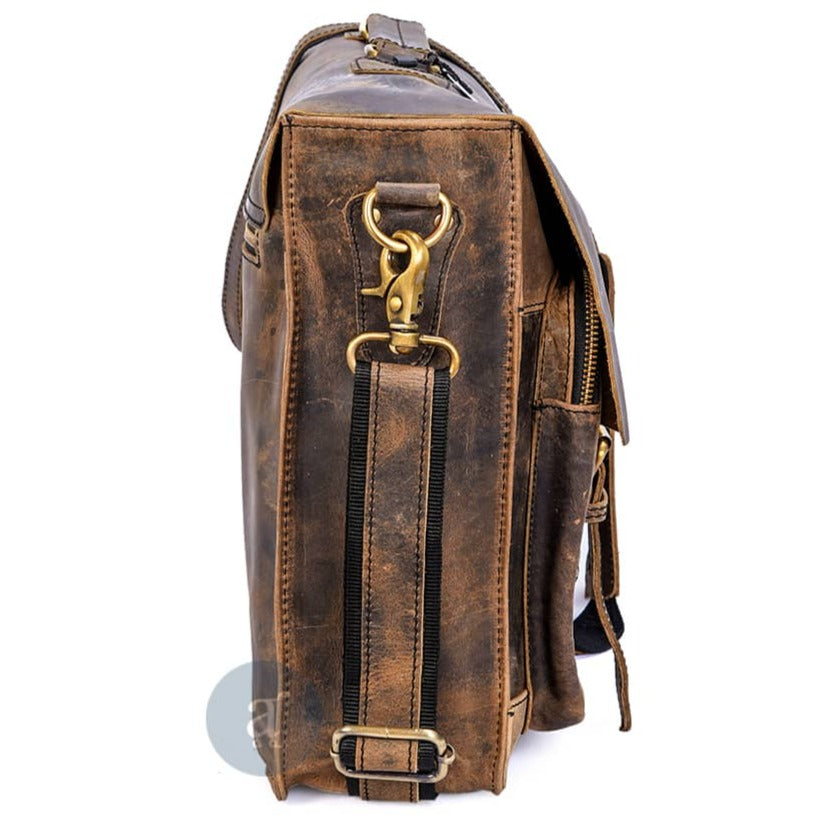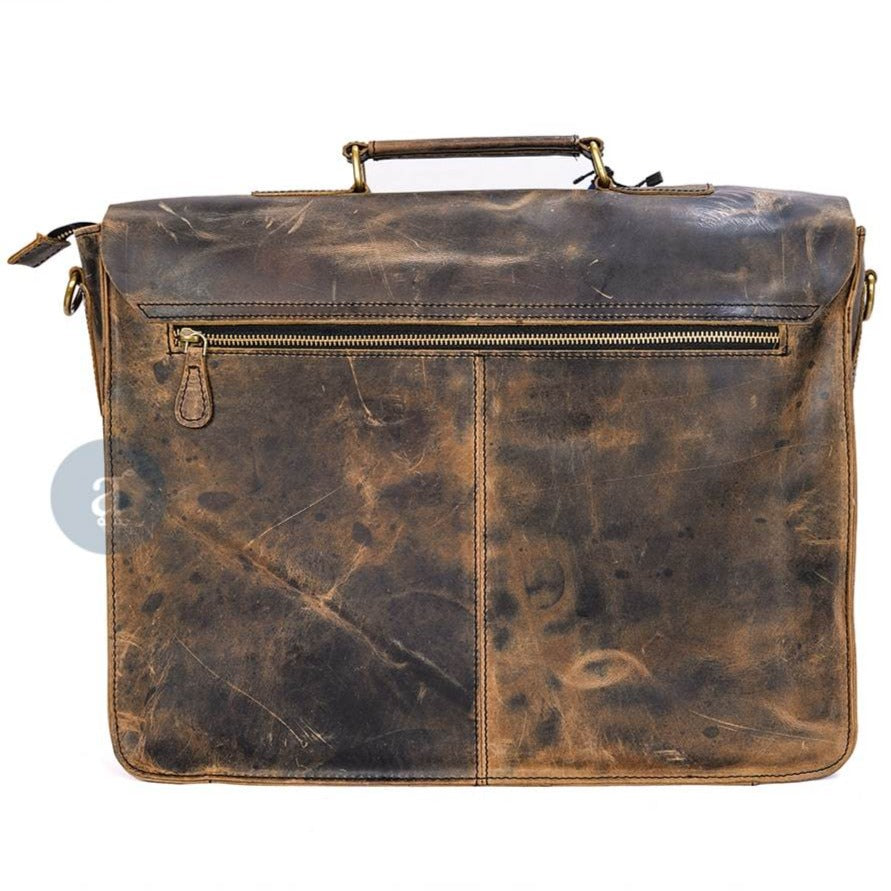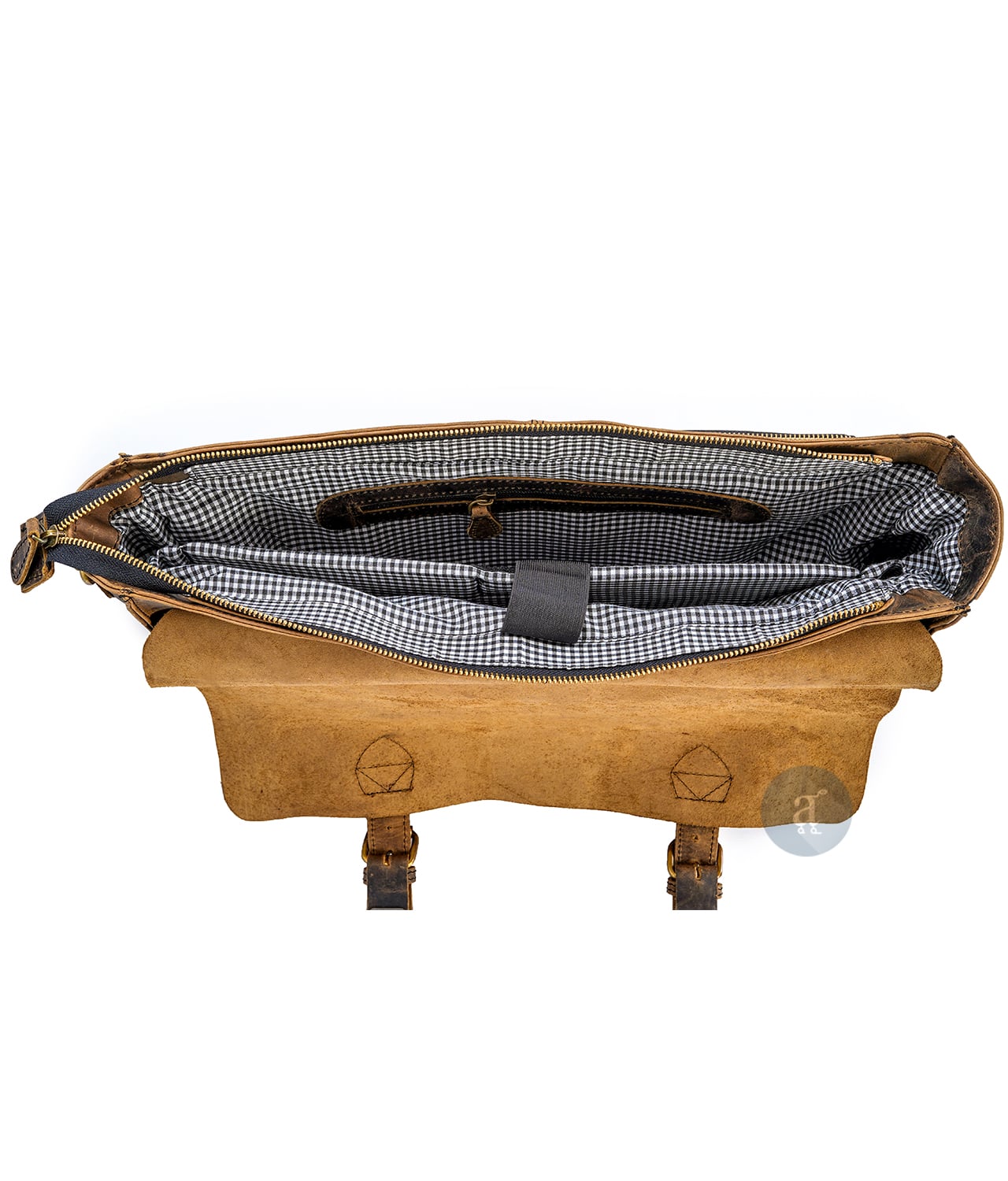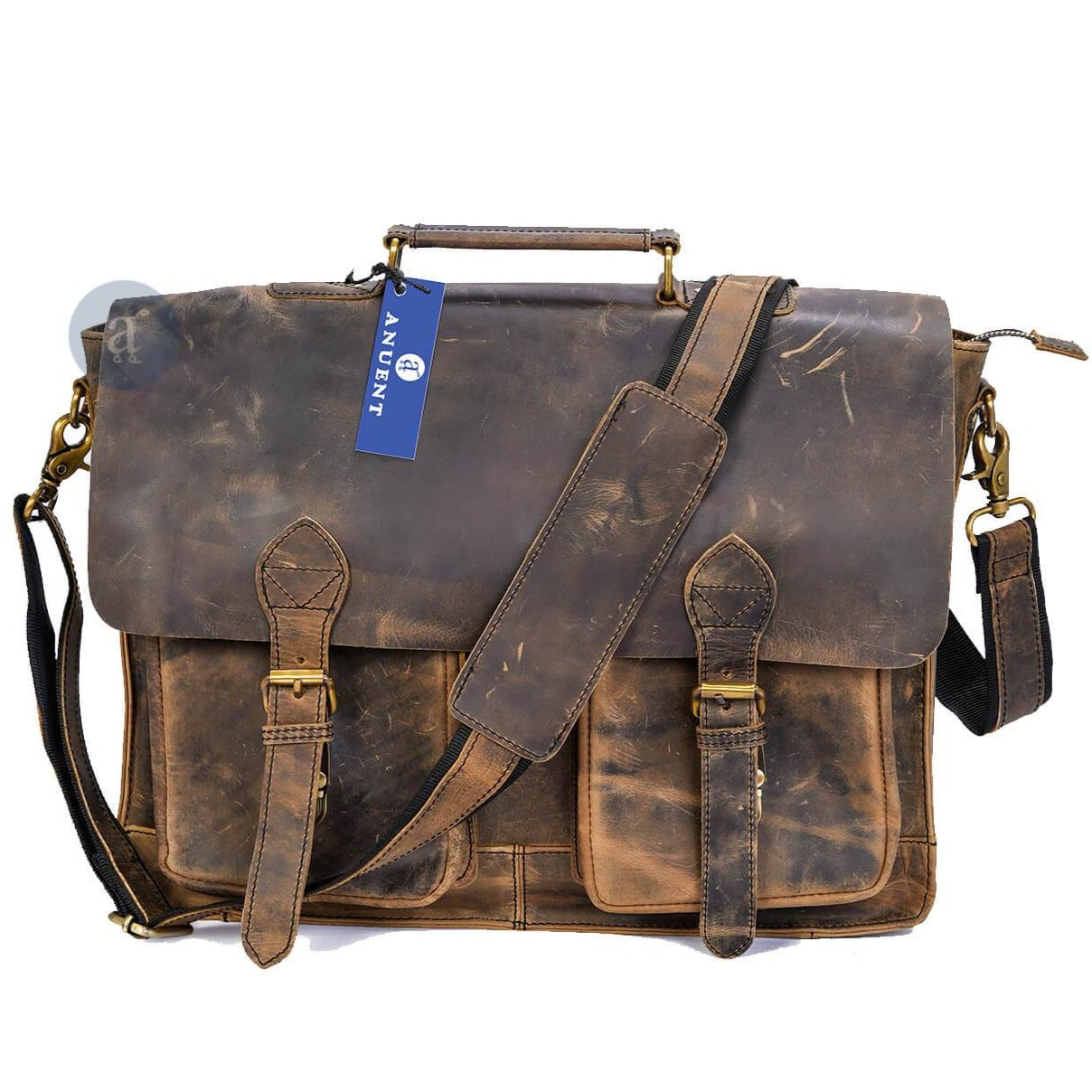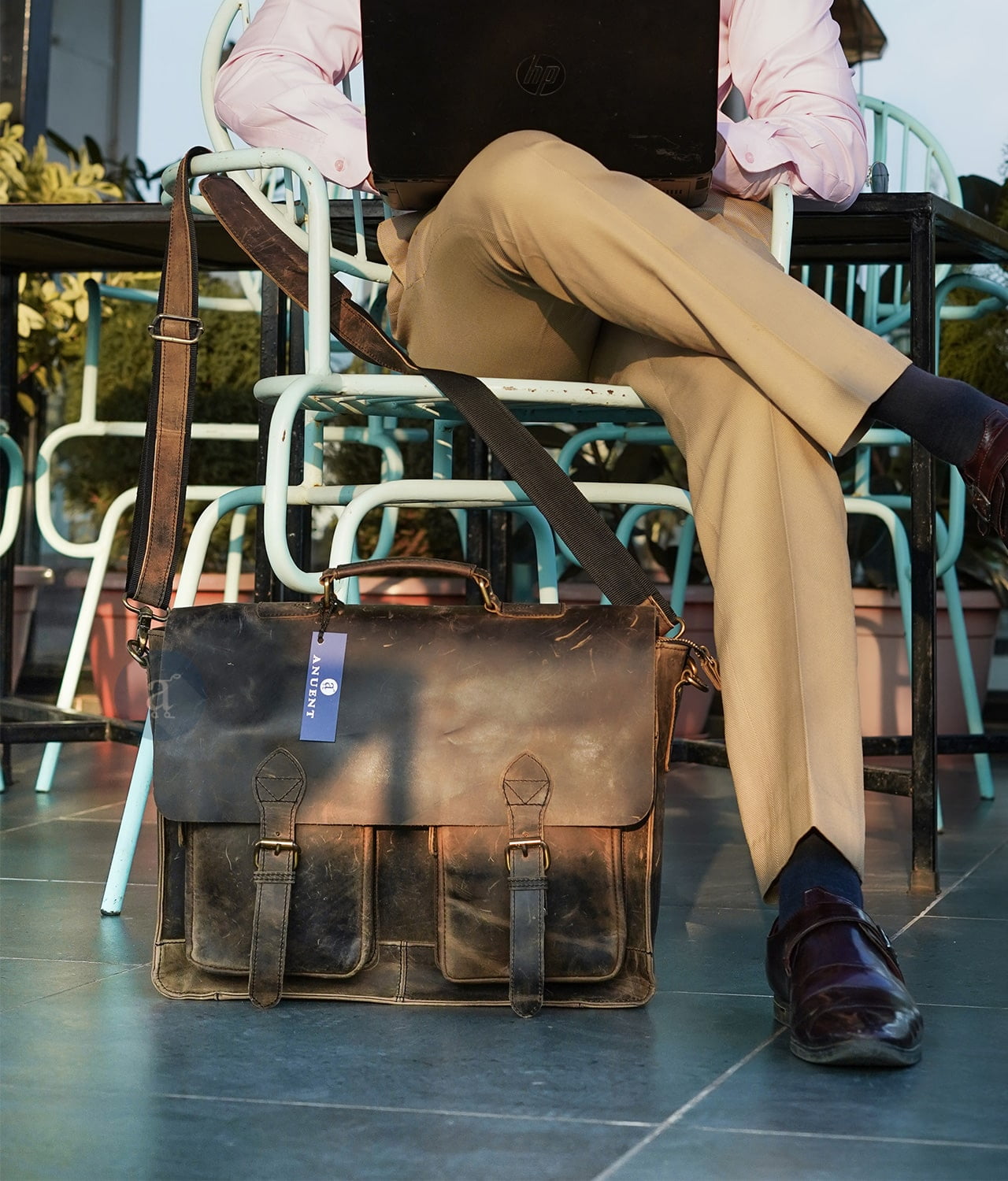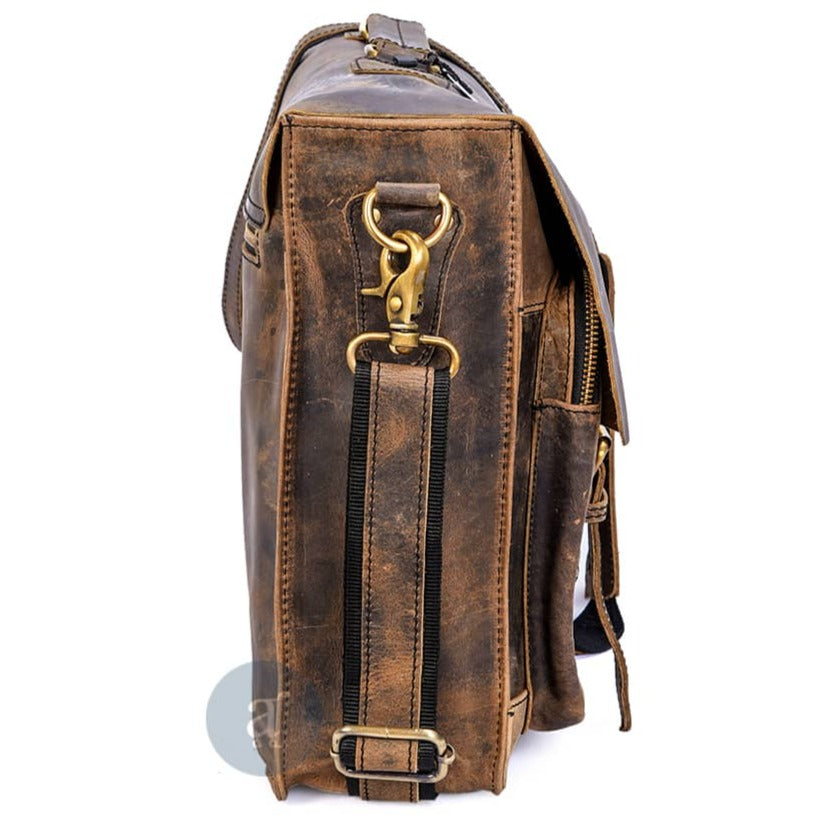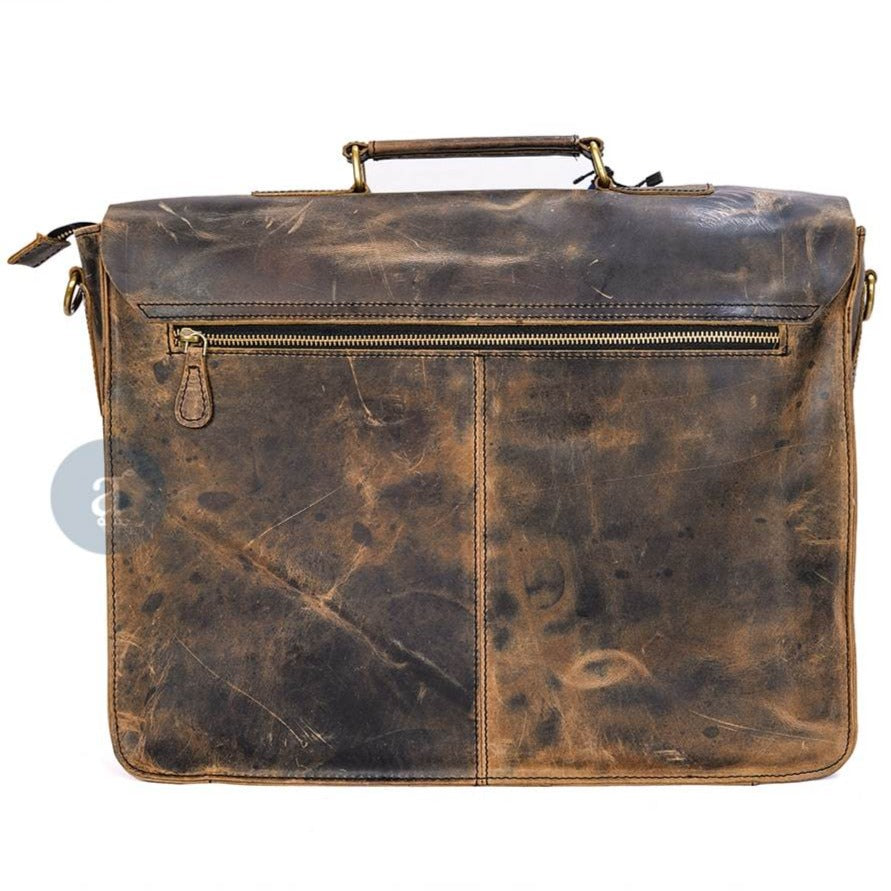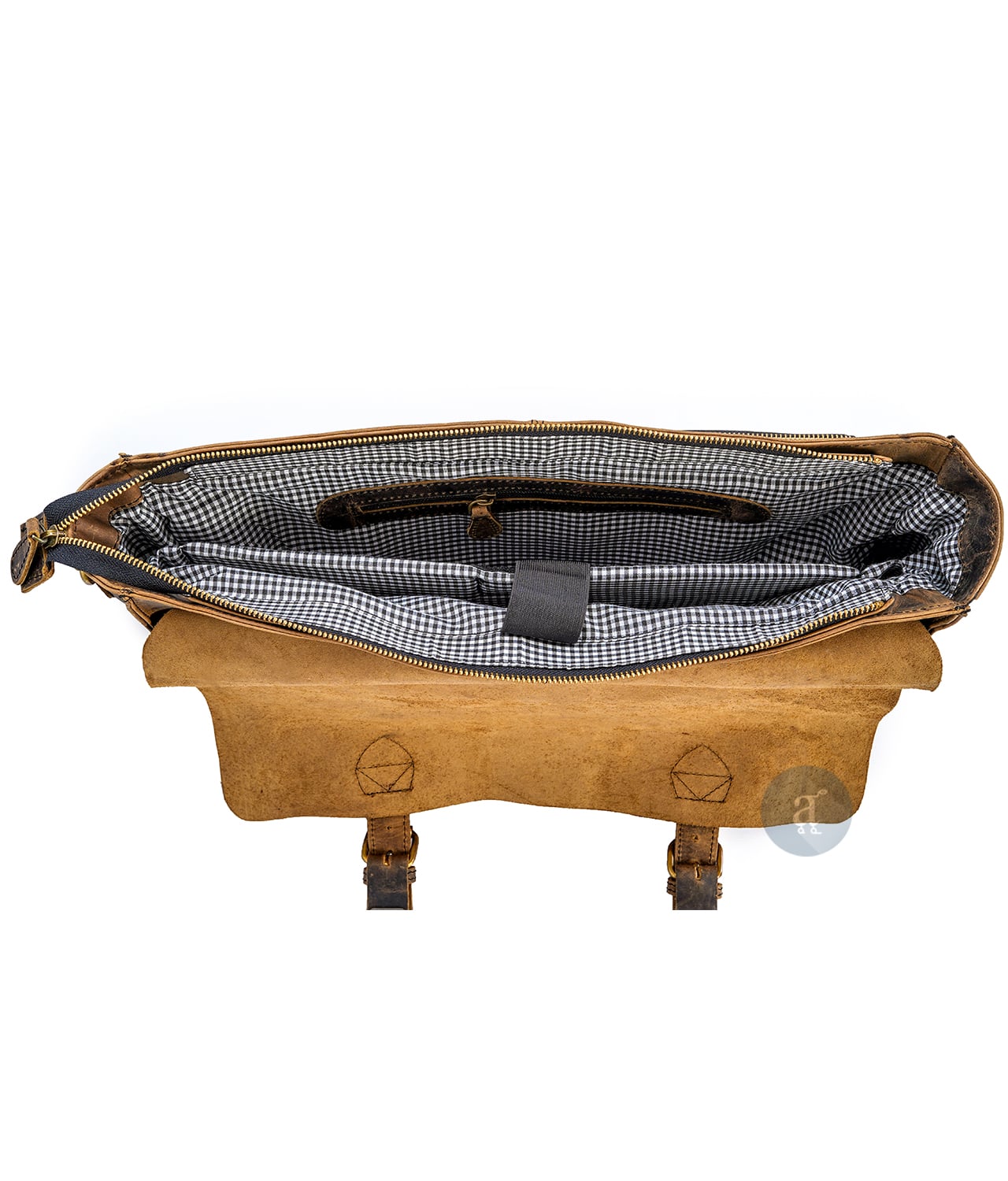 Vintage Leather Messenger Bag With 2 Pocket
Sale price
$154.99
Regular price
$229.99
Estimated Delivery:Dec 11 - Dec 15

Free Shipping: In USA, UK and Canada.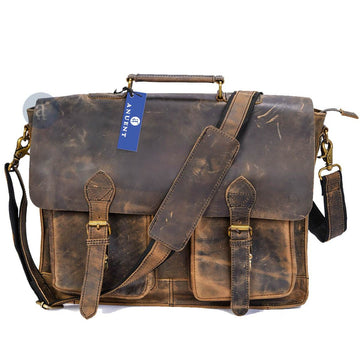 Vintage Leather Messenger Bag With 2 Pocket
Sale price
$154.99
Regular price
$229.99
DESCRIPTION
SPECS
FEATURES
MATERIALS
CARING
Vintage Leather Messenger Bag Description
In today's bustling urban landscapes and ever-evolving fashion epochs, there's a timeless accessory that has gracefully managed to traverse ages, making heads turn and creating stories – the vintage leather messenger bag.
Anuent's offering in this segment, crafted from top-grain buffalo leather, encapsulates what every lover of vintage fashion craves: authenticity, durability, and a hint of old-world charm.
Journey through the Craftsmanship:
Right from the first touch, the rich feel of the top-grain buffalo leather lets you know this isn't an ordinary bag. The exquisite vintage brown hue is reminiscent of eras gone by, bringing tales of old-time sophistication to the modern streets.
Beyond its visual allure, the bag's water-resistant leather ensures protection against unexpected spills and drizzles, encapsulating beauty with purpose.
Breathe in deeply, and you'll notice the delightful absence of the traditional leather odor. Instead, you're greeted by the welcoming, premium scent that is inherent to well-treated, high-quality leather.
Dive Inside:
Beyond its vintage façade, this messenger bag is designed for the digital age. The two padded inner compartments effortlessly cradle laptops and Macbooks up to 15.5 inches, ensuring your tech is cushioned against the rigors of daily life. Whether you're a tech geek, an artist, or a professional, this bag adapts to your needs.
For those smaller yet essential items – maybe a notebook filled with your ideas or cherished mementos – the inner zipper pocket offers a sanctuary, ensuring they're always within arm's reach.
Exterior Mastery:
Function meets design on the exterior as well. The two spacious front pockets provide quick access to items on the go, from your latest read to your travel tickets. A zipper pocket at the back is the perfect hideaway for valuables, ensuring they remain safe yet accessible.
The flap-over closure isn't just about vintage aesthetics; it provides an added layer of protection to the bag's contents, ensuring everything remains secure, irrespective of where your journey takes you.
Wear it Your Way:
While the bag itself is a statement, its adaptability is its silent feature. The long shoulder strap, adjustable and detachable, gives you the freedom to wear the bag as you see fit, adjusting to your mood and outfit.
Whether slung casually over the shoulder or worn cross-body for those more active days, it's as versatile as you are.
Craftsmanship, they say, is as much about the visible as it is about the invisible. The strong and durable brass fittings and buckles, quality zippers, and heavy-duty cotton canvas lining speak volumes about the meticulous attention to detail and the promise of longevity.
Final Touch:
In a world teeming with fleeting fashion trends, the Anuent Vintage Leather Messenger Bag stands tall, a testament to timeless design and purposeful utility.
Whether you're strolling through college hallways, bustling city streets, or airport terminals, this bag isn't just an accessory; it's an extension of you.
So, immerse yourself in a blend of past elegance and present-day functionality. Elevate your daily journeys and let every step be a statement. The Vintage Leather Messenger Bag awaits, ready to be a part of your story. Embrace the vintage charm today.
Vintage Leather Messenger Bag Details
Dimensions: 16 L x 12 H x 4 W Inches (41 x 30 x 10) cms
Brand: Anuent

Type: Messenger Bag
Outer Material: Top-grain Buffalo Leather

Inner Material: Cotton Canvas

Hardware Material: Brass
Color: Vintage Brown
For: Unisex
Inner Details
2 Padded Inner Compartments for carrying laptops, Macbooks, etc., up to 15.5 Inches.

1 inner zipper pocket.
Outer Details
1 zipper pocket on the back.

2 big front pockets.

Flap-over for closure.

Long adjustable and detachable shoulder strap.

Strong & durable brass fittings & buckles, quality zippers, and heavy-duty lining.
Other Details
Water-resistant leather
No bad leather odor 
Limited Stock. Buy the Vintage Leather Messenger Bag Now!
SKU: AN0VMB016
Dimensions: 16 L x 12 H x 4 W Inches (41 x 30 x 10) cms
Color: Brown
Condition: New
Weight: 1 kg
Capacity: 12.59 L
Brand: Anuent
Style: Shoulder | Messenger | Crossbody
Laptop Compartment: Yes
Inner Pockets: 1
Outer Pockets: 3
Total Compartments: 2
Gender: Unisex
Closure Type: Flap With Buckle Closure
Exterior: Top-Grain Buffalo Leather
Interior: Cotton Canvas
Hardware: Brass
➡ Taking Care of your Leather Products
Leather products are often used in professional settings and require special care to keep them looking pristine.

If you take good care of your leather bag, backpack, or journal, the surface will stay bright for years to come!

● Always ensure that any product is dry before applying cream/moisture lotion onto it by using a soft cloth; this helps prevent stains from occurring when applied wisely.

● To ensure that your leather product lasts for years, never allow it to get wet. If the item gets soaked in water and you want to dry it out again quickly. Place thick microfiber cloths over any exposed surfaces of an absorbent material before allowing gravity to do its work.

➡ Note

The leather products may vary in color and size.

Some are slightly lighter, while others are darker than what is shown on your monitor - this will affect the outcome of a product's shade (due to natural materials).

However, you can be sure each bag or journal has been handmade with care for its unique features!

➡ Custom Duty

We take great pride in shipping all our products as quickly and efficiently as possible.

However, there's a chance that customs may cause delays if you don't provide them with contact information so they can reach out to collect customs duties on your behalf, which is why we must have this number!

Please let us know what phone number works best for International Shipping purposes at any time during checkout or after placing an order.

Also, email us if any questions arise about Customs-related matters.
I purchased this bag to take to work instead of using the black laptop case that was not being used anymore. The padding seems to be adequate and the padding for my laptop is great. The bag has a lot of pockets and fits what I need for work (cellphone, tablet, chargers and more). The shipping was on time as expected.
Very pleased with this purchase!
My old messenger bag broke after a year which was disappointing since I only got it recently, but since finding this website I'm looking forward to having another messenger bag in the future.