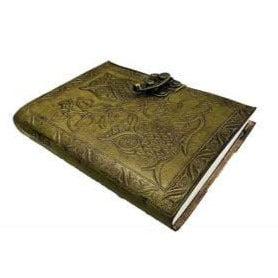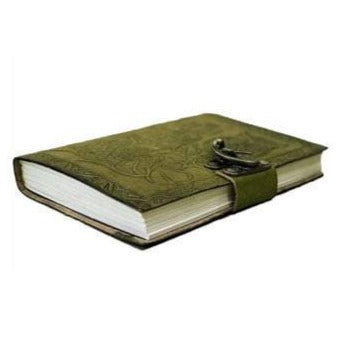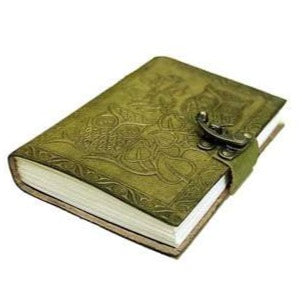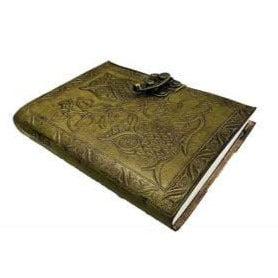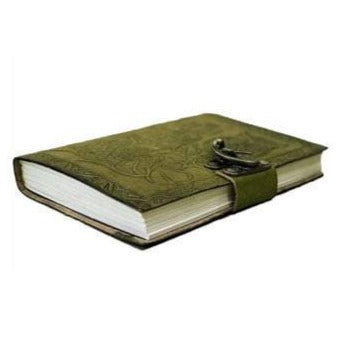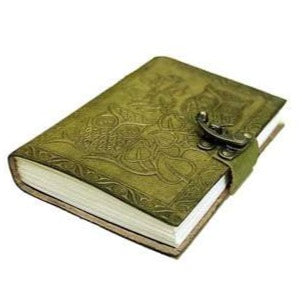 Sale price
$34.99
Regular price
Estimated Delivery:Dec 10 - Dec 14

Fast Shipping: In USA, UK and Canada.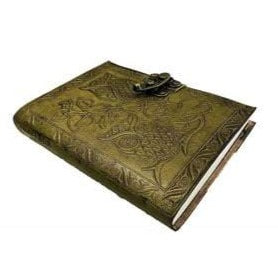 Womens Leather Journal
DESCRIPTION
SPECS
DETAILS
MATERIALS
CARING
Women's Leather Journal Description
Our women's leather journal is a beautifully crafted piece that combines style and function. Made from high-quality cowhide leather, this journal exudes luxury and durability.

The 200 pages inside are made from processed cotton, providing a smooth and consistent writing surface that's perfect for jotting down notes, ideas, and memories.
The brass clasp lock ensures that your journal stays securely closed when not in use, protecting your thoughts and notes from falling out or getting lost.
The green color of the journal is vibrant and eye-catching, and the two owls with leaf designs embossed on the front cover add a touch of whimsy and personality.
Whether you're using it as a daily planner, a dream journal, or a sketchbook, this leather journal for women is sure to become an essential part of your daily routine.
Its compact size makes it easy to carry with you wherever you go, so you can capture your thoughts and ideas no matter where you are.
Overall, this is a high-quality journal that's perfect for anyone looking for a stylish and functional way to organize their thoughts and ideas.
So if you're in need of a new journal, be sure to give our women's leather journal a try – you won't be disappointed!
Leather Journal for Women's Features:
Material: Cow-Hide Leather

Type: Non - Refillable

Paper Material: Cotton

Color: Green

Number of Pages: 200

Design on Front: Owl and Leafs

Design on Back: Same as front

Lock Type: Brass Lock with Clasp
Buy this Women's Leather Journal today!
SKU: AN0GLJ007 | AN0GLJ008
Dimensions: 7 H x 5 L x 1 W Inches | 0.4 Kg and 8 H x 6 L x 1 W Inches | 0.5 Kg
Color: Green
Condition: New
Weight:
No. of Pages: 200
Brand: Anuent
Design on Front: 2 Owls and Leafs Emobssed
Design on Back: 2 Owls and Leafs Emobssed
Refillable: No
Gender: Women
Closure Type: Brass Clasp Lock
Exterior: Cowhide Leather
Paper: Cotton
Hardware: Brass
➡ Taking Care of your Leather Products
Leather products are often used in professional settings and require special care to keep them looking pristine.

If you take good care of your leather bag, backpack, or journal, the surface will stay bright for years to come!

● Always ensure that any product is dry before applying cream/moisture lotion onto it by using a soft cloth; this helps prevent stains from occurring when applied wisely.

● To ensure that your leather product lasts for years, never allow it to get wet. If the item gets soaked in water and you want to dry it out again quickly. Place thick microfiber cloths over any exposed surfaces of an absorbent material before allowing gravity to do its work.

➡ Note

The leather products may vary in color and size.

Some are slightly lighter, while others are darker than what is shown on your monitor - this will affect the outcome of a product's shade (due to natural materials).

However, you can be sure each bag or journal has been handmade with care for its unique features!

➡ Custom Duty

We take great pride in shipping all our products as quickly and efficiently as possible.

However, there's a chance that customs may cause delays if you don't provide them with contact information so they can reach out to collect customs duties on your behalf, which is why we must have this number!

Please let us know what phone number works best for International Shipping purposes at any time during checkout or after placing an order.

Also, email us if any questions arise about Customs-related matters.
Great service, great quality, thanks!!
A lovely journal with room for passing notes, regrets and secrets. Love the personalization aspect! Prompt delivery. Would recommend to anyone looking for a well made hardcover notebook.